If you are in search of a backup software for your iPhone or iPad, checkout AOMEI MBackupper Review. This blog entails the details of the application which can be helpful to the users in taking a backup of an iPhone or iPad.
Backups are regarded as the most important form of data which can save you from losing files forever. You might know this about backups of the data on your devices but the need for a regular and successful data backup is often neglected. If you want to ensure the safety of your data, get one of the best backup applications for your iPhone such as AOMEI MBackupper. 
AOMEI MBackupper Review
AOMEI MBackupper is a solution to help you transfer data from an iPhone to another iPhone or a Windows PC. This works when you have downloaded the tool on both the devices and perform a safe and fast transfer for data. It is very useful in case of data transfer for backup and restore or to wipe out data completely.
Use the incremental backup to speed up the process and manage the data on your device using the Management tools.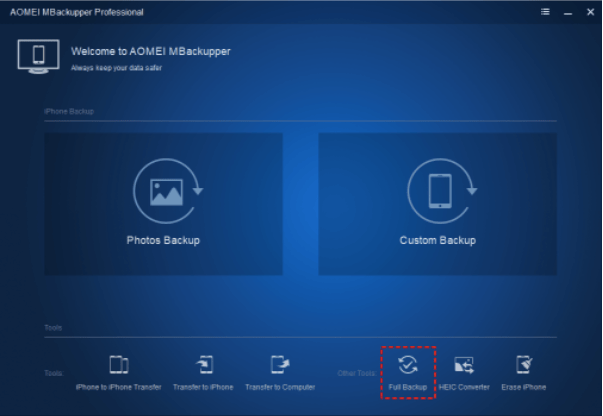 Technical Specifications
Vendor

AOMEI

Current Version

v1.9.0 

Compatibility

Windows 11, 10, 8.1, 8, 7 SP 1 

iPhone from 4s to 13 Pro Max.

iPad /iPad mini/iPad Air/iPad Pro

iPod touch 1/2/3/4/5/6/7

Download link 
Link
Price

Free, $29.95

File Size

33.4 MB
AOMEI MBackupper Features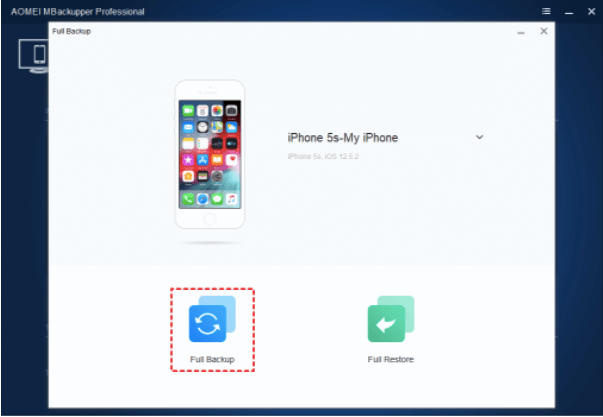 With the Backup and Restore option you can easily keep your iPhone or iPad data safe over other devices. This has proved to be more helpful than the usual method of iTunes backup. It allows you to preview the files before backup to assure you are not making the wrong choice.
AOMEI MBackupper uses a safe and fast method to take a iPad or iPhone backup. 
Transfer data to other devices
AOMEI MBackupper uses the incremental backup to help you transfer the photos, videos, contacts and messages to other devices. The flexible options are available to help you select what is being transferred. For the contacts, transfer the numbers, avatars and attached emails to another device with the AOMEI MBackupper installed on it.
This can be used to transfer the data from your old iPhone to a new iPhone.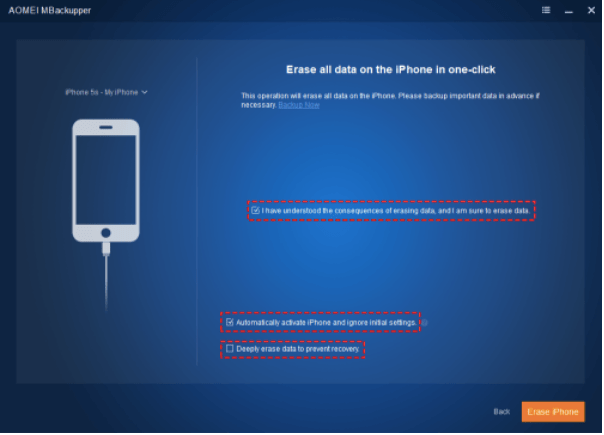 To erase the iPhone data safely, you need to choose the assured solution such as AOMEI MBackupper. As it provides a dedicated tool to wipe out the iPhone data completely. It will help you clean your old iPhone or give a new iPhone a clean start.
All the sensitive information such as Apple ID, pictures, videos, messages and contacts can be deleted in one go.
If you are a Windows PC owner and have your iPhone data backed up on the device, you might find it difficult to edit the HEIC photos. Therefore, using AOMEI MBackupper helps as it will easily convert the HEIC files to other formats such as JPG, JPEG or PNG without the quality-loss.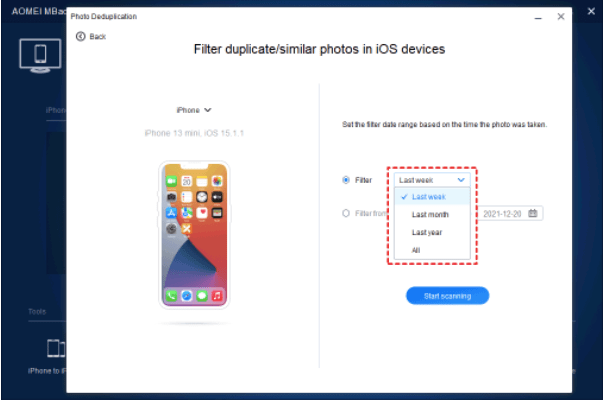 You can also find the duplicate and similar looking photos on the iPhone using AOMEI MBackupper. It will help you declutter the iPhone storage and thus save space on your device. This is a great tool to accurately detect the duplicates on your iPhone and remove them safely.
How does AOMEI MBackupper take a backup of your iPhone
If a backup software is easy to download and install that adds up value to the usability of it. Here you can find out how to use AOMEI MBackupper to take a backup of an iPhone. 
1. Download and install AOMEI MBackupper from the App Store for the PC.
2. Connect the iPhone to the computer and then give it the permission to start the transfer.
3. Click on the option of Photos Backup or Custom Backup button to start the backup of your iPhone.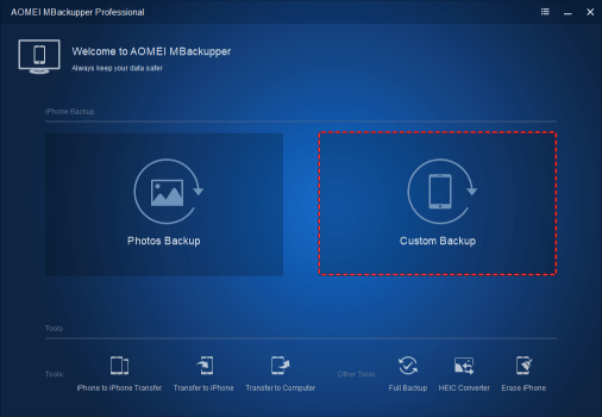 4. Select the files and folders which are required for backup from the Photos, Contacts, Messages, videos and music. 
5. Click on Ok after making a selection in the different categories.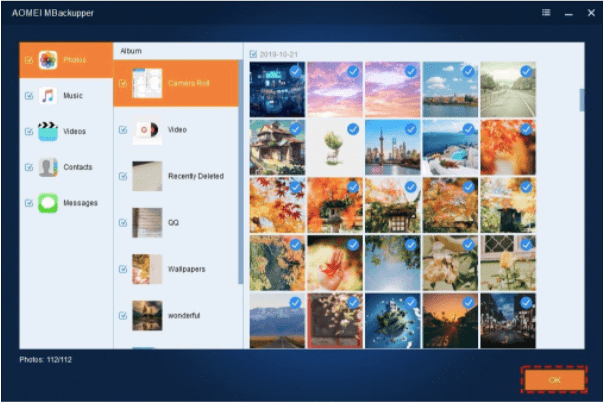 6. Now Go to the bottom and click on Start backup button.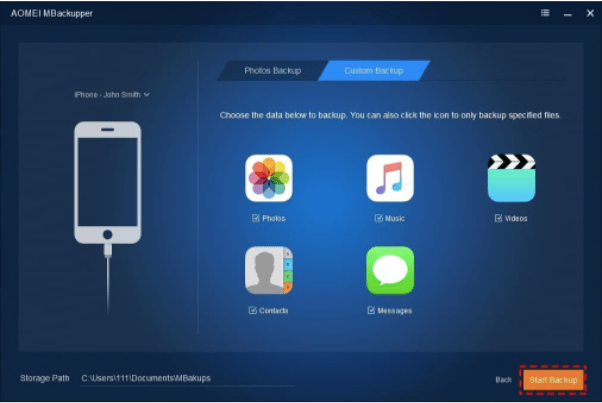 This will begin your iPhone's backup at the desired location.
7. Go to the Backup Management to view the stored backup on your PC.
Use the Transfer to iPhone to Transfer to Computer button to transfer the data.
Pricing
The review of any product is not complete until we discuss the pricing module. Here on AOMEI MBackupper you can find a version which works for your requirements. You can purchase the AOMEI MBackupper Pro which works for upto 5PCs at the cost of $29.95 for one year which allows unlimited file transfer.
Another version of the Pro Lifetime with the free lifetime upgrades is available for $49.95.
As an organisation you can also get it for an unlimited number of PCs for $499 with superfast speed and provide tech support.
Additionally you can try out the free version of the tool on your Windows PC to transfer the iPhone data.
Pros and Cons of AOMEI MBackupper 
| | |
| --- | --- |
| Pros | Cons |
| Backup iPhone  | Does not come with Mac version |
| Transfer the iPhone data | Compatible to only Windows  |
| HEIC Converter | |
| Erases iPhone data permanently | |
| Removes similar photos | |
| Supports incremental backup | |
| Fast speed | |
| Complete data protection | |
Frequently asked questions 
Q1. Is AOMEI MBackupper legit?
Yes, AOMEI MBackupper is a legit software which is used for taking backups on an iPhone. This application comes with a number of helpful features which can make the process of taking backups fast and easy. 
Q2. Can AOMEI be trusted?
Yes, AOMEI is a trusted brand name in the software industry and you can pick it without a doubt. The user friendly application fairs well in taking backups of the data on your iPhone.
Q3. Is AOMEI MBackupper free?
Yes, AOMEI MBackupper can be used as a free application. But you can avail all of its features in the back up tool by purchasing the product for your iPhone. However, the free trial version can give you an insight of the interface, features, functions and speed of the product. 
Q4. Which is better: AOMEI vs Acronis?
Acronis is a better option for the backup as it offers cloud storage and cyber protection in its package. However, AOMEI MBackupper can be used to take backups of your iPhone and much more.
Conclusion On AOMEI MBackupper review
AOMEI MBackupper review blog helped you in finding the answers to your questions regarding this application for iPhone. As you can see, there are multiple options and advanced algorithms used in taking the backup on your iPhone, you can choose it as your backup software for your iPhone.
The incremental backup makes sure the speed of the backup is fast and helps you save time. Using it you can quickly transfer the data from your old iPhone to the new iPhone hasslefree. 
Try out the free version of AOMEI MBackupper to view all of its features and try out the backup on your device to learn more about its functionality.
Also Read