Apple has been working hard for the creatives, and they have just launched their latest app called Freeform. The Freeform app has been in the news since the announcement at the last Apple event. Along with Apple's Freeform app, they have also launched the latest iOS version, 16.2, for iPhone users.
According to Apple, the Freeform app will help users in various ways, like managing their creative ideas, organizing content on the flexible canvas, and more.
The Freeform app will store all the content and data on the cloud, meaning it will utilize iCloud to sync between different Apple devices like iPad and iPhones. Furthermore, the Freeform app will boost Apple's ecosystem as it will be available for all Apple devices, including iPhones, iPads, and Macs.
Users can sync their data using the same Apple account on different devices. The best part which is making noise in the crowd of this app is that users can invite their family, and relatives to collaborate with them on the board.
To simplify, users can invite their known and share ideas on the same board in real-time using the Freeform app. Making doodles on the board is available to anyone using an iPhone, iPad, or Mac.
How to Use Apple's Freeform App on iPhone, iPad, and Mac?
Users can add attachments like PDFs, Videos, Photos, Documents, links, map locations, sticky notes, diagrams, and shapes for better visualization and though sharing with friends on the Freeform app.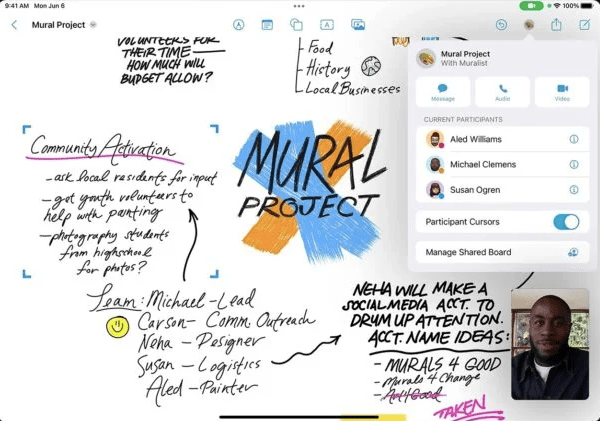 Furthermore, they can drag and drop the content on the board from different devices and sync it between all devices. Apple's Freeform app also comes with built-in alignments and guides, which makes it easy to use. And anyone can use this app without any problem. It is very easy to use.
The freeform app has support for a built-in quick look that will let the user preview the content by double tapping on it. They can drag multiple video files on the board and play them simultaneously for a dynamic view.
Users can also lock PDFs and images on the board and annotate the objects for sketching ideas. Furthermore, they can add map locations which will let them plan their trip with friends and family.
To share the content of the Freeform app, users can click on the share option on the top and then select the user they want to share the file with the features Guide. This is how you can use Apple's Freeform App on iPhone, iPad, and Mac.
How to Download Apple Freeform App on iPhone, iPad, or Mac?
Apple's Freeform app is available on iPhone, iPad, and Mac devices. The app was released on 13 December 2022, and it is available on devices with iOS 16.2, iPad OS 16.2, and macOS Venture 13.1.
You can get the Freeform app on iPhone, iPad, and Mac through the App Store, which is available for free download. This is how you can download Apple Freeform App on iPhone, iPad, or Mac. Just you have to follow the above steps as we mentioned. Then you are good to go.
Conclusion
Overall, the Freeform app from Apple is a game changer for creatives. Its user-friendly interface, powerful strategizing and collaboration tools, and ability to adapt to each user's creative process make it a must-have for anyone looking to take ideas to the next level.
In this article, we have discussed everything about the apple freeform app. This is all about the apple freeform app. Hope you understand and everything about this apple freeform app.