Are you doubtful of getting a Mac boosting tool? Is AVG Tuneup worth it? We will discuss all of the important factors involved in considering it as the Mac tuneup utility. Starting from the pricing details, features offered and the compatibility, we talk about all of the aspects in this AVG Tuneup for Mac review blog.
What Is AVG Tuneup For Mac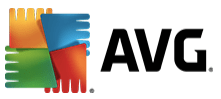 AVG Tuneup for Mac gets rid of all the junk, duplicates, useless photos and other unwanted data from Mac. AVG Tuneup for Mac is an ultimate utility for Mac users who are looking for an instant cleanup. It not only cleans up clutter but also enhances the speed and performance of your Mac. The AVG Tuneup can easily find blurry and similar photos which are unwanted and take up storage space on your Mac. It can also clean up the browser and save your privacy while on Mac. 
AVG Tuneup For Mac Review
AVG Tuneup for Mac review helps you understand the bits of the product. It is available for $49.95 which is a package deal which can be used on upto 10 devices. The cleaning and boosting utility can be availed at Amazon Store or the official website at a discounted rate.
AVG Tuneup for Mac can be considered as one of the best Mac cleaning tools for the latest version of macOS.
AVG Tuneup Technical Specifications –
| | |
| --- | --- |
| Vendor | AVG Technologies |
| Current Version | 7.18.0.36 |
| Compatibility | macOS 10.11 and higher |
| Download link | Click here |
| Price | $49.99 |
| File Size | 21.3 MB |
Features – 
AVG Tuneup for Mac is capable of finding the hidden junk files, application cache, log reports etc. You can run the scan and be assured of it detecting all the junk and showing in the results. Later, you can check the files and delete them with one click.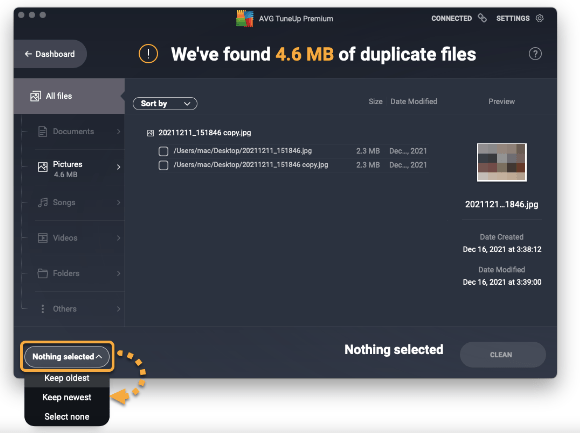 Duplicates of all kinds are detected by AVG Tuneup for Mac, as it runs a powerful scan for  your Mac. It can give you a preview, file details and also the automatic selection criteria for oldest, newest or none. The choice for selecting the files manually and automatically helps the users.
Uninstalls applications –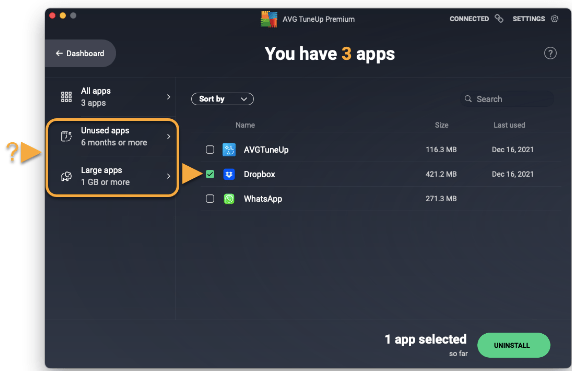 A lot of space is consumed by the unwanted applications and here we often leave the old and unused applications on Mac. AVG Tuneup for Mac will present you the list for all the applications which are unused and taking up large storage space. You can then review and uninstall apps from Mac.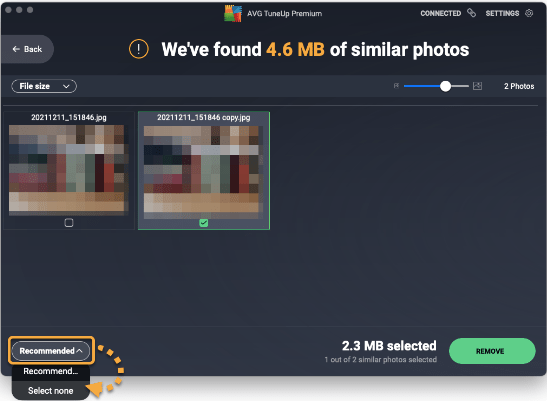 AVG Tuneup for Mac also makes it easy to find the bad and similar photos to save space. Run a scan for a particular folder on Mac and then get the separate list results for Bad photos and Similar photos. It will then give you a preview and help you review. Deleting these pictures will let you gain back the unwanted storage space consumed by them. 
Manages Browser privacy –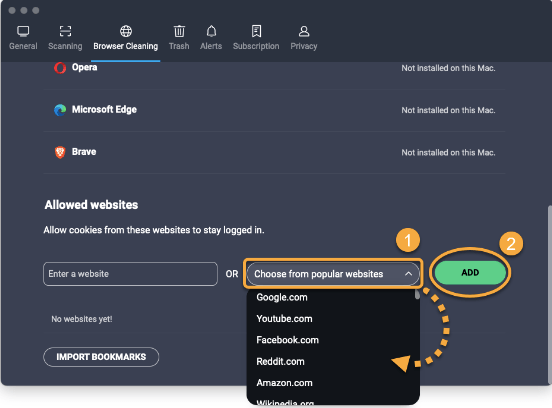 While AVG Tuneup for Mac can easily clean up the browser's junk and help you from prying eyes, it also has automatic schedulers. It will run a scan regularly and cleanup the browsers on Mac to save your privacy. You can also manage the websites, allow the cookies from particular websites, import bookmarks etc. 
How To Use AVG Tuneup For Mac?
Learn how to use AVG Tuneup for Mac in these easy steps given below –
Step 1: Get AVG Tuneup for Mac from the official website –
Complete the installation and give necessary permissions to use the tool on your Mac.
Step 2: Launch AVG Tuneup for Mac.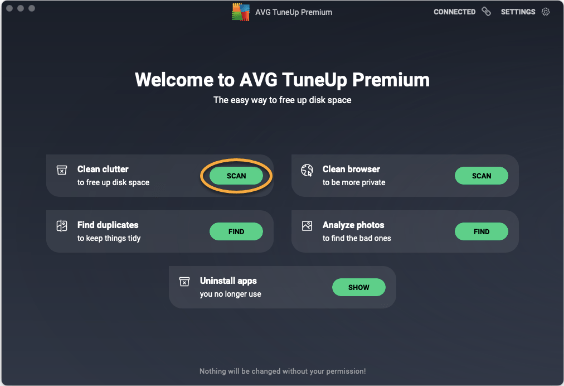 Step 3: Click on the Clean Clutter Scan button. See this scan results where you will find the Application Caches, Log Files, Trash files.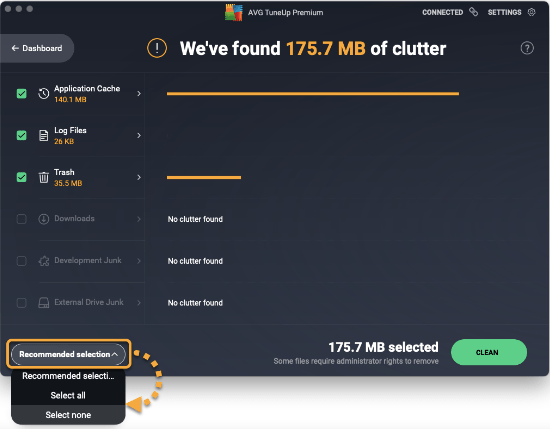 Step 4: Click on the Clean button after making selections.
Step 5: The AVG Tune up runs the cleanup drive and removes all the unwanted junk quickly and shows you the message with freed up storage space.
Step 6: Similarly run the other starting with Find duplicates and click on Find button. 
Step 7: Add the folders from your Mac and then you can run the scan to find out the duplicates.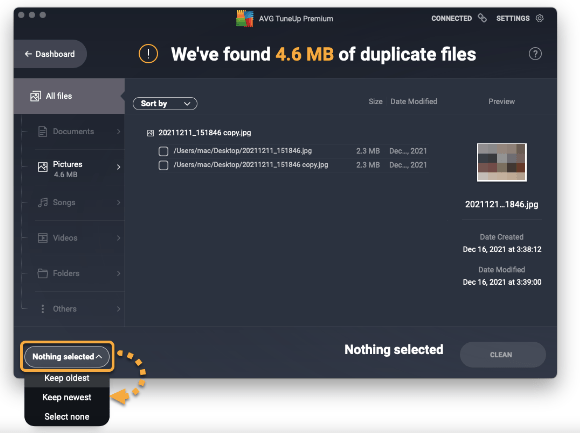 Step 8: Once you have reviewed the marked duplicate files, click on the Clean button in the bottom-right.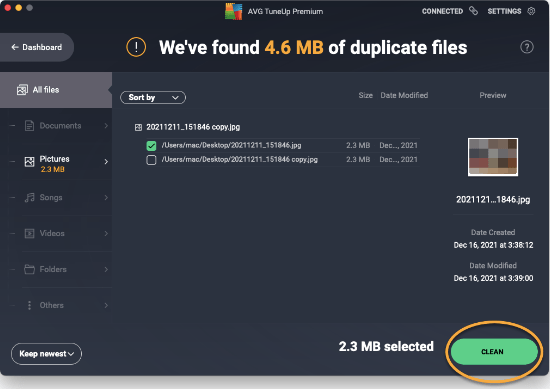 Step 9: Now, move to the home screen to Clean browser and click on Scan button.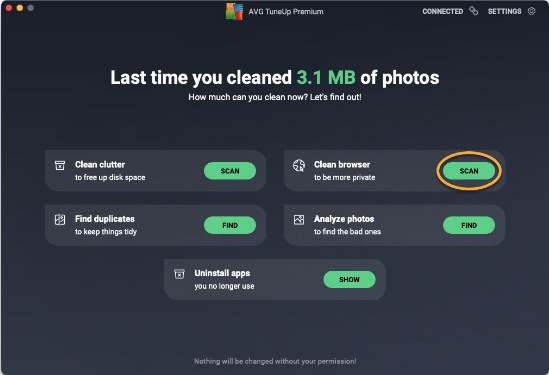 Step 10: Now, click on the available browsers and get the Details on it. The junk can be cleaned by making selections and then clicking on the Clean button.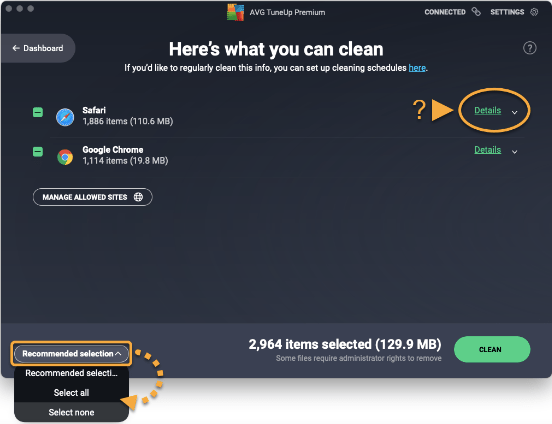 Step 11: Now, go back to the home screen and click on the Analyze Photos to check for the bad and blurry pictures which are unwanted.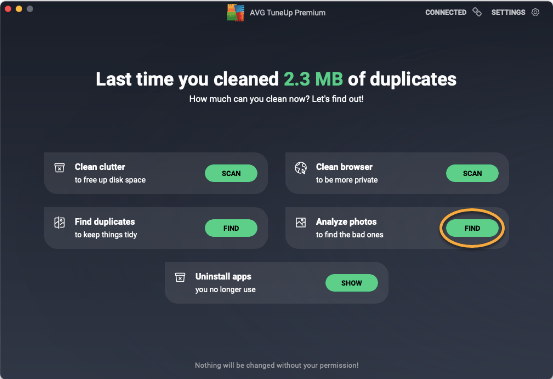 Step 12: Select the sections on your Mac to run the scan and wait for the results.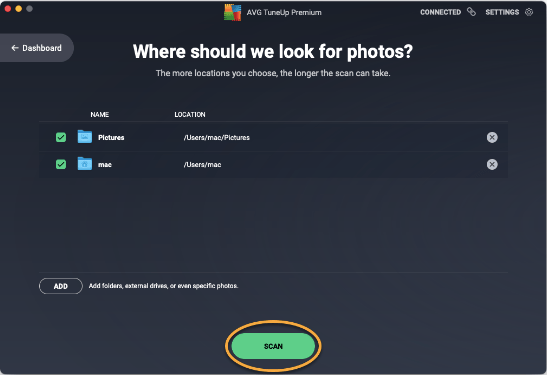 Step 13: The two sections – Bad photos and Similar photos can be reviewed and later marked for cleaning.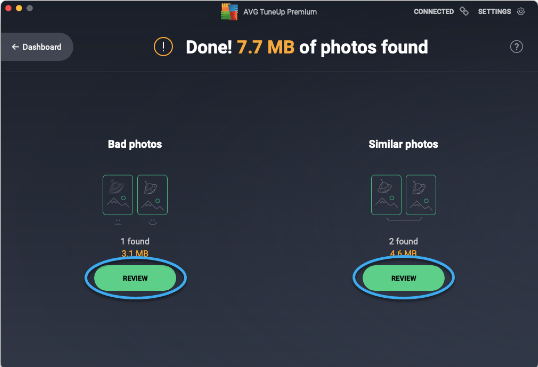 Step 14: On the home screen find the last module – Uninstall apps and click on Scan.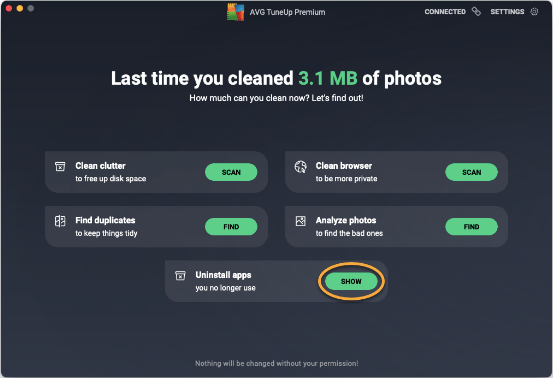 Step 15: AVG Tuneup for Mac will present to you the list in different forms – All apps, Unused apps and Large apps. To help you decide these are categorized and you can make your selection and click on Uninstall to remove them.
This is how you can use AVG Tuneup for Mac for a complete cleaning of your system. It not only walks you through each module easily, it keeps showing the freed up storage space amount. 
AVG Tuneup Pros & Cons
| | |
| --- | --- |
| Pros  | Cons |
| Powerful scan engine | Scan can take time |
| Easy file management | Costlier than other competitors |
| Undo button for recovery | |
| Multiple scan modes | |
| Scans Google Drive & DropBox | |
| Automatic selection | |
| Deletes cache files | |
Frequently Asked Questions – 
Q1. Is AVG TuneUp worth it for Mac?
Is AVG Tuneup worth it – Yes! With multiple safety and cleaning modules on this software, it is worth a try. Most importantly you can get this service for upto 10 devices at the purchase. 
Q2. Is AVG TuneUp trusted?
Yes, AVG Tuneup for Mac comes from a reputed company AVG Technologies which has a range of security and cleaning products for various operating systems. You can try it out and check out the AVG Tuneup for Mac review to find if it's for you or not.
Q3. Is AVG TuneUp necessary?
If you are looking for a solution to clean up your Mac, browsers, find duplicates files, uninstall applications and save space, you can check AVG Tuneup for Mac. 
Q4. Does AVG TuneUp slow down computer?
No, AVG Tuneup for Mac on the contrary will run a scan to declutter your Mac storage space. Which in turn will create space in the storage and also speed it up. 
Q5. Is AVG TuneUp a virus?
No, AVG Tuneup is not a virus. It is a tuneup software used for better performance and cleanup of devices. 
Conclusion On AVG Tuneup for Mac
We hope this AVG Tuneup for Mac reviews gives you the essence of this Mac cleaning tool. It is needed to be installed and subscribed to be used and can be used on upto 10 devices. Use it to clean junk, remove duplicate photos, delete bad and similar photos, uninstall useless applications and save space.
AVG Tuneup for Mac can also save your privacy online by managing the browsers and cookies settings for various websites. Give it a try to find out more about this Mac tuneup software. 
Also Read