The importance of taking backup of your Mac is of paramount importance if you really value your data stored. Especially handy during unfortunate events when you have to lose all the system data under a system crash or other circumstances, the taken back would save the day for you from all the misery. To make life easy there are plenty of Backup Software available for Mac, and choosing the right one takes an immense amount of effort and research.
That's why we have curated the list of best Backup Software for Mac after carefully analysing every aspect best suited for your needs. 
What Is Backup Software
Backup Software is an application which helps you take a backup of files, documents, software, photos, folders and many more whole system data including all the data types for safekeeping which you can retrieve under unfortunate circumstances such as System Crash or etc.
What does Backup Software do ? Well it basically clones or makes a copy of all your files, folders, system data including operating system, applications and whole data to be stored in a secured and safe place to be able to recover when it's needed. 
List of 9 Best Backup Software For Mac
1. Time Machine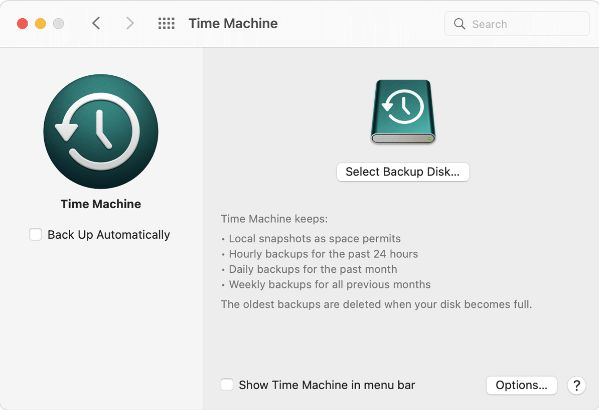 Time Machine is a built-in Backup Software For Mac which comes with all macOS to take backup of your Mac easily and safely. It is designed especially for Mac and is easy to use for taking backup of Mac in a few clicks. You can back up automatically to your preferred location periodically without doing it manually. 
Features 
Free, built-in tool with macOS. 

Easy to use and setting up. 

Can backup entire system data. 
2. Disk Drill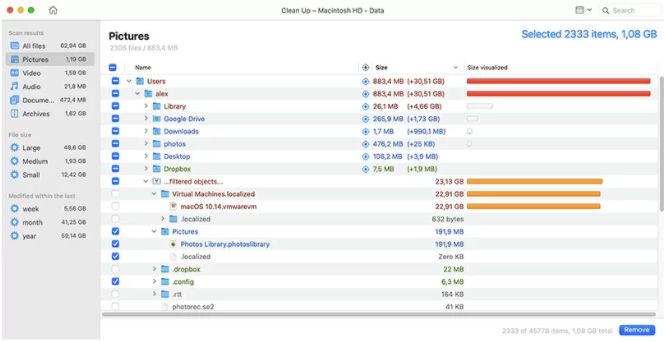 Disk Drill is among the best free Backup Software for Mac which supports full byte-to-byte backup feature. It is an All-in-one app solution for Mac with data recovery, backup and monitoring functionality. Free application which provides a plethora of features to keep your Mac running at optimum performance. 
Features 
Full byte-to-byte backup. 

Complete disk solution features. 

Excellent recovery software. 
3. Carbon Copy Cloner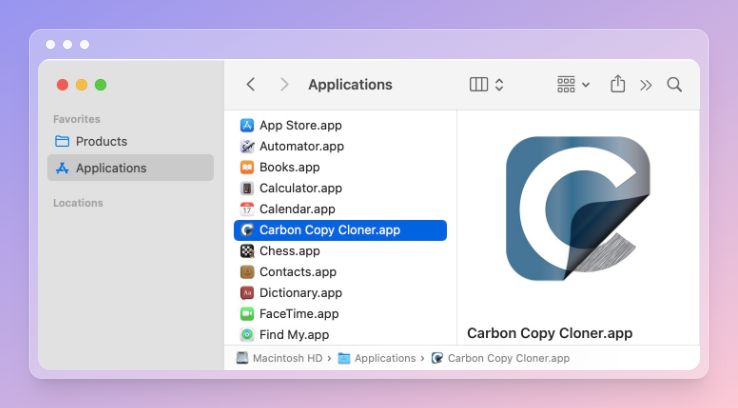 Carbon Copy Cloner is basically an excellent Cloning tool for Mac but it also supports superb backup features. One of the best backup apps for Mac, the simple and easy interface lets you create backups of the entire system or individual folders along with bootable backups of the startup disk. 
Features 
Customisable backup options. 

Schedule backups in the background. 

Good recovery feature with snapshots. 
4. ChronoSync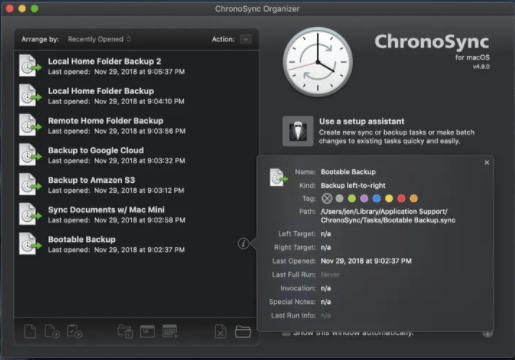 ChronoSync is not just an excellent Backup Software for Mac. It is also a superb data Sync tool. You can easily navigate with a friendly interface to create backup and also bootable backup of your startup hard drive.
One of the backup apps for Mac with auto scheduling feature keeps taking backup of your Mac in the background without any intervention. 
Features 
Backup tool with sync functionality. 

Creates bootable backup of start up HD.

Easy automatic scheduling feature. 
4. Acronis Cyber Protect Home Office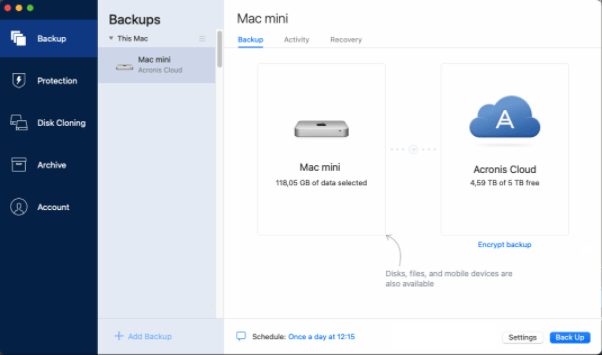 Acronis Cyber Protect Home Office, earlier known as Acronis True Image is among the most popular backup tools supporting various features for disk management. You can utilise its backup, disk cloning, archive and all in one recovery features on Mac to stay worry free of losing data. 
Features 
Backup tool with anti-malware feature. 

Take full image backups or individual files or folders. 

Active disk cloning with an easy recovery option. 
5. Get Backup Pro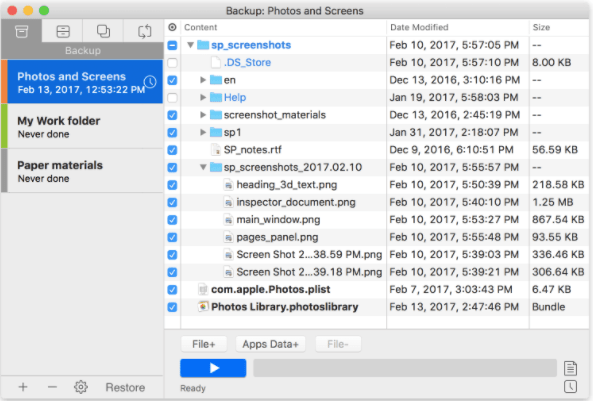 Get Backup Pro is also more than just a backup software for Mac which also provides synchronisation, Cloning and Data archive features.
You can simply backup an entire drive or just a folder along with support to create bootable backup of startup drive. The Auto backup feature works in the background without hindering your work. 
Features 
Supports backup of the entire system or particular folder. 

Can sync folders and files. 

Creates bootable backup of startup drive. 
6. SuperDuper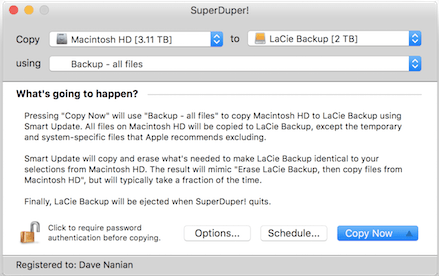 SuperDuper is another excellent Backup Software for Mac which also helps you create a fully bootable backup of your Mac which can be used for recovery. The user-friendly interface is breaze to navigate and very easy to use for taking backups with a few clicks. 
Features 
Can create a fully bootable backup.

Easy to use and friendly interface. 

Built-in scheduler for automatic backup. 
7. Backblaze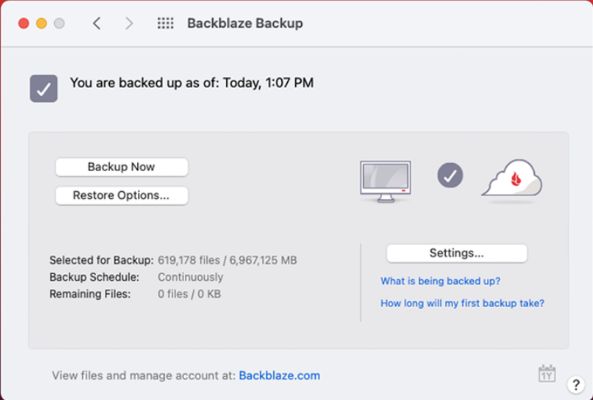 Backblaze is the pioneer in cloud storage and offers an excellent unlimited cloud backup option for Mac, that makes it among the best backup solutions for Mac. It's highly secure and encrypted along with natively integrating with Mac superbly.  
Features 
Unlimited Cloud backup. 

Highly secure & Encrypted. 

Automatic backup feature. 
8. IDrive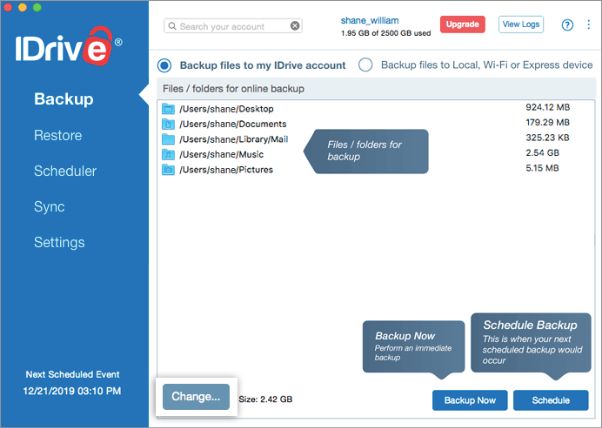 Finally last on the list of best Backup Software for Mac we have IDrive, which is an excellent cloud based backup tool. You get 5GB cloud support with a free version which is more than enough to take back the basics of your Mac, paid version will increase the storage depending on plan. 
Features 
Free version upto 5GB cloud support. 

Real time online file sync across devices. 

Perform Sector or file level backup. 
Frequently Asked Questions
Q1. What is the best backup app for Mac?
Apart from the built-in Time Machine Tool provided by Apple, we recommend Disk Drill to be the best backup app for Mac which provides much more features compared to others and is highly reliable. 
Q2. Is Time Machine the best Mac backup?
Yes, Time Machine is an excellent built-in backup tool provided by Apple for Mac with proficient backup abilities and simple to navigate interface. Although if you are looking for much more than just backup functionality then you should consider Disk Drill for the plethora of features. 
Q3. How do I backup my entire computer Mac?
You can take a backup of your entire Mac using either Time Machine which is a built-in tool provided in macOS or you can get Disk Drill which is a third party app which provides much more functionality than just taking backup. 
Q4. Which macOS management tool is used for backups?
Time Machine is the built-in backup tool provided in macOS management to take up backup of your Mac automatically and safely. 
Q5. How do I transfer everything from my Mac to an external hard drive?
Either you can simply open the finder and copy all the data you want to transfer and paste it in the folder of the external hard drive. Or easily you can use Time Machine to transfer complete data to an external hard drive. 
Conclusion
Now you know what to look forward to when you wish to backup your data on Mac. The inbuilt Time Machine is good enough for basic features but if you want anything more, go for one of the best backup software for Mac.
Also Read