Hard copy calendars might be disappearing from lifestyles but digital calendars are advancing at a fast pace. With the inbuilt calendars on most of our devices, you might not know that other applications also exist. Read this blog where we talk about the best calendar apps for Mac.
It includes an application which can schedule tasks, add events, show weather forecasts, give you reminders, let you share your tasks with others, sync multiple accounts plus allow customization and more. 
10 Best Free Calendar Apps for Mac
1. Fantastical – Calendar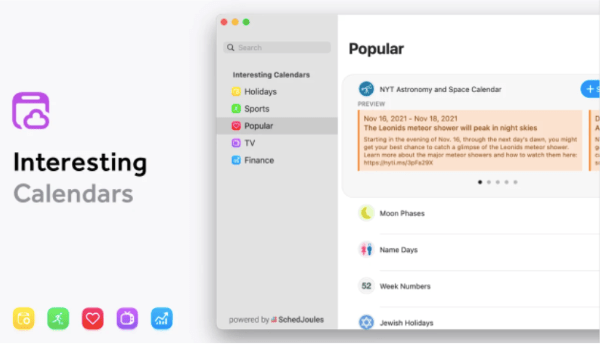 Fantastical is one of the best calendar apps for Mac with its unique yet customizable options. The details on the calendar app will make you fall in love with it as it will keep all the reminders at one place. You also get a day, week, month and year view, quick access mini window, and create different calendars for multiple locations. Use it to invite others and respond to calendar invites .
Features 
Smart Task and event allotments.

Allows adding video calls reminders.

Create repeating events easily. 
2. Microsoft Outlook
Microsoft Outlook is also among the best calendar apps for Mac. If you ask how, well with the email, contacts support it also give you the best features or the task management on its calendar. You can plan very well with its scheduling options to manage the tasks, events in advance. Use it with your Gmail, Yahoo Mail, POP accounts, IMAP, iCloud, Office 365 and more. 
Features 
Share your Calendar, track RSVPs etc.

Sync with your Team meetings.

Works with Office 365, Outlook.com, Gmail. 
3. BusyCal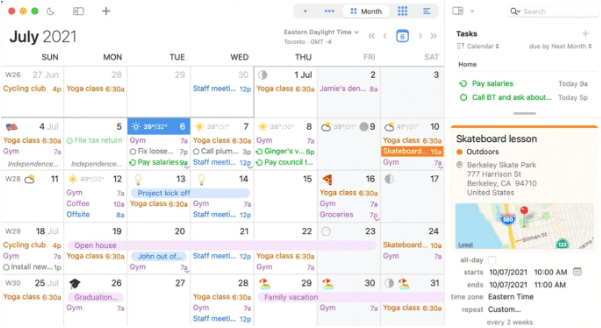 BusyCal is another of the best calendar apps for Mac. It can help you easily get a customised view, integrate tasks, use smart filters, weather updates and alarms. The use of BusyContacts can be helpful to add contacts to the events.
It supports major services such as iCloud, Google, Office 365, Reminders, Zoom, CalDAV etc. Info panel lets you quickly view and edit the tasks and events and helps you stay scheduled. 
Features –
Easily sync and share your calendars.

Add graphics to highlight events in the calendar.

Useful alarm reminders in the floating window.
4. Mini Calendar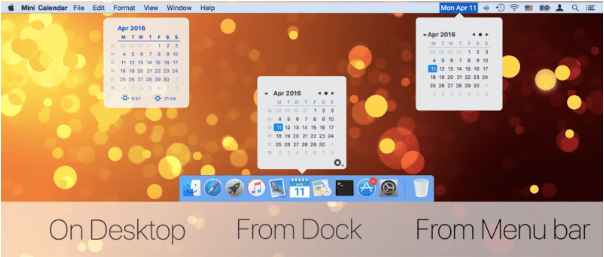 Mini Calendar is a popular choice for the calendar apps for Mac. It has a sleek look with multiple ways to view your calendar – on Desktop, from Dock and from the Menu bar. It is a lightweight application which comes free of cost and gives you the view of your monthly calendar on Mac. Customisable colours and display items such as date, time, weekly or monthly view. 
Features
Configure the calendar to popup with shortcuts.

Option to enable Always on desktop calendar.

Shows sunrise and sunset times with date and time.
5. Calendar 366 II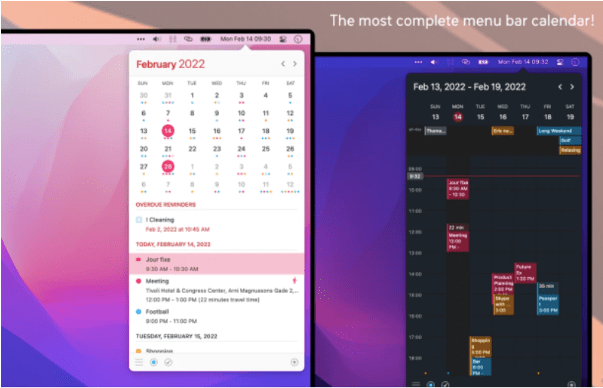 Calendar 366 II is one of the calendar apps for Mac which is equipped with different views and themes. Customise your date, time, icons on the menu bar, colour for events, fonts and reminders. Adjustable for users in both – Portrait and Landscape modes. Supports the major calendar apps used on Mac such as native Apple Calendar, Google and Outlook. 
Features
Easy to manage and edit the invitations.

Sync documents and applications.

Travel time support for car and foot.
6. InstaCal – Menu Bar Calendar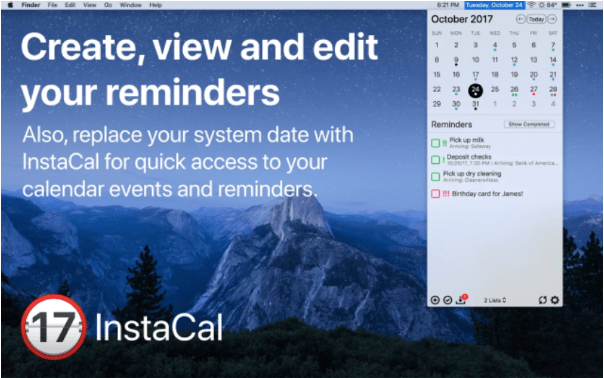 InstaCal changes the menu bar option for your Mac calendar. This is one calendar app for Mac that can be used for the Menu bar icon calendar that every Mac user dreams of. The ease of access with integrated options will make you very happy. Very affordable application with the features of viewing, editing and inviting others to the calendar. 
Features 
Configure the keyboard shortcuts as per requirements.

Easy view for event sns reminders. 

Supports Google Calendar, Outlook and Office 365.
7. Morgan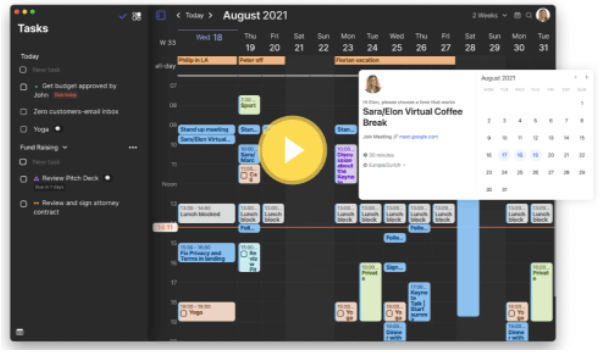 Morgan is one of the solutions for the people who use devices with different operating systems. As this calendar app for Mac is also available for Windows and Linux and it can be integrated together. One click join and Quick peek make it easy to view the Calendar with keyboard shortcuts. It can also support upto 9 secondary time zones for your team mates. 
Features 
Connect to Microsoft, CalDAV, Google and Outlook.

Send links to others for showing the availability.

Merge the same event across the calendars.
8. Calendars
Calendars by Qbix Inc. is also one of those calendar apps for Mac to look out for. It comes with some of the detailed views for the events and gives you a scenic view. The application also lets you access all of the events, birthdays from Google and Facebook, and weather in one place. Get it from the dock and use the different views – Compact or Full month. 
Features
20 beautiful themes.

Integration with Facebook.

Supports iCal and BusyCal events.
9. Planner Pro – Daily Calendar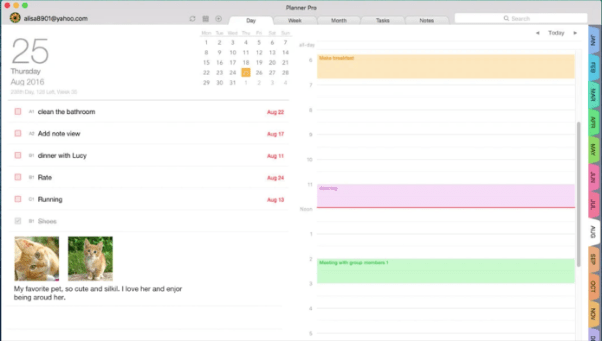 Planner Pro is a daily calendar app for Mac which has a very similar look to an organiser. It will help you keep the tasks and events managed with the different views. The clean interface helps you see the tasks with the uploaded media files.
Add notes in addition to keep a clear picture of the tasks and events on the go as it syncs with the iOS devices.   
Features 
Quick editing tools for Calendar events. 

Various statuses for Tasks and Projects.

Manually allocate the time slots.
10. Informant
Informant is a wonderful calendar app for Mac which comes with the facility to integrate other applications on your device. Use the Quicklook to have a summary on your assigned task or event on a date. Different templates with customisation are available in multiple fonts and colours.
Features –
Works as a planner and organiser.

Add smart task filters to your projects.

Sync with Google Calendar, Evernote etc.
Top 10 Calendar Apps for Mac in a nutshell – 
| | | | | | | |
| --- | --- | --- | --- | --- | --- | --- |
| Product Name | Best For | Platform | Price | Free Trial | File Size | Latest Version |
| Fantastical – Calendar | To-do list and reminders with voice over support and more | macOS 10.13.2 or later | $39.99 | Yes | 60.6 MB | 3.6.6 |
| Microsoft Outlook | Popular cross platform email and calendar app | macOS 10.15 or later | $69.99 | Yes | 953.5 MB | 16.63 |
| BusyCal | Flexible app with customise options and smart filters | macOS 10.12 or later | $33.99 | Yes | 59.5 MB | 2022.3.1 |
| Mini Calendar | Lightweight calendar for basic tasks | macOS 10.10 or later | $0 | Yes | 1.2 MB | 1.5.8 |
| Calendar 366 II | Easy use with support from multiple apps for event and location | macOS 10.12.2 or later | $14.99 | Yes | 15.8 MB | 2.12.3 |
| InstaCal | Add Google calendar, Office 365, Outlook and Apple | macOS 10.11 or later | $4.99 | Yes | 5 MB | 1.9.8 |
| Morgan | Integrates all apps including VoIP calling apps | macOS 10.11 or later | $48.00 | Yes | NA | NA |
| Calendars by Qbix Inc | Works with other calendar apps and  shows weather updates | macOS 10.9 or later | $15.99 | Yes | 18.3 MB | 3.0 |
| Planner Pro | Small application to keep notes, tasks and events scheduled | macOS 10.10 or later | $24.99 | No | 2.4 MB | 2.0 |
| Informant | Simple task manager on the calendar and informs for meetings with Google Calendar | macOS 10.14 or later | $49.99 | Yes | 44.6 MB | 1.1.25 |
Frequently Asked Questions –
Q1. Is there a Calendar app for Mac?
Yes, the inbuilt Apple Calendar is the best among the calendar apps for Mac users who are not looking for anything advanced. But if you like to keep a tab on the upcoming events, tasks and get reminders on it, install another application.
Q2. How do I get a Calendar on my Mac?
Apart from the built-in Apple Calendar on Mac which is easily accessible on the Desktop, you can download any of the calendar apps from the Mac App Store.
Q3. How do I download Apple calendar on Mac?
You do not need to download Apple Calendar on Mac as it comes preinstalled. It can used with any of the accounts of iCloud, Yahoo Mail, Google. 
Q4. What is the best Google Calendar app for Mac?
Fantastical and BusyCal can be used as the best calendar apps for Mac to integrate the Google Calendar. 
Q5. Can you get Google Calendar on Mac?
Yes, Google Calendar on Mac can be used from the browser as it is available online. It can also be used with multiple other calendar applications to view the tasks and events on them once synced.
Conclusion On Best Calendar Apps For Mac
These are the best Calendar apps for Mac to help you stay on schedule and never miss an event. Try out the third party applications such as Fantastical and BusyCal if you have never tried anything apart from Apple Calendar. You will find them very detail-oriented and open to customisation as per user needs.
Microsoft Calendar comes in second place for the most use of calendar, email and syncing accounts for contacts. You can pick any of them as per your requirements and choice of work. 
Also Read