Are you afraid to lose all your precious data on Mac due to some accident? It is better to take a prevention than to suffer later and search for answers. The hard disk data can be lost because of virus attack, power surge issues and physical damage. But to get disk cloning software for Mac can save you from any such loss caused to your disk storage. As you have a clone ready to be used in case of hard disk failure on Mac.
What is Disk Cloning Software
So, what are these hard drive cloning software for Mac? A software which can be used to clone the data on the disk of a Mac is called the Mac hard drive cloning app. It can be used to keep a backup of the hard drive data on a new laptop or the existing one after the Reset. 
Here is the list of Top 9 Hard Drive Cloning Software for Mac You Must Try this year
Acronis Cyber Protect Home Office

EaseUS Todo Backup For Mac

ChronoSync

Carbon Copy Cloner

SuperDuper

Get Backup Pro

Clonezilla

Clone X

Disk Utility
9 Best Disk Cloning Software For Mac
1. Acronis Cyber Protect Home Office (Mac)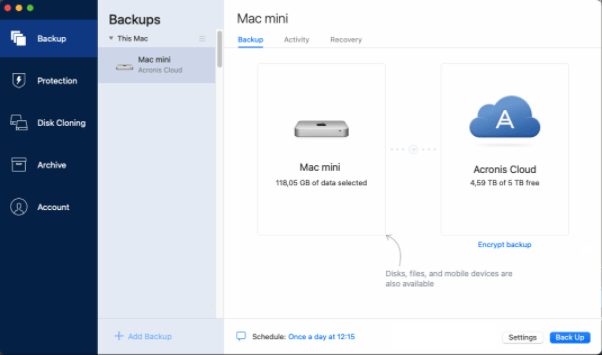 Acronis Cyber Protect Home Office (Mac) is one of the best hard drive cloning software for Mac. It has a very intuitive interface and Disk Cloning is the major feature. You can also take backups, archive, and protect the data.
All you are required to do is duplicate the data on your Mac using Acronis Cyber Protect. Then use the bootable backup on the new hard drive using the Disk cloning tool.
Features –
Protects the data backups.

Uses in depth backups.

Cloud management tools. 
2. EaseUS Todo Backup For Mac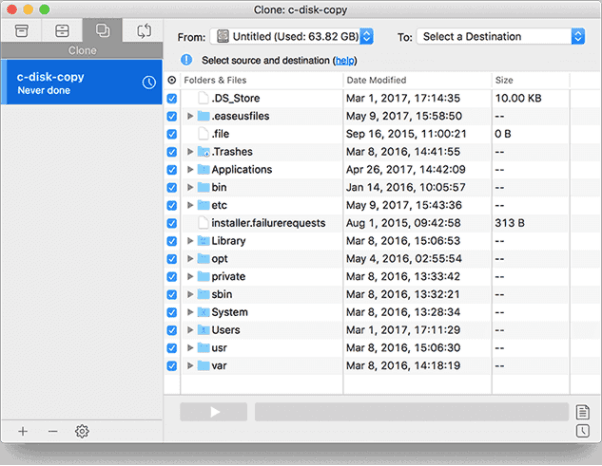 EaseUS Todo Backup For Mac is the best disk cloning software for Mac. This is a safe option for your Mac to get your data from the bootable disk. It can easily clone all the data on your source disk to the target disk in a short span of time.
This disk cloning app is also great in synchronising your data for the backup to an attached computer or mounted disk. This works for archiving, syncing , and cloning the data on your hard drive.
The automatic backup scheduling helps you take a regular backup of the data in a stealth mode to avoid any interruptions. EaseUs Todo Backup also lets you compress the data to save space. 
Features –
Automatic backup scheduling.

Backup encryption.

Sync files & folders for a mounted disk.
3. ChronoSync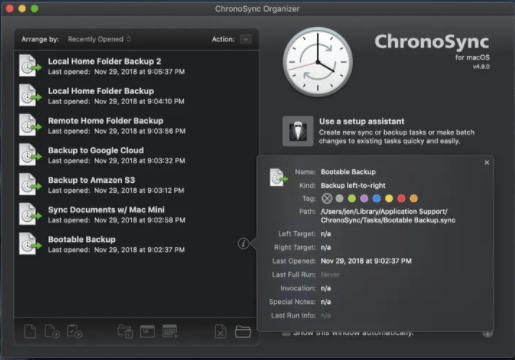 ChronoSync is another of the best disk cloning software for Mac. It comes with the features to sync data, take a backup, bootable backup, and to keep your data safely stored on an external disk.
This cloning software for Mac to work while you are away and to use the scheduling option for backup. One of the disk cloning apps to have such a powerful and comprehensive toolkit to help in data recovery. Easy utility to select the source and target disks with the advanced options for taking backup on Mac. The hard drive cloning of the Mac tool also lets you recover the lost files.
Features 
Works with Amazon S3 & Backblaze B2.

Backup to External or Network Volumes.

Supports unidirectional and bidirectional sync.
4. Carbon Copy Cloner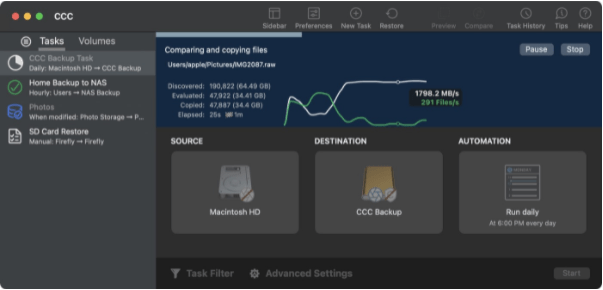 Carbon Copy Cloner is one of the best disk cloning apps as it is the answer to all your backup needs. Be it cloning the entire disk or to just take a backup of a few folders, this Mac cloning software will do it for you.
This is a name you can trust as it has been in the backup industry for the past two decades. Use this utility to take the backup as they are and recover them from the same state as it saves the snapshots. The household licence from Carbon Copy cloner will help you use the product on every Mac in your house.  
Features –
Flexible & fast backup.

Smoother transfer.

Scheduled backups available.
5. SuperDuper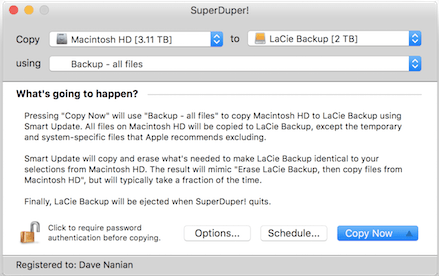 SuperDuper is another mac cloning software with the support for Big Sur and Monterey. It will handle your bootable backups quickly and make the process hasslefree.
The free cloning software for Mac has a very simple and user-friendly interface. It perform disk cloning on Mac using its built-in scheduler and stores a backup of the disk apart from the Time Machine.
It will ignore the missing driver errors and take a successful backup. The feature such as Smart Delete helps in reducing the disk full errors.  
Features –
Fully Bootable backup.

Includes smart features.

Create backups from snapshots.
6. Get Backup Pro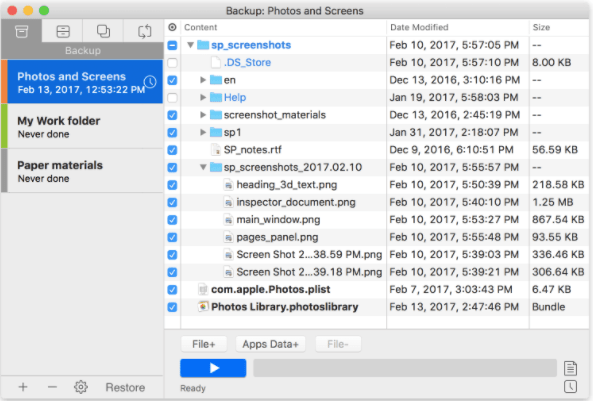 Get Backup Pro is another cloning software for Mac by Belightsoft. It can be used for taking backup, archive, disk cloning and folder sync on Mac. This disk cloning app, which can be effectively used for taking fast data backup.
The data is safely kept stored on another disk with the help of this Mac drive cloning app which can be used in case of a failed system. It works on the latest APFS and the traditional HFS+ to take bootable backups.
It allows you to restore the backup to any computer even without installing  the Get Backup Pro.
Features –
Create bootable and encrypted backups.

Synchronise files & folders with another computer.

Use Stealth mode for scheduled backups.
7. Clonezilla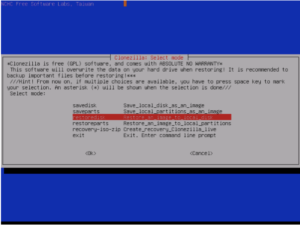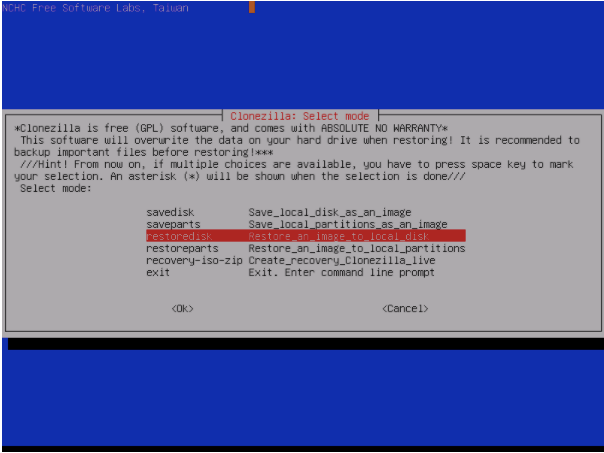 Clonezilla is an open source disk cloning software and it can be used on multiple platforms. Clonezilla Lite is suitable for a single device to perform the task of disk cloning on it.
AES-256 encryption is used by Clonezilla to protect your data while storing, transferring and restoring. It allows you to add boot commands to personalise your disk cloning process and makes it easy to handle.
Features –
Supports multiple local storage.

Store partitions or the entire disk.

Customise the disk cloning.
8. Clone X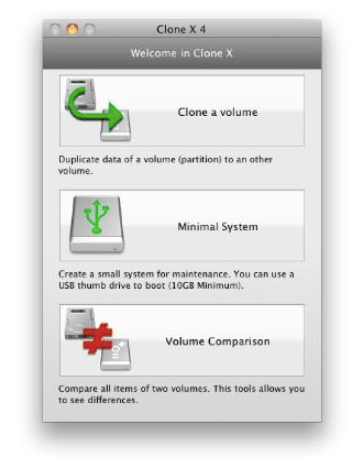 Clone X is another excellent Disk Cloning software for Mac. It's a very small size app to install but very dedicated to duplicating the hard disk on Mac. Clone X is very easy to use for creating disk copies and cloning system disks. You can clone an entire disk into another disk with or without user documents and settings. 
Features 
Small app to install and use.

Can restore the entire disk with or without user data.

Dedicated to creating clones of disk. 
9. Disk Utility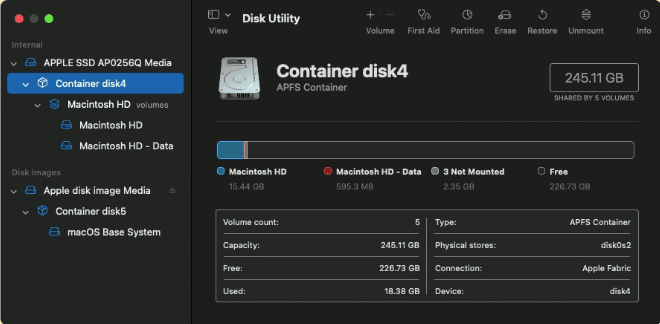 Disk Utility is a built-in utility of macOS from version 10.14 onwards , which can be efficiently used to clone or back up data from disk. Among all the rich features of Disk Utility, Restore is a great option to enable take backup or copy the entire disk to another hard drive or external drive. It can be used as a free Mac cloning software as it comes as the inbuilt utility.
Features  
Built-in to macOS hence absolutely free.

Simple and basic feature to clone disk.

Certainly very efficient for cloning and backup.
Frequently asked questions- 
Q1. What is the best disk cloning software for Mac?
EaseUS Todo Backup For Mac is the best disk cloning software for Mac. It also offers a free trial and supports all macOS versions. It can compress and encrypt the backup to help the users. 
Q2. How do I clone my Mac?
Looking for a simple way to clone your Mac, use a disk cloning app and create backups on another drive. The best way to clone a hard drive Mac is by using any of the applications mentioned in the blog.
Q3. What is the best free cloning software?
Clonezilla is the best free cloning software for Mac as it is an open source program. This free Mac cloning software can be used to clone an entire disk or a partition. 
Q4. How do I clone my Mac hard drive to SSD?
To clone your Mac hard drive to external SSD you can take help from Mac hard drive cloning apps. They provide you with necessary features such as scheduling, encrypting and transferring data backups.
Conclusion
To sum it up, disk cloning software for Mac plays a crucial role in data backup, migration, and system management. Tools like Carbon Copy Cloner, SuperDuper, and EaseUS Todo Backup provide reliable solutions for creating identical copies of your drives.
The flexibility and features offered by these software options ensure that Mac users can find the right fit for their specific needs, whether it's for personal use or business operations. Cloning your disks ensures data security and system integrity, making these tools essential for any Mac user.