How do you find out the space remaining on your storage disk on your Mac? If you wish to learn detailed information on your Mac, a dedicated application is required. But which is the disk space analyzer for Mac? As there are several products available online, we can not make a wrong decision. Therefore, to help you, we have curated a list of the disk space analyzers for Mac.
You can find out the details on the features and functionality in this blog which will help you decide which is the best software for your use.
10 Best Disk Space Analyzer for Mac
1. Disk Drill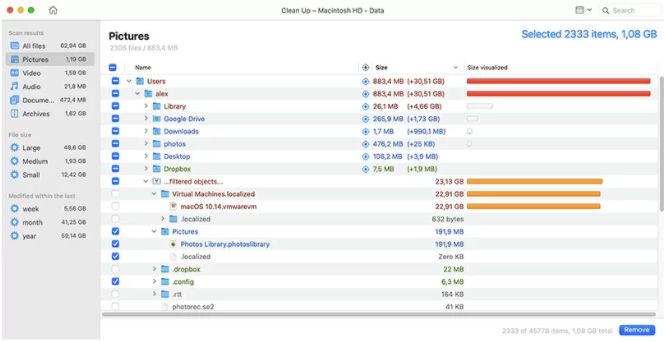 Disk Drill is an amazing tool which can help you resolve a number of issues on your Mac. This is one of the best disk space analyzers for Mac as it can show you the disk space occupied on the tool. You can enjoy the Mac Cleanup tool as a feature which will help you decide what kind of data you want to delete from your Mac.
It includes three display modes to help you figure out which files are to be selected and moved to trash. You can remove the unwanted duplicates and junk files to the Trash to free disk space.
Features –
Maps out the disk space consumption.

Flexible filters for scanning results.

Supports network drives.
Must Read Detailed Review – Disk Drill for Mac
2. GrandPerspective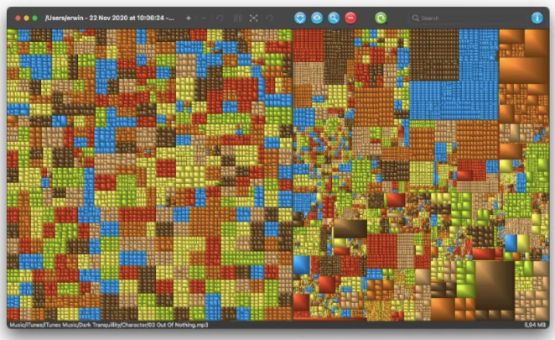 GrandPerspective is a free disk space analyzer for Mac. You can use this open source Mac utility to analyse the disk space and find out what's taking up so much unwanted space. It has a unique way of showing you the disk space with the differently coloured blocks.
You can see how a file is distributed all over the disk in different fragments. It can also easily analyse the Time Machine backups and help you get the most out of the tool.
Features 
Graphical Representation.

Configurable mapping with file types.

Multiple view support for comparison.
3. DaisyDisk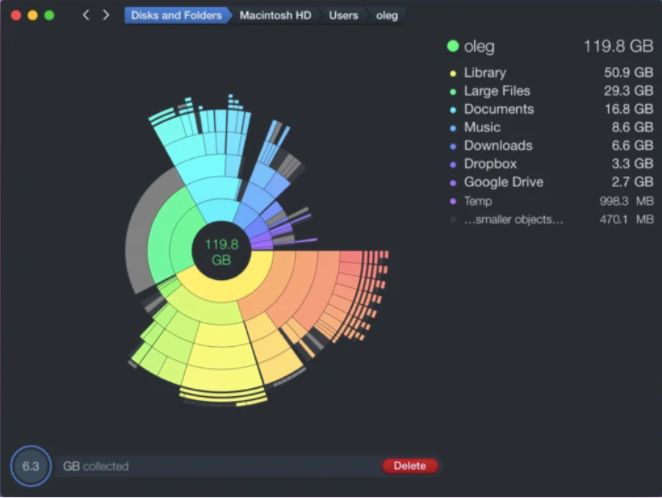 DaisyDisk is a very good Mac cleaning utility and the best part is its visual representation of the storage disk. It gives you a quick solution with the Quick Look preview option for the files.
It makes the best disk analyzer for Mac as a user friendly tool with an ease to make decisions by previewing the file contents. User can run a scan at fast speed and clean up the unwanted large and old files.
Features –
Fast scanning speed.

Can scan Multiple drives at a time.

Supports mounted drives.
Must Read Detailed Review – DaisyDisk for Mac
4. OmniDiskSweeper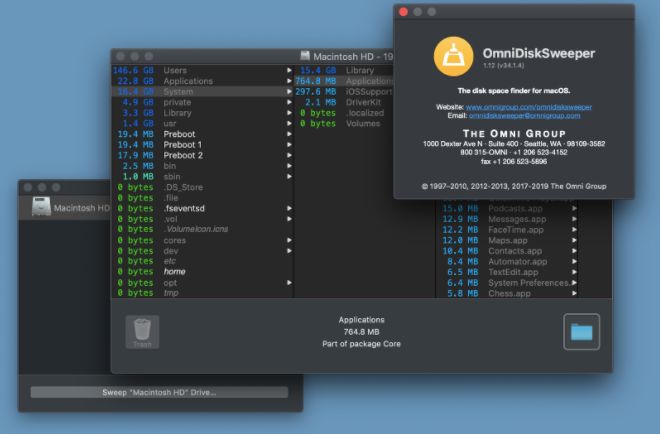 OmniDiskSweeper is a free disk usage analyzer for Mac which can provide a quick look into the disk space. This gives you enough insight into the data which is hogging on the storage space.
A Mac user can benefit from this and select the files which are unnecessary. Then it will transfer the files to the Trash instantly and save you disk space.
Features 
Quickly locates large files.

Deletes unwanted files.

Clears Storage space.
5. Disk Inventory X
Disk Inventory X is a powerful and free disk space visualization tool designed exclusively for Mac. This user-friendly application provides a visual representation of your disk space usage, making it easy to identify and manage storage-hogging files and directories.
By displaying a colorful and interactive map of your disk, it enables users to quickly pinpoint which files are consuming the most space. With its intuitive interface and detailed file information, Disk Inventory X simplifies the process of decluttering and optimizing your Mac's storage, helping you reclaim valuable disk space and improve system performance.
Features –
Treemaps for disk space.

Works with mounted drives.

Easy representation of content in graphs.
6. Disk Space Analyzer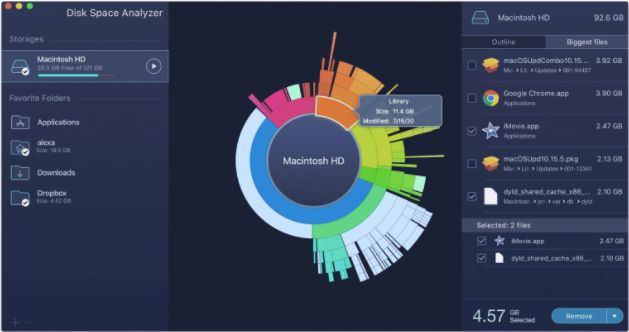 Disk Space Analyzer is a powerful tool from the software expert Nektony. You can use this on your Mac and get a clear representation on the disk content with a graph. It can help you analyse the largest and smallest space covered on the disk.
Thereafter, you can clean the disk by removing the redundant and unwanted files using this disk utility. Check what's taking too much of disk space by running a scan and recover the storage by deleting unwanted files.
Features –
Disk Space visualizer.

Folder size exploration.

Cleans your disk.
7. CleverFiles Cleaner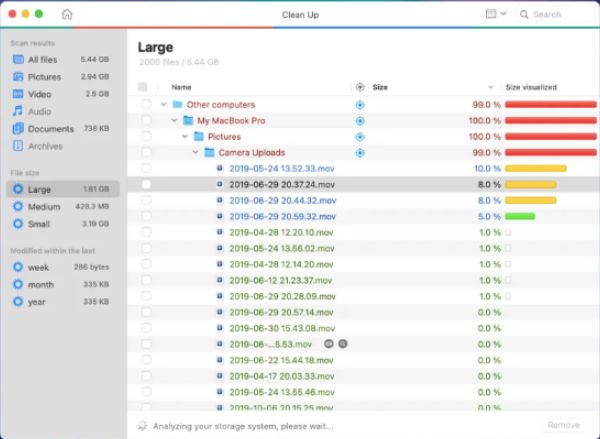 CleverFiles Cleaner is another of the simple Mac utilities by the same developer of Disk Drill. This one being more focused on disk cleaning and analysing to help the users.
Formerly known as Disk Cartography, this is another of the disk space analyzer which can give you detailed information on the usage of disk by different files.
Features –
Finds large files.

Various filters.

Tree representation.
8. DiskWave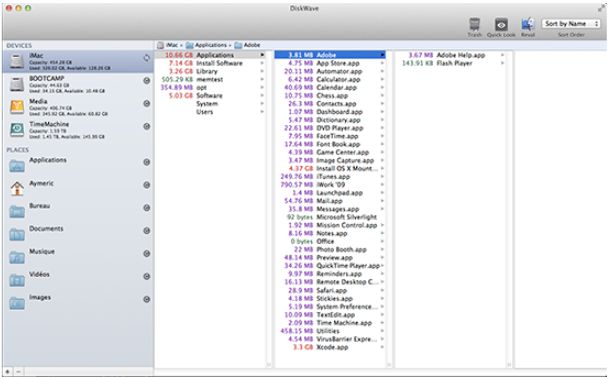 DiskWave is a free disk space analyzer for Mac which will help the users find out what consumes the most space on the storage disk. It runs a quick scan to determine the state of your Mac. The results are then saved on the memory rather than Finder to help users gain faster navigation.
Features –
Fast scan and results.

Identifies useless directories.

Computes sizes of files and folders.
9. WhatSize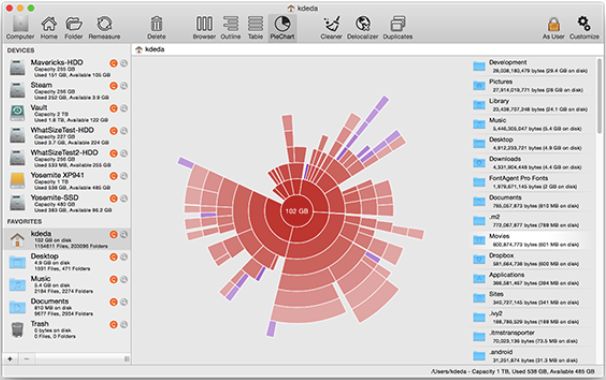 WhatSize is a simple to use Disk mapping utility for Mac which comes free of cost. It will give you detailed information on the device drive and then helps you remove them.
It can find duplicate files, measure the size of the files, folders and applications and clean them with dedicated tools. 
Features –
Interactive chart for disk usage.

Automatically sorts by size.

Cleaning tools.
10. Cleanup My System
Cleanup My System is a Mac optimization tool and it comes with multiple helpful modules. One of them is Disk Analyzer and it helps in finding out what is taking up the most space on your disk. You can use the Explorer to analyse the contents of the scan locations.
It will locate the large files such as movies, pictures and music quickly and show you the summary.
Features –
View the bulkiest files.

Helps you to clean disk space.

Additional tools.
Top 10 Disk Space Analyzer for Mac
| | | | | | | |
| --- | --- | --- | --- | --- | --- | --- |
| Product Name | Best For | Platform | Price | Free Trial | File Size | Latest Version |
| Disk Drill | Complete solution for disk repair, manage and analyse | macOS 10.12.6 or later | $39.99 | Yes | 63.2 MB | 4.5 |
| GrandPerspective | Lightweight disk analyser to manage space | macOS 11.0 or later | $2.99 | Yes | 2.4 MB | 3.4.2 |
| DaisyDisk | Visual representation of disk storage in graphs | macOS 10.13 or later | 9,99 € | Yes | 4.1 MB | 4.25 |
| OmniDiskSweeper | Scans Disk  and detects & Removes unwanted files | macOS 11.0 or later | $0 | Yes | 6.2 MB | 1.14 |
| Disk Inventory X | Freeware with unique treemaps for filesize | macOS 10.13 or later | $0 | Yes | 7.1 MB | 1.3 |
| Disk Space Analyzer | Multipurpose tool to analyse files and usage. | macOS 10.13 or later | $9.99 | Yes | 10.4 MB | 4.1.6 |
| CleverFiles Cleaner | Scan disks and folders & clean unwanted files | macOS 10.12.6 or later | £2.99 | No | 60.7 MB | 2.0 |
| DiskWave | Free utility to scan and identify sizes in Finder | macOS 10.13 or later | $0 | Yes | 1.1 MB | 0.4.0 |
| WhatSize | File system utility & management tool | macOS 10.13 or later | $14.99 | Yes | 4.3 MB | 7.7.7 |
| Cleanup My System | Complete Mac Cleaning utility | macOS 10.11 or later | $34.99 | Yes | 21 MB | 2.21 |
Frequently asked questions
Q1. How do I analyse disk space on a Mac?
To analyse the disk space on Mac, you must get a third party application. As they help you scan the disk and give accurate representation which is easy to understand and helps you analyse what can be cleaned to free up storage on Mac.
Q2. How do I see other disk space on Mac?
Use one of the best disk space analyzers for Mac such as DaisyDisk which can also scan the mounted drives. The graphical representation can make it easy for you to find out the consumption by respective files and folders.
Q3. What is the purpose of a disk space analyzer?
Disk space analyzer is a tool which gives you a disk visualisation that helps you understand how fragmented the disk space is. Using it you can locate the files and folders taking up the most space and decide on cleaning them to optimise your Mac.
Q4. Is there a WinDirStat for Mac?
No, there isn't any WinDirStat for Mac but you can help from the many disk space analyzers which are listed in the article to get the data visualization on the storage disk.
Conclusion On Mac Disk Space Analyzer
Each disk space analyzer in the list of this blog will help you give an analysis of the disk consumption on your Mac. It is important to keep an eye on this as the negligence will result in slow processing of Mac.
There are a few free disk space usage analyzers for Mac which can be used for the home users, while professionals must get Disk Drill or DaisyDisk.
These applications empower users to identify and remove unnecessary files, reclaim precious disk space, and optimize their Mac's performance. Whether you're a casual user or a professional in need of detailed storage data, the top disk space analyzers provide valuable tools for maintaining a clutter-free and efficient Mac experience.
Also Read