Downloading anything on Mac is a straightforward affair with simple steps, and very limited options. But if you are looking for a better control over downloading files, videos, audio or for that matter any files in bulk, you need a download manager for Macintosh.
Batch list, downloading speeds, scheduling download and much more is available when you get one of the Best downloading Manager for Mac from the list below. 
10 Best Free Download Manager for Mac
1. Folx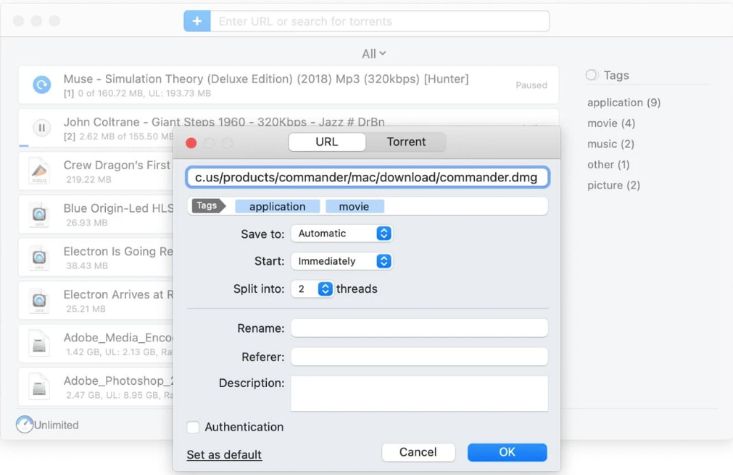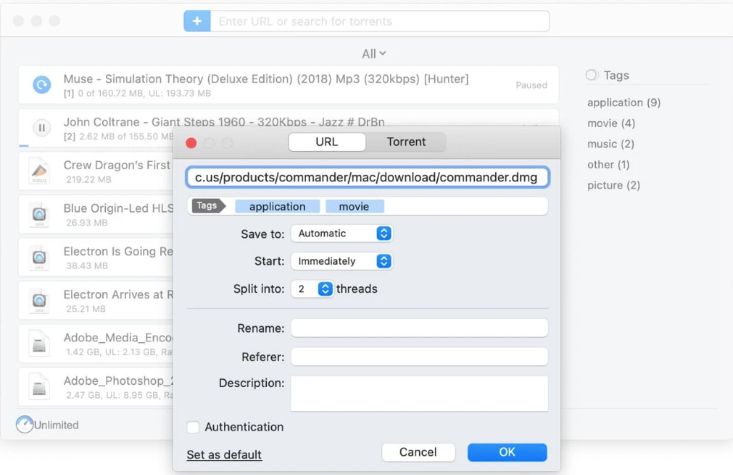 At the top of our list of best Download Manager for Mac we have Folx for its most fast and efficient way to download easily. It's simple and user-friendly interface helps you download and tag them for better user experience.
Folx offers two versions, the free version is more than enough for all basic downloading needs but if you need more control over your downloads then purchase the Pro version. 
Features –
Allows you to split each download into two threads. 

Can assign tags to your downloads.

Integrates perfectly with all browsers.

Complete torrent download features. 
2. Progressive Downloader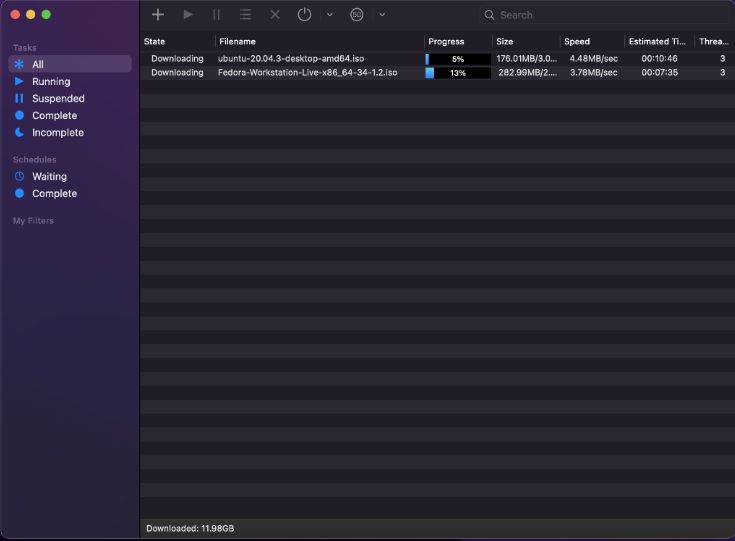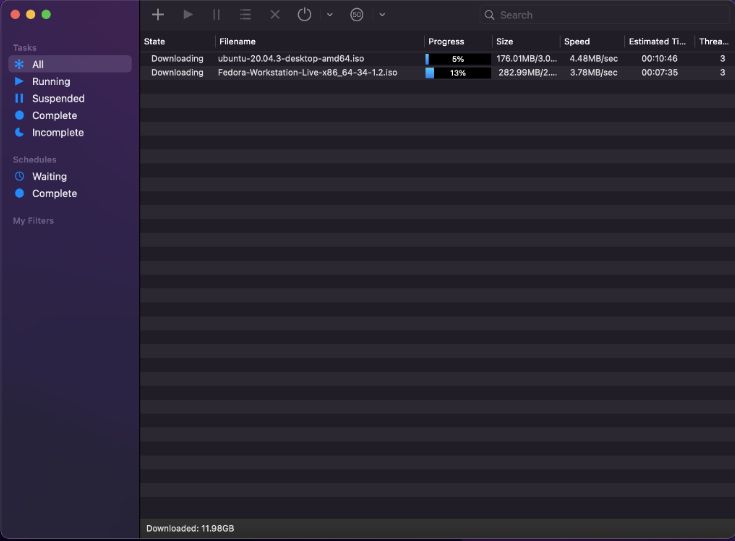 Progressive Downloader is another excellent Download Manager for Mac which provides an extensive list of features and customisation for download. You can speed up the downloads utilising full bandwidth of the internet connection. It integrates very well with all major browsers for added control over downloads. It can also schedule downloads to run on a specific time or stop as well. 
Features –
Easy, simple and friendly user interface. 

Can speed up downloads with whole bandwidth. 

Run downloads on specific schedules. 

Supports all major versions of macOS.
3. Free Download Manager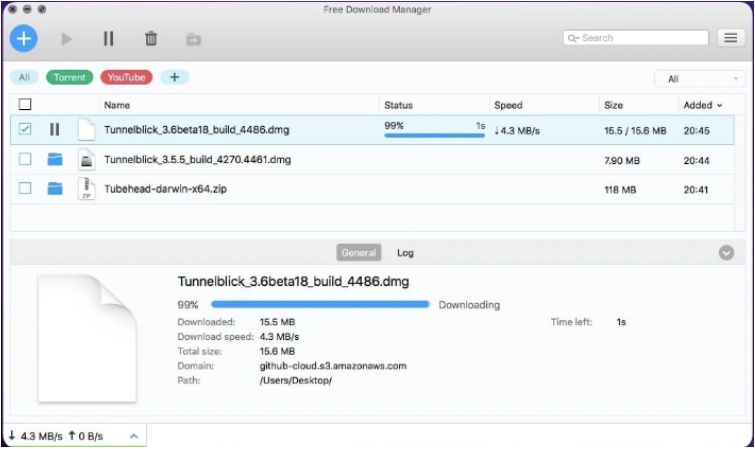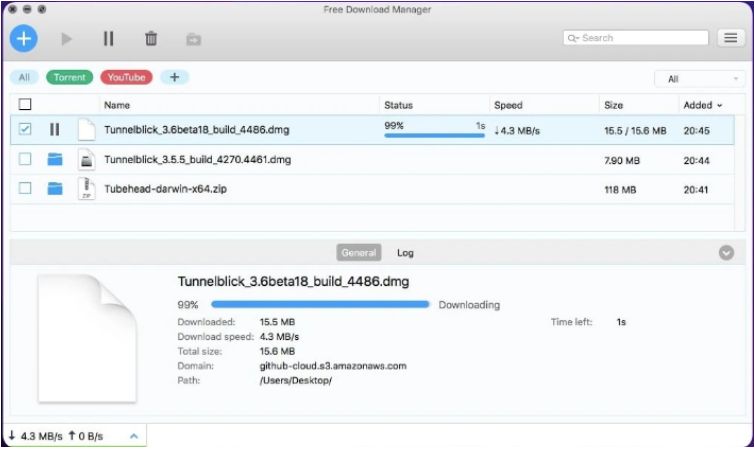 Free Download Manager is another excellent free downloads manager on Mac which supports cross-platform and is open-source software. With a friendly modern user interface it is highly configurable to your needs. It provides a feature to schedule the downloads and auto resumes any downloads with broken chains. It supports all major browsers and most languages. 
Features –
Absolutely free and open-source software. 

It is cross-platform supported. 

Friendly modern interface and configurable. 

Can schedule downloads to auto start. 
4. FlareGet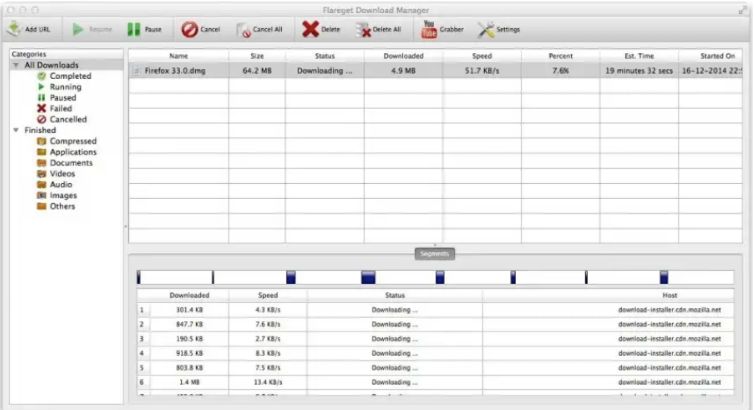 Primarily FlateGet is an Linux Download Manager but it offers a open source free Download Manager for Mac as well with its simple and straightforward user interface to download in bulk at same time. It supports splitting downloads into multi-thread to speed up the download time. Although the download speeds are impressive, its basic interface is a challenge for novice users to navigate around. 
Features –
Supports all major cross platforms. 

Provides smart file management for downloads. 

Easy integration with major browsers. 

Supports multi thread split for downloads. 
5. Leech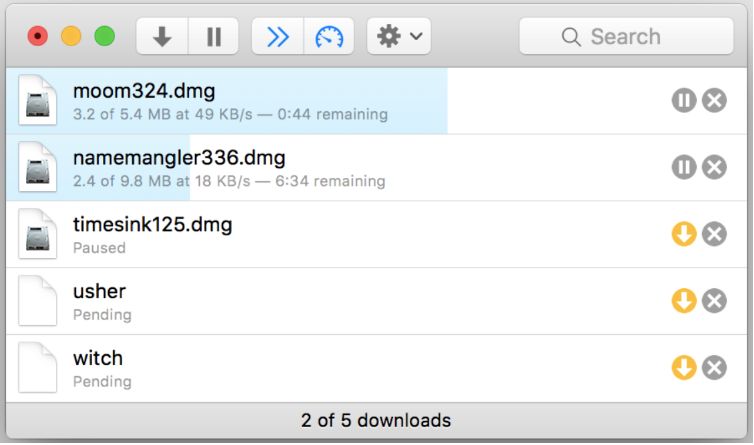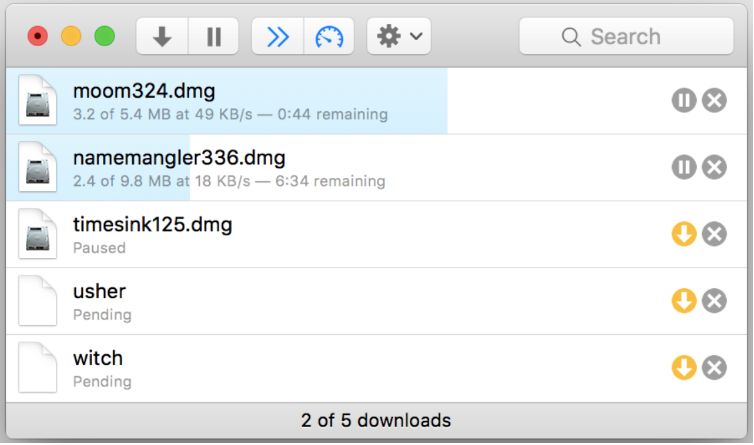 Leech is another Mac download manager which is lightweight and has a simple friendly user interface. You can control many aspects of download such as you can accelerate downloads, limit the internet bandwidth, schedule the download timings and set up downloaded file management. Although it is a lightweight application consuming very little of your System resources, you get an extensive list of features to integrate with all browsers. 
Features –
Simple and easy user interface to navigate. 

Extremely lightweight and use less system resources. 

Multiple options to control download speeds. 

Smooth integration with all browsers.
6. Neat Download Manager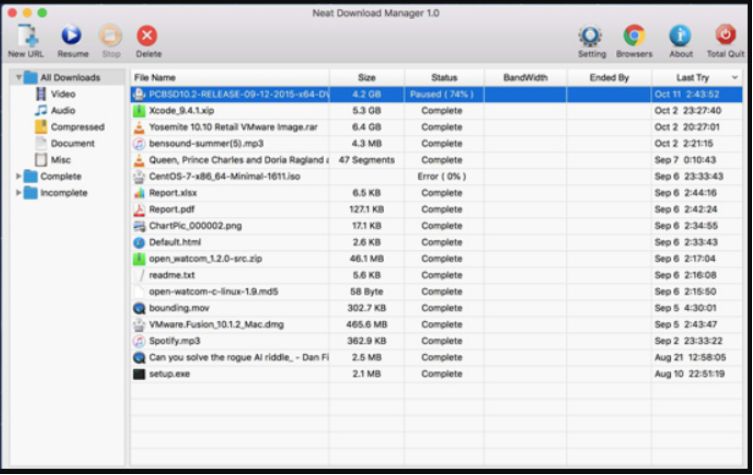 Another free downloads manager for Mac is Neat Download Manager which is a lightweight and powerful application supporting cross platforms. It utilises dynamic download segmentation algorithm to split downloads into multi segments for efficiency and also you can speed up downloads by using total internet bandwidth. Offers schedule download times and multiple sorting options. 
Features –
Absolutely free and supports cross platforms. 

Easy browser integrations and extensions. 

Supports dynamic download segmentation. 

Lightweight and friendly interface. 
7. Download Shuttle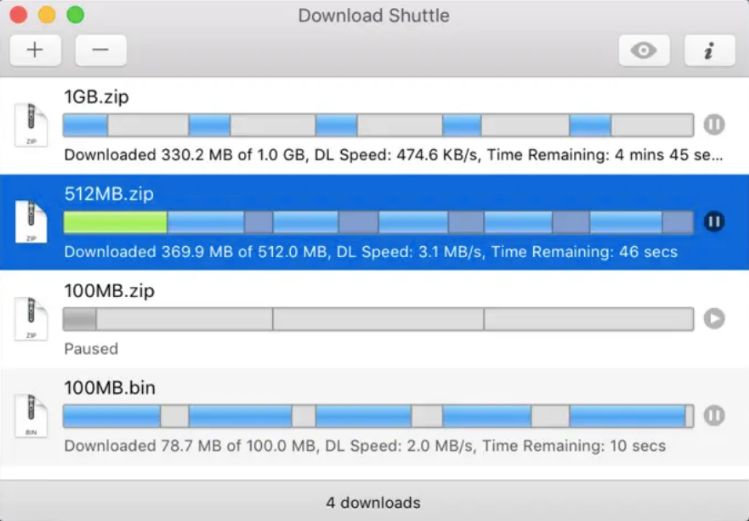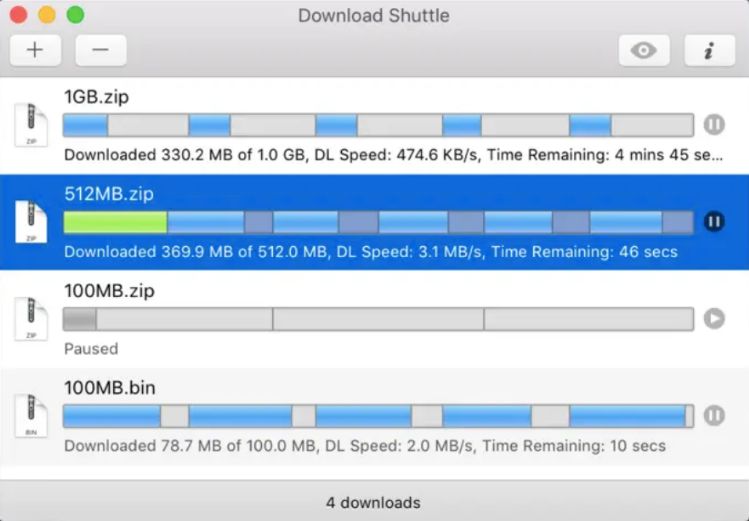 Download Shuffle is another best download manager for Macintosh with its blisteringly faster download speeds due to multi-segmented file downloads and utilising full internet bandwidth.
It lets you download multiple files at same time, and also can schedule the downloads at your convenience timings. The provided browser extension adds the extra convenience to add the url to the application. 
Features –
Free application with friendly user interface. 

Multi-segmented file download supported. 

Support authentication requires files. 

Provides an extensive browser for convenience.
8. Fat Pipe Downloader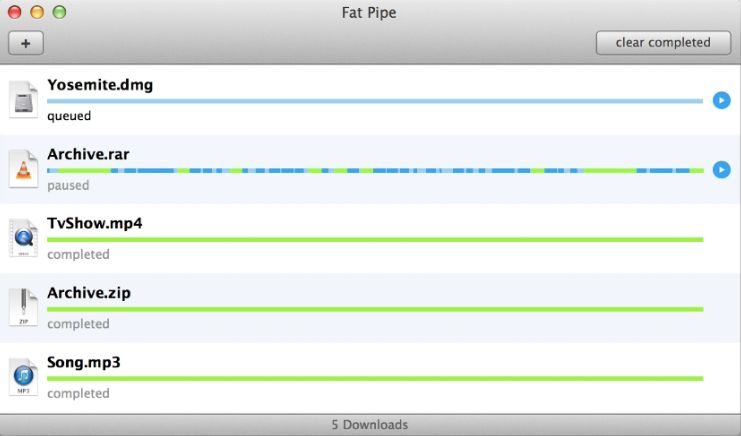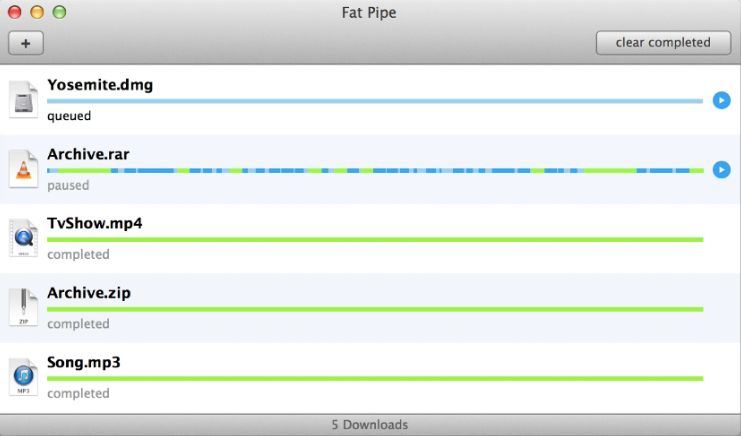 On the list of Download Manager for Mac we have another free Download Manager, Fat Pipe Downloader from Mac App Store. It lets you bypass the limit set for download speeds by splitting the download file into multiple segments and increase the download speeds utilising the full bandwidth of internet connection.
You can also utilise the provided browser extension for all major browsers to send the download url directly to the app.  
Features –
Sorts downloaded files by file formats.

Can auto allocate segments count. 

It's a free application on the Mac App Store.

Browser extension is provided. 
9. iDownloader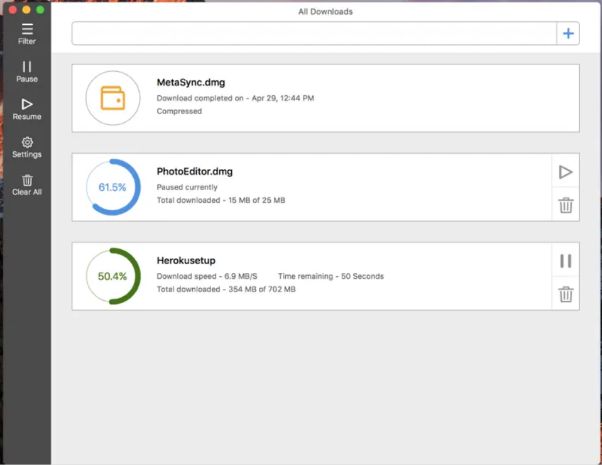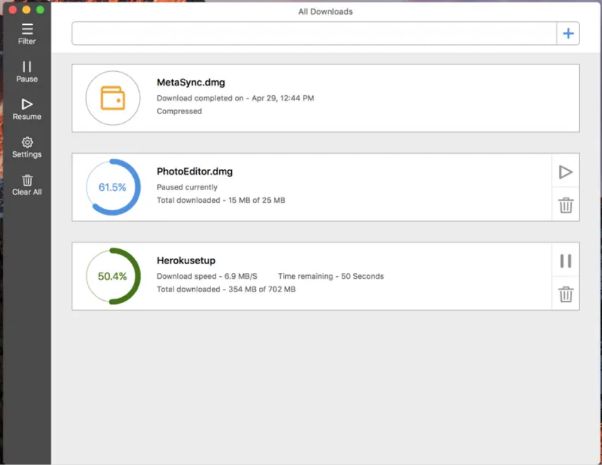 iDownloader is an Mac exclusive free Download Manager with a superb beautiful user interface and plethora of features list. It lets you download in multipart segments to speed up the download time and full utilisation of internet bandwidth.
You can integrate this with all major browsers and schedule the downloads at your specific convenient time. 
Features –
Absolutely free application with no freeware limitations. 

Beautiful and intuitive user interface. 

Supports multi part download in segments. 

Can download unlimited. 
10. Xtreme Download Manager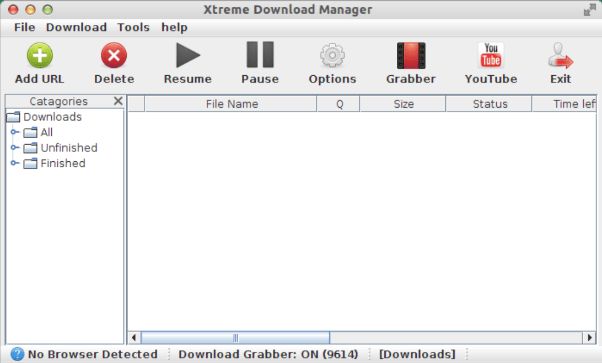 Xtreme Download Manager is another powerful Download Manager for Mac which supports download speeds up to 5 times higher and auto download any streaming videos from websites.
With its simple and yet beginner friendly interface is a breeze to navigate around, you can schedule download timings along with excellent all browser integration. It auto detects the downloaded file format and auto sorts it. 
Features –
Beginner friendly simple user interface. 

Auto download file sorting. 

Supports auto download of any streaming video.

Can download 5 times faster speeds.
Frequently Asked Questions –
Q1. Which is best download manager for Mac?
There are multiple download managers available for Mac, but we recommend Folx to be the best download manager for the extensive features and control over download speeds. 
Q2. Is Internet Download Manager available for Mac?
Sadly NO, Internet Download Manager is exclusively a Windows application. They are yet to release a Download Manager version for Mac. 
Q3. What is Free Download Manager on Mac?
Free Download Manager for Mac is an excellent download accelerator and organiser ,which helps you download multiple files faster and sorted. 
Q4. How do I manage my downloads folder on Mac?
For most all browsers and download manager applications would let you auto select the downloads folder on the specific location selected by you. Just follow the instructions provided on each browser settings and download manager app. 
Q5. How do I organise my downloads?
You can organise your downloads easily using download manager or by going through system browser settings. 
Conclusion On Best Download Manager For Mac
It is a hassle to download multiple files from a browser individually and with no control over the download speeds, A Download Manager for Mac would solve both these issues by letting you download multiple files at same time and accelerate the download speeds significantly by various methods.
Some of these Download Managers are free and some provide extra features, support for paid pro versions. We would recommend getting Folx Download Manager for Mac for its easy interface and huge feature list. 
Also Read