DVDs are no longer used for entertainment as online streaming content has replaced them largely. But we still have some of our gems that we would like to keep with us forever. Be it our homemade DVDs or our favorite movies on them, we would like to keep a copy of them.
Since playing them on the computer is no longer possible as most of the laptops do not have a DVD player on them. In that, it is better you make your data saved by copying them.
How to Make a Copy of a DVD on Mac
If you wish to make a DVD copy for Macintosh, there is no better way than using DVD copy software. As they are completely reliable in their accuracy of giving results without any loss in quality of the copied content.
But, you can also use the traditional method of copying the DVD on your Mac. All you need to do is follow these steps – 
Insert the DVD on your Mac and then launch Disk Utility.
Select your DVD disc from the Disk Utility;s list on it and click on New image.
Now click on Save As and select the destination and name and set the DVD/CD master to no encryption.
Now the new disc image will appear in the left pane of Disk Utility. 
Remove the DVD from your Mac.
Get a new writable DVD with at least 4GB space on it and insert it on your Mac.
Select the disc and from the options click on Burn in the Disk Utility and give the Burn speed and verification information.

Your DVD copy is complete once the process is completed. 
We have made a list of the DVD copy software for Mac which will help you create a backup in case.
Therefore, we talk about the best DVD copy software in this blog. This software come in handy to clone the data on the DVD and save it over the internal storage on Mac.
8 Best DVD Copy Software for Mac
We have made a list of the DVD copy application available for Mac which will help you create a backup in case.
1. 4Videosoft DVD Copy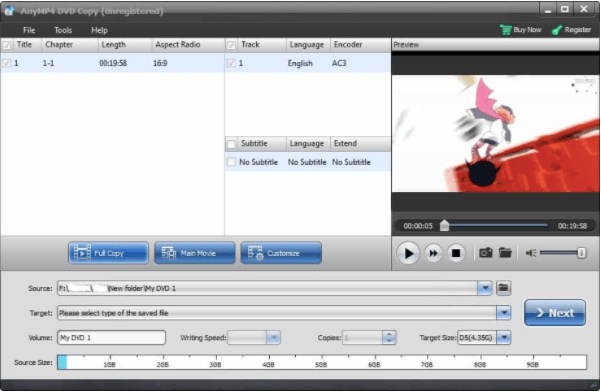 4Videosoft DVD Copy is the best DVD copy software for Mac as it is easy to use. This tool can easily backup the DVDs for you and help you save the data to a DVD folder on your Mac. This can also create an ISO image file of the DVD and save it on Mac. It is also compatible with multiple DVD discs which makes it efficient.
The free trial is available for users to try before making a purchase. The customized copy helps you backup only the important data from the movie DVDs. DVD-5, DVD-9, DVD-R, DVD+R, DVD-RW, DVD+RW, DVD+R DL, DVD-R DL, and DVD-RAM are supported by this free DVD copy software by Mac.
Features –
Fast speed of copying DVDs.

Clones DVD and ISO images to the hard drive.

Also allows compressing DVDs.
2. DVD cloner –
DVD Cloner is a DVD copy software for Mac which is professionally used software by many users. It can be used in performing many actions – copying, ripping, decrypting DVD, Blu-ray, and 4K UHD. This versatile DVD software will clone a DVD to another DVD as well as your internal storage on Mac.
It is capable of copying the data on DVD to the Mac as a DVD folder or ISO image. It supports DVD+R/RW, DVD-R/RW, DVD+R DL, and DVD-R DL. This application includes an entire movie with special additions or you can copy the main movie and leave the rest.
Features –
Multiple copy modes. 

Decrypt DVDs.

Burn DVD movie folders.
3. WinX DVD Ripper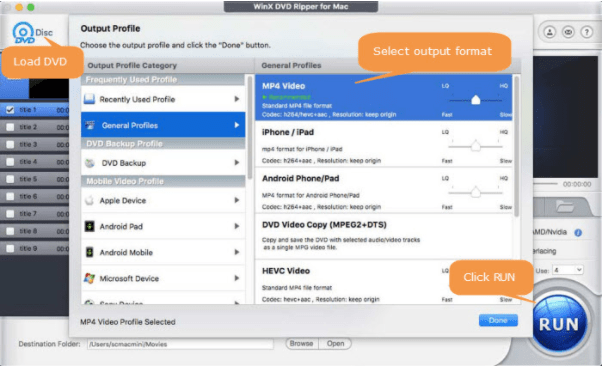 WinX DVD Ripper is another DVD copy software for Mac that supports new to old DVDs. The Copy DVD tool can easily help you take a backup on your Mac. It comes integrated with the tools to decrypt the DVDs and makes it possible to copy the movies on Mac.
It allows the users to easily copy the DVD to another DVD, ISO image, or DVD folder. This tool can also extract the tracks, and videos from the DVDs without losing the original quality. Take the title content for copy or just copy the DVD in the output to MP4, MPV, MKV, AVI, iPhone, and Android-supported formats.
Features –
The original quality is intact.

Bypass DVD copy protection.

5 minutes to copy the entire DVD. 
4. Wondershare UniConverter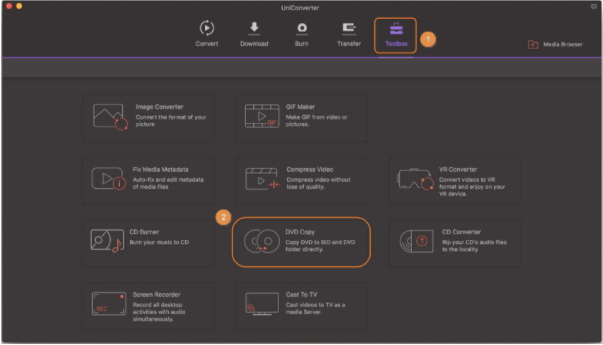 Wondershare UniConverter for Mac is an all-in-one solution for the video toolbox. This has some of the features one can need as a professional but can equally be beneficial to home users. This DVD copy app includes the Copy DVDs tool which can easily copy the data.
With just one click you can copy it to other blank DVDs from your Mac. Copying DVDs to the Mac after trimming, cropping, rotating, adding watermarks and subtitles. Additionally, it will help you customize the title, and add images to the DVD title.
Features –
DVD templates. 

Customise DVD menu settings.

Additional features for video editing. 
5. Handbrake
Handbrake is an open-source video transcoder and one if you are looking for free copy DVD apps for Mac. It will let you choose a profile to start working with according to the device. The simple and fast tool can be used to change the settings as preferred.
The tool supports a number of multimedia files and sources for DVDs and Blu-ray. It can add the decomb, denoise, grayscale, detelecine, deinterlacing, colorspace, scaling, and cropping for the video.
Features –
Mark's title and chapters.

Supports VFR and CFR.

Adds video filters. 
6. DVDFab
Use DVDFab to copy the DVDs to a hard drive or another disc easily. The DVD can be copied as a DVD folder or an ISO image to the hard drive using Mac. 
Various copy modes for meeting the needs of users in different scenarios. The Full disc can be copied or just the main movie can be extracted using this tool. Additional tools are present to help you for other DVD needs. 
Features
Lossless backup.

Supports new encryption on discs.

Quality video content. 
7. MakeMKV beta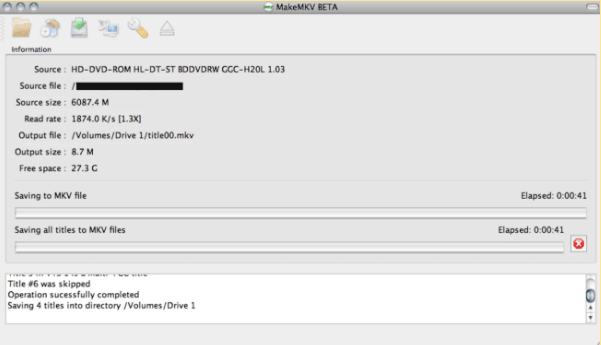 MakeMKV beta is another excellent choice as Mac DVD copy software that helps convert video into digital storage to play. It converts the video clips into a set of MKV files, completely without actually changing it.
Preserves all metadata and chapter information along with all the other data available on DVD in the process and then copies all information into drives easily.
Features 
Cross-platform support.

Can save all formats from DVD.

It's free to use in beta format.
8. Tipard DVD Cloner
Tipard DVD Cloner is another application that can copy DVDs on Mac with its content files with 1:1 ratio without any loss. This application can backup DVDs to DVDs and DVD to drives.
Provides three copy modes – Full Copy, Main Movie, and Customised.
Feature 
Can customize the copy mode. 

From DVD to DVD or DVD to local drives.

No quality loss while copying from DVD.
Frequently asked questions
Q1. How do I make a copy of a DVD on a Mac?
To make a copy of a DVD on a Mac, you are required to download any of the DVD copying software from the aforementioned list. They make your task of copying the DVD to another disc or the Mac very easy. 
Q2. How do I copy a DVD to my Mac 2021?
Take help from the best DVD copy software for Mac to copy a DVD to the internal storage of your Mac. Tools such as 4Videosoft DVD Copy will perform this action quickly. 
Q3. How do I copy a DVD with Disk Utility on a Mac?
If you wish to copy a DVD with Disk Utility on Mac, go to the Burn Disk Image to the Disc shortcut on Mac. This is a slow process and can take a lot of time and we recommend using DVD copy software for Mac. 
Q4. What is the best program for copying DVDs?
4Videosoft DVD Copy is the best program for Mac to copy the DVD as it provides you with multiple options. It is fast and very easy to use which makes it the first choice to be for taking backup for the DVDs. 
Conclusion On Software To Copy DVD on Mac
If you simply do not wish to spend time copying the data from DVDs to your Mac using the built-in utilities, pick one of the third-party tools listed above. We would suggest going for the third-party DVD copy software for Mac as they make the task easier and faster.
They also provide you with multiple options which will help you do much more to the DVD data. You can also try out the free DVD copy apps for Mac and decide for yourself. 
Also Read