Nowadays emails have replaced the traditional way of communication, instead of writing a letter or sending an SMS or receiving the information we just type an email send it and the message is received in a fraction of seconds. Before getting into the article it's necessary to know what is an email client. Email Clients are software that helps us access, send, receive or manage our emails, it is also known as a message user agent. 
Selecting the best email client for your Mac is a crucial decision, as it can greatly impact your email management, productivity, and overall communication experience. With an abundance of options available, each offering unique features and capabilities, finding the ideal email client can be both empowering and challenging.
10 Best Free Email Client For Mac
Whether you prioritize a clean and intuitive user interface, advanced organization and search functionalities, or seamless integration with other productivity tools, the right email client can streamline your email workflow and enhance your overall Mac experience. Here is a list of the top 10 best free email client for mac
1. Outlook
It is a personal information manager application for Macs, offering a wide range of services from email, calendars, contacts, and task management services. Outlook is an easy-to-use platform and is owned by Microsoft and it offers easy collaboration with the MS Office suite.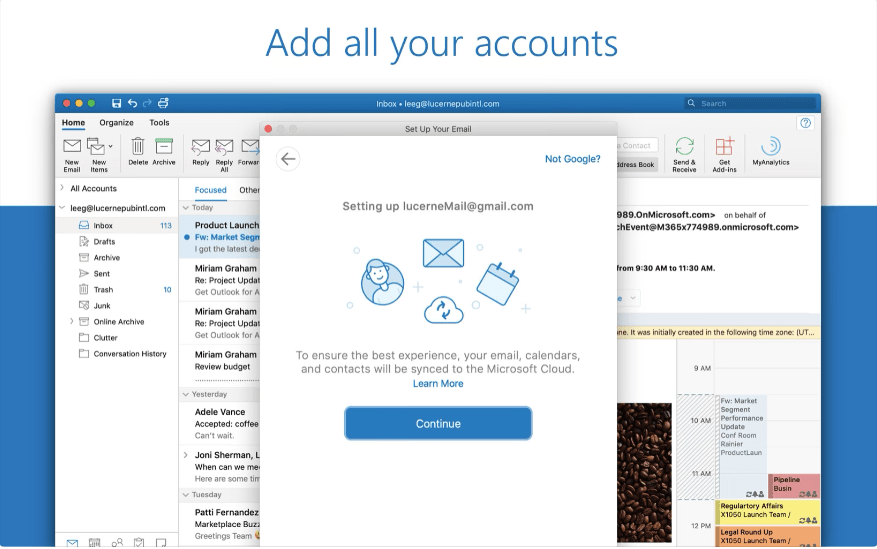 Features:
Task organizer to systematically organize and plan your day beforehand. 

Helps you to view dates with the help of a calendar and has an inbuilt to-do list in case you want to highlight a particular day or add any specific details to the date. 

The contacts feature of the outlook allows you to share a wide variety of information with different types of people or groups within your contacts. 

The email sent through this platform is completely safe from any external interferences as the data sent is Encrypted. 
2. Apple mail
Apple mail is Preinstalled on your Mac devices. It is the best and safest email client available to you as you already know the quality of security it offers. It's also Preconfigured to work with other email platforms like email, outlook, etc. 
Features:
The messages you send are end to end encrypted. 

A clean user interface like other email platforms and easy to use. 

It has the ability to file emails into folders, has the functionality to search for emails, and also to automatically append signatures to outgoing emails.

It helps to integrate calendars, contacts, maps, etc. 
3. EM Client
EM Client is another best email client for Mac which basically used to send, receive emails, manage dates and calendars, and notes. It offers a user-friendly interface like other clients.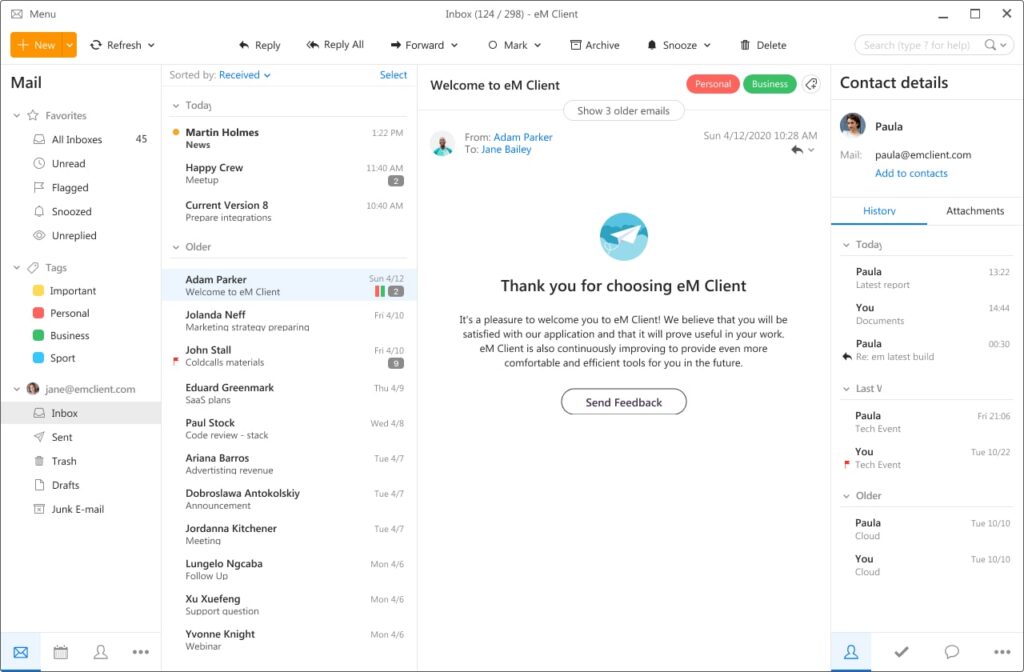 Features:
Easy handling of email, advanced rules management, delayed send, or a built-in translator for incoming and outgoing messages.

These tools have monitoring of Replies and Snooze Emails

It has an integrated live chat feature. 

It supports signatures, Quick Text, and tagging and categorization for easy searching.
4. Polymail
Polymail is an email application for mac widely known for its clean user interface and certain add-on features along with the mailing Features.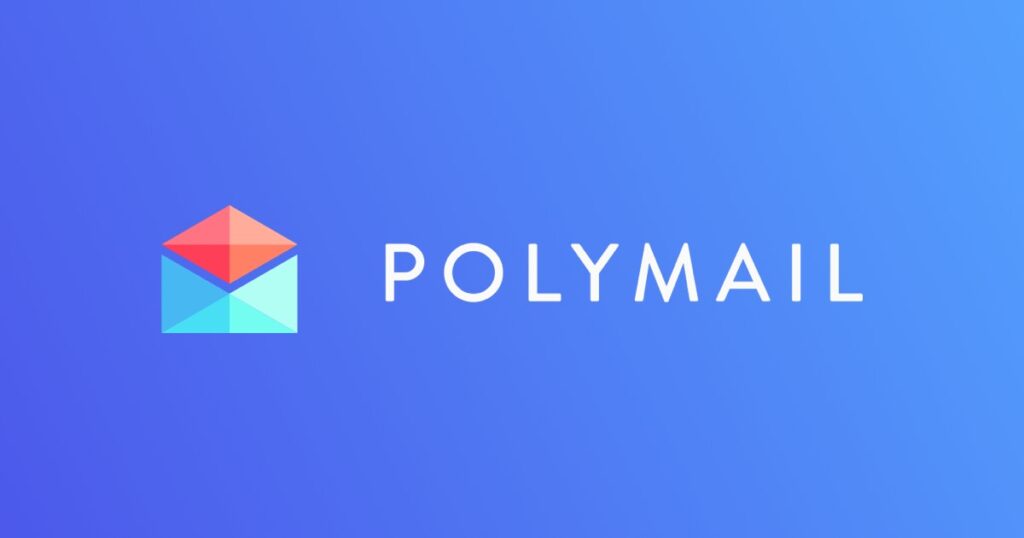 Features:
It has an email tracking feature that shows how many recipients have received the message and how many of them have viewed the received mail. 

You can set reminders and view dates on a calendar and highlight important dates. 

You can also set reminders for when to follow up on an email and schedule when they want their emails to send, if not immediately

. 

It will also show user's profiles who are sending you a message or is at the receivers by linking those messages to the social media platforms. 
5. Spark
Spark is an easy-to-use email platform on Mac, Android, and Windows created by Readdle. It is often considered as an alternative to Mailbox.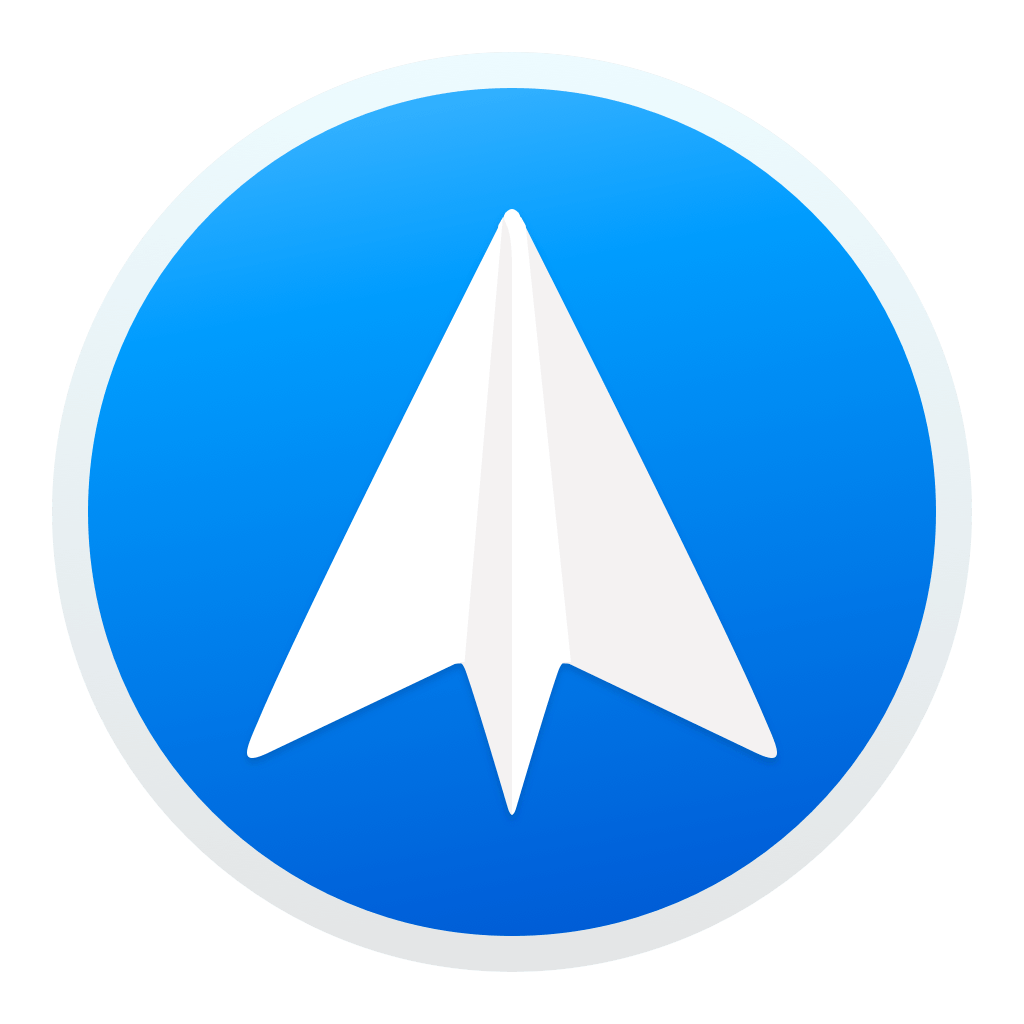 Features:
You can easily snooze emails and view them according to your timings,  and you can easily search for emails too. 

It create emails together with your colleagues using the real-time composed editor. 

You can discuss emails with your colleagues in real-time and keep your communication at one place with complete safety. 

It has a pre-written email feature so you can respond instantly to certain emails without writing. 
6. Mainspring
Mailspring is one the best email client software available for Mac and Windows. It has a great number of features apart from sending and receiving emails like snoozing messages, scheduling reminders, etc.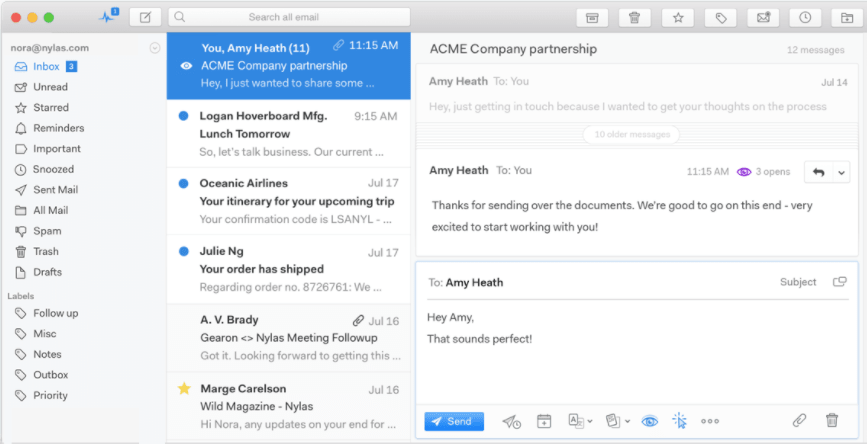 Features:
Wide variety of themes offering a lot of customization. 

It has an automated spell check feature so you need not worry about mistakes. 

Mainspring has an inbuilt signature editor so you can create custom signatures. 

It has an advanced search feature so you will have no trouble finding any of your emails. 
7. Bluemail
Bluemail is an easy-to-use free email client for Mac, Windows, and Android platforms boasting a wide variety of features and capable of managing an unlimited number of mail accounts from various providers.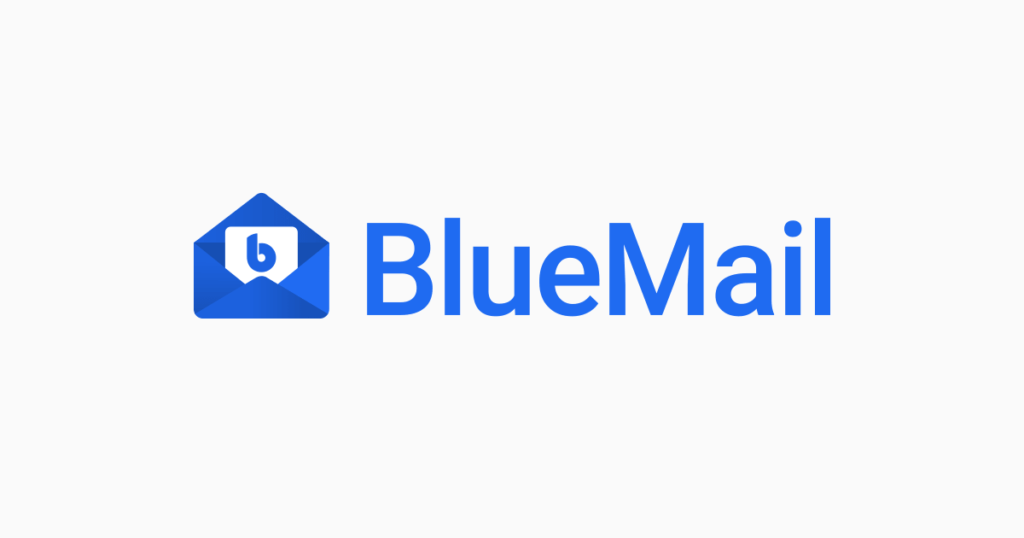 Features:
It has an inbuilt people mode that limits your attention to a specific group of people and the emails that you choose to focus on. 

Bluemail has inbuilt custom features, a calendar, dark mode, and a unified inbox to avoid any hassle. 

It has a group mail feature to enhance communication and sharing of data. 
8. Spike
Spike is one of the best email clients for Mac, also available to other platforms like Android and windows. It enables you to view email in a chat-like, conversational format, with additional features built-in, and works with Gmail, Outlook, Exchange, iCloud, Yahoo! Mail, and other email providers. 
Feature:
It allows you to organize emails on the basis of conversations, into three types basically on the basis of subjects. 

Allows you to make audio as well as video calls to each other. 

It also includes a calendar, contacts list, organizer, and groups. 
9. Postbox
Postbox is a free email client for Mac and also available on windows and android. It is available in a free and paid version.  It is powerful, beautifully designed, fully-featured, lightning-fast, and easy to use email client for Mac, works with Gmail, Outlook, Yahoo! Mail, iCloud, and other email providers.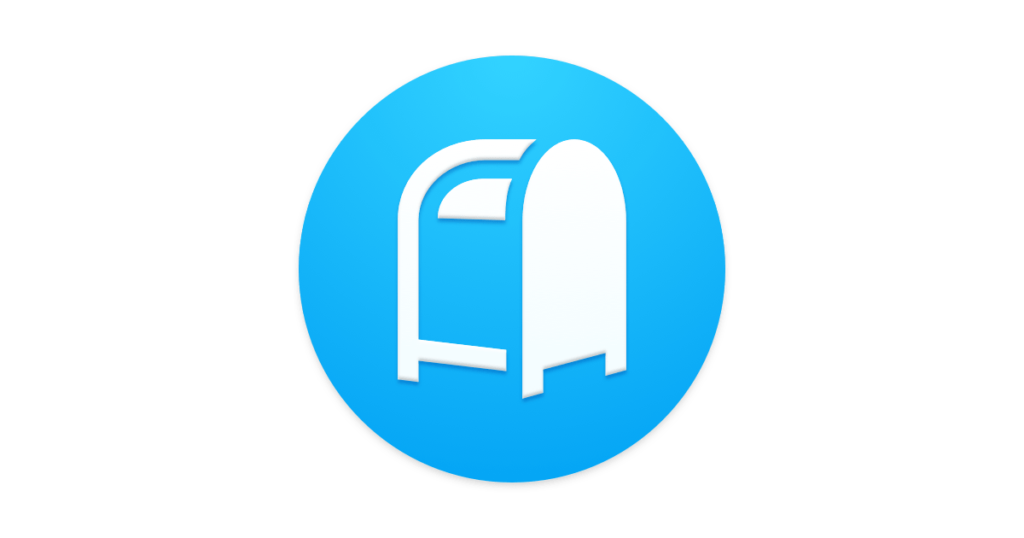 Features:
It is easy to use and organize emails, with inbuilt account grouping, accessing favorite folders, opening emails on tabs, and a one-click quick filter to instantly organize your emails. 

Advanced search features for easy accessibility of emails. 

Built-in theme editor to customize your interface the way you like. 

End-to-end encryption feature to avoid any vulnerability to your privacy. 
10. TypeApp
TypeApp is one of the best free email clients for Mac, offering a range of customizing features, It helps you to easily organize your emails, set reminders, and universal access to other email platforms. 
Features:
TypeApp automatically aggregates all emails from similar services and provides them with a service name and avatar.

It helps you to track your email with both sent and received emails. 

Typeapp provides smart email features for smart wearable devices. 

It offers a lot of customization, related to interface, notifications, etc. 
FAQs
What is the best email service for Mac?
There are a wide range of email clients available for the Mac platform and pointing out a specific email client is a difficult task, it depends upon the type of service and features you expect from the client. Still here are a few email client for Mac:
Outlook, Apple Mail, Mozilla Thunderbird, Spark, Polymail. 
Is the outlook for Mac better than Apple Mail?
Mac Outlook is a part of the office suite that you can purchase For Mac and if you are using Microsoft Office suite then it's advised to use outlook as it offers greater compatibility with office programs than Apple mail can offer. 
What is the best Gmail client for Mac?
There are different types of Gmail clients available for Mac, it depends on the features that you expect of your Gmail client. Here are few Gmail clients:
Mozilla Thunderbird, Spark, Canary Mail, Go for Gmail etc. 
Is Thunderbird better than Apple mail?
Yes, Thunderbird is better than Apple mail, as Apple mail because of its seamless experience and wide-ranging compatibility with other platforms. Thunderbird offers more features and customization than Apple mail.
Conclusion
In conclusion, the availability of free email client apps for Mac has made managing your email accounts and communications more efficient and user-friendly. We've explored the top ten options, each offering a range of features and capabilities to cater to different user preferences.
Whether you prioritize a clean and minimalist interface like Apple Mail, extensive customization options like Thunderbird, or productivity-enhancing features like Mailspring, there's an email client that fits your needs. These apps not only help you stay organized but also provide additional tools to boost your productivity. Ultimately, the best free email client for your Mac depends on your specific requirements and workflow, so choose the one that aligns best with your email management style.