If you are looking for a fan control application format to maintain the temperature of your device this blog post is for you. Quite often with older devices a noise can be heard when you have been using it for a long time period or running a number of processes at the same time.
A fan runs to maintain the temperature of your device so it is usually advised to prevent it from turning off manually. The best control apps for Mac should be able to control the speed, let you set the temperature at which the fans should start running and allow you to monitor the mac temperature and fan speed at all times.
List of 4 Fan Control Apps for Mac
1. TG Pro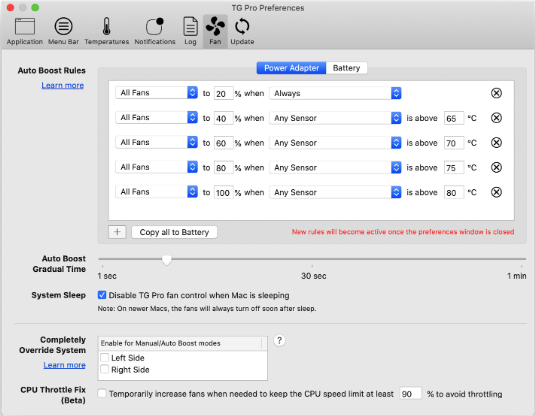 TG Pro is one of the best applications to get the hardware diagnostics of Mark starting from the CPU GPU battery temperature logic board, it can also give you information on the fan speeds.
It will give you different indications in the temperature tab for you to understand the fan speed such as Red yellow and green. Read the Tg Pro detailed review
Features –
Three default fan control modes.
Manual and automatic controls to increase fan speed.
Customization available for auto boost rules.
2. iStat Menus

iStat Menus is one of the best FAN control apps for Mac. Along with other system monitoring parameters such as CPU, GPU, battery memory and network and disk usage it also gives you information on the fan speed.
It also comes with her automatic fan set switching along with the manual sliders which are available in the sensor menu bar. Read the iStat detailed review.
Features –
Help you raise the fan speed to control temperature.
Give you regular notifications on the system statistics.
Detailed information on battery of Mac and other connected devices.
3. Temp Monitor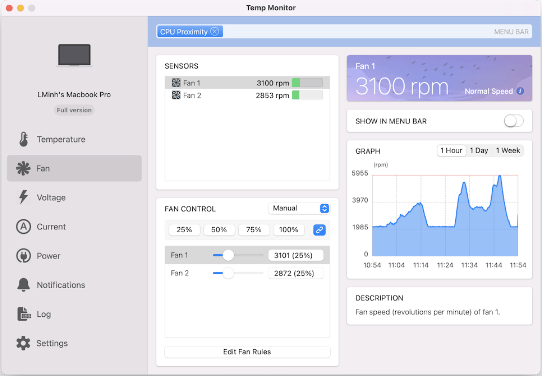 Temp Monitor is another one on the list of FAN control software for Mac and it is developed by vimi studios. Along with other options, the Temp monitor can display the fan speed and give you the minimum and maximum rotations per minute.
It will also help you in controlling the fan speed with the system mode manual mode and auto boost mode. 
Features –
Automatically control the fan speed of your Mac.
Enhances the fans and controls the overheating issues.
Information along with a graphical representation.
4. Mac Fan Control

Macs Fan Control is developed by Crystal idea and it works in solving the high temperature and overheating issues on your Mac. This application shows you a real time diagnosis for the Mac temperature and fan speed.
It is a simple application which helps you create a fan preset and save them and use them for particular activities. The automatic fan control is restored once Macs Fan control stops.
Features –
It includes SMART temperature & fan speed sensors.
Allows you to customise the fan presets.
Customise the RPM value in relation to the temperature sensors.
Frequently Asked Questions –
Q1. Can you control the fan speed on a Mac?
Yes it is possible to control the fan speed on a device all though you must not turn off the fan as it is necessary to cool down a heated Mac. Applications are the fan control software for Mac choose the best one for you.
Q2. How do I adjust my Mac fan?
You cannot manually adjust the Mac fan and if you feel the need to control fan speed on Mac you can always get one of the applications such as TG Pro to check fan speed and Mac temperature simultaneously.
Q3. Does Mac Fan Control work on Windows?
Mac fan control does not work on Windows; there are separate fan control applications for the Windows platform.
Q4. How do I monitor my Mac fan?
You can monitor the Mac's fan using one of the listed above Mac fan control app which are capable of giving you information on the fan speed and the Mac temperature.
Conclusion
With these best Fan control apps for Mac you will be able to maintain the right temperature for your device and keep an eye on the temperature and fan speed regularly. You can select any of these applications as per your need and budget. We would recommend you to use them cautiously without hampering the actual need of the fans on Mac.