Finder is a built-in File Manager by Apple which is a file explorer for Mac and it is an excellent utility. But for modern day standards it lacks some of the useful features which come in handy to improve user experience significantly. Here are some of the best file managers for Mac with superb features and functionality to aid in smooth and better user experience. 
We are sure you are going to find one of the best options for you to choose as a Mac file manager from this curated list of software.
Best Free File Manager for Mac
1. ForkLift 3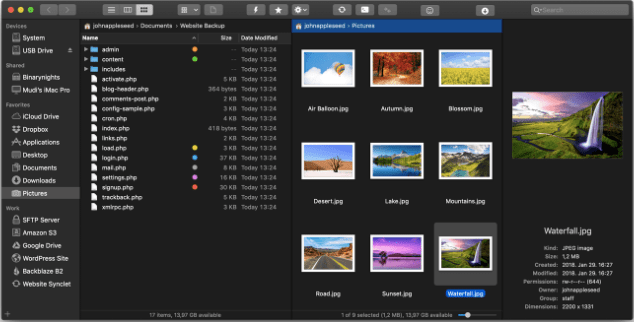 ForkLift is an excellent alternative for Finder as a Best File Manager for Mac. All the shortcomings of inbuilt Finder are covered up by Forklift. The features included are advanced dual pane, remote connection to SFTP, FTP, WebDAV, Amazon S3, Backblaze B2, Google Drive, etc and batch renaming.
Due to its extensive feature and functionality Forklift tops the list of File Manager for Mac. 
Features
Disklet support for remote server and drives. 

Multi Rename large number of files.

Preview panel for file. 
2. Commander One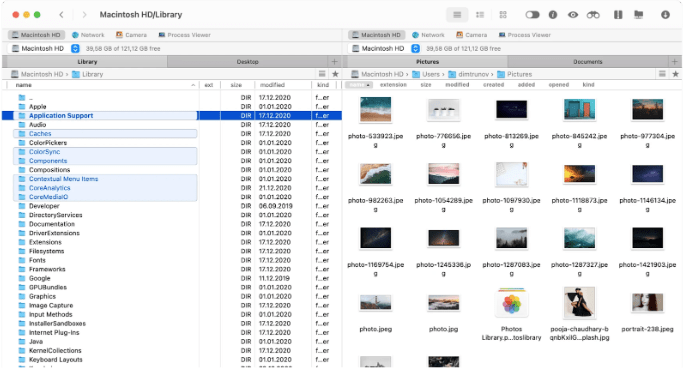 Commander One is another popular way to extend the functionality of Finder on Mac. This macOS File manager which is created by Swift is free to use. It provides a dual pane interface for ease of file management and is extremely fast and supports various features to manage files and folders efficiently.
With a plethora of features and functionality such as unlimited tabs, various sorting options, easy hidden files toggle, etc Commander One is an excellent alternative for Finder.
Features
Configurable hotkeys. 

Different search methods. 

Easy navigation on the app.
3. Path Finder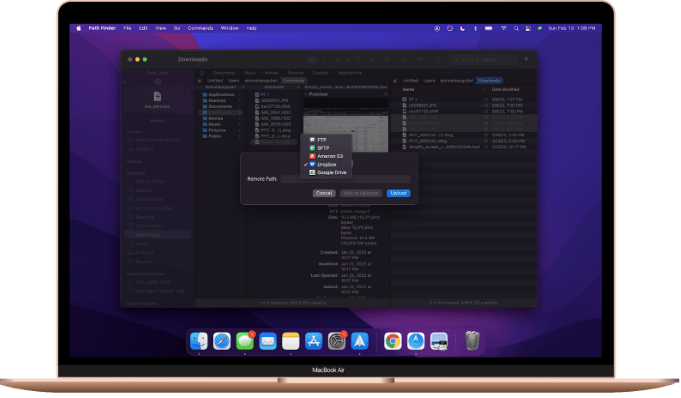 Path Finder has a very similar user interface as Finder File Manager for Mac, which makes it very useful to adapt when moving from Finder. But it adds many more intuitive features and functionality over Finder applications.
Includes dual pane display, menubar app, toggle for hidden file, AirDrop integration, Drop Stack, File Tagging, Batch Renaming and native apple silicon support. 
Features
Easy browse through files and folders.

Advance file and folder management.

Supports all cloud file storage.
4. Transmit 5
Transmit 5 is one of the most reliable and highly popular Mac file explorers. Due to its extensive list of features and functionality over Finder application. This File Manager offers excellent work with files on remote servers and cloud storages.
Transmit provides tons of features such as File sync, dual pane, plethora of servers, excellent speed alone with powerful clean user interface.  
Features 
Clean and simple to use interface. 

Transfer data between drives and servers. 

Supports all major servers and drives.
5. XtraFinder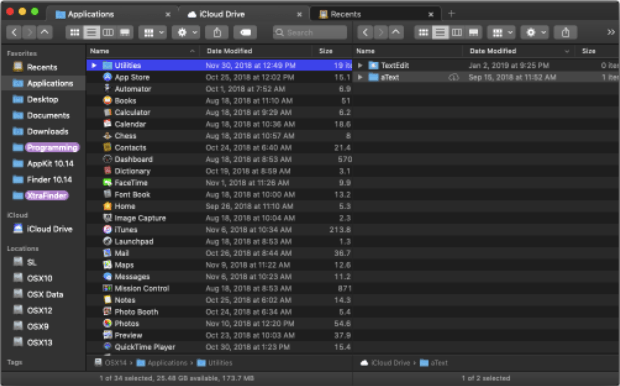 XtraFinder is one of the best File Managers for Mac to be used as an add on for Finder. It provides tabs just like browser tabs, dual panel file management, the sticky window, etc many useful features and functionality.
It also supports keyboard shortcuts for many actions, comprehensive menu commands, and lets you keep folders on top of files. 
Features
Built in Terminal.

Shows Folders on Top. 

Supports all Mac versions.
6. fman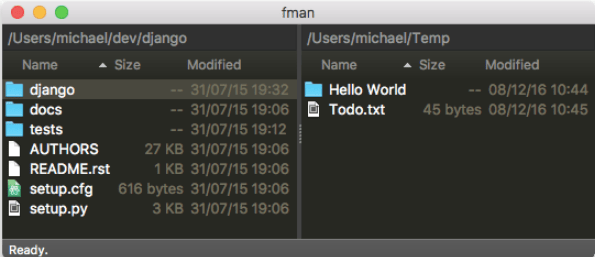 fman is an easy and simple to use Mac file organizer application. It provides dual pane windows, search bar, menu bar options, various file management and mounting external devices. Fman takes up very small system storage and resources , hence it's very efficient and fast.
The GoTo feature works by pressing Cmd+P to quickly jump to any directory. And it is cross platform compatible.  
Features
Simple and easy interface.

Quick directory jump.

Customize it with lots of plugins. 
7. TotalFinder
TotalFinder is another of the Finder add-on. It basically extends the built-in Finder application features and functionality by adding tabs, visor window, colored labels, dual mode, extra file manage options, and many more.
TotalFinder also supports hidden files displayed by keyboard shortcuts, Folders on Top feature, copying from context Menus and  customizable hotkeys. 
Features
Supports many Mac versions.

Visor window for quick access.

Hidden files keyboard shortcut toggle.
8. Dropover
Dropover is a remarkable File Manager for Mac, which lets you access files and documents when needed by storing it temporarily on the shelf. It makes drag and drop files much easier by providing a temporary shelf where the files can be placed for time being.
It supports to create multiple shelves for different files or adding files to existing shelves.
Features
Easier Drag & Drop.

Create multiple shelf temporarily

Quick access from the menu bar. 
9. HoudahSpot 6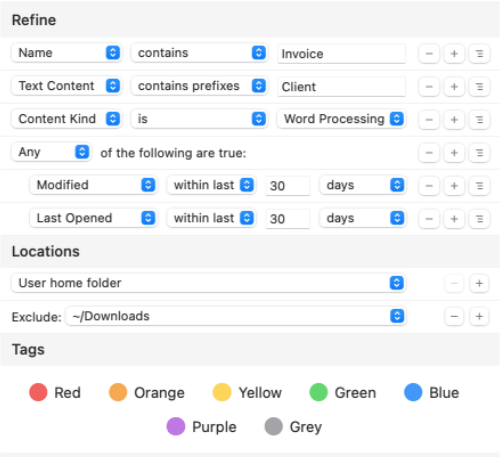 HoudahSpot is a very powerful file search application for Mac. It is an extremely customizable file organizer and file search software works with spotlight to find files and documents on Mac. Use this application to search for documents, texts, photos, images and much more.
HoudahSpot displays search results in simple and easy user interface with preview feature with all important details. 
Features
Superb file search features.

Preview text matches and files.

Simple user interface.
10. Marta –
Marta is the best File Manager for Mac since it is native to macOS written completely in Swift to work seamlessly with all Mac devices. Along with providing native experience with all Mac's it is blazingly fast application. It is also highly customisable with various themes and preference options. 
Features –
Absolutely Free File Manager.

Native macOS app written in Swift. 

Easy and simple interface to navigate. 
Top 10 File Managers for Mac
| | | | | | | |
| --- | --- | --- | --- | --- | --- | --- |
| Product Name | Best For | Platform | Price | Free Trial | File Size | Latest Version |
| ForkLift 3 | Overall best for competitive feature list and options. | macOS 10.12 or later | $19.95 | Yes | 47.9 MB | 3.5.6 |
| Transmit 5 | Most popular file explorer with tons of features and reliability. | macOS 10.15 or later | $45 | Yes | 33.9 MB | 5.8.8 |
| Commander One | Free file manager is easy to navigate and offers dual pane view. | macOS 10.12 or later | $29.99 | Yes | 57.1 MB | 3.4.2 |
| Path Finder | Similar to the Finder interface with added intuitive features. | macOS 10.12 or later | $29.95 | Yes | 22 MB | v10.2 |
| XtraFinder | Compatible with all Mac versions and features loaded. | macOS 10.6 to macOS 12 | $4.99 | Yes | 5.3 MB | 1.7 |
| fman | Easy, fast and simple file organizer with relevant features list. | macOS 10.15 or later | €39 | Yes | 22.9 MB | 1.7.3 |
| TotalFinder | Perfect add-on features to Finder on Mac, improving functionality. | macOS 10.15 to macOS 12 | $12 | Yes | 4.9 MB | 1.14.2 |
| Dropover | Fast and easy File Manager helps create shelves for easy access. | macOS 10.15 or later | $3.99 | Yes | 21.6 MB | 4.6.0 |
| HoudahSpot 6  | Powerful search and organizing FIle manager. | macOS 10.14 or later | $34 | Yes | 11.8 MB | 6.1 |
| Marta | Free native file manager for Mac written in Swift entirely. | macOS 10.12 or later | $0 | Yes | 12.5 MB | 0.8.1 |
Frequently asked questions
Q1. Where is the file manager on Mac?
Finder is the inbuilt Mac file manager. You can find the native File Manager – Finder on dock, click on the Finder Icon and it will open the app. 
Q2. Does Mac OS have a file manager?
Finder is the native File Manager on Mac. For all basic functionality this application is enough but for more features and functions do go through the above list of alternatives.
Q3. What is macOS file manager called?
The built-in macOS File Manager software  is called Finder. It is available on the dock on your Mac. While you get work done with it, you can explore more options with the best file managers for Mac.
Q4. How do I view all my files on a Mac?
To view all files on a Mac, you can use native Finder File Manager application. For even better features and functionality to view all files do go through Best File Managers for Mac from the above list. 
Conclusion – File Manager For Mac
For most users, Finder File Manager natively available in Mac is more than enough. Although for more features and functionality you must get an additional file manager. It will help in enriching user experience and for a smooth workflow we suggest you to go through the above list.
It includes the best alternatives to Finder and you will be able to get file management software for Mac. 
Also Read