Are you looking for the font manager apps for Mac? As the different alluring fonts which are needed for your presentations, social media platforms and projects, this is a must. If you are a content creator or just wish to highlight something with different fonts on your Mac, this will help you. 
How do I manage my fonts on Mac?
Mac comes with an inbuilt font manager for Mac called Font Book. FontBook is a basic Font Manager with simple features to search and sort your font collections on Mac. If you are not satisfied with this application and what this inbuilt application has to offer, you can always look up for more third party software. There are multiple font managers for Mac which come with various useful features. 
Important features of Font Manager App 
Look for these points when selecting the best font manager for Mac – 
View fonts and perform font related tasks. 

Theme builder for the prebuilt themes.

Templates and content creating elements.

Helps you organise the font on your device.

Preview and quick look for identifying the font.

Duplicate and delete the broken fonts.
List of the 9 Best Font Manager Apps for Mac
1. Typeface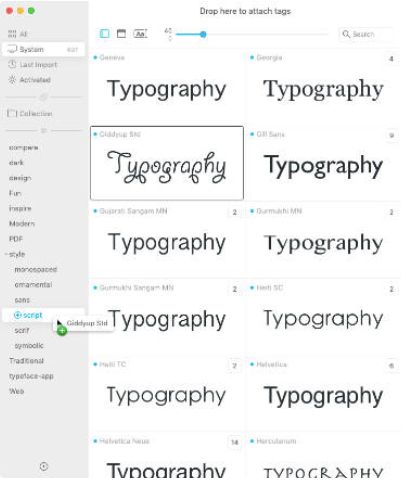 Top of the list of best Font Manager App for Mac we have TypeFace, which is by far the most popular and features rich Font Manager. It was exclusively developed for Mac by designers, to provide native support to all Apple devices.
The advanced Font management features lets you manage and organise the largest collections effortlessly. 
Features
Exclusively designed and developed for Mac. 

Native support for all Apple devices.

Interactive user interface is beautiful. 

Supports OpenType features.
2. FontBase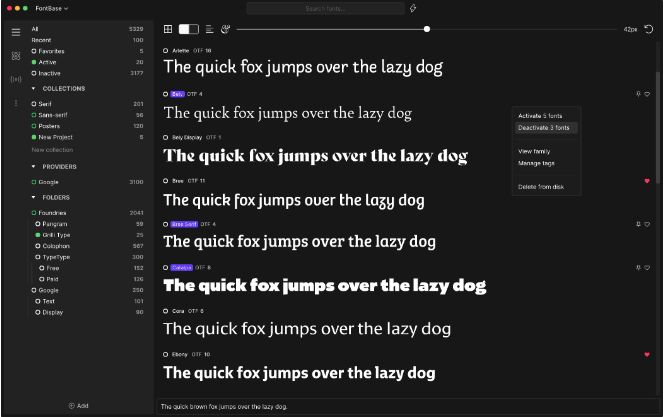 FontBase is an excellent Free Font Manager for Mac which is all platform compatible with an easy to use interface. You get all the professional features along with larger fonts collections to select from. It is exclusively developed by designers for other designers keeping in mind all the functional requirements. 
Features
Simple user friendly interface. 

Easy to search Fonts are categorised.

Largest fonts collection. 

Auto activation of missing fonts. 
3. RightFont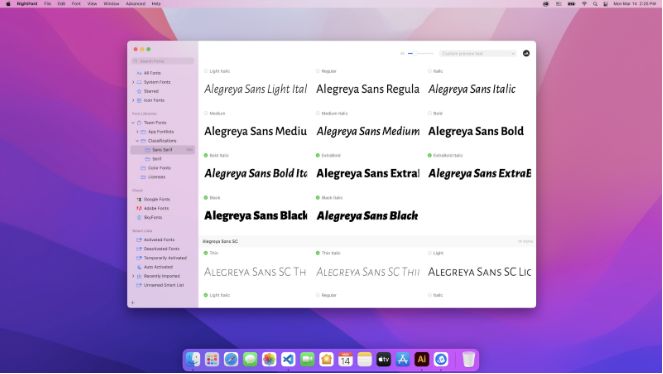 RightFont is another Font Management App for Mac which is known for its quick and efficient functionality. Its simple and intuitive user interface is easy to use and navigate around.
The best category of fonts helps you search and identify the right fonts you want efficiently. Can share your fonts with other teammates over cloud easily. 
Features
Fast, professional Font Manager App. 

Simple and intuitive interface is a breeze. 

Great Font category for efficient font searching. 

Easy font sharing over cloud. 
4. Connect Fonts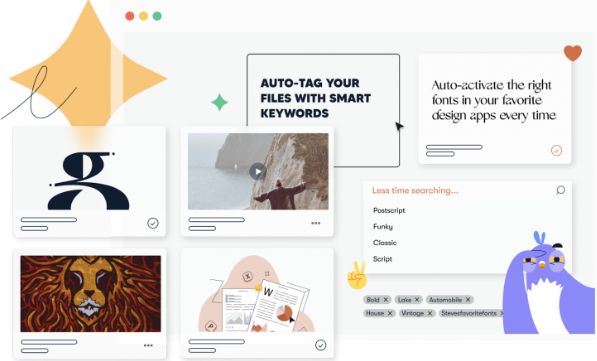 Connect Fonts also previously known as Suitcase Fusion is another Best Font Manager App for Mac which has been around and loved by designers. Its Cloud service is exceptional with the fastest response to find the right Font you were looking for. This all in one font manager app helps you sort, organise and compare your fonts in one place. 
Features
All in one Font Manager App. 

Find fonts faster with good response. 

Auto activation for creative programs. 

Cloud Synch and share features. 
5. FontAgent
FontAgent is among the best Font Manager For Mac for its exceptional fast search response for fonts and easy to use interface. It also supports native Apple M-series chips for faster previews and auto activation. The brilliant font management system helps you organise, explore and search for fonts in the blink of an eye. 
Features
Supports native Apple M-series chips. 

Active duplicate fonts detector. 

Great search response time. 

Auto activation in design apps. 
6. Font Picker
Font Picker is a relatively new Font manager for Mac which is extremely simple and straightforward to browse the fonts and select. Its easy search feature helps you narrow down the perfect font you are looking for in a design project. You can also export your selection as a PDF file. 
Features
Simple and straightforward interface. 

Easy search option for selection. 

Lightweight app to install. 

Can export as PDF. 
7. FontBook
FontBook is a Free, Built-in Font Manager App provided by Apple For Mac. It is very easy to use and with a simple user interface to navigate around. You can instantly search and sort for the installed Fonts on your Mac with excellent search features. Before making the right selection you can always preview the font on FontBook. 
Features
Free, Built-in Utility for Mac. 

Easy and simple interface. 

Great search and sort features. 

Good Preview feature for selection. 
8. Monotype Fonts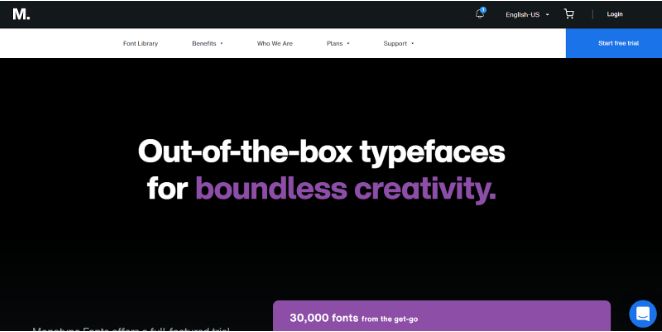 Monotype Fonts is a web based font management for Mac which has the largest font collection to choose from. Its very easy to secure the licensing of the selected font for commercial usage, everything is taken care of by them. It is highly efficient to manage fonts with teammates through sync functionality. 
Features
Huge Font collections to choose from. 

Secure font licensing for commercial usage. 

Easy font management with teammates. 

Customisable font exploration. 
9. Flipping Typical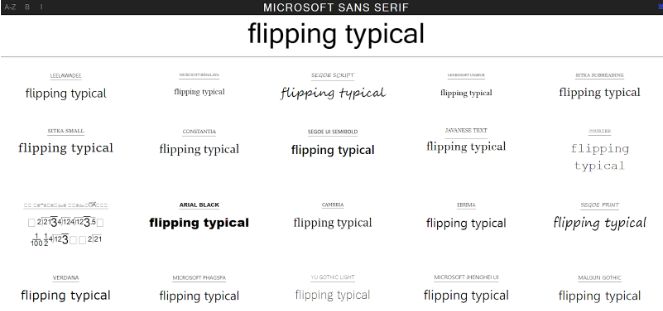 Finally last on the list we have Flipping Typical, a website which is extremely simple and straightforward to navigate. You don't need to install any desktop app, plugin or web extension to look for the perfect font for your design project. The faster response time for font search is highly impressive. 
Features
No need to install an app, plugin or extension. 

It's Absolutely free font manager. 

Straightforward interface to explore and search. 

Quickest response for search. 
Frequently Asked Questions –
Q1. Is there a font viewer for Mac?
Yes, Apple provides a built-in Font Manager called FontBook with basic features. You can always download and install third party Font Manager such as Typeface for more features. 
Q2. Do I need a font manager?
If you are into the creative working environment and design field, then a Good Font Manager makes a world of difference to your workflow. Albeit a good font manager is always a good idea for any digital writing. 
Q3. Where is my font folder on Mac?
All your Fonts are located in the '~/Library/Fonts/' folder, which you can find through Finder. Or you can easily find them through the FontBook App. Open FontBook and Select All Fonts to locate your fonts on Mac. 
Q4. How do I use FontBase on Mac?
FontBase is an Free Font Management App for Mac, which you can use to save, search and sort Fonts collection. First you need to download and install the FontBase app on your Mac from its official website. Simply add the Fonts to the FontBase and preview, customise and select or you can auto activate with design apps. 
Conclusion 
Font Manager App is a must for people working on creative projects and design work environments to improve their work flow significantly. And there are many Font Management apps available for Mac to choose from, to make your life easier we have curated a list of best Font managers for Mac which you should consider and select the best suited for your requirements. 
Also Read