Technology is ever evolving and helping those in need. Whether it is about saving time and efforts for the busy professional or making things easy for the laid back user. Automation is something which the software is capable of doing on your machine. Did you know that you can automate the mouse click on your Mac? The people who constantly have to click on mouse for their work are most benefited from it. In this blog, we have a list of the best free auto clickers for Mac.
What is the Best Auto Clickers for Mac?
Selecting the best auto clicker for Mac depends on your specific needs and preferences, but here are my top picks to try this year.
1. Auto Click Mouse for Mac – MurGaa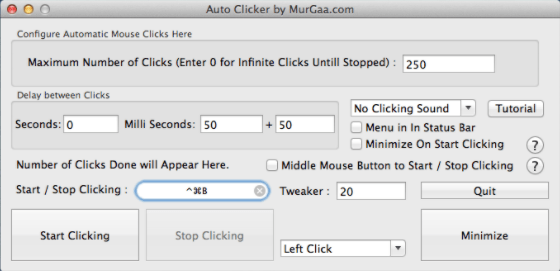 Auto Clicker Mouse for Mac is the best Auto clicker for Mac, developed by MurGaa software. It will automate the left, right and middle buttons clicking by mentioning the time to start and stop the actions. The number of clicks can range from 0 to infinite and the time in milliseconds or seconds can be added.
Features –
Works with configurable keyboard shortcuts.

Available for the Intel based Mac. 

Highly customizable for the automation functions.
2. Auto Mouse Click – MurGaa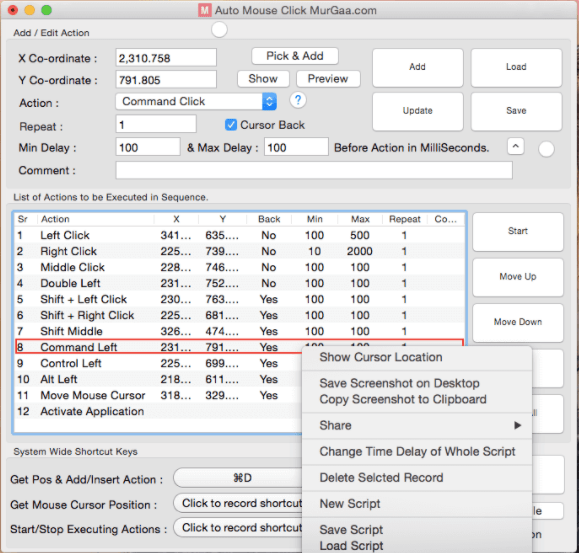 Auto Mouse Click is another of the best free auto clicker for Mac which also happens to be developed by MurGaa Software. Enter the delayed response and the number of clicks in the application according to the mouse location on the screen. Easily define the attributes of the mouse clicks on Mac using this application.
Features –
Creates a file to store mouse click information. 

Manage the list of the mouse click commands.

Script Repeat count for automation as a bunch.
3. Mac Auto Clicker – Advanced Mouse Auto Clicker
Mac Auto Clicker by Advanced Mouse Auto Clicker LTD is also one of the finest auto clickers for Mac. It will make your work easy by giving you multiple options to customise the mouse click on Mac.
Pre-define the delay in the start and stop and in between the number of clicks. You can also set the speed from slow to very fast as per your requirements. 
Features –
Set intervals before & between clicks.

Supports stopping after an assigned time and clicks.

Customise number of clicks and speed.
4. DwellClick – Pilotmoon Software
DwellClick is an auto clicker for Mac by Pilotmoon Software and can be found on the Mac App Store. This is a wonderfully designed software for all the users with a disability to use the mouse without the need to touch the mouse. Set the hotkeys to take control of each type of click for Mac. 
Features –
Handsfree operations.

Works with trackpad, mouse and pointing device.

Click and drag actions.
5. Fast Clicker – MurGaa.com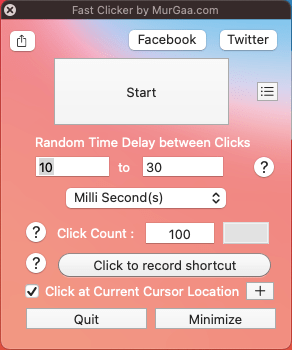 Fast Clicker by MurGaa is a small utility for Mac which can be the best auto clicker for Mac. With customizable settings, including hotkeys, interval control, and actions like double-click and right-click, it streamlines your clicking tasks efficiently. As it can control the start and stop with the keyboard shortcuts. It is available for a free trial with the purchase.
Features –
Delay between mouse clicks.

Stimulate left button mouse clicks.

Click on any location on screen.
6. iMouseTrick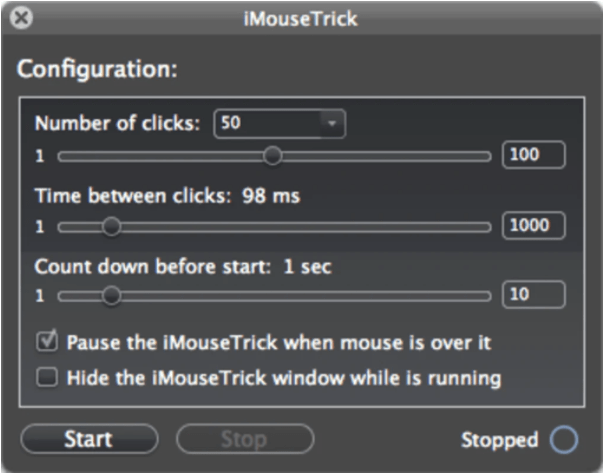 iMouseTrick is an auto clicker for Mac which can be easily used as a fast clicker. This free auto clicker for Mac can define the number of clicks, interval between the clicks. This is your best way to get through the online games as it can provide you with the quick mouse clicks. 
Features –
Fast & user-friendly app. 

Good for gamers.

Set delay time for clicks.
7. Autoclicker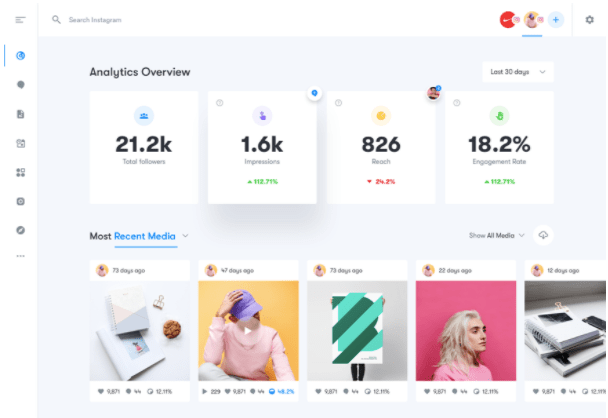 Autoclicker is one of the auto clickers for Mac which can click on the predefined location. It is a safe option which is virus free and users can rely on it for auto clicking actions.
Select from single, double or triple clicking and assign the location of clicks. It can be used as a free Mac auto clicker which works for chrome such as to check insights on your social media.
Features –
Saves settings from last entry.

Hotkeys work for applications running in the background. 

Portable software. 
8. Mac Random Mouse Clicker – MurGaa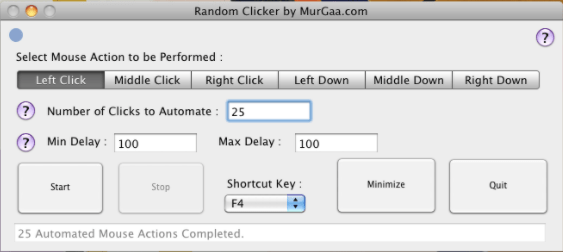 MurGaa produces some of the amazing Auto clickers for Mac and Mac Random Mouse Clicker is yet another one of them.
This tool enables you to set random click intervals and locations, adding an element of unpredictability to your automated tasks.
It is an advanced mouse clicker utility which can work for both fixed and configurable delay between clicks.
Features –
Assigns keyboard shortcuts for clicks.

Multiple controls for automation.

Store parameters for mouse clicks. 
9. 1Clicker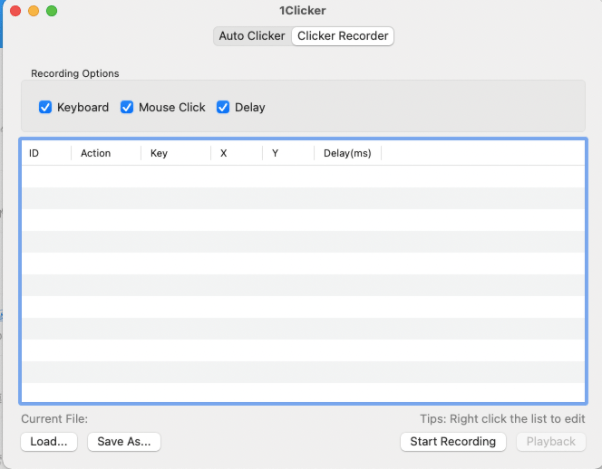 1Clicker is another of the good auto clickers for Mac with the features it offers. The MacBook auto clicker application can easily be assigned the number of automated mouse clicks. It can set mouse clicks for milliseconds, seconds, minutes of hours.
Features –
Also includes a Clicker recorder.

Saves the script quickly.

Track and calculate coordinates. 
10. iClickMac
iClickMac is one of free auto clickers for Mac which is very easy to use and has a simple interface which is good for home users. The free Mac auto clicker application can be used for automating the task of multiple clicks by the mouse.
Features –
Lightweight application.

Works great for the desktop.

Set the delay time.
11. Mouse Clicker & Shaker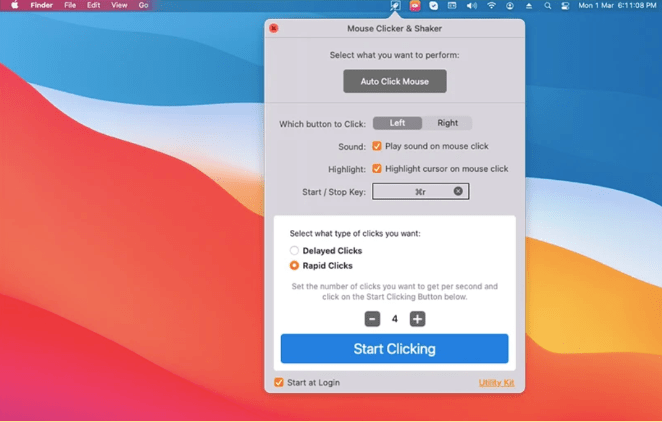 Mouse Clicker & Shaker is a great Macbook auto clicker. You can use this application for repeated clicks on Mac which can be for gaming or other purposes. It will also help you to stay online while working from home as it keeps moving the mouse continuously. This tool comes with a number of shortcuts and controls for automatic mouse clicks.
Features 
Select from Rapid Mouse Clicks.

Set Auto clicker intervals.

Keyboard shortcuts controls.
12. Mac Auto Clicker by Gary's Hood

If you're on a budget, Mac Auto Clicker by Gary's Hood provides essential auto clicking functionality without any cost. While it may not boast an array of advanced features, it gets the job done effectively.
Features
Free to use.
Simple and functional.
Limited in advanced capabilities.
What is an auto clicker on Mac?
An auto clicker for Mac is a software tool that automates clicking processes on your computer. It's particularly useful for repetitive tasks, gaming, or applications that require frequent clicking. With an auto clicker, you can set the click intervals, locations, and duration to mimic human-like clicking actions.
This automation saves time and reduces the need for manual clicking, making it a handy utility for various purposes. It's important to use auto clickers responsibly and within legal and ethical boundaries, as some games or applications may prohibit their use.
Think about the gamers who are repeatedly clicking the mouse to get ahead in the games. Or the developers who are running non-stop programs and need a hands free experience for a bit.
Frequently Asked Questions-
Q1. Is there an auto clicker for Mac?
Yes, there are several auto clickers available for Mac, we have curated the list for the best of them. You can also find free apps for Mac to try out the features. Whereas the best auto clickers for Mac also provide the trials.
Q2. Which auto clicker is safe for Mac?
Autoclicker for Mac is one of the safest options and also the free autoclickers for Mac. As it comes without any interrupting advertisements and they are free of viruses.
Q3. Are there any free auto clickers for Mac?
Yes, there are many freeware which can be used as auto clickers for your Mac. Some of the best choices are Autoclicker and iClicker. 
Q4. How do I automate mouse clicks on Mac?
If you wish to automate mouse clicks on Mac you can try out any one of the best autoclickers for Mac from this list. 
Conclusion
In conclusion, auto clickers for Mac are valuable tools that streamline repetitive clicking tasks, enhance productivity, and improve gaming experiences. The reviewed auto clicker software offers a range of features and customization options, catering to different user needs.
Whether you're automating tasks, simplifying gameplay, or creating macros, these auto clickers provide efficient and reliable solutions. Users should always exercise responsible and ethical use, adhering to application or game policies. Overall, these Mac auto clickers are essential utilities for simplifying daily tasks and gaming endeavors.
Also Read