Everything is getting digitised in today's world, so if you are an artist looking forward to getting started with digital drawing, this blog will help you. Any budding artist who is looking to get a drawing software for Mac gets to pick one from the list.
Although there are plenty of applications which are available at an affordable price, if you are new, give a shot to these free versions. This list includes the best free drawing software for Mac for everyone, be it students or professionals.
11+ Best Drawing Software for Mac
1. Adobe Photoshop for Mac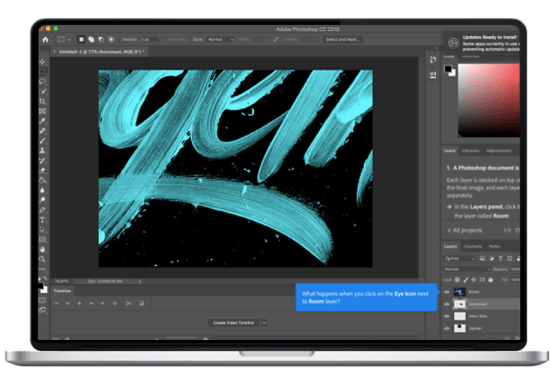 Adobe Photoshop for Mac is one of the best drawing software for Mac of all time. It has the most advanced tools which are very efficient in creating the digitally beautiful art.
You can use this for a free trial product on your Mac. It offers its complete toolkit in the trial period so you can create and modify the brushes according to your taste. Add textures, patterns, gradients to your drawing.
Features –
Superb quality.

Brush presets.

Multiple drawing modes.

Additional tools for photo editing.
2. Krita Desktop
Krita is the best free drawing software for Mac with a number of unique features to create digital art. It can help you create vector and colourful images with its multiple tools. Krita also gives you an option to customise tools and use brush stabilisers.
You can also import the brush modes from other artists directly to save time. Use it with drawing assistants and create HDR paintings.
Features –
100+ professional brushes.

Wrap around mode.

Light & Dark themes.

Customise brush engines.
3. Tayasui Sketches 
Tayasui Sketches is another good drawing software for Mac to help you create ultra realistic drawings. It has some of the refined brushes for drawing and painting on Mac. You can easily get adapted to its easy interface and use the versatile application to simplify the drawing process.
It has a pen, rotating, felt pen, oil pastel, watercolour, smudge, acrylic brush and more in its tool kit.
Features –
20+ realistic tools.

Smart brush editor.

Allows importing photos.

Supports Stylus.
4. MediBang Paint Pro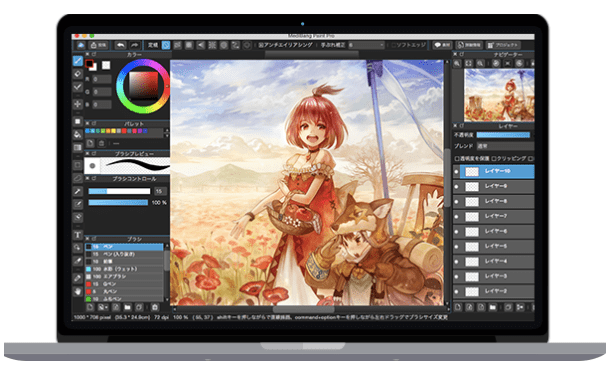 MediBang Paint Pro is a Japanese drawing app for Mac which can be very useful for the beginners as well as the professionals. Use it to make illustrated drawings using its powerful tools on your Mac. It is totally free and can be used to create comic series as well.
Use GPen, Mapping Pen, watercolour, inking etc or create your own brush. Snap guides to draw the perfect lines and curves.
Features –
50+ brushes.

Comic creation panels.

Lightweight application.

Layer functions.
5. Pencil2D
Pencil2D is a user-friendly, open-source animation software that allows both beginners and experienced animators to create 2D animations effortlessly. With its intuitive interface and a wide range of drawing and animation tools, Pencil2D makes the animation process enjoyable and accessible.
Whether you're sketching frame by frame or using keyframes, this software is versatile enough to bring your creative ideas to life. Plus, its cross-platform compatibility ensures that you can animate on Mac, Windows, or Linux with ease.
Features –
Lightweight applications.

2D drawings.

Bitmap and vector graphics.

Free to use. 
6. CorelDraw
CorelDRAW is a drawing software for Mac which is available with a free trial of one week on subscription. It has tools to begin as a professional artist for vector illustrations or typography. The easy application of colours and to change the transparency of objects etc is useful.
This software can process the images using Artificial Intelligence JPEG artifact removal feature, bitmaps to vector trace features.
Features –
Vector illustration & Page layout.

Includes AI-powered tools.

Supports a number of file formats.

Works with Sidecar.
7. Corel Painter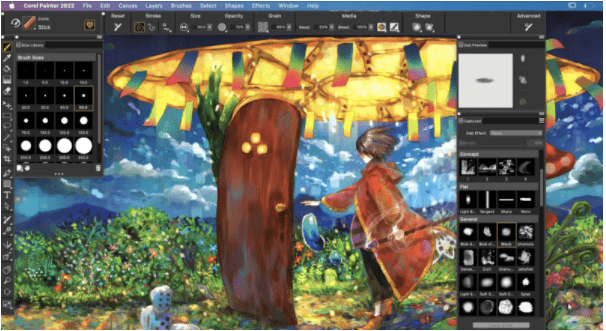 Corel Painter is a professional-grade digital art software that offers a vast array of realistic brushes and tools for artists and illustrators. With an extensive brush library and customizable options, it provides the ability to mimic traditional art techniques digitally.
Whether you're into painting, illustration, or concept art, Corel Painter's natural media features, responsive stylus support, and creative possibilities make it a top choice for digital artists. Its compatibility with Mac and Windows platforms ensures that artists can harness their creativity on their preferred operating system.
Features –
Transfer files between applications.

Supports Stylus.

Multiple brush styles.

Customise brushes, patterns and more.
8. FireAlpaca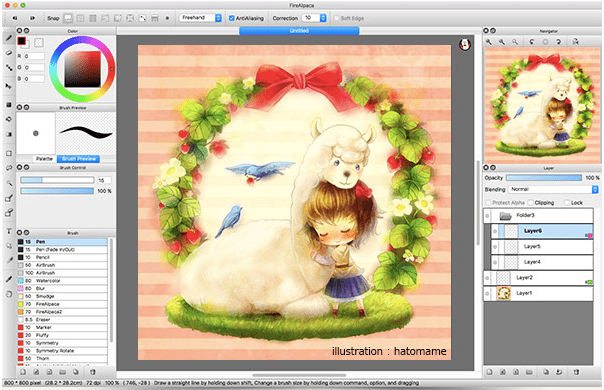 FireAlpaca is one of the best drawing apps for Mac for free. The digital painting tool is convenient for users looking for a simple application. Use it to create illustrations using the Clean and crisp strokes – Pencil, Pen, AirBrush and Watercolour.
Use it to create comics with the several templates readily available to work with. It is one of the drawing apps for Mac to create 3D objects using 3D perspective. 
Features –
Customise the brush strokes.

Light on resources.

Concentration lines and perspective view.

Comic templates.
9. Paint S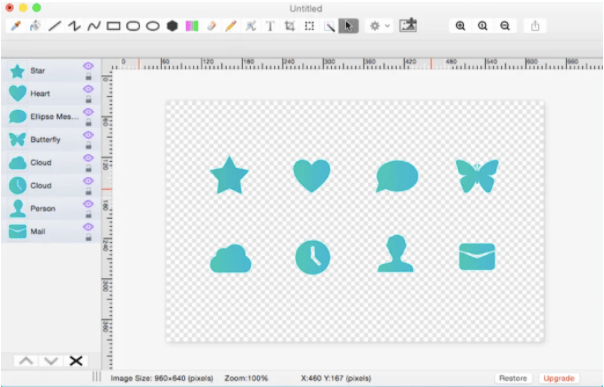 Paint S is a completely free drawing application available on Mac App Store. You can use it to sketch, draw and edit the images easily.
This is for the users looking to create basic drawings with the help of an image editor tool. Editing tools such as Undo, redo, cut, copy, paste are available in this art program for Mac.
Features –
Supports layers & transparency.

Rulers for precision.

Multiple build-in shapes.

Add shadow reflection & gradient.
10. Paintbrush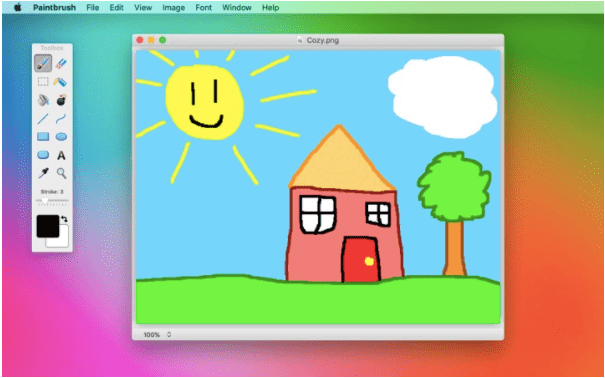 Paintbrush is a very simple Mac tool used for drawing. This one gives you the vibes of the original Paint application from Apple that was MacPaint.
This is not to be used for creating high end images but to simply enjoy drawing on your Mac. You can use these Macintosh drawing programs for doodling and fill in colours and create digital art with the minimal but useful tools.
Features –
Basic drawing application.

Good for kids.

Supports multiple file formats.

Copy Paste images from other Mac applications.
11. Affinity Designer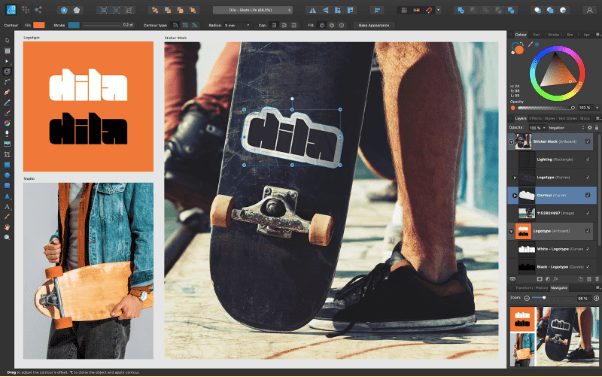 Affinity Designer is another excellent drawing program for mac with it's amazing performance and huge features list for every corner of illustration needs. It provides industry standard designs and illustration quality, deep pixel perfect precision supports.
Amazing sketching software for all types of creative professionals and beginners starting out alike. This Mac drawing application has cross platform support for all devices. 
Features 
Blistering fast and superb  performance.

Plethora of illustration feature list.

Deep pixel perfect precisions. 

Supports cross platform devices.
12. Sketchbook Pro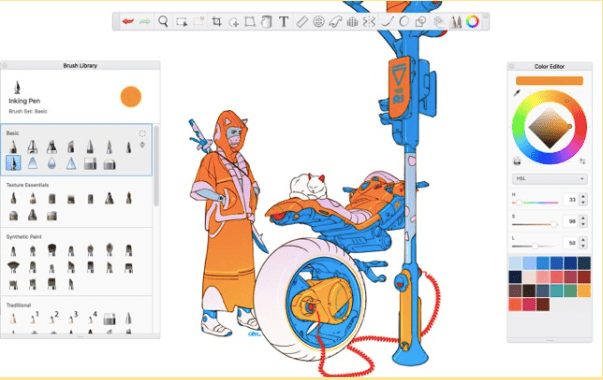 Last on our list of drawing apps for macbook we have Sketchbook pro for its quick and fully loading features for sketch artists and illustrators. It is an excellent tool for drawing artists and illustrators with an elegant and highly customizable interface.
Provides highly efficient and good quality professional grade features list and comprehensive tools for all types of artwork creations. This application is amazing for drawing artists due to its natural and unobtrusive board to focus on the illustrations rather than worry about clutters.
Features – 
Highly customizable tools for professionals.

Elegant and unobtrusive interface. 

Specifically for sketching artists. 

Plethora of features list for illustrations. 
Frequently asked questions
Q1. What is the best drawing software for Mac?
Adobe Photoshop, Krita, Tayasui are the best drawing apps for Mac. You can pick as per your needs and as a beginner you can also check out the free products. Krita and Mediband Paint Pro are some of the best available options for the free drawing programs for Mac.
Q2. Is there a draw program on Mac?
No, there is no drawing program available on Mac which comes as a built-in app. Therefore, it is required you download one of these drawing software for Mac.
Q3. How do you draw on a Mac?
If you wish to draw on a Mac, you can take help from one of the best drawing apps for Mac. 
Q4. Is there a free paint app for Mac?
Yes there are several free paint apps for Mac, try out Krita. As it is the best Free Drawing Software for Mac with its ease of usage and multiple tools available to create digital art.
Conclusion
In conclusion, the availability of free drawing software for Mac has opened up a world of creative possibilities for artists, designers, and enthusiasts. These versatile applications offer a range of tools and features that cater to various skill levels and artistic styles. Whether you're a professional artist or just exploring your creative side, the best free drawing software for Mac provides an accessible and enjoyable platform to bring your ideas to life.
With a variety of choices, you can find the one that suits your needs and start creating stunning digital art without the constraints of cost. So, embrace your artistic potential, unleash your creativity, and dive into the world of free drawing software on your Mac.
Also Read