Choosing the Best Free Mac Cleaning Apps is quite important for your Mac device. Over time your Mac fills up with a lot of junk and this will affect the performance immensely. It is also important to manage the data on your devices and therefore, it is recommended to clean your Mac timely.
We have curated a list of the best tools to help you clean all the junk, get one of the best Mac cleaners to do this job for you.
What are Mac Cleaning Apps
By Mac Cleaning apps you understand that it cleans your system. Specifically the system junk, user cache, logs, crash reports, duplicates, unwanted large, old files and can clear cookies on mac.
To comprehensively scan your Mac and detect the junk, you require a dedicated application with effective cleaning modules. The application used to clean the Mac is known as the Mac cleaning app.
12 Best Free Mac Cleaner Apps
1. CleanMyMac X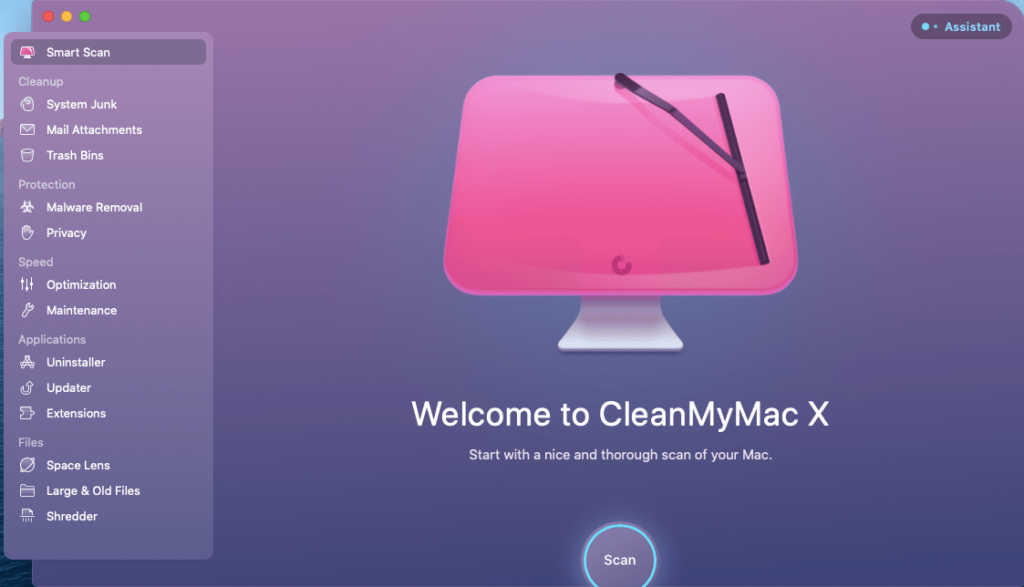 CleanMyMac X is an overall help for your Mac as it is the perfect Mac cleaning app you will ever need. This optimisation tool comes with different tools to cover all of the sectors in order to keep your Mac healthy. This is the best Mac cleaner and the Cleanup section comes with – System Junk, Mail attachments and Trash bins.
These modules can clean up the user cache, unwanted language files, old update files, Xcode junk, document versions, system log files and more. It is also capable of deleting the unwanted old attachment files from your Mail app. Trash Bins for various apps can also be cleaned using this application.
Features –
Delete unwanted mail attachments.

Remove developer junk files.

Clear Trash bins.
Read Detailed Review 
2. MacBooster 8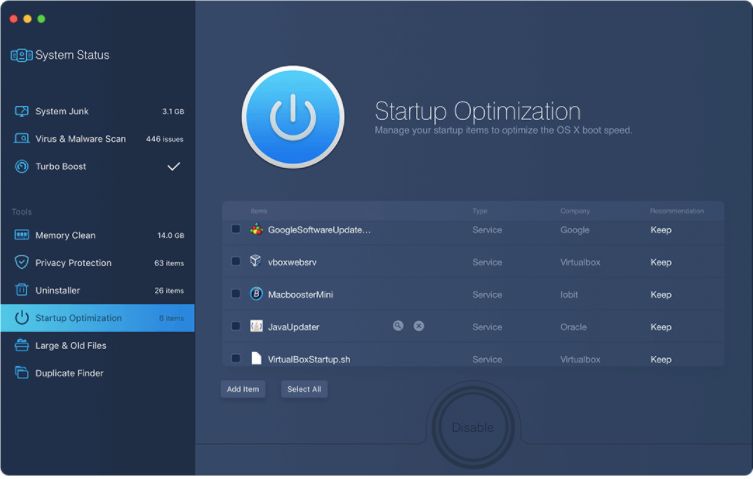 Macbooster is another best Mac optimisation applications which comes with a feature to clean upto 20 types of junk from your Mac. It performs a deep system clean action to remove the unwanted junk hidden in places you can not find manually.
It will free up storage space on your Mac instantly by deleting the Application junk, system log, language, mail attachment, system cache, broken login items, application leftovers, trash and broken downloaded files.
Apart from these, you can also clean the iTunes cache, user downloads, iOS software updates, Xcode iOS log, application old updates, iTunes backup, phone cache and more.
Features –
Removes duplicates.

Cleans grainy photos.

Finds old and large files.
Read Detailed Review – MacBooster Review
3. CCleaner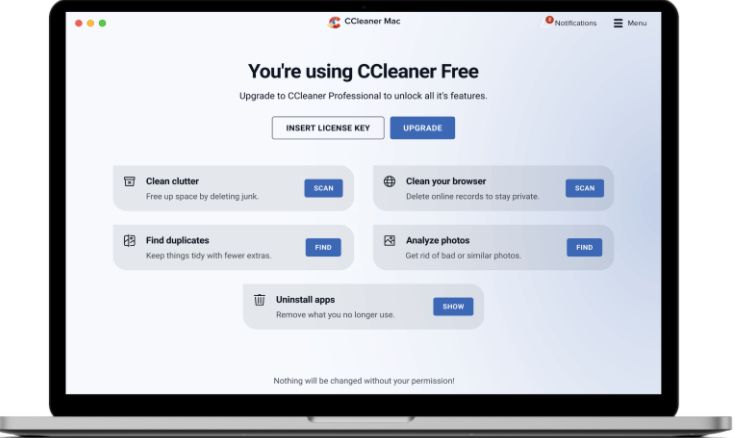 CCleaner for Mac is the best free Mac cleaner software. It comes along with some of the best cleaning features to get rid of the unwanted clutter from your Mac.
Use it to remove all kinds of junk from the Mac such as cache, temporary files, duplicate files which hogs the storage space. Additionally it clears the browsing data on the web browser to provide you necessary protection from trackers.
Features –
Automatically cleans Trash Bin.

Removes bad photos.
Read Detailed Review
4. MacCleaner Pro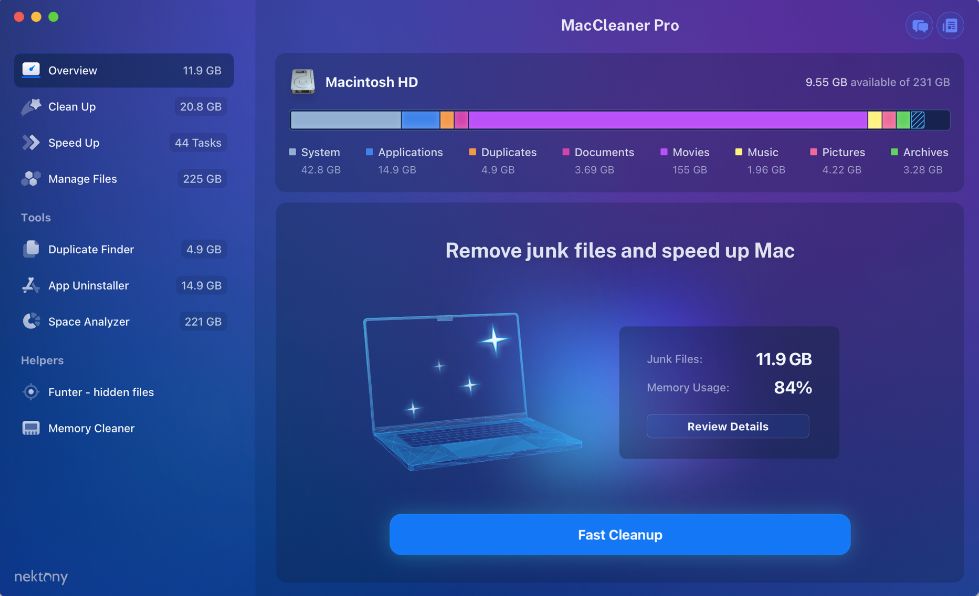 MacCleaner Pro is a product from Nektony and it can clean up your Mac quickly.  It comes equipped with the various modules to clean junk files, user files, duplicates and unwanted applications.
The Clean up Mac section will remove the following types of Cache – browser cache, application cache, Xcode cache, application logs.
Other junk includes emptying Trash bins and deleting unwanted installation files, language files, downloads, mail attachments, screenshots.
Features –
Remove unwanted localised files.

Deletes unwanted downloads.

Empty Trash bins.
Read Detailed Review
5. DaisyDisk
DaisyDisk is a cheap Mac cleaner which comes with a versatile representation of the storage space. This will help the user in understanding what is unwanted and how much space is free.
It comes as a good choice for professionals and individuals who want a solution to clean the unwanted junk with a clear description. It scans the disks and you can preview the content before deciding to clear it.
Features –
Graphical chart representation.

Displays real-time data.

QuickLook to preview files.
Read Detailed Review – DaisyDisk Review
6. OnyX –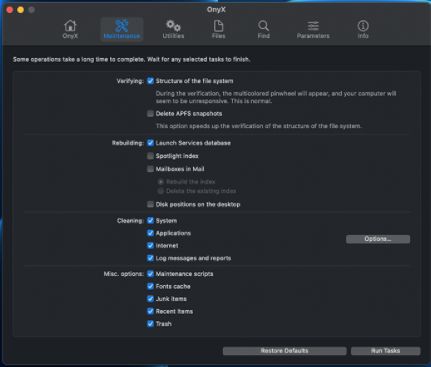 OnyX is one of the best open source Mac cleaning apps as it comes in different versions for different requirements. The software is a great utility to optimise Mac with different modules.
It can clean up multiple types of unwanted files and also removes applications. You can also clear the browser cookies and temporary files using this tool.
Features –
Deletes maintenance scripts.

Remove font junk.

Cleans temporary internet files.
7. App Cleaner & Uninstaller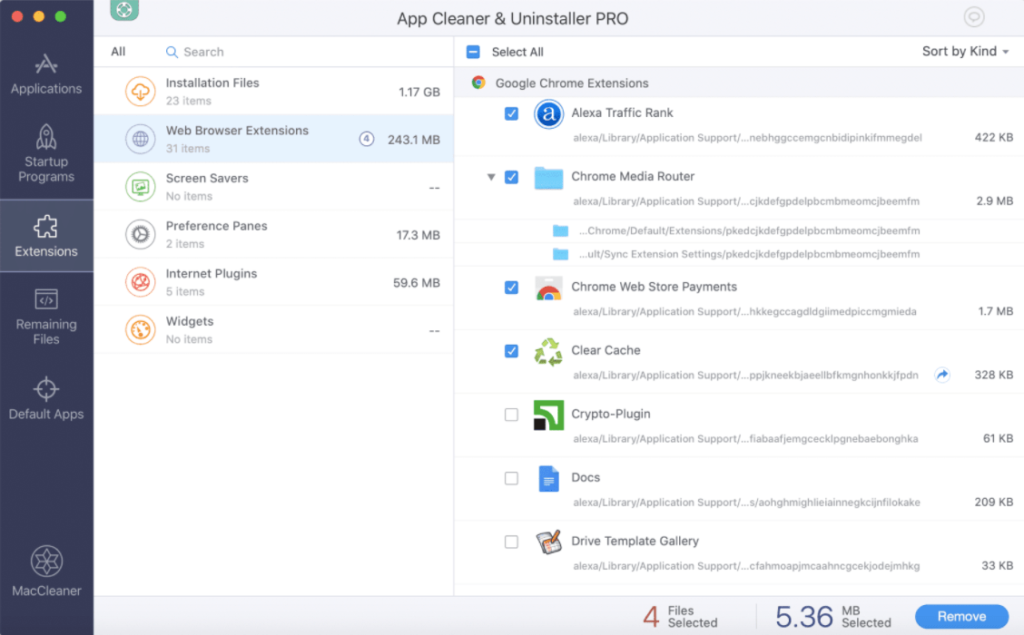 App Cleaner & Uninstaller is another Mac cleaners which is developed by Nektony. It focuses more on cleaning the unwanted applications along with the related files and other junk files.
Scanning and removing unnecessary applications gets important as you wish to make space in the storage disk. It also removes the cache, application support files, preferences and macOS install files. 
Features –
Remove unwanted applications.

Clean browser extensions.

Delete leftover files.
8. Avast Cleanup Premium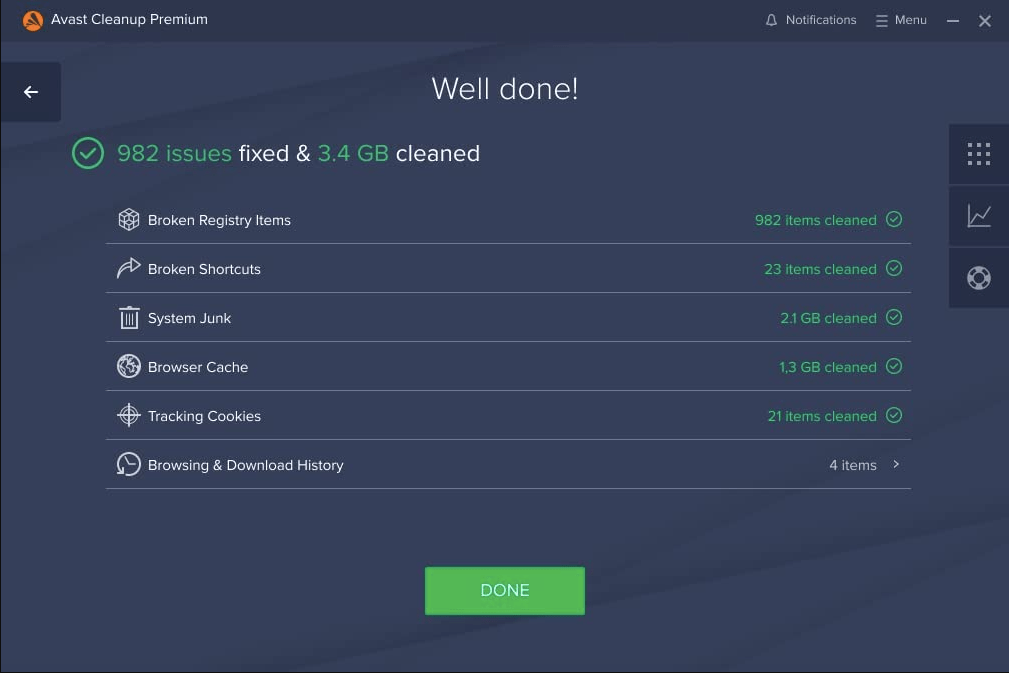 Avast Cleanup Premium is another of the good applications to optimise your Mac. Although it's not a cheap Mac cleaner, it can clean different types of junk files.
It clears preferences, temporary files, saved status, containers, large and old files, crash reports, junk files, log files, browser cache, Trash files and old downloads. Also clean up the similar and bad quality photos, duplicate files to free up storage space.
Features –
Remove Preferences.

Delete the unwanted core files.

Clean temporary files.
9. PowerMyMac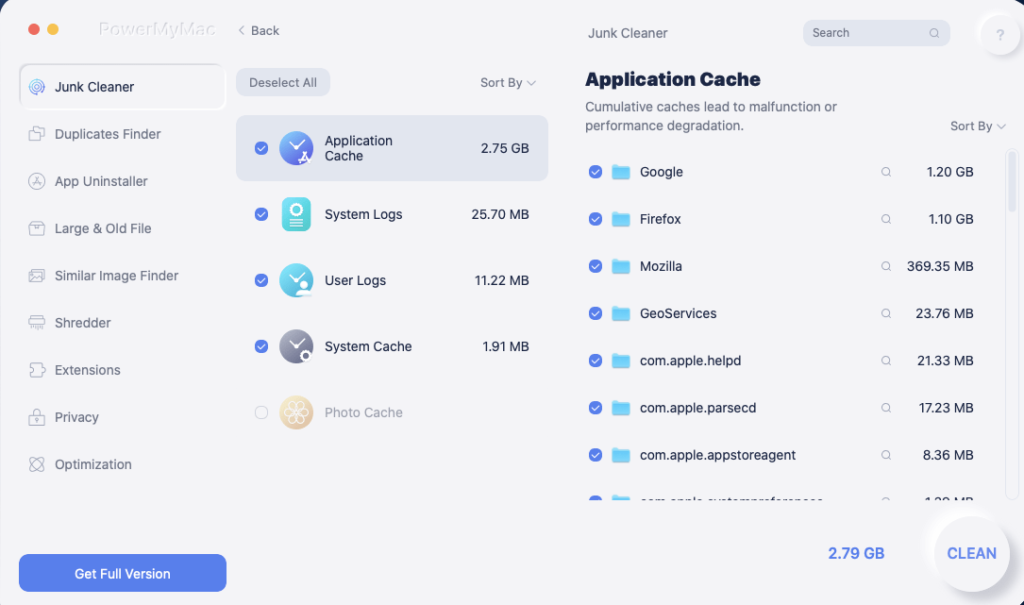 PowerMyMac is the best software to clean Mac if you are looking at multiple tools at your service. This Mac clean app uses a fast and smart cleanup process with its powerful tools to improve the performance of your Mac and free up storage space.
It will also protect your privacy, clear out browser history, remove unwanted apps, extensions and manage login items quickly along with clearing different types of junk files.
Features 
Finds duplicate and similar images.

Clean up cache with unwanted applications.

Inbuilt shredder to delete files securely.
Read Detailed Review – PowerMyMac Review
10. MacClean 3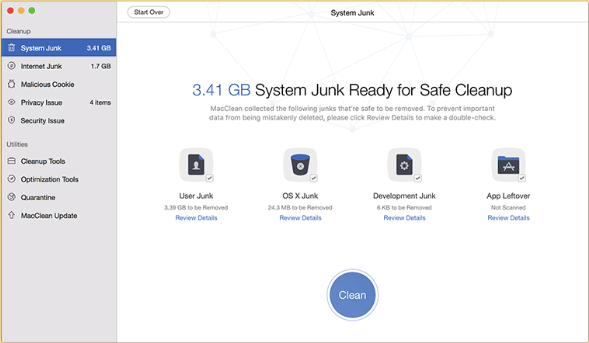 MacClean 3 is a Mac storage cleaner application with multiple tools. It will keep your Mac running at optimal speed and increase productivity. It will also protect your internet activities and secures it from spying eyes, unwanted leaks and threats.
Clean old, large, duplicate, junk, unwanted apps, languages files, Trash, old backup and more. It can be used as a free Mac cleaning software as you can download the free version with limited functions.
Features 
Clean recent activities to remain secure.

Full set of cleaning and maintenance tools.

Erases sensitive files securely using it.
11. Avast Cleanup Premium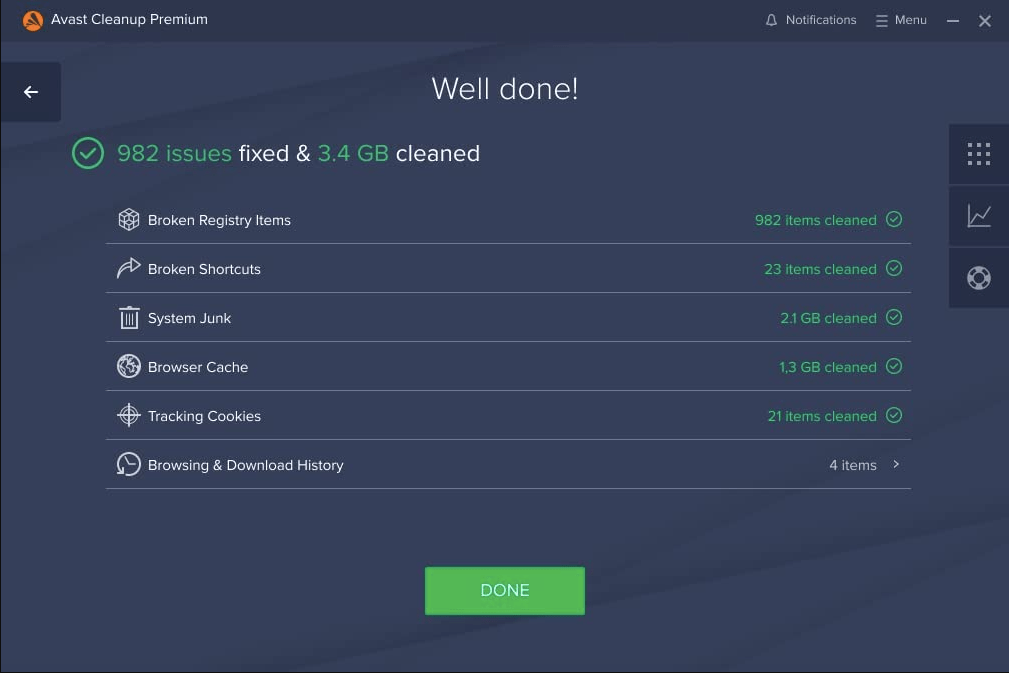 Avast Cleanup Premium is a software to clean Mac with its excellent scan feature to detect hidden junk files, locate duplicates and improve Mac performance significantly. Although, it demands a premium price for its elegant interface which is completely packed and features justifies it.
Auto scan runs everyday and keeps looking out for duplicate and junk files to declutter Mac constantly improving its performance impressively.   
Features
Updates programs automatically. 

Improves Mac performance drastically. 

Deletes unwanted files and uninstalls applications.
12. Stellar Speedup Mac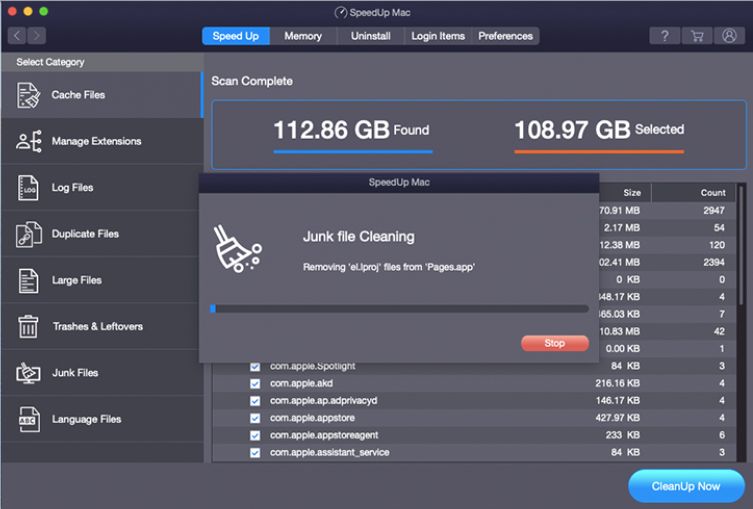 Stellar Speedup Mac is a robust and user-friendly software designed to enhance the performance of your Mac computer. This application efficiently scans your system for clutter, redundant files, and potential issues that may be slowing it down.
It offers a range of powerful features, including junk file removal, disk optimization, and system cleanup, ensuring your Mac runs smoothly and swiftly. Stellar Speedup Mac also includes a Smart Care feature that provides real-time monitoring and maintenance for ongoing system health. With its intuitive interface and reliable performance, it's a valuable tool to keep your Mac in top condition.
Features
Supports both internal and external drives. 

Extensive cleaning tools for deep scans.

System optimization helps manage Mac efficiently. 
Frequently Asked Questions –
Q1. What is the best free Mac cleaner app?
CleanMyMac X is the best free Mac cleaner app which can be used with the limited features. However, to avail all of its tools, you will be required to purchase a premium version.
Q2. Does Apple have a Mac cleaner?
Yes, Apple has Mac cleaning tools such as Reduce Clutter, Empty Trash Automatically and Optimize Storage. But they are often insufficient as you have to manually start them.
Q3. Is the MacCleaner Pro worth it?
Yes, MacCleaner Pro is a very good product and it can clean up a lot of junk files from your Mac. It finds the application junk, log, system cache and logs plus more unwanted and redundant data.
Q4. What is the best Mac Optimizer?
CleanMyMac X and MacBooster 8 are the best Mac optimizers and they can be used as all in one solutions. 
Q5. Is there a free version of CleanMyMac?
Yes, you can use the trial version of CleanMyMac with its limited functionality.
Q6. How do I clean my Mac of junk for free?
You can use any of the best free Mac Cleaner software which comes for free of has a free trial. 
Q7. Does the Mac have a built-in cleaner?
No, but it comes with a few tools to help you optimise your Mac. It is better that you get a third party application to delete unwanted junk and free up storage space.
Conclusion On Best Free Mac Cleaner
The slow Mac indicates there is something wrong and if your storage disk is full then you must start with cleaning it. Often old downloads, unwanted applications, leftover residue files, duplicates, user and system cache and logs occupy large space.
In conclusion, the best Mac cleaning apps play a crucial role in optimizing and maintaining the performance of your Apple computer. These applications offer a user-friendly and efficient way to declutter your system, remove unnecessary files, and enhance overall speed and responsiveness. With their powerful features like junk file removal, disk cleanup, and malware protection, they provide a comprehensive solution for keeping your Mac in top shape.
Whether you're a tech-savvy user or a novice, these apps simplify the maintenance process and ensure a smooth and hassle-free Mac experience. Investing in a reputable Mac cleaning app is a wise choice to keep your system running at its best.