Are you looking for scanning apps for Mac to help you digitise the hard copies of documents and images. In the past few years technology has helped us in easing the task of using the scanners by creating the scanning applications for Mac.
When it comes to efficiently converting physical documents and images into digital formats on a Mac, the choice of scanning software plays a pivotal role.
These applications are equipped with advanced features such as optical character recognition (OCR), batch scanning, and image enhancement, making them essential tools for individuals and businesses seeking to create searchable, editable, and well-organized digital copies of their paper-based materials.
Here is the list of Top 10 Scanning Apps For Mac you must try this year
Abby Fine Reader for Mac
OmniPage
Readiris 17 for Mac
PDFpen
ExactSCAN
SilverFast 9
Doc Scanner – Scan PDF
PDFScanner
PDFelement
Presto PageManager
10 Best Free Scanning Software For Mac
Whether you're looking to go paperless, preserve important documents, or streamline your workflow, the right scanning software can significantly enhance your document management capabilities on your Mac.
1. Abby Fine Reader for Mac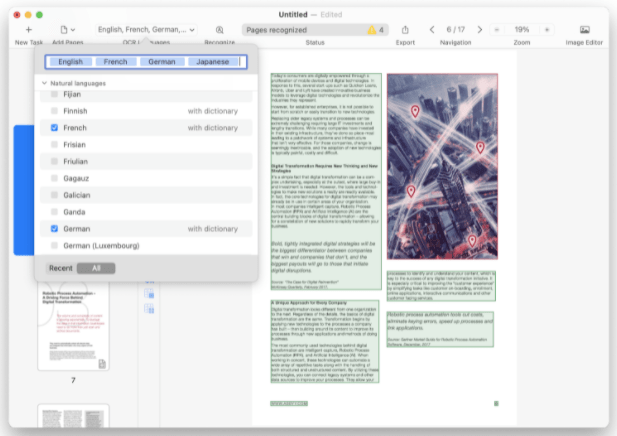 Abby Fine Reader for Mac is another in the list of the best free scanning software for Mac which can scan the documents for you. It is a good idea to use this tool as it will give you ample options to edit the scanned document.
You can copy text, edit from the scanned documents. Thus, making it easy to access the information on the hard copies in the form of their digital copy documents. 
Features –
Digitise the paper documents.

Uses OCR technology.

Edit, copy text from scanned documents.
2. Kofax OmniPage Capture SDK for Mac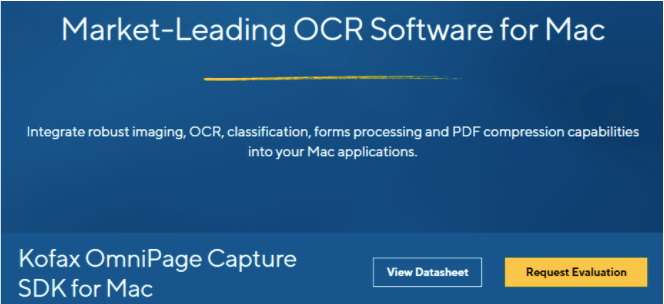 OmniPage is developed by Kofax and is the leading scanning software for Mac. You can rely on its accurate OCR, ICR, OMR, 1D and 2D engines. It will scan the documents and recognize more than 120 languages to help you with the text. It can easily be integrated with other applications to increase productivity and maximise ROI.
More importantly it uses the PDF compression tools to save your storage space.
Features –
Multiple languages supported.

Number of output formats.

Easy to use API availability.
3. Readiris 17 for MAC
Readiris 17 for Mac is one of the best scanning apps for Mac as it is an intelligent OCR software. With it you can perform various PDF editing tasks such as merging, splitting, annotating, protecting and adding signatures.
The unique feature of this tool can convert the PDFs into audio files and you can listen to them on the go. Use annotations, comments, hyperlink to enhance the collaborative workflow.
Features –
Supports different output formats.

Edit text from the images.

Convert into audio files.
4. PDFpen by Nitro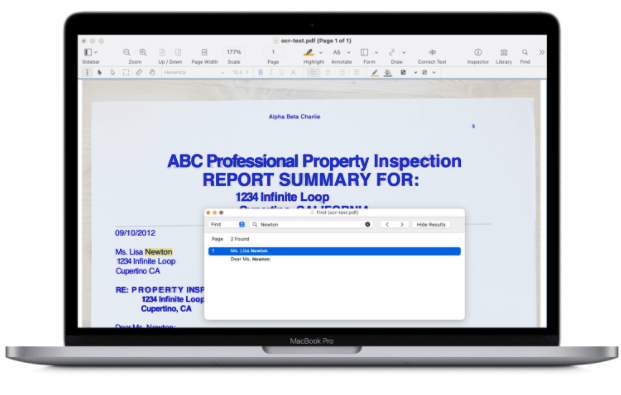 PDFpen is a new software from Nitro for Mac which can readily make edits in the scanned documents. It will quickly perform the OCR on the scanned documents on your Mac.
This tool can makes quick edits with the context editing pop-ups to help the users make changes in the scanned documents.
Directly scan from the Mac compatible scanner or an image captured from camera. It can also help in saving space on your Mac by compressing the PDF file. 
Features –
OCR text layer for proofing.

Adjust resolution, colour, contrast, size and skew. 

Additional PDF tools.
5. ExactSCAN
ExactSCAN is a one man application for multiple tasks and it supports more than 500 scanners. You can sort, archive and search for the documents on Mac with its help. It harbours the drivers for scanners to give you the needful support on Mac.
It includes features like automatic scan to PDF, scan to print, skew correction, blank page detection, AppleScript support and individual file naming.
Features –
Organise the documents quickly.

Reduces file size.

Automatic black and white optimization.
6. SilverFast 9
SilverFast 9 is one of the oldest scanner software for Mac and comes with some of the most powerful & patented features. It can be termed as the best photo scanner software for Mac with its image processing.
Removes dust and scratch and makes your images look new. Other manual and automatic optimization tools help in achieving the best for the scanned images. 
Features –
Fully automatic IT8 calibration.

Multi Exposure functions.

Professional colour management.
7. Doc Scanner – Scan PDF
Doc Scanner – Scan PDF is developed by Zoho Corporation and it can be used to precisely scan papers. The documents can be anything from business cards to receipts. It is a wonderful photo scanning software for Mac as you can click images from the iPhone or iPad and open it on Mac.
Editing, signing, translating, sharing and much more using the application is possible for Mac users.
Features –
Easily indicates a scan.

Voice Control accessibility.

Sync with other devices.
8. PDFScanner
PDFScanner is a very useful application for your Mac as it will quickly scan the devices and allows you to change the settings accordingly. Use the free scanner for Macbook Air and perform multiple operations at the same time.
Tasks like OCR and Deskew can be performed in the background while you can read the scanned documents in foreground.  
Features –
Intuitive interface.

Quick save dialog.

Automatically detects scanners.
9. Wondershare PDFelement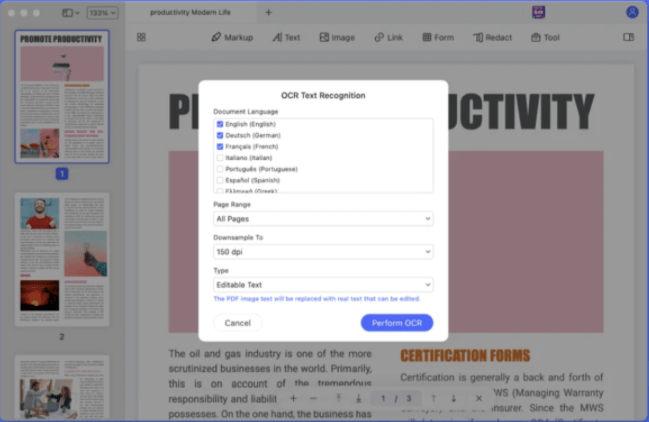 PDFelement is a wonderful application from Wondershare which will help you scan the documents on Mac. It is the best free scanning software for Mac as it will help you scan the documents and images effortlessly.
You can scan documents using the tool into a PDF file and later use it to edit as it supports the OCR technology. This Mac scanner software lets you edit the text on the scanned images and documents and supports multiple languages.
Features –
Advanced OCR technology.

Edit text, images.

Additional tools for PDF editing.
10. Presto PageManager Mac
Presto PageManager for Mac is the file manager for the Mac which can be used to scan the images and turn them into the PDF easily. It can convert, manage, send and store the files for all the professionals and proves to be a good Macintosh scanning software.
It supports synchronisation and multiple functions printers and double sided scanning. 
Features
File recognition and OCR technology.

Merge multiple files in the PDF.

Supports cloud storage synchronisation.
Frequently Asked Questions –
Q1. What is the best free scanner app for Mac?
Abby Fine Reader PDF for Mac is the best free scanner app for Mac. As it incorporates the OCR technology to edit the text on the scanned documents. Additionally you can perform other tasks on this PDF editor.
Q2. Is there a scanner app on Mac?
No, there is no scanner app inbuilt on a Mac. Although, you can always use a scanner and connect it to the Mac. Using the scanning apps for Mac to edit and share them is much more productive.
Q3. How do I install scanning software on a Mac?
You can find the free scanning software for Mac on the Mac App Store or get them from the official websites of the products. Find the links to the free scanner software for Mac in the list above. 
Conclusion On Scanning Apps For Mac
Now, you know a scanner app for your Mac can help you do so much. It will not only let you copy the information but edit the text and images.These applications provide a user-friendly interface, advanced image processing, and OCR capabilities, making them indispensable tools for both home and professional users.
Their ability to create searchable and editable digital files enhances productivity and organization. Whether you need to archive important documents, digitize old photos, or manage a paperless office, investing in top-notch scanning software for Mac is a wise choice for streamlining your document management and ensuring the highest quality digital scans.
Also Read