Who doesn't like to keep a check on the weather, but if you get the facility on your Mac, it is even better. As you go to the best calendars apps for Mac to schedule things and get more information, weather applications for Mac also contribute to your plans.
With the ever increasing number of applications in the App Store, it sometimes gets confusing to pick the one for your usage. But, here are here to solve your problem and as always bring you the list of the best weather apps for Mac. 
10 Best Free Weather Apps for Mac
1. CARROT Weather 
CARROT Weather is one of the powerful weather apps for Mac which is also very good for those looking to protect their privacy. The concern is well addressed by this amazing application which gives you timely weather forecasts.
This is one of those weather applications for Mac which allows its users the customization to turn it into a professional guide for weather or not. 
Features – 
Accurate and detail oriented application. 

Wonderful display with humour or weather. 

Timely notifications and alerts. 

Includes weather maps. 
2. Radar Live Pro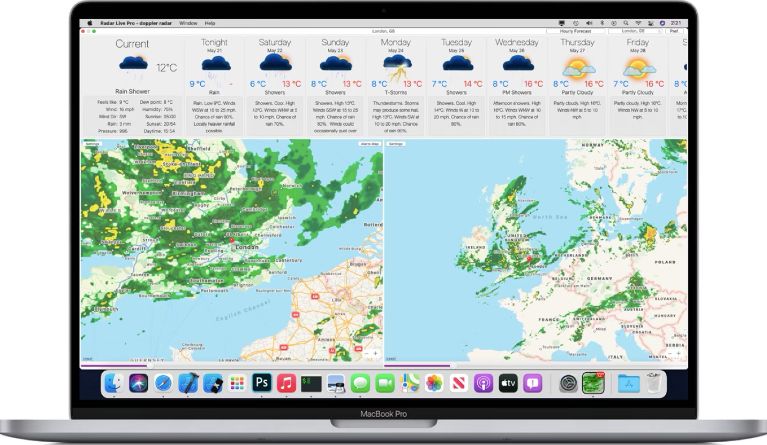 Radar Live Pro is one of the weather apps for Mac as it incorporates the best features to give you the information. The Radar and Weather Forecast can be found in a unique display and you get current weather information on your Mac.
It uses the latest radar data and gives you a detailed report on the current weather for upto 3 days. The latest 2 hourly delays and a Doc icon shows up the radar image. 
Features – 
Also shows the current temperature. 

Find forecast locations with city names. 

Radar features for weather warning and NOAA alerts.

Get information on Wind Speed and Direction.
3. Forecast Bar – Weather + Radar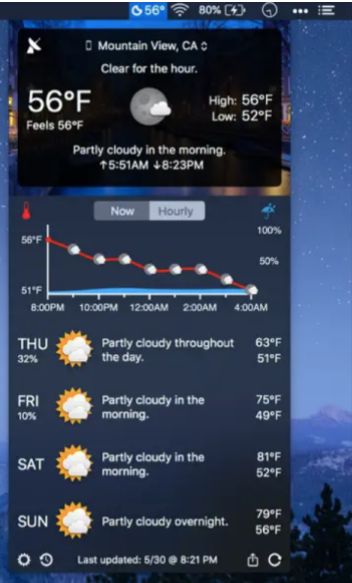 Forecast Bar – Weather + Radar is another of the free weather applications for Mac. It also offers in-app purchase data. It is quite simple to use and therefore liked by the users for the live weather forecasts.
Place it on your menu bar or the Dock and set the locations which can be synced on your devices. The weather summary includes the 20 data points which combine to show you the detailed information. 
Features – 
Allows syncing the data between devices. 

Resizable panel for weather information. 

Available in 40 languages. 

Get 14 days forecasts with full descriptions. 
4. Weather Dock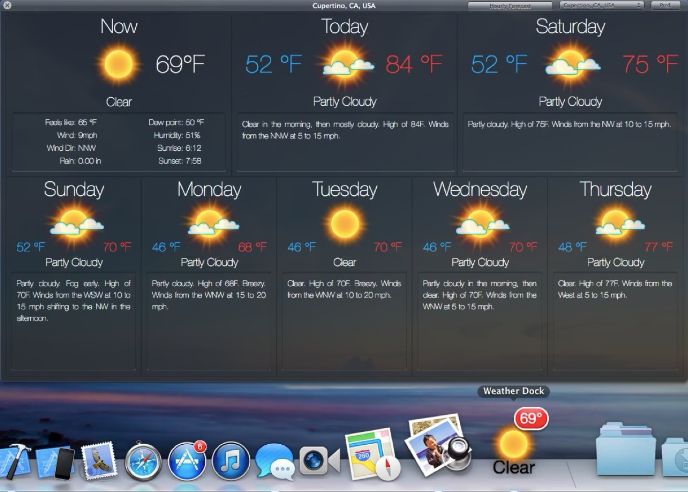 Weather Dock Desktop forecast is a free weather app for Mac. It can give you the information for a 7- day weather forecast with a single click. The detailed weather forecast for 3 days is also available on a two hourly basis.
It does not let you miss on any weather updates if the internet connection is weak and displays it with the current conditions. 
Features – 
Supports multiple forecast locations. 

Uses imperial and metric units. 

Automatic updates for weather. 

Customizable dock icon.
5. Weatherbug 
WeatherBug – Weather Forecasts and Alerts is a one of the completely free weather apps for Mac. It is powered by the largest weather network and can be used to get the fastest alerts.
It also shows you the real-time forecasts for weather along with the hourly updates. You can receive the weather alerts directly in your menu bar. 
Features – 
Displays real-time weather conditions. 

Get timely severe weather alerts. 

Check live radar view for favourite locations. 

Get forecasts for upto 2.6 million locations. 
6. Swackett
If you would also like some help with your wardrobe before stepping out, this is the perfect weather app for Mac. As its name implies Sweater, Jacket or Coat will actually show you different types of the costumes according to the weather conditions.
This is how they will make you aware of the weather forecasts along with the several answers for temperature, wind condition etc. 
Features – 
Interesting interface to keep the interaction alive. 

Answers questions on weather. 

Shows you the weather forecasts. 

Get satellite imagery and weather charts. 
7. RadarScope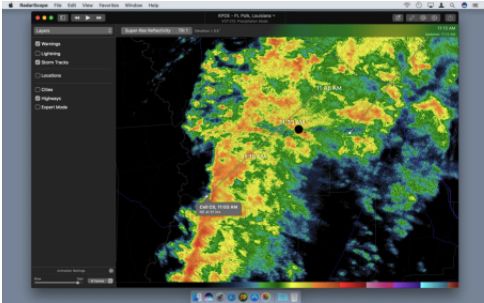 If you are looking for a professional level weather condition and forecast data right from the satellite source then look no further than RadarScope. It is a specialised display app for weather enthusiasts and meteorologists that provides live data from NEXRAD.
This app provides data related to all forms of weather calamities such as tornado, thunderstorm, flash flood, marine and snow warnings, etc. 
Features – 
Professional level data available from NEXRAD. 

Refreshes auto updated weather data. 

Provides most weather calamities data. 

Displays native radar data rendered. 
8. iWeather – Forecast App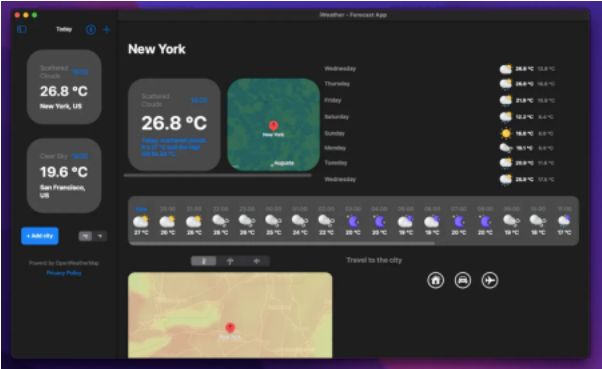 iWeather is another Mac weather widget on the list, with its sleek and simple interface it is very friendly to use. It supports all apple devices, can sync weather data across all your devices via iCloud to stay up to date on weather conditions.
Provides comprehensive weather data for individual cities which can also be selected through a provided list or searchable option. This widget provides real-time weather forecasts on your location or any selected city. 
Features – 
Supports latest M1 and intel processors 

Supports all apple devices. 

Comprehensive weather data available. 

Customizable for dark mode. 
9. Living Weather & Wallpapers HD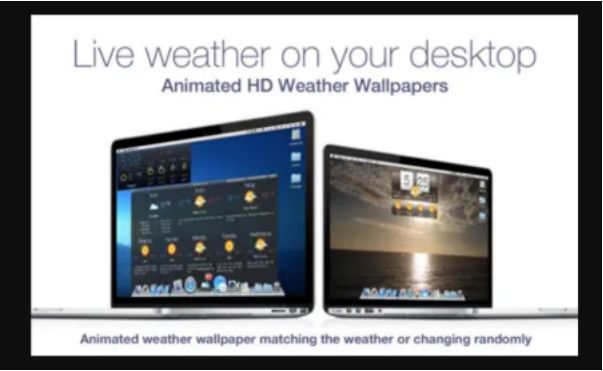 Living Weather & Wallpapers HD is another excellent free weather app for Mac which provides current weather conditions and forecasts on your desktop live from around the world.
Amazing things of this application can turn your Mac desktop screen in to an animated weather wallpaper scenes which would match to the current weather conditions of the selected city. With just a single click from the dock icon all weather conditions are readily visible.. 
Features – 
Stunning weather desktop app. 

Animated weather wallpaper scenes. 

Current weather conditions and forecasts from around the world. 

Accessible by a single Dock icon click. 
10. Weather Widget Live
Finally on the list of Best weather Apps for Mac we have Weather Widget Live from Voros Innovation which is a free app which shops upto date weather condition and forecast for not only current location but also for multiple locations.
You can select from multiple attractive widget designs to suit your preference to show weather data on your desktop. The app icon can also show you a brief weather forecast or an overview of current conditions from both Dock and the menu bar. 
Features –
Customisable weather widget right on desktop. 

Overview visible on app icon in Dock and menu bar. 

Can select multiple locations. 

'Show Desktop' Functionality to display. 
Top 10 Weather Apps for Mac in a nutshell –
| | | | | | | |
| --- | --- | --- | --- | --- | --- | --- |
| Product Name | Best For | Platform | Price | Free Trial | File Size | Latest Version |
| CARROT Weather | Powerful weather app with excellent privacy protection. | macOS 10.15 or later | $14.99 | Yes | 30.3 MB | 4.15.9 |
| Radar Live Pro | Feature rich weather app with high customisation options. | macOS 10.11 or later | $7.99 | Yes | 85.1 MB | 4.3.0 |
| Forecast Bar-Weather + Radar | Simple and free weather app showing detailed information. | macOS 10.12 or later | $4.99 | Yes | 48 MB | 5.8.7 |
| Weather Dock | Free weather app shows accurate forecasts for 7 days with a single click. | macOS 10.12 or later | $6.99 | Yes | 300.4 MB | 5.4.0 |
| Weatherbug | Fastest Alerts and free weather app with real-time forecasts updated hourly. | macOS 10.11 or later | $0 | Yes | 7.3 MB | 1.0.2 |
| Swackett | Intuitive wardrobe specific weather app for forecasting accurate details. | macOS 10.15 or later | $1.99 | Yes | 23.2 MB | 7.0.4 |
| RadarScope | Professional weather app showing data direct from satellite source. | macOS 10.14 or later | $29.99 | Yes | 33.9 MB | 4.7.2 |
| iWeather – Forecast App | Simple and sleek weather app which supports all apple devices via iCloud. | macOS 11.0 or later | $0 | Yes | 7.2 MB | 1.4.0 |
| Living Weather & Wallpapers HD | Turns the desktop screen in to animated weather wallpaper showing live updates. | macOS 10.12 or later | $3.99 | Yes | 883.2 MB | 5.1.11 |
| Weather Widget Live | Always shows up to date weather as a widget on your desktop and also on both dock and the menu bar. | macOS 10.11 or later | $3.99 | Free | 297.9 MB | 3.9.6 |
Frequently Asked Questions – 
Q1. What's the best weather app for Mac? 
There are numerous weather apps for Mac available on the Mac App Store and official weather app websites. But we highly recommend the CARROT Weather application which provides excellent comprehensive weather conditions and forecasts for the selected city.
Q2. Does Apple have a weather app for Mac? 
You can get a weather app for Mac from the Mac App Store or select one from the list provided above to get a weather condition and forecast app right on your desktop. 
Q3. Where is the weather app on my Mac? 
There is no inbuilt weather app on your Mac, get one from the list above. Later, you can find a weather app on your Mac from the dock icon or look for it by launching the notification centre. Click on the clock in the menu bar and from the list of widget select the weather app. If you don't find the weather app from the list, then install one of the weather apps from the above list provided. 
Q4. How do I put the weather on my Macbook? 
You can put weather on your Macbook by installing weather forecast applications from their official websites or from the Mac App Store. These apps will display the current weather conditions and forecasts right on your desktop. 
Conclusion On Weather Apps for Mac
If you have been looking for weather apps for MacBook, we are sure that you have found your choice here. The list of best of the weather applications available for macOS with the different features is listed in this blog. We hope that you are able to decide on one of the applications as per your needs.
If you are only looking for fun weather applications we would recommend trying out Swackett or CARROT Weather. But anything for the business personals, will have to look for detailed weather applications such as Forecast 
Also Read