Graphics design software refers to an application which can be used to create new images or alter the existing ones. Is a great platform for all the graphics artists as it provides you with great display, high colour accuracy and ease of use. If you are looking for a design software for Macintosh your search ends here. Check the list of the best graphics design software for Mac.
Top 10 Graphics Design Software For Mac
1. Adobe Illustrator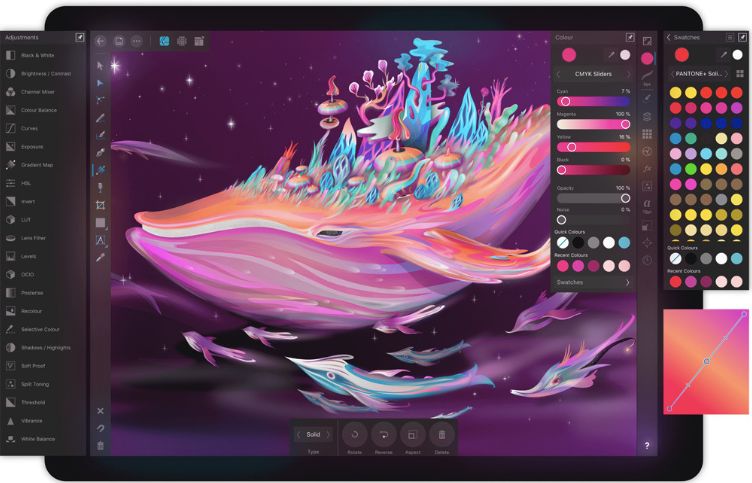 Adobe Illustrator is one of the best graphics software for Mac. This is one of the best graphics design software for Mac which has all of the necessary tools. It can be used to create all the designs from your imagination in 2D and let the world view it. Use it to create logos, web graphics, icons and images.
Features –
Industry standard vector art.

Allows creating customising effects.

Share the projects on cloud.
2. CoralDRAW
CoralDRAW is a graphics design software with all features which can be used as a complete suite for Mac. This can be used as a professional designing toolkit where you can create illustrations, logos, icons and more. Includes the fonts, page layouts, photo managements, bitmap-to-vector editing, 
Features –
Collaborate in real-time with others.

Create sophisticated art with professional tools.

Multiple page editing for documents etc.
3. Affinity Designer

Affinity Designer is another of the popular software for Mac used by the graphics designers to create vector images. It can be applauded for its precise real-time features such as zoom, gradients, effects, wireframe etc. Advanced tools for grids, alignments, linked symbols, presets and so much more for your Mac.
Features –
Allows the stabilisation of pencil and brush for freehand work.

Smooth functions with easy switching between workspaces.

High quality artwork for texturing & masking.
4. Sketch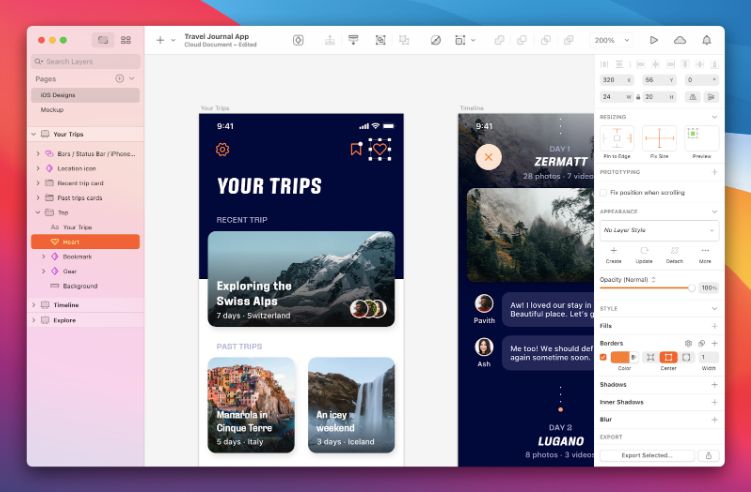 Sketch Mac app will give you all the artwork tools where you can also run your prototypes. Multiple extensions and workflow with the animations is helpful for all the designers to make it more manageable. It is easy to create UI designs and collaborate with others more easily. 
Features –
Real-time collaboration in action.

Check the prototypes on your device.

Save files, manage & share them with others 
5. Adobe Photoshop for Mac
Adobe Photoshop has been most popular among all the artists as a graphics design app for Mac. The smooth work flow along with all the necessary editing tools for your photos and images. You can use the brush strokes, drawing tools to redraw or make changes to the existing images as well. 
Features –
Brilliant photo editing application.

Plethora of options in the toolkit.

Presets and gradient work per industry standard.
6. Tayasui Sketches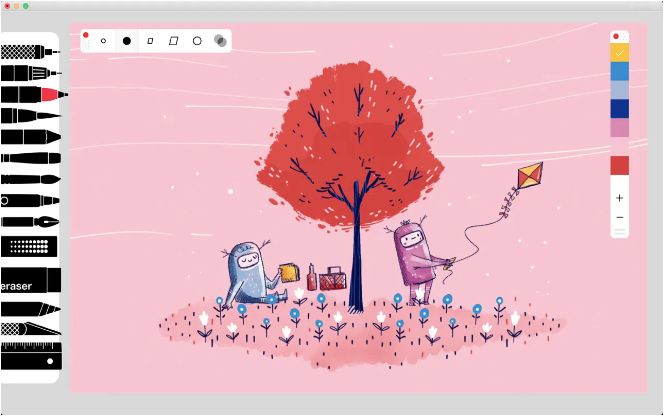 Tayasui Sketches is another of the helpful graphics designing applications for Mac. It comes with a refined set of tools for drawing freehand or to create graphics of your own for logos, icons etc. Unlimited tools such as layers, different pen & brush styles etc are available for creating masterpieces. 
Features –
Support for Stylus and versatile interface.

20+ Realistic tools for fine artwork.

Importing images and editing is easy.
7. Sketchbook Pro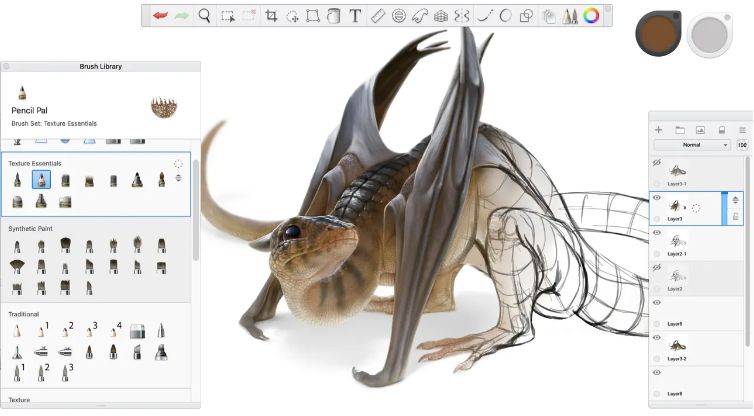 Sketchbook Pro is the one for the fine and realistic artwork the graphics designer might be looking for. You can create the graphics for your web pages, applications, social media and whatnot. It is called an elegant application which is also easy to navigate and gives the artists all it needs for making art possible at its best.
Features –
High quality customizable tools for illustrations.

Free of distractions and easy to use interface.

Used by professionals for the multiple tools availability. 
8. VectorStyler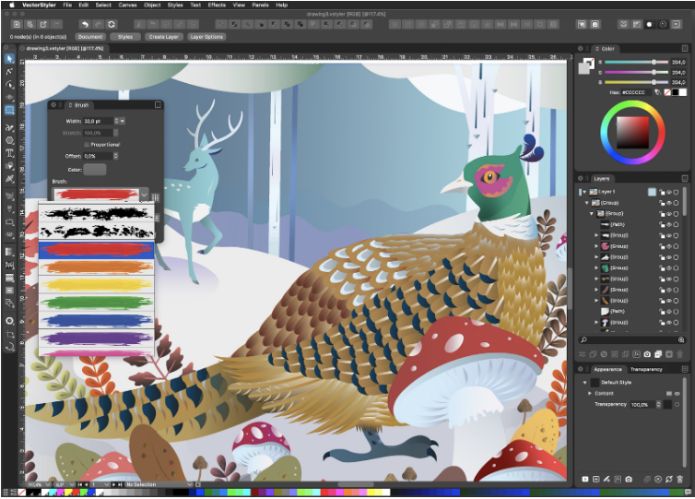 VectorStyler is another of the applications which is used for advanced level of illustrations by the graphics artists. It is available for both Windows & Mac and can easily create beautiful logos, drawing, art for print and web alike. 
Features –
Get complete set of the designing tools.

Modern designing with redefined illustrations.

Typography, text editing in real-time.
9. Inkscape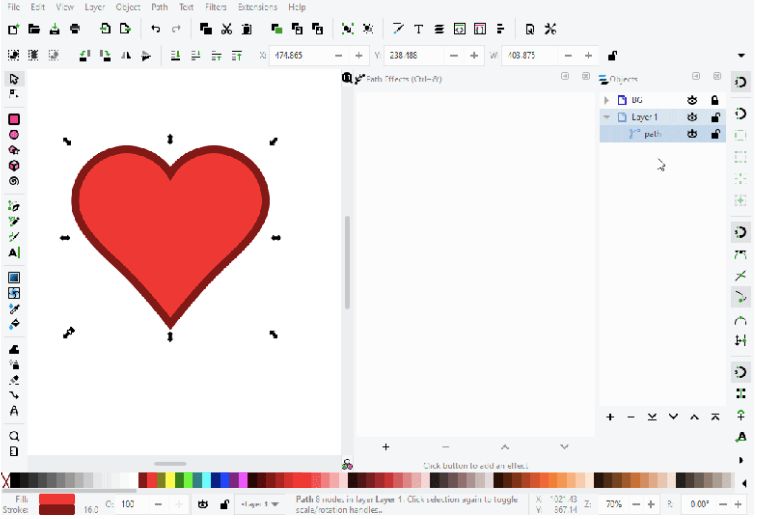 Inkscape is one of the amazing graphics applications which is open source and leaves the artist and developer in you the freedom to work upon it for your advantage. It can be used for easy doodling to create fantastic artworks for web, publication or other professional usage.
Features –
Creating objects, cloning, and adding texts is easy.

Allows adding layers, grouping objects and aligning.

Supports command line instructions for several functions.
10. GIMP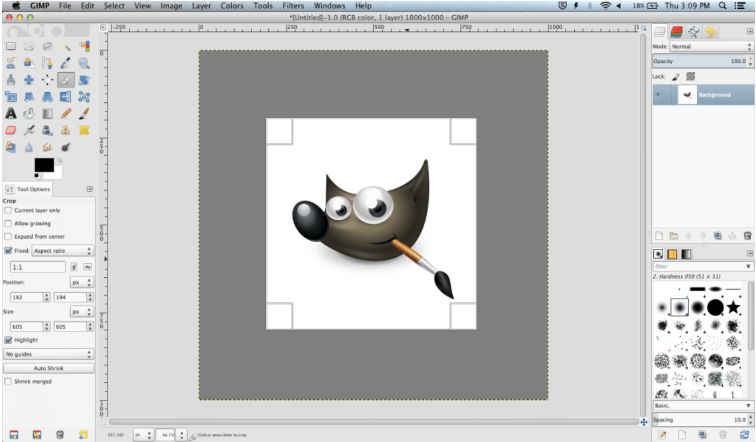 GIMP is one of the free graphics designer applications for Mac, which can be used easily by beginners. Creating B&W conversions from colour images, tone mapping, painting with different types of brushes and creating logos is what you can easily achieve with this app.
Features –
Used for drawing, photo editing & painting.

Supports a number of image formats.

Open source app with image manipulation scripts.
Frequently Asked Questions – 
Q1. Does Mac Have a Graphics Design program?
No, Mac does not come with a graphics designer software and therefore you have to download a third party software. There are various graphics design applications available in the market and you can select one for you.
Q2. What is the best design program for Mac?
Adobe comes with the best of all animation, design software for Mac. Illustrator and Photoshop are some of the most used programs for Mac.
Q3. Can Canva be used on a Mac?
Yes, you can use Canva on Mac for editing and creating images for various purposes. Canva Mac comes with various elements, layouts, image editing tools and more. 
Q4. Why do designers use Macs?
Macs are preferred by graphics designers due to its high resolution display and can be used as per the industry standard. 
Conclusion On Graphics Design Software For Mac
As a budding graphics designer you must try the top graphics design software for Mac. If you are new, you can start with a free design software for Mac which will help you get acquainted with the image editing and processing on your device. We would like to recommend a professional to use Adobe illustrator from the list of the graphics design apps for Mac.
Also Read