Among the vast collection of music on your iTunes there is bound to be an immense amount of duplicates as well, they also tend to occupy large disk space which you could otherwise use for other items. Individually trying to identify each duplicate on your iTunes and remove them is time consuming and a very laborious task, so instead consider getting an excellent iTunes Duplicate Remover which does the job in click of buttons easily for you.
We have curated a list of 7 best iTunes Duplicate Removers for you to choose from according to your preferences. 
Manually delete Duplicates in iTunes individually 
iTunes provides a free built-in feature to identify duplicates and remove them from your Music Library from iTunes 11 and later versions, the only caveat is you need to delete them one by one, no bulk or mass delete option for duplicates. 
1. Launch iTunes on your Mac, and Select 'File' from the top menu bar. 
2. Now Select 'Library' from the dropdown menu and Click on 'Show Duplicate Items' option. 
This process will try and find all the duplicate songs in your Music Library comparing the song name and artists to display them for you to select each and remove them manually. 
You can also find only the exact duplicates in iTunes Library by Press & Hold 'Option' key on keyboard and Follow the above steps to File > Library > Show Exact Duplicate Items option. 
7 Best iTunes Duplicate Removers to Mass Delete
Although iTunes offers a free Show Duplicate Items feature to remove duplicates from Music Library, you can only remove one duplicate at a time.
It doesn't offer a mass removal option for duplicates at a time, for the same reason you should consider getting an more efficient iTunes Duplicate Remover Utility which not only identifies all the duplicates accurately and also lets you remove them all at one with just a click of a button.
Below are such iTunes Duplicate Removers for you to consider and choose according to your preferences. 
1. Gemini 2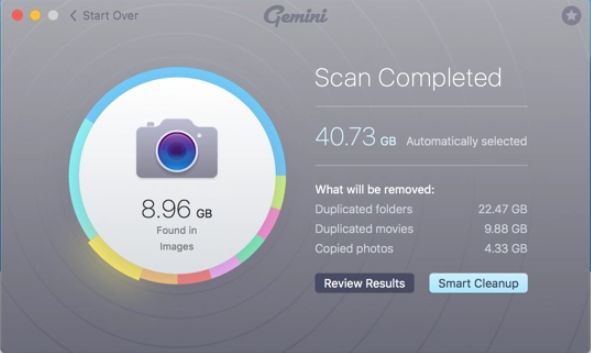 Top of the list is Gemini 2, which is the most popular duplicate finder application from MacPaw. It is an all in one duplicate finder that helps detect duplicate songs, images, folders, documents, videos and many more on your Mac with the click of a button. You can preview the scan result duplicate files before removing them from your Mac. 
Features – 
All in one duplicate finder including iTunes audio. 

Advanced accurate detections. 

Easy to use and simple interface. 

Preview duplicates before deleting. 
2. Cisdem Duplicate Finder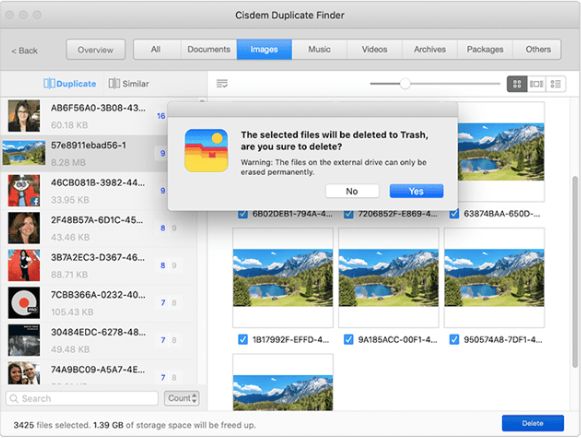 Cisdem Duplicate Finder is another highly popular free iTunes Duplicates remover which is very fast and accurate to identify duplicates and offers preview before you remove them from the system.
It is cross platform compatible and supports all types of files to scan for duplicates on both local and external drives. You can preview all the duplicate files before selecting which one to keep and others to remove from your System.
Features – 
Cross platform compatible. 

Customizable scan settings. 

Supports both local and external storage. 

Preview the duplicates before removing. 
3. Easy Duplicate Finder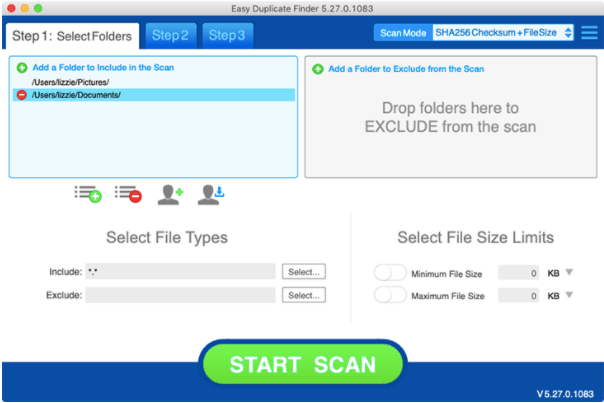 Easy Duplicate Finder is another free iTunes duplicate remover which is cross platform compatible and supports all major file types and formats to detect duplicates files. It's easy to use interface is breeze to navigate for full system scan or to look for specific drive folders.
It works quick and efficiently to detect duplicates on iTunes, Google Drives, Dropbox and on many directories as well. 
Features – 
Quick and efficient duplicate finder.

Supports all file types and formats. 

Easy to use user interface. 

It is cross platform compatible. 
4. Leawo Tunes Cleaner for Mac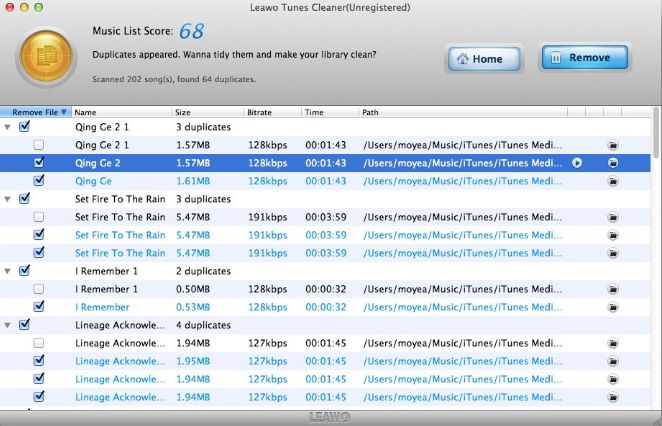 If looking for an dedicated iTunes Duplicate cleaner then look no further than Leawo Tunes Cleaner for Mac, it not only deletes duplicate songs in iTunes but also helps you organise iTunes Music Library. It offers two duplicate scan modes, Quick and Deep, select either of them depending on your preferences. 
Features – 
Exclusive iTunes Cleaner for Mac. 

Comprehensive iTunes music library management. 

Intuitive and easy to use interface. 

Offers two scan modes, Quick and Deep. 
5. Nektony Duplicate File Finder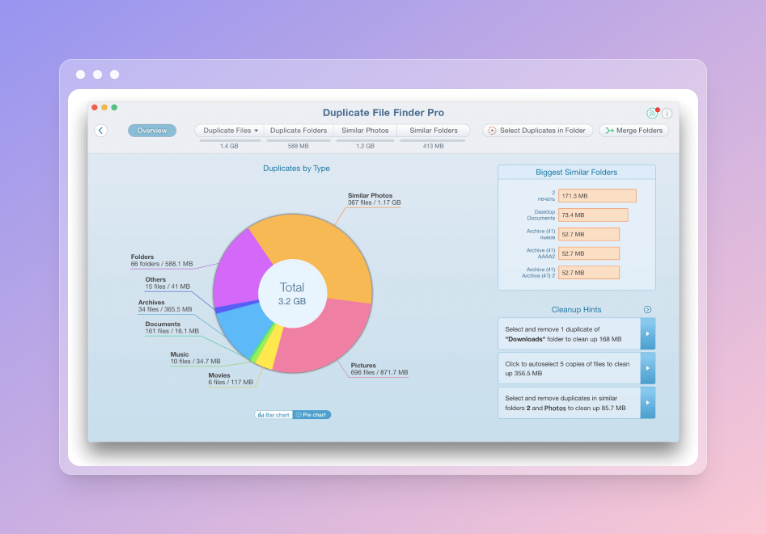 Nektony Duplicate File Finder is a reputable name in Duplicate Finders applications, which also can detect iTunes Duplicates and help remove them easily.
It also offers extensive customisable features to delete duplicate songs in iTunes automatically. You can also find and remove all types of unwanted duplicate files, folders and similar photos. 
Features – 
Complete package professional duplicate cleaner. 

Supports all types of files and formats. 

Quickest and accurate byte-to-byte results. 

Extensive features list. 
6. Tune Sweeper 4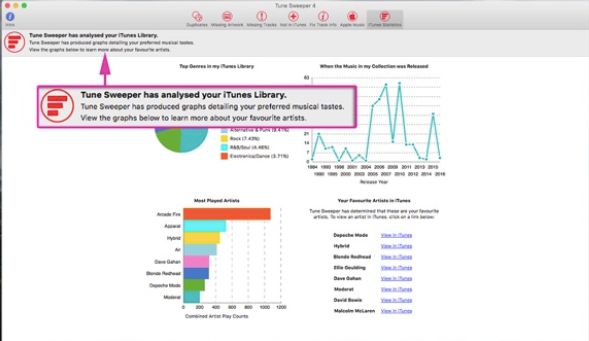 Tune Sweeper 4 is another dedicated iTunes management tool which helps you keep iTunes efficiently organised and also remove duplicate songs.
It is cross platform compatible along with extensive features to accurately detect duplicate songs and remove them. Its features list includes Duplicates, Missing Artwork, Missing Tracks, Fix Track Info and many more. 
Features – 
Cross platform compatible. 

Dedicated iTunes music organiser. 

Comprehensive features list. 

Simple user friendly interface. 
7. Dupe Away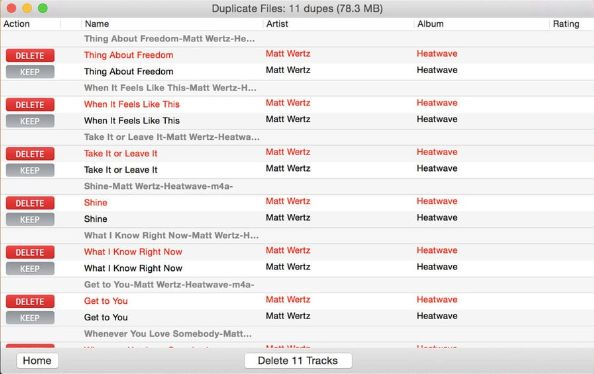 Last on the list is Dupe Away, another exclusive iTunes Duplicate Remover which helps you remove duplicates quickly and efficiently.
You can instantly remove duplicate tracks, playlist songs, missing files and many more on your iTunes, with comprehensive iTunes organising features. It automatically detects and offers which file to remove and which file to keep by analysing the quality of the file for you to choose. 
Features – 
Easiest and fastest iTunes duplicate finder. 

Excellent iTunes music organiser. 

Straightforward user interface. 

Auto detects which file to remove. 
Frequently Asked Questions –
Q1. How do I mass delete duplicates in iTunes?
To mass delete Duplicates in iTunes, you need to get an excellent iTunes Duplicate Remover software like Gemini 2. Find many more such third-party software from the above list and select one according to your preferences. 
Q2. Can iTunes detect duplicate songs?
Yes, iTunes comes with a duplicate songs detection feature to identify all duplicate songs on Music Library. But to remove duplicate songs you have to manually select each and delete one by one. 
Q3. Why do I have duplicate songs in iTunes?
Among the vast collection of songs on your iTunes, it is hard to keep track of any songs you are adding later that are already present in your iTunes. The only way to find out if the songs you are adding to the library are already present is through looking for duplicate features. 
Q4. How do I get rid of duplicate songs in iTunes on my Iphone?
One method is to connect it to your Mac and then use any one of the best free iTunes duplicate removers.
Conclusion
Depending upon the number of duplicate songs in your Music Library consider between removing duplicates using iTunes Show Duplicate Items Feature or getting an third-party iTunes Duplicate Remover. Either ways check how many duplicate songs do you have in your music collection before considering third-party software. 
In case there are only a few duplicates in your iTunes Library, then it is better to utilise the built-in iTunes Show Duplicate Items feature and remove them manually one by one. On the other hand, if you have a huge collection of music and a larger number of duplicate songs, then getting a third-party tool to remove duplicate songs all at once is a great option. 
Also Read