Despite being a powerful device, Macs can become slow overtime or due to negligence. If you think the machine will never maintain performance no matter what, think again. As the proper handling of a device is required, you need to keep a check on how you are using your Mac.
How many applications are you running at a time, are you filling up the storage up to the brink ? Well, if that's the case, you should get yourself a Mac performance Monitor. This blog talks about the importance of the resource monitor for Mac and gives you options for choosing a tool.
Here is the list of Top 7+ System Monitor Apps for Mac You Must try this year
CleanMyMac

TG Pro

iStat Menus

iStatistica

Activity Monitor

iPulse

XRG

System Monitor
7+ Best System Monitor Apps for Mac
1. CleanMyMac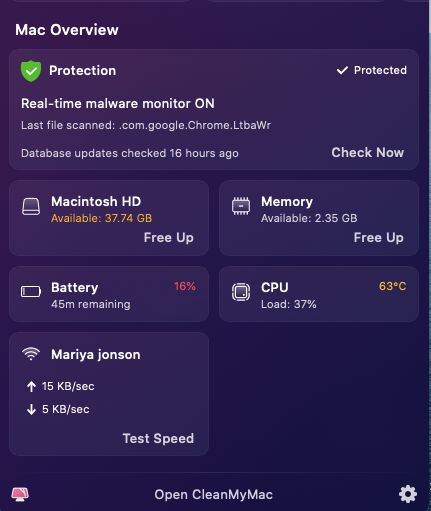 If you are looking for more than a System activity monitor and a complete optimisation solution for your Mac then look no further than CleanMyMac X. It not only displays all the Mac system vital stats in real-time and also helps you clean and speed up Mac performance by various optimisation modules.
You can also stay protected from malware and various other threats along with privacy protection options with this software. 
Features – 
All in one Mac optimisation tool. 

Comprehensive System status overview. 

Memory, CPU, Battery stats in real-time.
2. TG Pro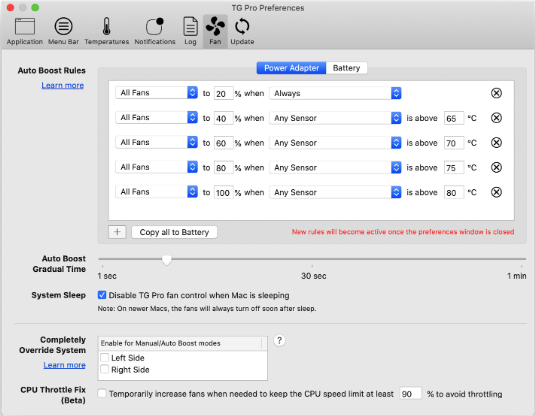 TG Pro is also one of the most popular resource monitors for Mac. It will show you details for monitoring Mac, with fan controls in the details. It works for both Intel and M1 chip processor running devices.
Run it continuously to show you results uninterrupted and keep your Mac healthy. It is the best MacBook activity monitor for those working long hours and worried about heat damage. 
Features
Get information on the Vital components.

Uses minimal resources.

Auto boost rules to cool down Mac.
3. iStat Menus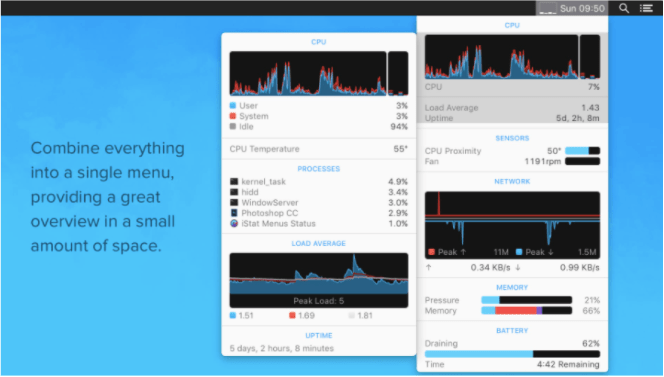 iStat Menus comes as an advanced Mac system monitor which can display various elements on your menubar. Get the CPU, disk, battery, memory usage and weather updates on the Menu for ease of access. Get the hotkeys customised along with different colour panels for your Mac menu.
The notifications for Monitoring mac will appear and inform the user timely. This also lets users set the hotkeys to quickly access the dropdown menu and view the resources used by Mac.
Features
Real-Time System Monitoring
Customizable Widgets

Weather updates on the menu.

Editable graphical options. 
4. iStatistica Pro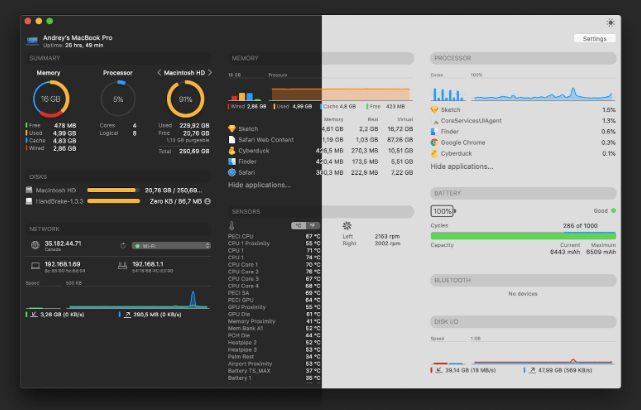 iStatistica is a Mac performance monitor application which will give up in depth information. You can find out the uptime for your Mac along with the CPU usage, disk usage and Memory. The detailed information of memory with free or cache, used by system and other is available.
The battery health and network diagnosis with incoming and outgoing traffic is also shown.  
Features –
All information shown in the menu bar. 

Web access is available.

Plugins for fans, sensors etc.
5. Activity Monitor 
Activity Monitor is the best Mac system monitor one can ask for and it comes free of cost. As it is an inbuilt feature of the Mac and it shows you the diagnosis for the various hardware and software components.
It can very easily be used to view what's taking up memory space on your Mac. As it will show the usage for CPU, Network, disk and memory for various ongoing processes. Use it to terminate the unresponsive and unwanted process and applications on your Mac.
Features –
Shows up the stats from the Dock.

Close unresponsive applications & processes.

Monitor overall energy usage.
Built-in Feature
6. iPulse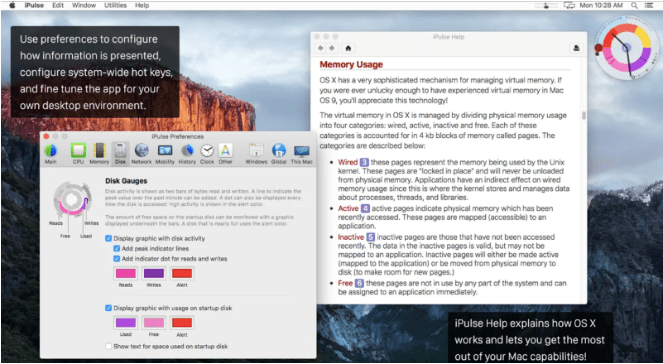 iPulse is also one of the popular Mac performance monitors which gives you a lot of information. It can keep your Mac healthy with the regular detailed diagnosis reports and suggestions.
Find out about the system load, CPU & memory activities, Network bandwidth & activity, disk usage etc. This can also show you the battery health, signal strength along with current time and date.
Features
Customizable user interface.

Compact and concise application.

View data on dock, menu or desktop.
7. XRG

If you are a fan of open source applications then XRG is the one for you. As they are up for developments and tweaks as per your needs and this Mac system monitor is good for a thorough diagnosis.
Learn about the CPU, GPU, memory, network,  battery status, Mac temperature, disk I/O and more. Additionally get information on weather updates and the stock market data. 
Features
Very flexible user interface. 

Additional info on stock market and weather.

All necessary information on Mac.
8. System Monitor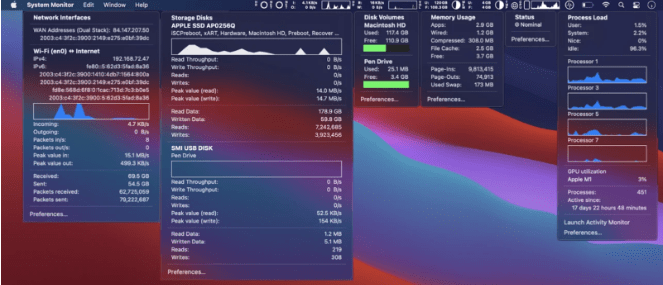 System Monitor is an application by Marcel Bresink Software-Systeme. It can easily monitor the Mac activities to help you learn about the CPU and processes load, memory consumption, storage space and the disk and network activity.
Set the flickering light to show up on the menu bar for the network and hard drive sockets. 
Features 
Runs without interruptions.

Retrieve data anytime.

User guidance in case of heat issue.
Frequently Asked Questions –
Q1. Is there a system monitor for Mac?
Yes, there are multiple third party applications available to be used as Mac system monitors. Take help from the iStat Menus, iStatistica Pro, TG Pro or the inbuilt Activity Monitor.
Q2. What is System Diagnostics Mac Activity Monitor?
System Diagnostics is a feature of the Activity Monitor on Mac. It will help you get a quick diagnosis on your Mac and show up the results in a report. It can also create reports for applications terminated for being unresponsive and forced to quit.
Q3. How do I check my Mac system performance?
If you wish to check the Mac system performance, take help from any of the Mac system monitors. They are the applications to give you a live diagnosis on the resources used by the running processes. 
Q4. What is the Activity Monitor app on Mac?
Activity Monitor comes preinstalled on your Mac devices. It is a Mac performance monitor software which will let you know about the CPU, memory, network and disk usage. 
Q5. What is kernel_task Mac Activity Monitor?
Kernel_task is a process which runs on your Mac when the Mac temperature rises. It can be shown on the Activity Monitor as taking up much CPU usage. But this reduces as the CPU starts to cool down indicating kernel_task needs not to be run.
What is a System Activity Monitor
A system activity monitor is a component which is used to keep check on the system activities. When looking for a Mac system monitor, you must look for a few features. These applications are needed to keep analysing the ongoing processes on the system.
It shows you the running applications and how much memory and resources they are consuming. It tends to give you a suggestion on what can be closed to speed up the Mac.
Conclusion
Now you know what a Mac system monitor helps you with. These applications offer real-time insights into CPU, memory, disk, and network activity, aiding in troubleshooting and optimizing system efficiency.
With customizable widgets and alerts, they empower users to tailor their monitoring experience to their specific needs. Whether you're a casual user or a tech enthusiast, these apps provide invaluable data and insights, helping you keep your Mac running smoothly and preventing potential issues. Investing in a top-notch Mac system monitor app is a smart choice for maintaining peak performance and stability.
Try on the iStats Menu, iStatistica Pro for user friendly interface and TG Pro and XRG for customisation options. 
Also Read