Note taking apps for Mac are the tools to help you quickly make short notes digital. Take it as a sustainable option which will make you carry your notes everywhere. Be it adding images or the set reminder, these note taking apps are capable of doing it all.
Moreover, these note taking applications also help you to share the notes with others. To ensure security, these applications also have password protection to encrypt the note pages and entire notebooks. Checkout the list given in this blog to get one for you to enhance your note taking qualities.
12 Best Note Taking apps for Mac
1. Notion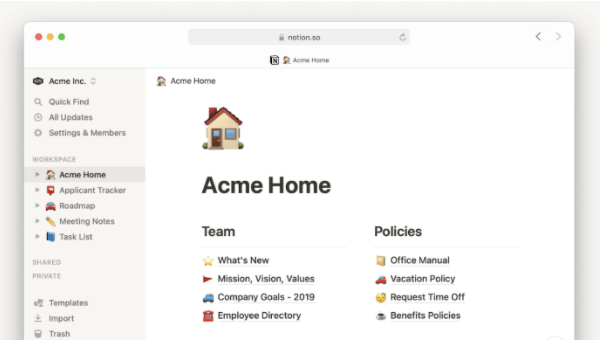 Notion is a very powerful note taking Apps for Mac, with a plethora of features. You can use this app for note taking, collaborating and project management that can also be database diven.
Although most free version features are more than enough for regular usage but for better experience paid version is recommended. Lookout for the numerous templates provided by the tool and features to integrate media files along with the notes to help the users. 
Features –
Real time collaboration.

Hybrid editor inbuilt.

Feature rich software.

Integrate multiple supported apps.
2. Evernote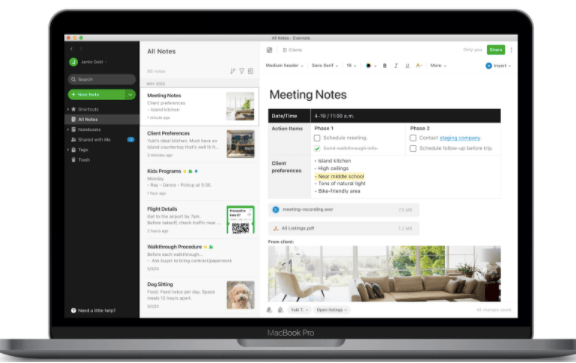 Evernote is one of the most popular note taking apps for Mac. It is cross platform compatible which makes it versatile online and offline usage. Evernote is great for hand-written notes, clipping articles from the web, managing tasks, to-do lists and archiving.
Free version of Evernote is adequate for most use cases and the subscription plan works out great for all. 
Features –
Search and tag available. 

Share online with all services. 

All platforms supported. 

Supports all file formats.
3. OneNote
OneNote from Microsoft is one of the best note taking apps for Mac. Add colours, tags, labels to help in organising your notes in a better way.
It includes the option to password protect your notes and also give control permissions to others. Sharing the notes with your colleagues and friends has been made easier with its use. 
Features –
Copy a single page or entire notebook.

Real-time collaboration.

Sync notes to cloud storage.

Pin most used for quick access.
4. Bear – Markdown Notes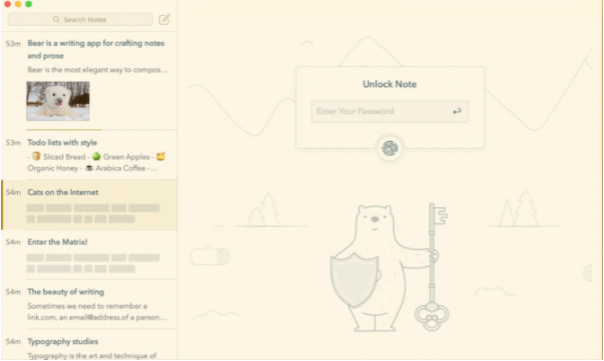 Bear is also a versatile note taking software for Mac which can easily create short notes for you. Sync, export, encrypt them as per your requirements using this flexible tool.
Make your notes worthy by adding images, GIFs, text, files, and webpages clippings. Add tags to make it easy to search the particular notes later on the application.
Features –
Simple interface.

Use portable markdown.

Share with others.

Works with Siri, iOS shortcuts and Apple Watch.
5. Simplenote
Simplenote as the name depicts is one of the simple to use and free note-taking apps for Mac. It allows the Mac users to use the Markdown format to create, preview and publish the work done on the notes.
You can easily organise the notes with the tags. This is a great choice for people looking for a basic notes taking application which has an automatic sync option for backup. 
Features –
Automatic sync for all devices.

Allows posting notes online.

Add todo list and share.

Markdown support available.
6. Zoho Notebook
Notebook – Take Notes, Sync by Zoho Corporation is another of the free note-taking apps for Mac. The best part about this application is that it provides you with a wonderfully useful interface.
Additionally it will give you beautiful templates for taking notes. Create notebook covers, note cards, and colour code the different categories for better understanding.
Features –
Mobile-inspired gestures.

Create photo cards automatically.

Lock with TouchID and passwords.

Sync for all devices.
7. Apple Notes
Apple Notes is an in-built note taking app for Mac. It's an simple and basic application for notes, with enough organising and formatting features. Notes does support cross platform editing but only via the browser.
It is completely free to use applications which are readily available for all Mac users.
Features –
Good formatting and editing tools.

Totally free.

Supports browser coss platforms.

Enough usable features.
In-built application.
8. Obsidian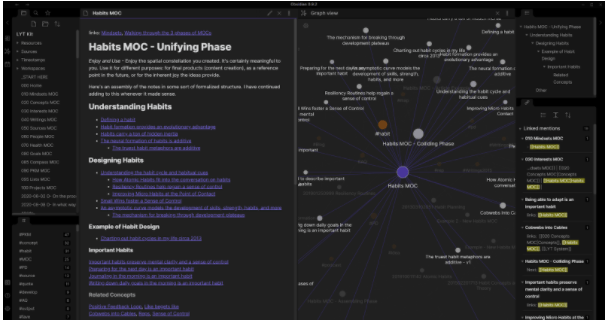 Obsidian is a relatively new app for note taking for mac, and tries to do it all for the user. It works on top of a local folder of plain text Markdown files and is cross platform compatible for all devices.
As again, the free version of Obsidian is enough for most note taking needs of a home user.
Features –
Customizable themes. 

iCloud Vaults.

Quick actions pull downs.

Graphical view.
9. Standard Notes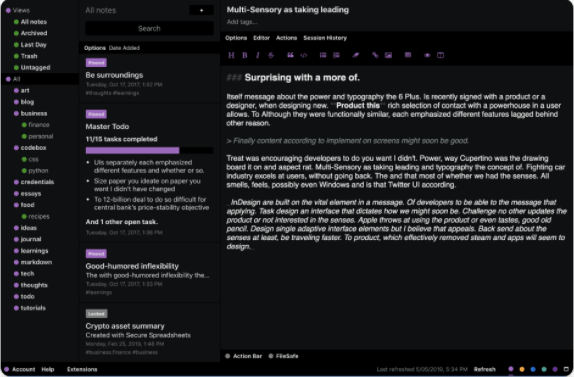 Looking for a secure note taking app for Mac, should consider Standard Notes for its secure encryption feature. Its private notes are end to end encrypted, and also allows sync notes across all devices.
Standard Notes is absolutely free, which makes it a great option for Mac users.
Features –
Passwords and keys.

Private journals.

Cross platform scratchpad.

Powerful search. 
10. Typora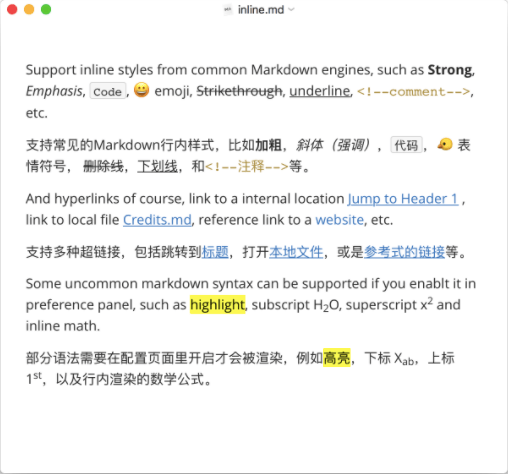 One of the most lightweight and easy to operate note taking apps for mac. Is it extremely customizable and supports all major platforms.
It's simple user interface makes it easy to focus on the work without distraction. It provides extensive customizable themes to suit your needs. The free version is enough for all the possible needs.
Features –
Focus mode, no distraction. 

Faster text markdown editor.

Customizable themes.

Usable features.
11. GoodNotes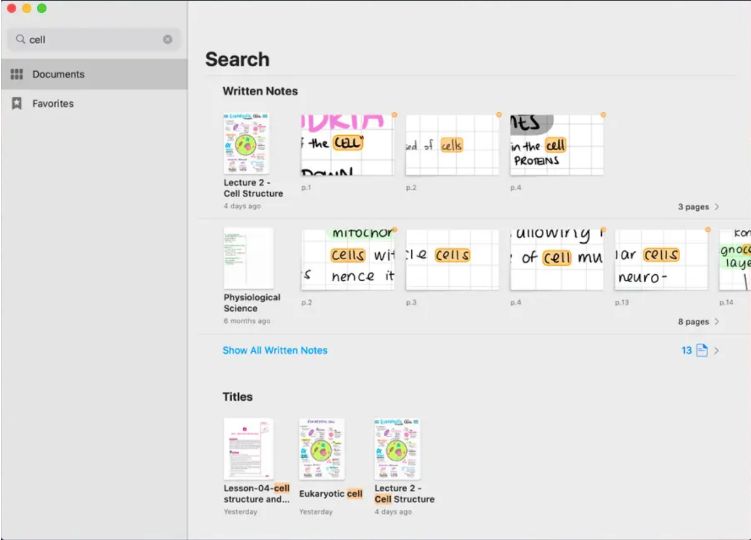 GoodNotes is among the best Note taking apps for Mac for its extensive feature and personalization options. You can take notes or draw using both fingers and stylus quickly on the Mac and also add annotations to the documents as well. With its powerful search options, you can search handwritten notes easily. 
Features –
Supports both touch and stylus. 

Power search for handwritten notes.

Can Personalise and organise the notes. 

Supports all Apple devices. 
12. Zotero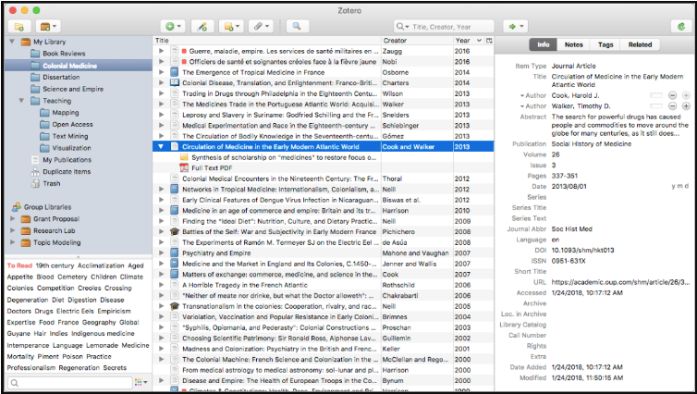 Zotero is another excellent free note taking app for Mac, which helps you collect and share your notes. It is a cross-platform software and supports all Apple devices, so you can sync the notes and access from any device.
With this app you can easily collect notes, organise them in a personalised order and share the research across. 
Features –
Supports cross platforms and Apple devices.

Free application to use.

Simple, easy and highly organised interface. 

Can sync notes across devices and platforms.
Top 10 Free Note Taking Apps for Mac
| | | | | | | |
| --- | --- | --- | --- | --- | --- | --- |
| Product Name | Best For | Platform | Price | Free Trial | File Size | Latest Version |
| Notion | Best note taking, project management app for Mac. | macOS 10.10 or later | $4 | Yes | 158 MB | 2.17 |
| Evernote | Popular cross platform compatible note taking app | macOS 10.11 or later | $7.99 | Yes | 324.8 MB | 10.39.7 |
| OneNote | Multiple features, cross-platform compatible,password protection note taking app | macOS 10.15 or later | $69.99 | Yes | 498.1 MB | 16.62 |
| Bear-Markdown Notes | Simple, versatile and multi share options note taking app | macOS 10.11 or later | $1.49 | Yes | 34.1 MB | 1.9.6 |
| Simplenote | Best free, easy and simple interface for basic note taking. | macOS 10.14 or later | $0 | Yes | 7.4 MB | 2.17 |
| Zoho Notebook | Beautiful user interface free note taking app with mobile gestures support | macOS 10.11 or later | $0 | Yes | 80.9 MB | 4.5.3 |
| Apple Notes | Built-in Mac note taking utility for basic notes features. | macOS 10.14 or later | $0 | Yes | NA | NA |
| Obsidian | New & powerful note taking app, cross platform supported | macOS 10.13 or later | $25 | Yes | 154 MB | 0.14.15 |
| Standard Notes | Secure encryption, cross platform and free to use | macOS 11 or later | $26.55 | Yes | 117 MB | 3.23.8 |
| Typora | Simple, easy and customizable user interface with lightweight, faster app | macOS 10.14 or later | $14.99 | Yes | 10.5 MB | 1.3.7 |
Frequently asked questions –
Q1. What is the best note-taking app for Mac?
The best note taking app for Mac has to be Notion as it provides you with work appropriate templates. The ease of use and customisation makes it a good choice for users looking to take notes on Mac.
Q2. What is the best free note-taking app for Mac?
Simplenote and Zoho Notebook are the best free note-taking apps for Mac. One of them offers a very basic notes taking interface while the other covers the colour coded categories for users.
Q3. Does Mac have something like OneNote?
Mac comes with an inbuilt Notes application which can be used for basic note taking needs. If you want, you can download Microsoft OneNote on Mac to create shareable, password protected notes.
Q4. How do I take handwritten notes on my Macbook Pro?
Take quick notes on MacBook Pro using one of the note taking software for Mac. Pick one from the list given in this blog to help you create notes, sync with other devices and share them easily with limited control permissions. 
Conclusion 
In conclusion, the world of note-taking apps for Mac is vast and varied, offering a wide range of features and capabilities to suit different preferences. Whether you're a student, professional, or creative, there's a note-taking app out there that can enhance your productivity and organization.
From the simplicity of Apple Notes to the versatility of Evernote, and the cross-platform convenience of OneNote, you have numerous options to choose from.
It's essential to select the one that aligns with your specific needs and workflow. Whichever app you opt for, efficient note-taking on your Mac is just a download away.
Also Read