EXIF editor is a metadata editing software which is used to change the tags on the digital photos. This is a must have software for all the professionals who are working as photographers, publishers and social media managers.
As the digital content demand rises, so does the need to get the most of the original image. The digital photographs captured by smartphones or digital cameras hold a set of information. 
So, whenever you want others to know who is the artist behind the photographs they can look at the tags. At the same time, if you wish to remove the Geolocation from your photos before uploading it online for safety reasons, EXIF editors can also remove it for you.
The batch processing is another of the attributes to look for when searching a photo EXIF editor for Mac. Here we present to you a list of the Photo EXIF editor for Mac, select one of them for your needs. 
Here is the list of Top 9 Photo Exif Editor for Mac You Must try this year
MetaImage
ExifTool
Photos Exif Editor
Exif Editor
AnalogExif
EXIF Studio
EXIFPurge
Photo Meta Edit
Image Exif Editor
9 Best Photo EXIF editor for Mac 
1. MetaImage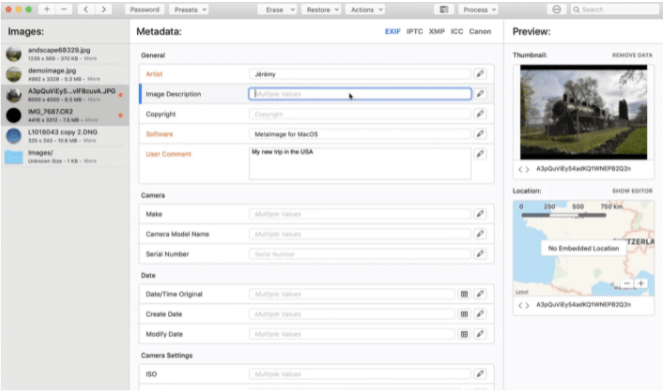 MetaImage is the photo EXIF editor which supports more than 5000 tags to edit on Mac. This is truly an EXIF editor meant for the professionals to view, edit and batch process the metadata on images. Users can easily use it for the different image formats and  customise the tags.
Use it to create and manage your presets for a better workflow. The application has a Photos extension to directly inspect the images on it. 
Features –
Comes with a Photos extension.

Supports 90+ image formats.

Supports MakerNotes.
2. ExifTool
ExifTool by Phil Harvey is an open source photo EXIF editor for Mac. You can download it on your Mac to read, write and edit the metadata of the photographs. It is a powerful tool which works at a fast speed and comes equipped with all the customizable options a user may need.
It works with EXIF, GPS, IPTC, XMP, JFIF, GeoTIFF, AFCP, ICC profile and Photoshop IRB. Allows you to extract thumbnails, preview images and large JPEG from the RAW images. 
Features –
Works with thousands of tags.

Automatic backup of original image.

Delete metadata for groups.
3. Photos Exif Editor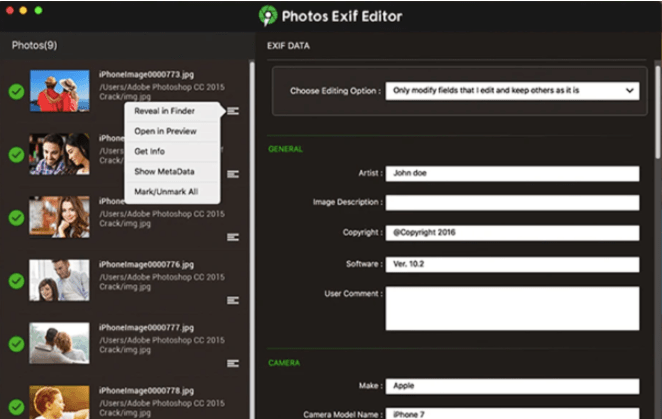 Photos Exif Editor is an excellent choice for all those who are looking to edit the metadata of their photos on Mac. This is the best Photo EXIF editor for Mac for its amazingly user-friendly interface. It can easily be used to edit the XMP, EXIF, GPS, IPTC metadata on your thousands of photos. You can also set the information in the ready made preset or custom ones for saving time. 
Features –
Supports multiple image formats. 

Batch editing is available.

Creates backup automatically.
4. Exif Editor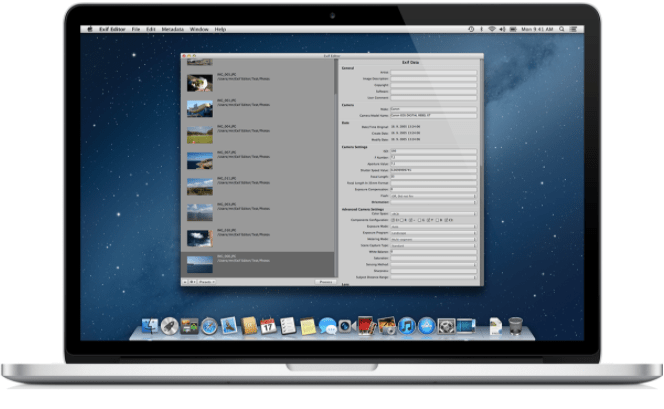 Exif Editor is another of the simple to use photo Exif editors for Mac. This also comes with a convenient user interface and lets you edit the information on photos easily. It can be used for the advanced workflow as it will quickly change the Exif data for multiple photos on Mac.
This can also be used to remove the metadata of your photos to save you from giving out sensitive information such as geolocation.
Features –
Modify copyright information.

Change the geolocation of photos.

Read, write and edit metadata.
5. AnalogExif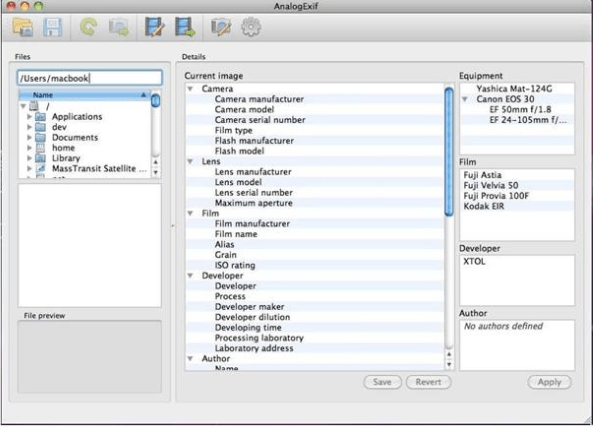 AnalogExif is a free photo EXIF editor for Mac. It is another of the metadata editors to help you edit the EXIF, XMP and IPTC metadata and tags for JPEG and TIFF images. You can use the autofill tags for changing the metadata of the images on your Mac.
It also allows you to copy the metadata from another file and that is a very helpful feature. Moreover, this can store the information on the digital camera and other analog devices. 
Features –
Batch operation is available.

Custom XMP Schema.

Store data for analog equipment.
6. EXIF Studio
Exif Editor for Mac comes with a beautiful interface for making it easy for users to navigate through the app. This photo Exif editor for Mac will help you view and edit the metadata of your images on the Mac. The software is dedicated to edit the photo metadata individually or in groups.
It can also remove the metadata from the images and improve the tags wherever needed.
Features –
Supports batch editing.

Edit GPS location tags.

Create Presets.
7. EXIFPurge
EXIFPurge is a very simple photo EXIF editor to edit the metadata on Mac. This works in the direction of removing the sensitive information from the photos before you make them public. It can be used to only delete the metadata from the photos on Mac.
You can clear the name of the camera, location and other information from your images. The best part is that you can use it on multiple images at once with this free photo EXIF editor for Mac. 
Features –
One click solution.

Removes metadata.

Works with multiple photos.
8. Photo Meta Edit
Photo Meta Edit is another of the EXIF data editors for Mac. It will allow you to edit the metadata on your photos on Mac with a number of formats. It includes EXIF, XMP, GPS, IPTC and more.
It works on JPEG and TIFF files which are among popular file formats. Editing location tags is easy with the option to search GPS coordinates on the internet and adding them to images.
Features
Use it for batch editing of images.

Add or remove thumbnails from files.

Add commonly used tags and words.
9. Image Exif Editor
Image Exif Editor is also a good photos metadata editor for Mac users. You can edit information on the multiple photos with its batch editing. The feature allows you to edit rename files, change filename to title field, and replace EXIF data.
This tool will help you with quick search and also provides a much needed Undo feature in case you remove EXIF data on Mac wrongly.
Features
Copy EXIF data for an image in one click.

Easy exporting of EXIF data to .csv or .exv formats.

View GPS geolocation on Map very easily.
Top 9 EXIF Data Editor for Mac
| | | | | | | |
| --- | --- | --- | --- | --- | --- | --- |
| Product Name | Best For | Platform | Price | Free Trial | File Size | Latest Version |
| MetaImage | Advanced tools added to improve workflow | macOS 10.13 or later | $17.99 | No | 43 MB | 1.9.8 |
| ExifTool  | Free to use open source powerful tool | macOS 10.8 or later | $0 | Yes | 4.8 MB | 12.41 |
| Photos Exif Editor | Creates backup of original metadata automatically | macOS 10.10 or later | $4.99 | No | 10.5 MB | 2.16 |
| Exif Editor | Most number of tags and file formats supported | macOS 10.15 or later | $13.99 | No | 8.7 MB | 1.2.6 |
| AnalogExif | Customizable set of metadata tags | macOS X | $0 | Yes | 4.5 MB | 0.0.4.1 |
| EXIF Studio | Long list of tags supported | macOS 10.11 or later | $9.99 | No | 11.2 MB | 2.7 |
| EXIFPurge | Freeware with one click action to remove EXIF data | macOS 10.6 or later | $0 | Yes | 1 MB | 1 |
| Photo Meta Edit | Good for batch EXIF editing | macOS 10.14 or later | $3.99 | No | 3.7 MB | 2.3.5 |
| Image Exif Editor | Comes with Undo button | macOS 10.9 or later | $9.99 | No | 9.4 MB | 5.2.1 |
What is EXIF Data ?
Exchangeable Image file format or EXIF data can be defined easily with the important set of information associated with the image. EXIF data varies from an image to image and has more data on it than you would think. It has the camera make, date, time, location, artist's name, camera's exposure, if flash was used or not and so much more.
These create important pieces of metadata tags which are helpful in keeping the images sorted when needed. It also helps the artist to put a copyright on it to save themselves from infringements while publication. 
Frequently Asked Questions –
Q1. How to bulk edit photo metadata in mac?
You can use one of the photo EXIF editors for Mac from the list above which allows the bulk editing. It can be used as a time saver to help you edit the metadata for a lot of photos at once. Choose one from the aforementioned list for the editors 
Q2. Which is the best photo exif editor for mac?
ExifTool is the best photo EXIF editor for Mac as it gives you plenty of options to work around on your Mac. Another choice is Photos Exif Editor which comes with a very intuitive interface and makes it easy to edit metadata of images.
Q3. Is there any Online exif editor?
Yes, there are online EXIF editors available which can be used by people who don't need it frequently. But if you are a professional who deals with it everyday we suggest you get the Photo EXIF app for Mac.
Conclusion On Photo Exif Editor for Mac
If you have been looking for a photo EXIF editor for Mac, your quest ends here. As we have mentioned, the best of the tools available for you to view and edit the metadata tags for your photos present on Mac. Most of them allow you to enter new information as well as delete the unwanted information from the photo tags.
They also support batch editing which is very helpful for the professionals to edit the metadata for multiple photos.
Check out the list above and pick the best one suited for you to edit the metadata of photos on Mac. 
Also Read