The day and age we live in now requires working from home or you can say remotely is common practice. Getting the best Remote Desktop Apps for Mac that provides seamless experience and efficiency is of paramount importance.
Selecting the ideal Remote Desktop for your needs is a bit tricky and requires a lot of research, thankfully we have curated a list of best Remote Desktop Software for your Mac. 
What Is Remote Desktop Software For Mac?
Well as the name suggests, Remote Desktop Apps for Mac helps users to access and control one or more systems through a network connection either local area networks or the internet from a remote part of the location.
For example, if you need to access your office system in an office location from your system at home location for various reasons, a Remote Desktop Software will make it possible safely and securely. Not just that, a Remote Desktop Software would come in handy while collaborating with others, solving customer problems, system admins, network monitoring etc supporting excellent performance and security.  
List Of 10 Best Remote Desktop Apps for Mac
1. Zoho Assist
Zoho Assist is the best Remote Desktop Apps for Mac Which supports cloud based remote access specifically developed to help and connect customers remotely. It's easy to install and deploy makes it an extremely friendly tool along with an intuitive interface to navigate.
You can securely connect, access and manage systems, servers and mobile devices remotely with extensive features and price plans for every one. 
Features – 
High security: TLS 1.2 and AES 256-bit encryption.

Easy quick implementation and deployment. 

Simple and intuitive user interface. 

Supports cross-platform. 
2. Splashtop
Splashtop is regarded as one of the best Remote Desktop Apps for mac which comes with highest security features supporting all govt regulations and fastest to deploy across all devices. It is cross platform compatible and supports mobile apps to stay connected always.
This is your go to remote desktop app for Mac when you are looking for IT service provider companies or such businesses. 
Features – 
Highest security features. 

Fast to deploy and easy to use. 

Excellent performance remotely. 

Cross platform and mobile app compatible. 
3. AnyDesk
AnyDesk is another best Remote Desktop Apps for Mac for its easy and quick installation and deployment features highly useful for fast set up requirements. It also supports high security standards of TLC 1.2 technology and encryption to have safe connection.
Moreover, you get to select from the various plans according to the need, industry and role to work on your remote desktops.
Features – 
Supports all devices and cross platforms. 

Quick, simple setup and deployment. 

Highly customizable and administration friendly. 

Superb security & Privacy features. 
4. GoToMyPC
GoToMyPC is another popular Remote Desktop Software for Mac which has been highly rated for its ease of installation and deployment. The interface is extremely easy to navigate and the remote access performance is quick with ability to listen to music and voicemail from remote systems.
The app is termed the most secure remote desktop tool to use and highly feature rich.  
Features – 
Multi-monitor support feature. 

Easy and simple installation and deployment. 

Transfer files easily between systems. 

Remote music and voicemail access. 
5. TeamViewer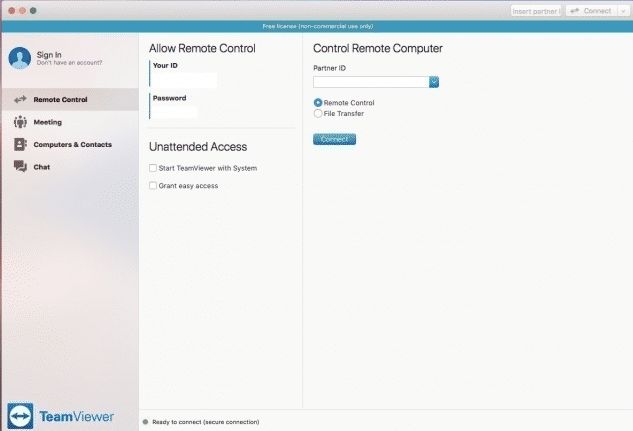 TeamViewer is one of the most popular remote desktop applications. It supports a large number of operating systems and also makes it very easy to use in cross platform communication. This one is probably the easiest to use and one will come across with the basic features. 
Features – 
Seamless functions for friendly usage.

Ability to connect to devices, servers, IoT devices & smartphones.

Collaborate online, join and share in meetings.

No registration is required.
6. RemotePC
RemotePC is another excellent Remote Desktop App for which is also platform independent supporting all the platforms from any platform. It is among the most feature rich remote access tools that will provide the highest of the security features. You can easily configure your Mac  to always stay on while you work remotely.
Features – 
Attended Access with simple session code. 

Multiple user access to a single system. 

Cross platform compatible. 

Easy file transfer over remote access. 
7. LogMeIn Pro Remote Access
LogMeIn Pro is another in the list of the Remote Desktop applications for Mac which comes with highly secure and privacy features. It's all in one support for various kinds of work needs makes it best suited from individual to business professionals.
The app also provides extra features to utilise remotely compared to other remote access tools, along with mobile device apps to support that extra connectivity. 
Features – 
Highly secure remote access tool 

Easy and simple interface to set up.

Provides extra remote access features. 

Reliable remote access app for privacy and security. 
8. Microsoft Remote Desktop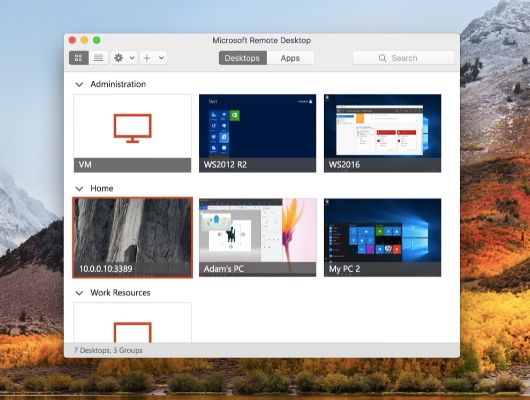 Microsoft Remote Desktop is another excellent & free Remote Desktop Apps for Mac which is hugely popular with Windows PC and mostly recommended by many organisations to connect remotely. It is a free software and compatible with all the platforms, devices.
You can seamlessly connect to a remote PC or other systems from your Mac and easy access apps, files, documents etc. 
Features – 
Absolutely Free software. 

Cross platform compatible. 

Seamless connection and performance.

Simple and easy management. 
9. Jump Desktop
Jump Desktop is another in the list which comes as a cross platform software. It is also available for a free 14 days trial which is beneficial in case you are looking for a temporary solution. Allows you to open multiple connections at same time where you can jump in tabs and also name tag them. Easy to use as a Mac for long sessions of remote work.
Features – 
Minimum battery usage.

Keyboard mapping allows you to use Mac shortcuts.

Live Preview for real time previews.

Comes with Spotlight integration.
10. Chrome Remote Desktop
Recently Chrome Remote Desktop has become one the most used and popular Remote Desktop Software for Mac due to its simple, easy setup process and highly secure connection. Earlier this was available only as a chrome extension, but now the latest version of Chrome Remote Desktop can be added to your Mac as an app in launchpad after download and installation.
It supports most devices and is platform compatible, absolutely free to use.  
Features – 
Free Software to use. 

Simple and easy interface to connect. 

Supports all devices and platforms. 

Provides web extension and desktop app. 
Frequently Asked Questions –
Q1. Is there a Remote Desktop app for Mac?
Yes, there are several applications for remote desktop for Mac. You can select one for yourself from the aforementioned list of the best from the blog.
Q2. How do I use Remote Desktop on Mac?
To use a remote desktop on Mac, you are required to get an application, good internet connection and a relevant system which allows the tasks.
Q3. Is there a free version of Apple Remote Desktop?
No, Apple Remote Desktop is not free and can be used only after making a purchase of $79.99. 
Q4. How do I Remote Desktop on a Mac for free?
Using one of the free remote desktop for Mac you can access it for free. Most of the applications also provide free trial which is good for a temporary use.
Q5. What is the Mac equivalent of RDP?
Apple Remote Desktop can be called the Mac equivalent of RDP. It is the inbuilt software which enables you to connect to your Mac on a remote connection.
Q6. Which is the Best Remote Desktop Software For Mac?
The best remote desktop software for Mac has to be the Zoho app. As it comes with the most convenient features which makes it easy to use and worth the price.
Conclusion On Remote Desktop Apps For Mac
With the list of various applications from this blog which includes the remote desktop for Mac in all aspects, we conclude the blog. We are sure you will be able to find the Mac remote desktop software among the listed ones here. If you have any other in your mind or if you have used any do let us know in the comments section below.
Also Read