Are you unable to hear the sound in a movie even though you are using the maximum volume? This can be due to the low volume recordings for some home made videos and shared content. Other times, when you are blasting the music, you wish to raise the volume to party.
All of these seem restricting with the inbuilt volume capacity of the devices. But let us tell you about the Mac sound booster tools which can help you increase the volume further. Here we will give you the list of the best sound boosters for Mac.
What is a Sound booster for Mac
A sound or volume booster for Mac is an utility which will help you in boosting the volume of the headphones or speaker. It can vary from 20% to 30% with other applications claiming 100% boost in sound. This will help you notch up the volume for all the gaming and video streaming experience. 
Here is the list of Top 10 Volume Booster Apps For Mac you must try this year
Boom 3D
FroYoSoft
VLC Media Player
Boom 2
Sound Control
eqMac 2
Bongiovi DPS
DeskFX Audio Enhancer Software
7+ Best Sound Boosters for Mac
1. Boom 3D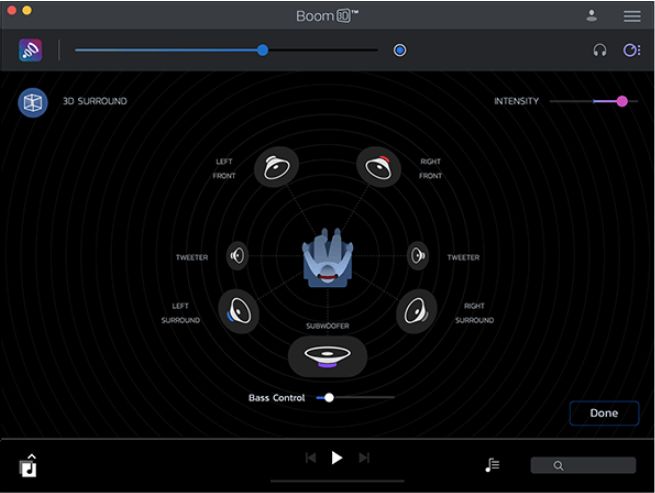 Boom 3D is a one stop solution for your Mac and recognised as the best sound booster for Mac. It provides a wide range of features such as 3D surround, Equaliser presets, Boom volume booster and apps volume controller. It can also be used as a stand alone audio player for locally stored audios and radio stations.
Supports best immersive 3D surround sound experience for all apps. Boom 3D is a multi-platform supported by any player and any media files.
Features –
Slick User interface.

Best 3D sound experience. 

Individual app volume controller.

Comprehensive audio player.
2. FroYoSoft Sound Booster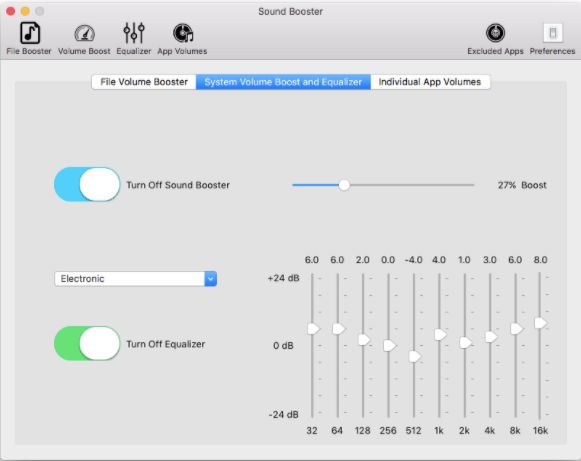 One of the simple yet very powerful sound boosters for Mac is Sound Booster by FroYoSoft. By boosting the sound of music files this sound booster helps enhance audio experience on your Mac.
This Mac volume booster provides you with the abilities to set individual volumes for each app or boost volume for all apps and also enjoy system wide equaliser. Additionally, can add apps to excluded apps list to automatically switch Sound booster on or off for certain VoIP applications. 
Features –
Customise volume for individual apps. 

Al system wide equaliser. 

Easy user interface. 

Auto on and off switch. 
3. VLC Media Player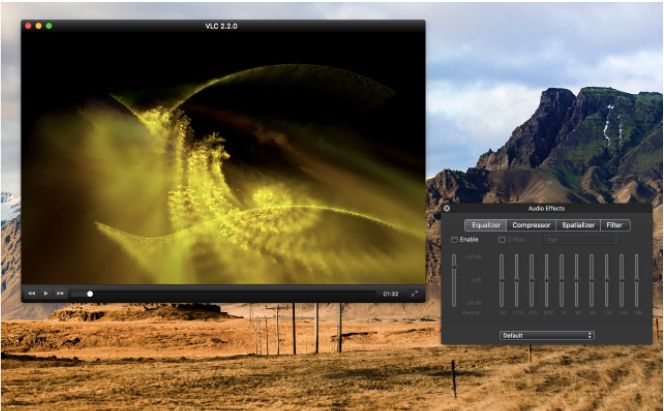 Well VLC Media Player is one of the most popular and highly reliable options for Volume Booster for Mac. It's more than just a Sound booster, it provides all featured multimedia players for both video and audio. It is an open source player, which means completely free for multiple platforms.
VLC is loaded with tons of features for a one stop solution for all media needs. Supports all Mac versions and all formats of media files with support to various streaming platforms. 
Features –
It's an open source and free media player. 

More than Sound booster. 

Supports all media files and streaming protocols.

All versions of Mac are supported.
4. Boom 2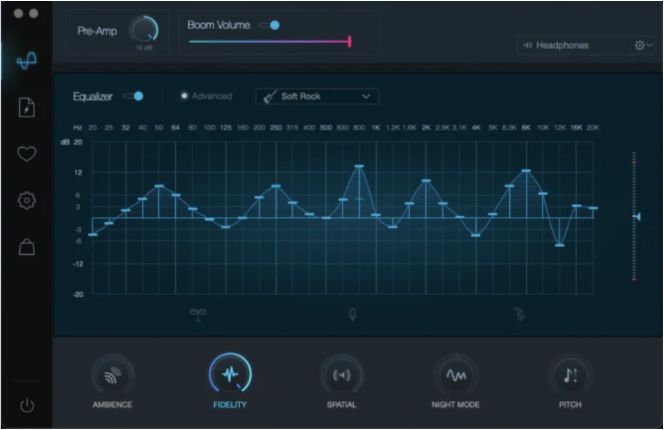 In the list of sound boosters for Mac, Boom 2 comes as a great choice for its extremely precise controls for all audio on Mac. With advanced 31 band equaliser, volume booster for Macbook Pro provides the option to personalise stereo sound for greater audio experience.
Also provides very powerful sound with an extremely competent volume booster option much beyond the system's regular volume limit. Along with an easy to use interface, it can help in customising various audio effects and work on individual apps volumes.  
Features –
Superior stereo sound control.

Comprehensive equaliser adjustment options. 

Powerful volume booster. 

Customizable audio effects.
5. Sound Control
Among the list of sound booters for Mac, Sound Control by Staticz is a dedicated application which adds advanced audio controls to Mac. It helps control audio volume of each app independently with per app volume, Equaliser, balance and audio routing.
Sound Control adds a software mixer to the menu bar of Mac. To enable easily and quickly change app volumes as well as selectively set system wide equaliser to app audio. 
Features –
Re-route app audio to any audio output. 

Individual app and system wide equaliser. 

Latest touch bar supported. 

Control option by menu bar or hotkeys.
6. eqMac 2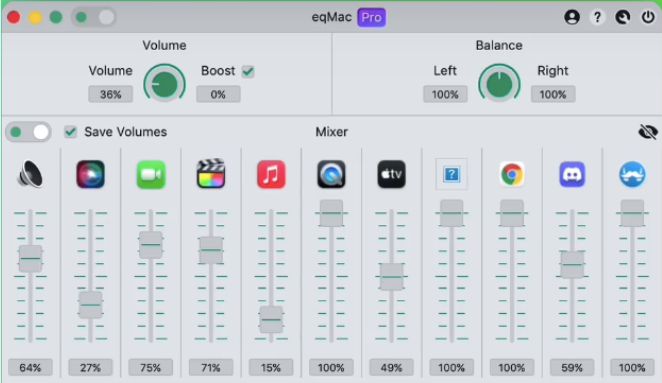 eqMac 2 is also a dedicated sound mixer for Mac, which provides professional level parametric equaliser and volume mixer. The free version is more than enough for most use cases but for extended features the paid version provides better user experience.
Provides extremely easy and simple user interface with comprehensive equaliser options for 10 band gain control. Supports adjust volume per app across the system and save volume settings. 
Features –
AutoEQ integration for a wide range of headphones.

Customisable themes for better user experience. 

Supports for all audio devices. 

Advanced Equaliser with 10 fixed bands gains control. 
7. Bongiovi DPS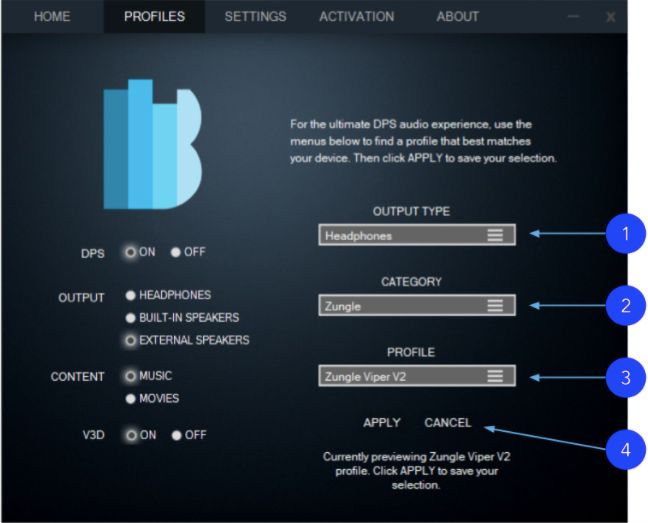 At last of the list for volume booster for Mac, Bongiovi DPS is the professional level of sound enhancer for Mac. Not only does it boost the volume of the system but also with DPS (Digital Power Station) technology the audio experience gets added depth, clarity, bass, presence and enhanced stereo field.
It works extremely well with platforms like video games, apps, audio and videos, VoIP and FaceTime by boosting the volume over on board speakers, external speakers or headphones. Plus, it's easy to use from the menu bar and helps to access it when it's required to turn on and off.
Features –
Crisp, clear and clarity sound output.

Intuitive user interface for easy use.

Extensive options to tweak the audio to the liking. 

Supports multiple platforms and audio formats.
8. DeskFX Audio Enhancer Software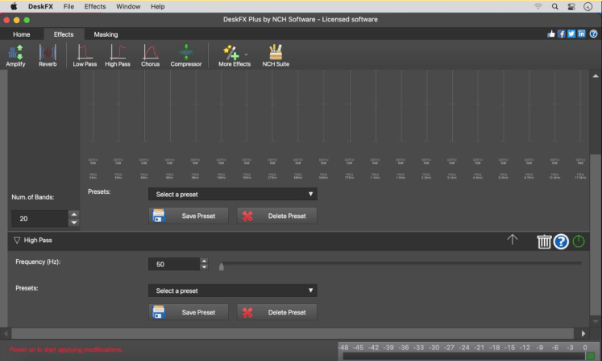 DeskFX Audio Enhancer Software is a volume booster for Mac with multiple audio editing tools. Get it to create unique sounds with the audio editor and the layering effects. Boosting the bass with the tool and also the volume and enjoying music without any distortions.
Presets available for different times such as gym, waiting room, restaurants and more. 
Features
Best for audio editing functions.

Live Audio enhancing features.

Works for both earphones and headphones. 
Comparison Top 8 Mac Sound Boosters
| | | | | | | |
| --- | --- | --- | --- | --- | --- | --- |
| Product Name | Best For | Platform | Price | Free Trial | File Size | Latest Version |
| Boom 3D | 3D Surround sound and system wide sound | macOS 10.10.3 or later | $24.99 | No | 49.2 MB | 1.3.16 |
| FroYoSoft Sound Booster | Boost volume for your music files | macOS 10.9 or later | $5.99 | Yes | 768.6 KB | 0.31 |
| VLC Media Player | Open Source with multiple media editing tools | macOS 10.7.5 or later | $0 | Yes | 79.81 MB | 3.0.17.3 |
| Boom2 | Gives you precision control over audio | macOS 10.10 or later | $16.99 | Yes | 24.1 MB | 1.7.4 |
| Sound Control | Control volume of apps independently | macOS 10.14 – 12 | $25.00 | Yes | 11.4 MB | 2.6.6 |
| eqMac 2 | Expert equalizer and volume mixer | macOS 10.10 or later | $3 monthly plan | Yes | 16.6 MB | NA |
| Bongiovi DPS | Music and VOIP calls volume boost | macOS 10.14 or later | $4.99 monthly plan | Yes | 25.7 MB | 2.2.0.9 |
| DeskFX Audio Enhancer Software  | Provides live audio effects for Mac | macOS 10.9 or later | $24.99 | Yes | 1 MB | 4.09 |
Frequently Asked Questions –
Q1. How do I amplify Sound on my Mac?
You can use the Mac sound booster application to amplify on your Mac. As these are third party software which will boost the volume of your system easily.
Q2. What is a Sound booster driver Mac?
Sound Booster Driver is a utility to help you run the FroyoSoft Sound Booster tool on Mac seamlessly. It is available free of cost and helps you avail of the functions on Mac for the Sound Booster tool.
Q3. Why is my volume so low even though it's all the way up Mac?
Sometimes, an audio file has been recorded with a low volume and it will look like there is a problem with our device, but it really isn't. In that case you can use the best sound booster for Mac and increase the volume upto mark.
Q4. How can I make my Mac Sound louder?
Simply use one of the best sound boosters for Mac from the list above. They help in enhancing the internal and external audios and making Mac sound louder. 
Conclusion on Volume Booster for Mac
If you are not happy with the sound effects or have low volume issues with a media file, you can download a volume booster for Mac. Boom 3D is the best volume booster for Mac as it is equipped with 3D surround sound technology. It also helps you play the audio and multiple radio channels on your Mac.
If looking for a free Sound booster for Mac then pick VLC Media Player which is an efficient media player as well. 
Also Read