Online stock trading has been among the most lucrative propositions for quite long now, it's not everyone's ball game although. But whether you are just a beginner or experienced trader, the best Stock Trading Software for Mac would make a world of difference from being profitable or running into loss.
And choosing an ideal software for trading stocks takes lots of research and analysis about various factors. Don't worry, for your convenience we have curated a list of best stock trading apps for Mac after considering all important factors to choose from.   
What is Stock Trading Software
As the name suggests, Stock Trading Software is an application which provides a platform for users to analyse and trade various financial products like currencies, stocks, bonds and derivatives with financial intermediaries such as broker, market maker or stock exchange. 
Unlike traditional floor trading methods, investors and traders can use trading software to place trades from any location. Important features of Stock Trading Software are live market prices, news feeds, place orders, charting packages, fundamental and technical analysis. 
Things to Consider While Choosing Stock Trading Software
Following are the important factors to consider while choosing the right Stock Trading Software for your requirements. 
Easy interface –

The ease of use is of paramount importance to consider for choosing the Software for Mac. Always choose software with a friendly interface and easy learning curve, so that you don't need to spend an enormous amount of time learning how to navigate around. 
Security features –

A robust security and privacy feature is a given to consider before choosing. Go through how many layers of encryptions are being implemented and security protocols are being used before making the choice. 
Hidden fees –

Although most Stock Trading Softwares are pretty transperant about their fees, it's never too bad to check for any hidden fees that you need to pay for every transaction you perform. 
Flexible transactions –

Since trading requires quite a bit of transactions and it is important to check how flexible with depositing and withdrawing funds from your account. 
Currency options –

It's an added bonus to have support for a variety of currency options while trading. It also helps with money transactions from no matter which area you choose to invest. 
List of 9 Best Stock Trading Software for Mac
1. TradingView
On top of the list for Best Stock Trading Software for Mac we have TradingView, which is extremely beginner friendly and experienced alike. This desktop app is much faster and highly reliable with robust security measures. It is cross platform compatible along with support for both iOS and Android mobile apps. 
Features 
Highly beginner friendly. 

Fast and reliable macOS app. 

Multi-monitor native support

Cross-platform compatible with mobile apps.
2. eToro  
eToro has been among the Top choice for day trading software for Mac for a very long period. It's Simple and Clean interface is extremely friendly for both novice and experts alike. Their social trading initiative has been adopted widely and the list of benefited clients is enormous.
To add the advantage the transaction fees are very low and transparent to put your trust in the platform.  
Features 
Low and transparent fees. 

Friendly interface for novices. 

Pioneers in social trading. 

Easy to use, intuitive interface. 
3. IQ Option  
IQ Option is emerging as the most favourite Stock Trading Software for Mac and also for many other platforms also. Its ever growing features list, clean and easy to use interface, realtime stocks data charts and beginner friendly interface is getting most adopters lately.
It is cross platform compatible and supports mobile apps for iOS and android. 
Features 
Easy for beginners and free practice account. 

Cross platform compatible with mobile apps. 

Simple and easy to use interface. 

Real time data charts provided. 
4. MotiveWave  
MotiveWave is a true Stock Trading Software for Mac which not only provides trading charts, technical analysis but also integrates with trading brokers. For trading and analysis at same time, this app is perfect compared to others with reasonable planning structure for each edition. 
Features
Cross platform compatible. 

Beautiful, easy to analyse trading charts. 

Good user-friendly interface for beginners. 

Customisable user preferences. 
5. Market Gear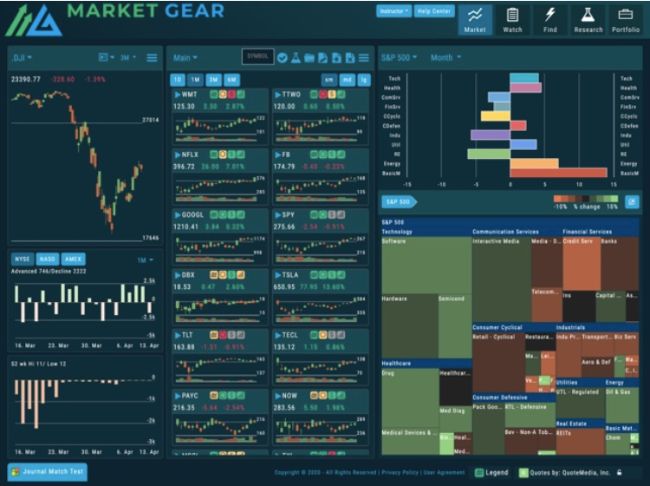 Market Gear is another relatively new Stock Trading Software for Mac which also supports desktop clients for other platforms and mobile device apps. It is an All in One trading platform supporting features such as trading, charting, screening, sharing and also customisation for screen strategies. 
Features
All in one trading Platform. 

Customizable screener strategies. 

Simple, easy and fast interface. 

Can share trades with others. 
6. StockMarketEye for Mac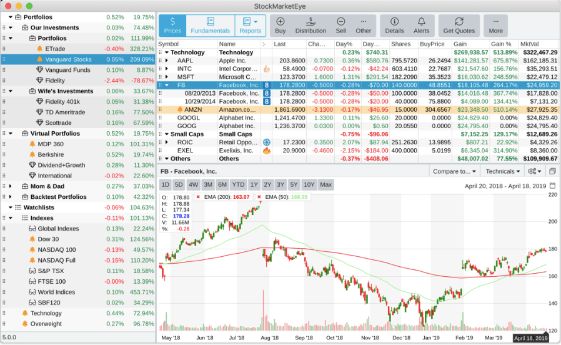 StockMarketEye for Mac is a great stock portfolio tracking app which provides real time dynamic stock charts to help understand the market better. It's easy to understand, the simple interface is a breeze to navigate and provides an overview of the market. It is cross platform compatible and supports mobile apps as well. 
Features 
Excellent stock portfolio tracking tool. 

View real time stock chart data.

Supports multi-currency. 

Simple and easy interface. 
7. ProTA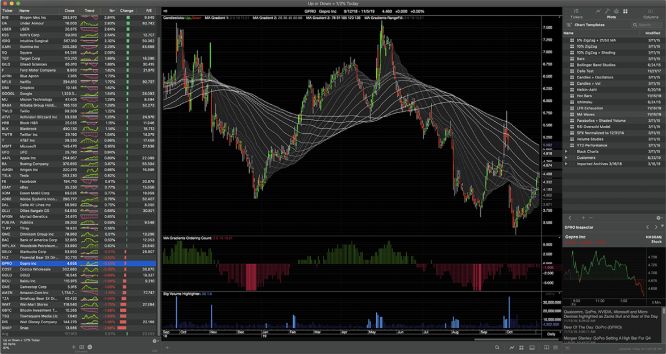 ProTA is a dedicated Stock Trading Software for Mac and iOS which provides complete market charts and technical analysis. It's interface was designed specially to integrate with Apple and provide elegant and modern techniques for Mac users.
The Real time data is downloaded automatically to provide fast, free analysis for various trading and investments. 
Features 
Combined Fundamental and Technical Analysis. 

Real time automatic data provided. 

Supports all Apple devices. 

Highly customisable to your preference. 
8. TC2000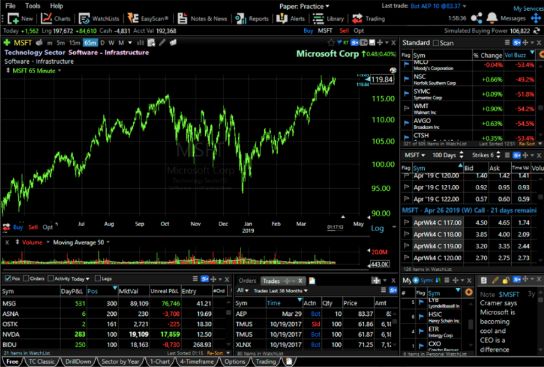 TC2000 is another excellent Stock Trading Software for Mac which also supports all platforms and provides both iOS and android mobile apps. It's easy to use interface is highly polished to provide relevant information beautifully to analyse. For beginners it provides unlimited practice for free to get better. 
Features 
Polished, easy to use interface. 

Supports all platforms and devices. 

For beginners, free unlimited practice

Highly customisable workspace. 
9. Latinum 
Finally last on the list is Latinum, which is another excellent Stock Trading Software. Since it is a native application, everything is very fast and responsive and does not require a web browser, Java or .Net to be installed. This app provides Stock Charts data from IEX Cloud and supports trading only through Forex brokers. 
Features 
Cross platform compatible. 

Supports Stocks, Cryptos, Forex and CFDs. 

Fast native desktop app. 

Stock data provided by IEX Cloud. 
Frequently Asked Questions –
Q1. Can I use a Mac for trading?
Yes it's been found that Mac is an excellent System for trading with smooth operation and efficient performance. 
Q2. Does Apple have a trading platform?
No, there is no trading platform provided by Apple. You have to rely on third party applications for stock trading on Mac. Select one for yourself from the aforementioned in this blog. 
Q3. Which is the best software for trading?
We highly recommend TradingView to be the best trading software for Mac, which is highly user friendly for beginner and experienced alike. 
Q4. Is nest trader available for Mac?
Unfortunately NO, currently NEST trader is Windows exclusive but promises for future Mac release on the cards. You can checkout another of the best stock apps for Mac from the list above. 
Q5. Does Lightspeed Trader work on Mac?
Yes, quite recently Lightspeed Trader has been developed to support desktop apps for Mac. 
Conclusion
Either you are a novice in trading or an experienced expert, choosing the right Stock Trading Software is of paramount importance to both. So go through the above list of best Stock Trading for Mac and choose the right one for your requirements. 
Also Read