Terminal on Mac is a default Command Line interface which can be used to control your Mac. But if you are not satisfied with its features and feel the need to get your hands on another of the best Mac terminals, read on. 
If you have been looking for an option to run the commands on your Mac other than Terminal, take a look at this blog. We have curated a list of the best Mac Terminal software.
Here is the list of Top 10 Terminal for Mac you must try this year
iTerm2

Kitty

Hyper

MacTerm

ZOC

PowerTerm InterConnect

Alacritty

Tabby

MacWise

Commander One
List of 10 Best Terminal Emulators for Mac
1. iTerm2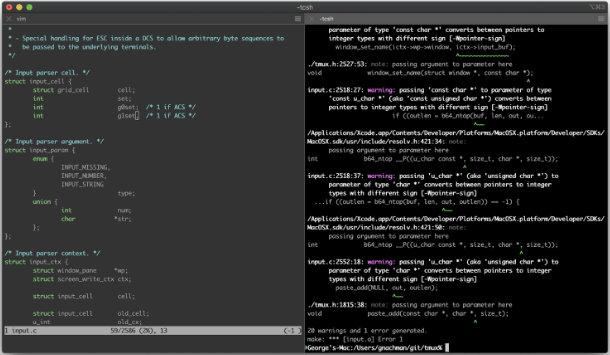 iTerm2 tops the list of best Terminal for Mac, with its modern day features list and configurable themes. The app provides comprehensive features such as Split Panes, HotKey Window, Global search, instant replay and tagged profiles.
iTerm2 supports multiple languages along with unicode combining marks, full width characters and Emoji. It is also available for the macOS 10.14 and later versions for the ease of users.
Features –
Highly customizable themes. 

Auto complete, copy mode, paste history etc. 

Blazingly fast interface.
2. Kitty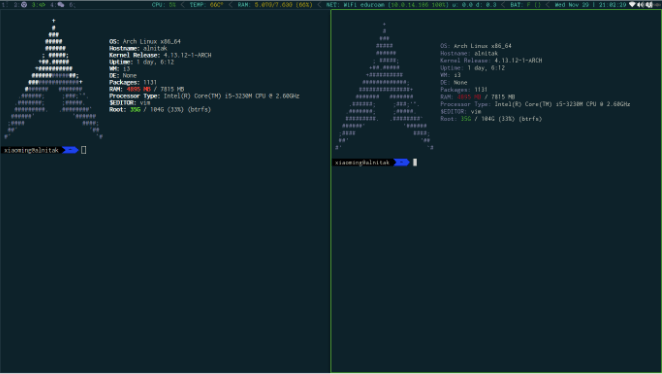 With its unique features compared to other Terminal for Mac, Kitty makes for a great option to consider. Provides OpenGL rendering, uses graphics card for faster performance, supports tiling mode across multi terminal windows.
Kitty also supports launch sessions, allows to specify window layout, work directions, startup applications etc. This makes it one of the best Mac Terminal which comes free of cost.
Features
Fully configurable by unabridged and config file.

GPU rendering available.

Cross platform compatible.
3. Hyper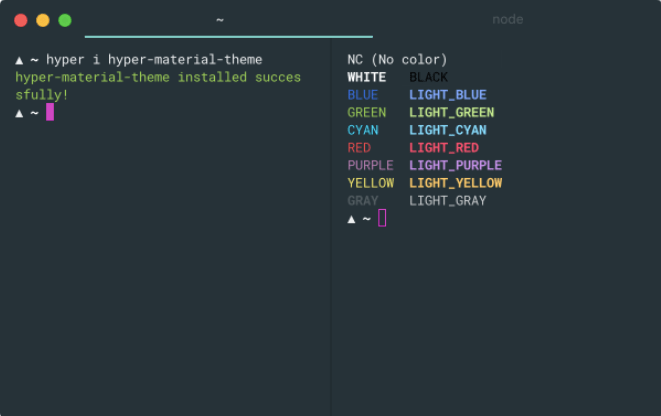 Hyper offers a beautiful and extensible command line user interface experience, which makes it one of the best Terminal emulators for Mac. This terminal for Mac offers a super fast and stable development environment.
Supports a plethora of extensions from npm along with a huge list of plugins. Its beautiful interface can be highly configurable to best suit the user's taste.
Features –
Highly configurable options. 

Comprehensive settings supported. 

Lots of modern features. 
4. MacTerm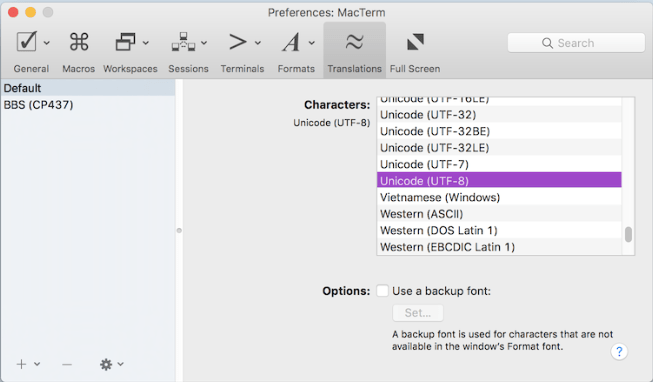 MacTerm is another powerful Terminal for Mac option with a huge list of features, customization options and simple easy interface. It provides Macro tools to create Macros for the users to perform any action with them.
This Terminal emulator also provides andance emulation, terminal search, speech context menu commands, unicode core and full keyboard access etc etc. Convenient and easy user interface provides the best management experience.
Features –
Free software licence. 

Extremely customizable windows.

Floating command line.
5. ZOC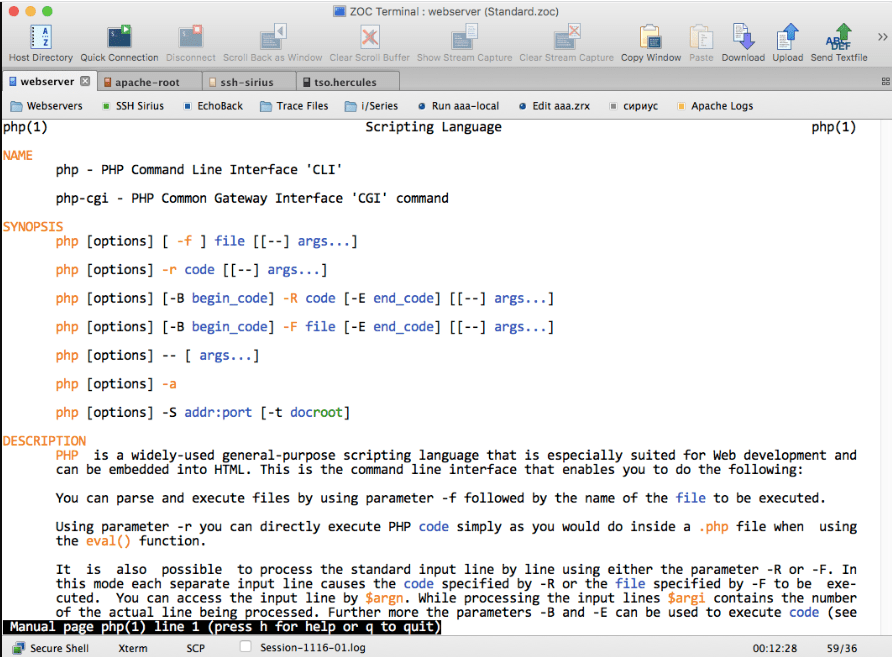 For advanced and professional use cases ZOC makes a great option for the Terminal emulator for Mac. Supports multiple tabs terminal sessions at same time via SSH, telnet, QNX and other terminals. Provides over 200 commands for all scripting languages.
It is Cross platform supported. This best Terminal for Mac is extremely customizable for all preferences and needs. With comprehensive features, reliable emulations and easy user interface makes ZOC an option to consider. 
Features – 
Tabbed sessions with thumbnails. 

Extensive logging, full keyboard, scrollback.

Highly customizable convenient interface.
6. PowerTerm InterConnect

With its small file size requirements for the installation PowerTerm InterConnect makes it a good option. This is a simple to use and fast Terminal emulator for Mac. It supports a wide range of hosts, and allows standardisation on a single terminal emulator for all their host access needs.
Provides intuitive & easy to use graphic user interface for quick and efficient work experience. Also supports multiple file transfer and printing solutions. 
Features –
Free trial option. 

Supports over 30 languages. 

Power script language for recording tasks. 
7. Alacritty
Alacritty is another best Terminal emulator for Mac to consider which offers sensible defaults, allowing extensive configurability.
It integrates with other applications, instead of reimplementing their functionality. Also provides high performance ability with flexible features list along with cross platform support. 
Features –
GPU acceleration supported. 

Simple and easy configuration file. 

Slick and intuitive interface. 
8. Tabby Terminal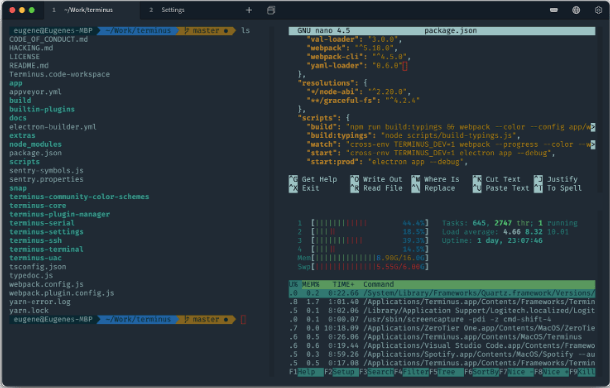 Tabby is an excellent Terminal emulator for Mac due to its cross platform highly customizable terminal app for local shells, serial, SSH and telnet connections. It supports smart tabs, 24 bit colour, configurable hotkeys, SSH and split tabs options.
The user interface is extremely intuitive supporting macOS vibrancy, simultaneous multi pane input, shell profiles and extensible with huge plugins. 
Features –
Open source & free. 

Highly customizable themes and hotkeys. 

Quake mode for ease of use.
9. MacWise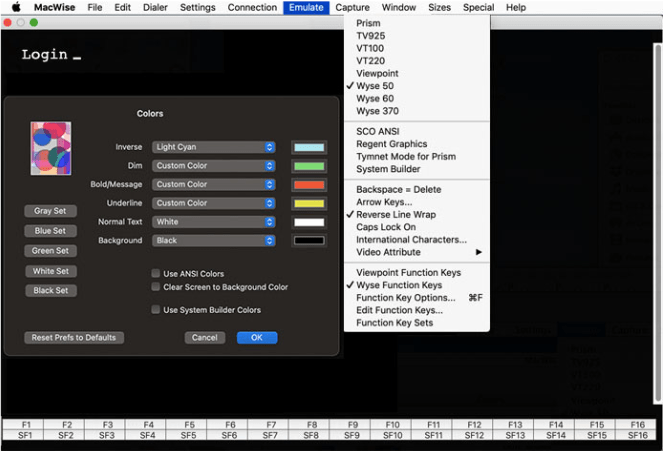 Last in the list of macOS X Terminals, we have multifunctional MacWise. It can emulate various terminals such as ADDS Viewpoint, DES VT100, VT220, Wyse 50, Wyse 60, Wyse 370, Televideo TV 925 and Prism. It supports ANSI and SCO ANSI colours.
This emulator also allows connection via modem, direct serial, SSH secure shell or Telnet. MacWise provides the ability to perform different actions via Terminal, for example – to send specific commands, transfer files, run scripts etc. 
Features –
Allows logging into Mac Unix Shell.

Support different protocols, connection modes. 

Extremely customizable interface. 
10. Commander One – file manager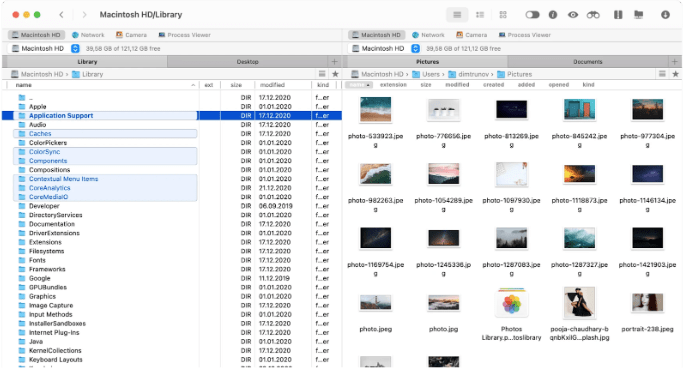 Commander One is a multitasker, as it is a great option to manage files and can be used as a Terminal Emulator for Mac. It can be used as a better file management app than the built-in system. It also works as an alternative to the Finder and Terminal Emulator for Mac. You can directly execute Terminal commands without the need to jump between apps. 
Features – 
Can execute all Terminal commands

 

Works with Hotkeys.

 

Use a dual-pane interface.

 
Comparison of Top 10 Terminal Emulator for Mac
| | | | | | | |
| --- | --- | --- | --- | --- | --- | --- |
| Product Name | Best For | Platform | Price | Free Trial | File Size | Latest Version |
| iTerm2 | Powerful Terminal emulator with multiple features | macOS 10.14 or later | $0 | Yes | NA | 3.5.0 |
| Kitty | GPU based Terminal with offloads rendering | macOS 10.11 or later | $0 | Yes | NA | 0.25.2 |
| Hyper | A fully extensible Mac terminal | macOS 10.15 or later | $0 | Yes | 84.5 MB | 3.4.1 |
| MacTerm | Useful open source application | macOS 10.15 or later | $0 | Yes | NA | 5.0 |
| ZOC | Best terminal for hosts and mainframes | macOS 10.11 or later | $80 | Yes | NA | 8.03.3 |
| PowerTerm InterConnect | Good for running legacy applications | macOS 10.11 to 10.15 | $143 | Yes | NA | 14.0 |
| Alacritty | Open source, cross platform terminal | macOS 10.11 or later (Intel based) | $0 | Yes | NA | 0.12.3 |
| Tabby Terminal | Cross-platform customizable interface | macOS 10.11 or later | $0 | Yes | 103.2 MB | NS |
| MacWise | Customization with support for Mac Unix Shell | macOS 10.12 or later | $95 | Yes | 6.9 MB | 24.3.6 |
| Commander One | Dual pane file manager & executes commands | macOS 10.12 or later | $29.99 | Yes | 57 MB | 3.7 |
What is the Terminal on Mac?
Terminal is a Mac utility used to perform various tasks on Mac with a command line interface (CLI). All the able tasks performance is much faster through Terminal commands compared to graphical user interface (GUI). Terminal can be launched by opening the Unix command line environment (shell) through different ways on Mac.
Bash is one of the terminals used by Apple. All the tasks are executed through various commands entered in the command line and you can press the Return enter key to run them.
Although the inbuilt Terminal provided by Mac is simple and efficient, it lacks some useful features which makes the user experience much more enriching. For better interface and more features do follow the below list of Terminal Emulators.
Frequently asked questions
Q1. Which Terminal is the best for Mac?
iTerm2 is the best terminal for Mac for the ease of use and the number of features provided by it. The Mac users can benefit from the rewind session feature in case of forgetting to record or copy something. 
Q2. Should I use Terminal on Mac?
Yes, Terminal on Mac is the command line system which will let you make changes using the command lines. You can open Terminal using the Finder or Spotlight on your Mac to control the operating system. For basic use with limited features Terminal on Mac is enough. If you wish to opt for other alternatives, give a chance to the other Terminal emulators mentioned in the blog.
Q3. Is there an alternative to Terminal on Mac?
Yes, there are Terminal Emulators for Mac which can be used as an alternative. We have listed the best of them in this blog and you can select the best one for you. 
Q4. Is iTerm2 better than Terminal?
Terminal being the inbuilt software guarantees a lot of controls with the command lines functions. But if you are looking for something advanced you can get iTerm2 for your Mac.
Conclusion
Mac users have a variety of excellent terminal emulators to choose from, each catering to different preferences and needs. Whether you prioritize feature-rich versatility with iTerm2, modern simplicity with Hyper, multitasking capabilities with Terminator, GPU rendering and efficient resource usage with Kitty, or blazing speed with Alacritty, there's a perfect terminal emulator for you.
The right choice will depend on your workflow and how you interact with the command line, but rest assured that Mac users have an array of robust options to enhance their productivity and development tasks.
Also Read