macOS widgets have become a significant part of the Mac user experience, offering quick access to essential information, tools, and utilities right from the desktop. In this article, we'll delve into the world of widgets, exploring the best ones available for Mac users.
From weather updates and calendar events to system monitoring and note-taking, these widgets are designed to enhance productivity and streamline daily tasks. Join us on a journey to discover the most practical and engaging widgets that can transform your Mac desktop into a customized and efficient hub of information and functionality.
15 Best Widgets for macOS Monterey
1. Fantastical 3

Fantastical 3 is an event, project planning and calendar application for Mac. It comes with 14 widgets and you can use them to get the information quickly on your desktop. The mix and match of the favourite activities right on your home screen is available quickly. 
Features – 
Small, medium and large widgets. 

View your upcoming events, tasks, weather etc. 

Dark theme available. 
2. Widgy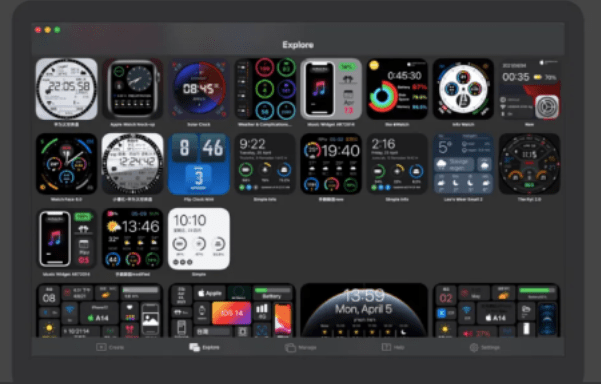 Widgy Widgets is an application for Monterey which can give you infinite possibilities to use the widgets on screen. It makes the widgets for any task on your desktop and gives you multiple templates. It is the best widgets for macOS Monterey which allows sharing these widgets with others is also possible. 
Features – 
Create your own widgets. 

Various templates allowing customizations. 

Share widgets privately with friends. 
3. MindNode – Mind Map & Outline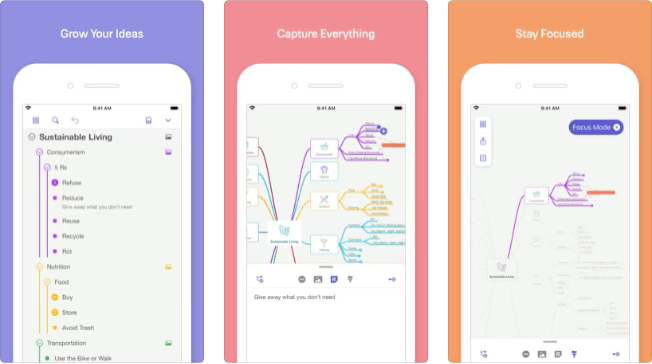 If you are looking forward to a note taking widget app for Monterey, this is it. MindNode – mind Map & Outline is dedicated to work for the ideas to get while working. Take notes in a form which takes you to the outline of the purpose. 
Features – 
Allows adding images, tasks and notes. 

Map your mind easily. 

Compact and large widgets. 
4. Color Widgets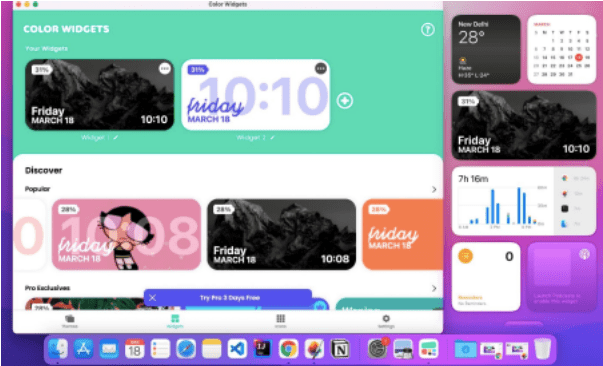 Color Widgets is a fully customizable application for Monterey users. It can make the experience of using widgets even better with the attractive backgrounds, icon packs etc. Transforming the home screen is easier with all the widgets of your like starting from time to playlists. 
Features – 
Multiple themes, icons, wallpapers. 

Shows clock, music, weather, reminders. 

Pedometer, calendar, battery and text. 
5. Dash Dot Dash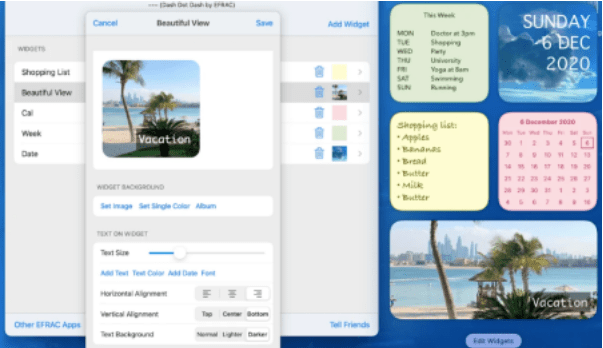 Dash Dot Dash is another of the apps from the best Widgets for macOS Monterey. It is a sticky notes and photos combination for your home screen. The widget can be created easily and you can put the photo or the notes on a widget formed by you. 
Features – 
Add comments on the photo widgets. 

Shows monthly calendar widget. 

Use sticky notes widget. 
6. MD Clock – Clock Widget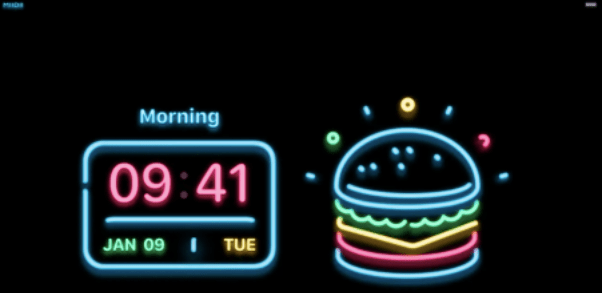 MD Clock is a well crafted clock and the best widgets for macOS Monterey. You will be amazed with this analog and digital clock widget as the animation is topnotch. It comes with the effective themes and sound effects to make it more alarmingly attractive. 
Features – 
Multiple timers and chimes are supported. 

Comes with 19 unique themes. 

Rich animations and sound effects included. 
7. WaterMinder – Water Tracker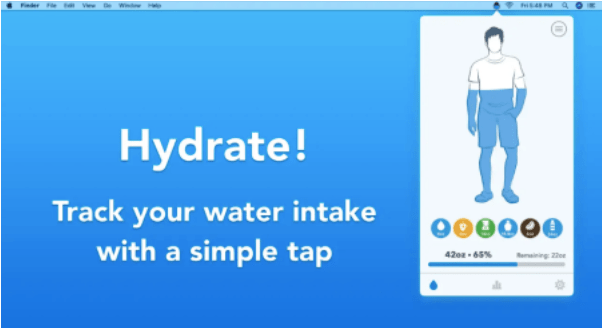 WaterMinder is a useful widget for Mac users which will keep reminding them to stay hydrated. It will remind you to drink water constantly with the cool animations. It is also not intrusive and keeps the schedule along with the mission to keep you hydrated all day long. 
Features – 
Visual representation of water intake. 

Customizable reminders. 

History and graphs for hydration. 
8. CardPointers for Credit Cards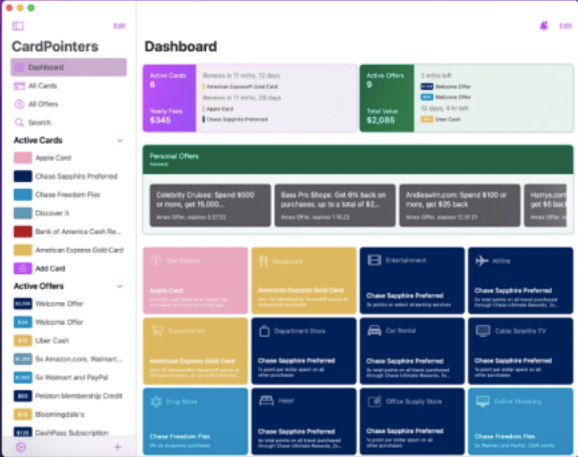 CardPointers is an application to help you avail the discounts and offers on your cards. This will help you save lots of money by keeping you aware of all the cash back amount, points, miles bonuses etc.
It boasts an extensive database of credit card offers, making it easier for users to choose the cards that best align with their spending habits and financial objectives.
Features – 
Shows information on best card usage.

Location reminders with native region notifications. 

Beautiful widgets with support from Quick note. 
9. LookUp – English Dictionary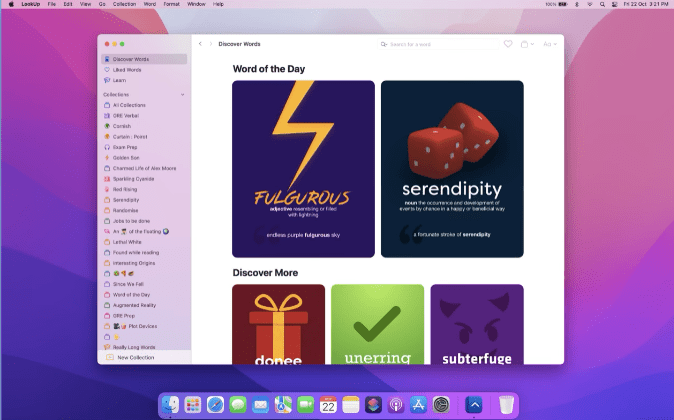 LookUp is a top-rated English dictionary app designed for iOS devices, offering users a comprehensive and elegant way to explore the English language. With its visually stunning and user-friendly interface, LookUp provides instant access to definitions, synonyms, antonyms, and pronunciation guides for a vast array of words.
It is not just a dictionary; it's a tool for anyone seeking to expand their vocabulary and deepen their understanding of the English language. Whether you're a student, writer, or language enthusiast, LookUp is your perfect language companion.
Features – 
Good for students with inbuilt quizzes. 

Create a custom list for tests. 

Definitions, translations, Thesaurus. 
10. Widgety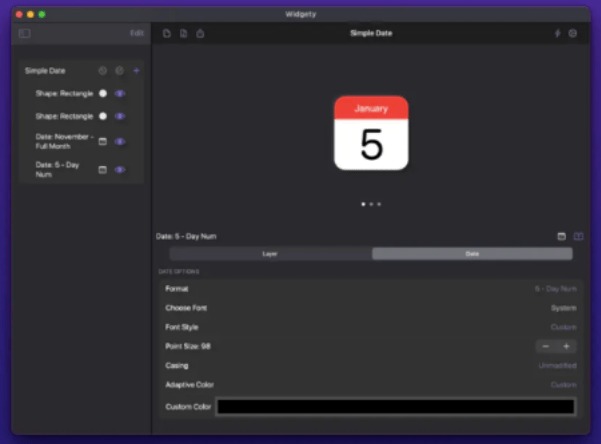 Widgety is another in the list for the best Widgets for macOS Monterey. It will help you create the personal interactive widgets on your screen. This application can easily show you the activity goals and rings, bars, texts, date, time and weather. 
Features – 
Feature rich with customization. 

Share and import with others. 

Integrates HealthKit app. 
11. TrashMe 3 
TrashMe 3 is a powerful and user-friendly uninstaller application for macOS that offers a comprehensive solution for efficiently removing unwanted software and their associated files. With its intuitive interface, TrashMe 3 simplifies the process of deleting applications, widgets, preference panes, and plugins, ensuring a thorough cleanup without leaving behind any residual clutter.
It can help you reclaim valuable disk space by identifying and removing redundant files, and it offers a handy search feature for quickly locating specific applications. Whether you're a casual user or a system maintenance enthusiast, TrashMe 3 is an essential tool for keeping your Mac clean and organized.
Features – 
Gives warning for Trash Full. 

Supports automatic application uninstallation. 

Manages the favourite apps and keeps them secure. 
12. MoneyCoach Budget & Spendings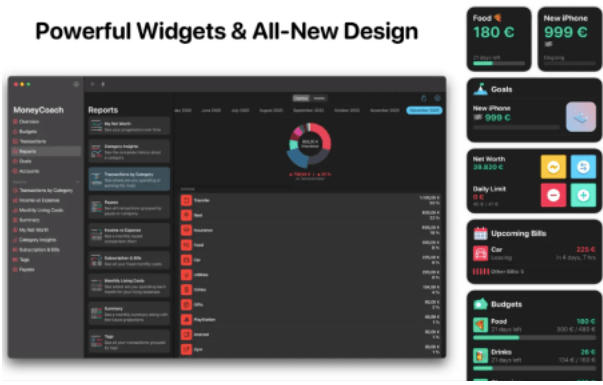 With MoneyCoach you can learn how to manage your finances. The mindfulness with the multiple widgets will help you keep an eye on your upcoming events and budgets alike. Setting Smart Goals and Savings accounts is easier than ever.
Features – 
Supports syncing goals. 

Gives live reports, real time worth. 

Live and customizable exchange rates. 
13. News Explorer
Get this widgets app for macOS Monterey and be updated with the news from all around the world. It has a quick sync for RSS, JSON, Atom, Reddit, Twitter and more with the sync for iCloud account. 
Features – 
Readers view, read statuses and favourite options. 

Supports the Notification Centre widgets. 

Adjustable visibility, thumbnails for articles. 
14. GameTrack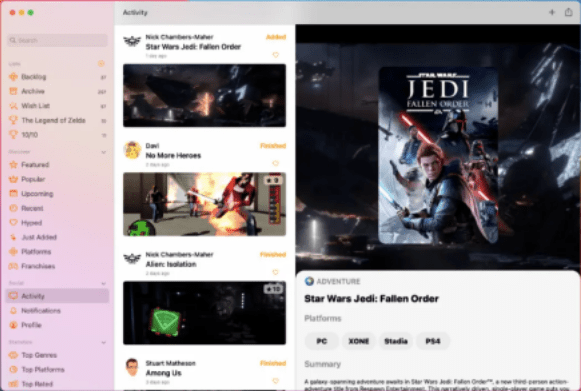 Widget app for macOS Monterey while you play your games? GameTrack is exactly what you need to manage the video game collection and create custom lists and ranks. IT keeps the progress and creates charts and statistics for ratings and platforms. 
Features – 
Sync list across all Apple devices. 

Quick actions for rate and share. 

Share posts with friends. 
15. Parcel – Delivery Tracking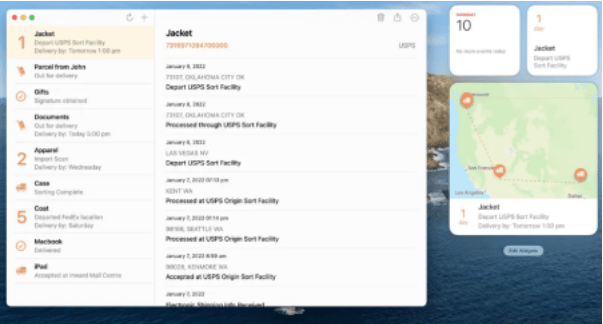 Parcel – Delivery Tracking is a must have in today's online shopping world. It helps even more if you are a small business owner and wish to get updates on all your shipped orders. Synchronise your data over iPhone for all your purchases and deliveries to get the best experience. 
Features – 
Works with 300+ delivery services. 

Tracking data is available at 1-click. 

Integration with Amazon account. 
Frequently Asked Questions – 
Q1. Can you put widgets on Mac desktop Monterey? 
Yes, you can easily put widgets on your home screen on the desktop of Monterey. Try out the best widgets for macOS Monterey from this list above. 
Q2. Can you download more widgets for Mac? 
You can download widgets to get the applications such as Widgety to create new ones as per your needs. 
Q3. Where can I download widgets for Mac? 
Apple does not directly allow downloading Widgets on Mac, but you can use the different applications to create the widgets and use them on the desktop.
Conclusion On Best Widgets For macOS Monterey
If you have been willing to use a widget for a specific task on your Mac with Monterey, look no further. As we have covered the best ones in this blog which covers the calendar schedules, task manager, date, time, weather notifications.
It also gives you insight on usage of Money, Card, Notes, Health check with the intuitive widgets. Try them out and keep the tasks in check from your home screen in a customised way. 
Also Read