Did you check in your new workspace and unable to find the WiFi to start the work ? If this is the case or you are not sure why none of the WiFi networks are showing on your Mac, take a look at this blog. Here we will show you how to get help from the WiFi analyzer apps for Mac to detect and connect to a WiFi network quickly. These applications are capable of finding the strength, access points and interference in the channel for the WiFi connections. 
Without wasting time find the strongest WiFi connection on your Mac and get connected on the network using one of the best Mac WiFi analyzers.
We have curated a list for you just in case you are wondering which is the best suited for you. You will get to learn about the features of these applications and then you can also visit the official web pages for them to download and try them on your Mac.
9 Best WiFi Analyzer for Mac In 2022
1. Netspot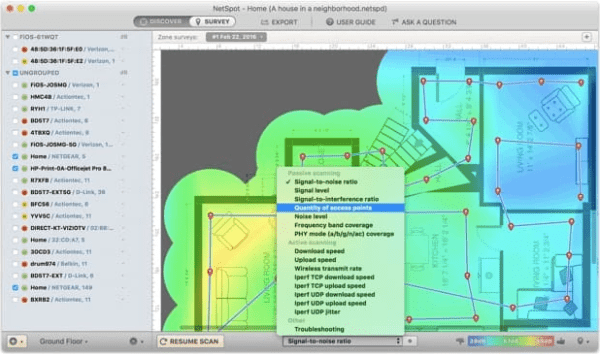 NetSpot is one of the best WiFi analyzers for Mac as it scans for the WiFi network which is strongest, determining from the network parameters. It collects data samples and you can walk around to mark the network on the heatmap and produce customised reports.
Shows you the details of the Access points for vendors, channel info, bands and encryption types. It supports 2.4 and 5GHz frequencies and also lets you compare different access points.
Features
Troubleshooting the WiFi issues.

Discover mode for easy access.

Interactive heatmaps.
2. WiFi Scanner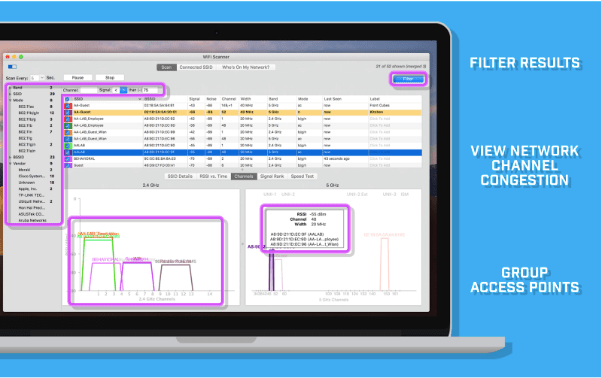 This is another WiFi analyzer which will be good for a Mac user looking for a fast connection for the Mac running on the older versions as well. Discover the 802.11 a/b/g/n/ac/ax access points and give them a custom name quickly to recognize easily.
It also displays detailed information on network parameters such as SSID, signal strength, Mac address, channel, bandwidth etc and you can filter WiFi networks using them. 
Features 
Clean and simple interface.

Use the Easy Join button to connect.

Supports both 2.4GHz and 5GHz.
3. inSSIDer
This WiFi tester for Mac can not only scan the WiFi networks around you, but also automatically connect to one. This Mac WiFi analyzer will find out the issues with your network after comparing it to other neighbouring networks. It reads all the information available on the access points and uses the stats to boost the network strength.
Features –
Check the WiFi Environment.

Improve the WiFi security and boost speed.

Find the busy network with the spectrum.
4. WiFi Explorer
WiFi Explorer discovers, monitors and troubleshoots wireless networks using Mac inbuilt WiFi adapters. This WiFi scanner for Mac shows comprehensive details of the nearby WiFi networks. It includes SSID, BSSID, vendor, country code, channel, band, security config, rates, streams and much more. It can also resolve various WiFi related issues sophisticatedly. 
Features –
Provides remote scanning.

Can export data as CSV file. 

Simple and intuitive user interface.
5. Solarwinds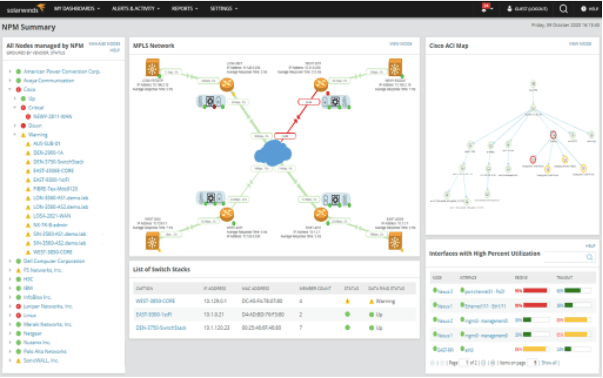 Solarwinds is another highly reliable and popular WiFi analyzer for Mac. Its important features include monitoring and managing wireless networks. WiFi troubleshooting, accessing crucial WiFi analysis factors, visualising network paths and creating WiFi heatmaps.
It also performs SNMP scanning & monitoring, Network diagnostic tool & performance testing, and other exclusive wireless network analysis.
Features –
WiFi troubleshooting and WiFi heatmaps. 

Provides crucial WiFi analysis factors. 

HIghly customizable user interface.
6. AirRadar 7
AirRadar is another WiFi analyzer for Mac, for its ability to easily scan open wireless networks and tag as favourites or filter them out. It scans all available wireless networks on a map and automatically updates the locations for each better signal available.
WiFi networks, GPS integration, Automatic join, smart alerts, keychain integration and advanced detailed information is provided.
Features –
GPS integrated to identify access points.

Auto-Join to the best available network.

Comprehensive details of everything.
7. PRTG Professional WiFi Analyzer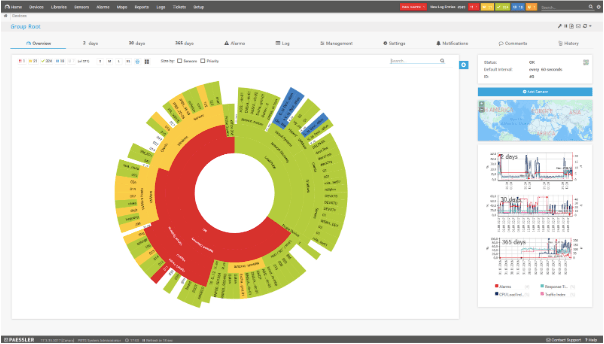 Last on the list we have a complete package in the shape of PRTG professional WiFi analyzer for Mac, it analyses and monitors each aspect of wireless network. It displays an overview of device status, load, traffic, speed, WiFi usage and signal strength of each connected device.
Features –
Freeware available.

SNMP to monitor security issues.

Covers WiFi parameters.
8. Homedale
Homedale is another free WiFi analyser which helps you scan WiFi networks efficiently and monitor the signal strengths. This robust WiFi scanner displays a detailed overview of all available access points showing signal strength, security, network name, vendor based on MAC address, channel, data rates and much more. 
Features 
Absolutely Free WiFi analyser. 

Comprehensive detailed information shown. 

Simple and easy navigation interface. 
9. WiFi Signal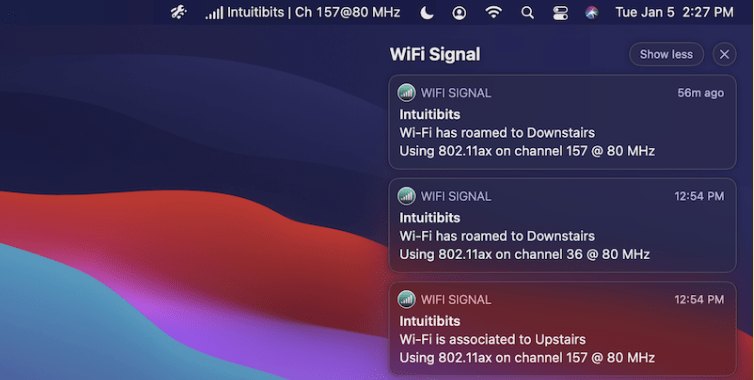 Finally on this list we have WiFi Signal application from Intuitibits which is the most reliable WiFi analyser for Mac with its extensive features list to aid in scanning, monitoring and troubleshooting. Its simple and straightforward user interface is a breeze to navigate along with a highly customisable status display according to your preferences. 
Features 
Highly customisable status display. 

Efficient monitoring and troubleshooting features. 

Easy, simple and straightforward user interface. 
10. Wifiner – WiFi Analyzer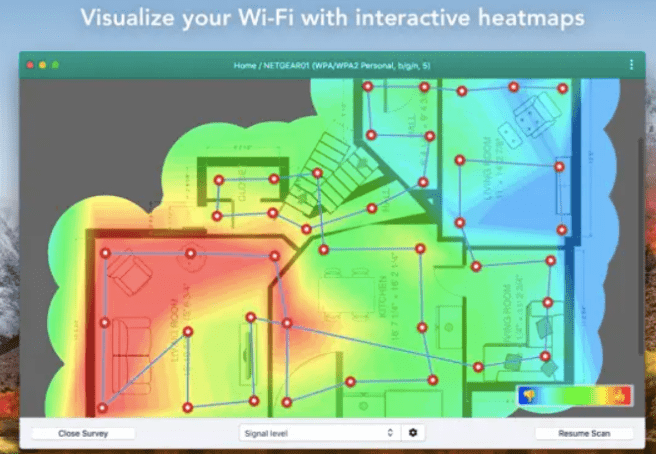 Wifiner is another excellent WiFi Analyzer for Mac which helps you analyse and troubleshoot your WiFi connection easily with highly intuitive colour coded heat map visualisations. It provides highly detailed information regarding Wifi connection to analyse and fix any issues such as signal strength level, noise level, single to noise ratio and many more. 
Features
Colour-coded visualisations of WiFi heatmaps. 

Easy to use and interactive user interface. 

Comprehensive Wifi Network solution. 
Comparison Table of Top 9 WiFi Analyzer for Mac
| | | | | | | |
| --- | --- | --- | --- | --- | --- | --- |
| Product Name | Best For | Platform | Price | Free Trial | File Size | Latest Version |
| Netspot | Intuitive and interactive interface for WiFi scanning with analyser. | macOS 10.10 or later | $19 | Yes | 13.5 MB | 2.14 |
| WiFi Scanner | Simple and easy interface to navigate with good customization. | macOS 10.9 or later | $94.99 | Yes | 13.7 MB | 3.0.2 |
| inSSIDer | Fast and efficient WiFi analyser for Mac with great features | macOS 10.14 and macOS 10.15 | $0 | Yes | 19.7 MB | 5.5.0 |
| WiFi Explorer | Good WiFi scanner and troubleshooter with enhanced features to monitor. | macOS 10.13 or later | $19.99 | Yes | 8.8 MB | 3.3.6 |
| Solarwinds | Most reliable WiFi Scanner and monitoring utility with easy troubleshooting options. | macOS 10.15 or later | $1638 | Yes | 313 MB | 2020.2.6 |
| AirRadar 7 | Auto scan available WiFi networks based on GPS to identity access points easily. | macOS 10.14 or later | $15.95 | Yes | 35.6 MB | 7.0.1 |
| PRTG Professional WiFi Analyzer | Good Freeware WiFi analyser for Mac with beautiful user interface. | macOS 10.13 or later | $1799 | Yes | 341 MB | v15 |
| Homedale | Free WiFi scanner and monitor utility showing detailed information. | macOS 10.15 or later | $0 | Yes | 3.6 MB | 1.16 |
| WiFi Signal | Simple, easy user interface along with popover window access from menubar. | macOS 10.13 or later | $4.99 | Yes | 2.9 MB | 4.4.5 |
| Wifiner | Colour coded visual heatmap to analyse and troubleshoot Wifi network | macOS 10.10 or later | $29.99 | Yes | 9.4 MB | 1.3.191 |
Frequently asked questions
Q1. Does Apple have a WiFi analyzer?
Yes, Apple has a WiFi analyzer on its built-in tools which is Wireless Diagnostics. It can be used to analyse the network if you are having trouble with your internet connection. But this is very basic and therefore the need to get a third party application comes in.  
Q2. How do you analyse Wi-Fi on a Mac?
To analyse the WiFi on a Mac, a user has to open up the Networks and search for the available WiFi networks. If WiFi is not shown in the list, a macOS WiFi analyzer application can be used, which makes the task easier.
Q3. Is WiFi analyzer free?
Some of the applications for Mac are available for free and you can also find a free WiFi analyzer for Mac. PRTG Professional WiFi Analyzer is one of the free of cost applications which can be used on the Mac to scan the WiFi networks for 30 days.
Q4.  What is the best WiFi analyzer app?
NetSpot is the best WiFi Analyzer application according to us as it provides you with the most features and can be easily installed quickly.  It is fast and gives results in a few moments which is a must have requirement for all Mac users.
Conclusion On WiFi Analyzer For Mac
With a program that manages wireless networks for Mac, users can benefit the most when in a new working space or new zone. The easier you will find a strong network the faster you will be able to connect your Mac to it. It is not only a helpful utility but also a need of the hour for working professionals who value time. 
But don't worry you as a home user can also use it to find the strongest WiFi networks and best access points using these tools. We would suggest getting an application such as NetSpot which can easily be used and is compatible with your device. 
Also Read