If you are a developer or a tech enthusiast, you might be interested in this topic. When you own a Mac but wish to run a program or feature on Windows PC, it is not always possible to maintain another device. Windows Emulators for Mac are the only help for you to take the experience of Windows on your Macintosh.
Here we are going to talk about what is a PC emulator for Mac and which ones are worth trying out.
What are Windows Emulators For Mac
Windows emulators for Mac are software applications that allow Mac users to run Windows operating systems and Windows-based applications on their Mac computers. These emulators create a virtual environment within macOS, enabling users to access Windows programs seamlessly. They are useful for individuals who need to run Windows-specific software or games on their Macs without the need for a separate Windows PC. Some popular Windows emulators for Mac include Parallels Desktop, VMware Fusion, and VirtualBox.
7 Best Windows Emulators for Mac
1. Boot Camp
For all Mac devices with Intel processor chip, Boot Camp comes built-in as a utility which lets you switch between macOS and Windows. Go through Apple's support page to install Windows OS on Mac step by step from Boot Camp Assistant with ease. After installation it presents you with the option to boot into Windows or macOS at the start of the system.
Although Boot Camp is not compatible with new M1 Chip Mac systems, all previous version systems work just fine. But since it is an inbuilt utility by Apple, you can trust it for your Windows virtual experience.
Features – 
Comes pre-installed on Mac.

Runs all apps natively & is very fast.

It's free and requires a Windows licence. 
2. Parallels Desktop
Parallels Desktop is our top choice for Windows Emulators for Mac. Unlike Boot Camp this application doesn't require rebooting to run Windows, instead it emulates Windows on macOS and runs thousands of Windows applications seamlessly, easily and much faster compared to others.
With this you can move files, documents and folders between local macOS and Windows easily for excellent user experience. 
Features – 
Rebooting is not required at all.

No performance lag or issues for Windows apps.

Coherence mode to hide Windows desktop.
3. VirtualBox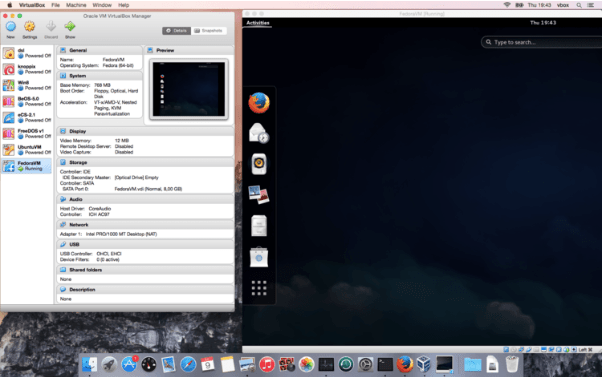 VirtualBox is a cross platform virtualization application option for free Windows Emulator for Mac. With this application you can create a virtual Machine on Mac and install any version of Windows on it.
It lets you install and run all Windows applications on Windows emulator without rebooting on the Mac. The graphical user interface of this Mac Windows emulator is very easy to use and simple.
Features 
It's open source hence absolutely free.

Cross platform supported.

Can install a full version of the OS.
4. VMWare Fusion
VMWare Fusion is another virtualization application on the list of Windows Emulator for Mac which supports cross platform. This application also lets you create virtual machines to install various OS on Mac devices, and then install & run various Windows apps on the Windows emulator.
With its easy and intuitive user interface, high performance of emulator and multiple modes to run Windows and its apps on Mac, makes it an excellent choice. 
Features 
Supports all OS platforms. 

Can run Windows apps alongside Mac apps.

All macOS versions supported.
5. Wine
Unlike others in the list of Windows Emulators for Mac, Wine is not an virtualization application like its acronym "Wine Is Not an Emulator stands for. Instead of creating a virtual Machine, Wine creates a compatible layer which is capable of running Windows apps on several POSIX compliant macOS.
It lets you run Windows apps on the fly without a Windows emulator by translating Windows API calls into POSIX calls eliminating performance and memory penalties for a clean integration. 
Features
Runs Windows apps natively much faster.

It's absolutely free to use.

Windows licence is not required. 
6. CrossOver for Mac
CrossOver is another polished version of Wine which is also not an virtualization application. Basically CrossOver makes it extremely easy to use Wine and supports a wide range of latest Windows applications.
It lets you install & run Windows apps without Windows emulator, by translating Windows commands into Mac commands so that Windows apps run easily like an native Mac apps. CrossOver supports all kinds of Windows software which run alongside Mac apps without the requirement of reboot.
Features 
No need for Windows Licences. 

Runs Windows apps natively. 

Supports various kinds of software.
7. WineBottler 
WineBottler is also another improved version of Wine, but it's absolutely free to use. This application packages Windows apps snugly into Mac app-bundles using open source Wine based translation tool. It offers automated installations to select from a wide range of Windows software directly on the Mac system desktop.
With this app, there is no need to install emulators, create virtualization apps or boot into other OS, it runs Windows based apps directly on the Mac system. 
Features 
It's free to use. 

Supports automated installations. 

Runs Windows apps like native Mac apps.
8. WinOnX 64
WinOnX 64 is a highly polished version of WINE which lets you run Windows applications on Mac without installing Windows OS virtually. It is most useful when your favourite Windows app is not available for Mac and can run the app on Mac through this.
It is extremely lightweight and utilises minimum Mac system resources to run windows applications. 
Features –
Supports most windows applications on Mac.

Polished version of WINE with nice interface. 

Lightweight app uses minimum System resources. 
9. Citrix VDI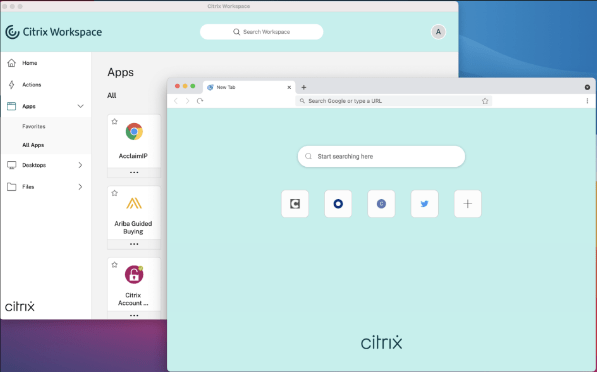 Previously known as Citrix XenApp has now been updated to Citrix Virtual App and Desktop for Mac, which provides cloud based services for Mac. Instead of installing Windows emulators or virtual machines you can run any apps from cloud services on your Mac for a secure and better experience. 
With Citrix VDI, desktop environments are virtualized and hosted on remote servers, enabling users to access their personalized desktops from virtually any device with an internet connection.
Features –
Virtual cloud based apps and desktops.

Professional level product support.

Supports all platforms and devices. 
Top 9 Windows Emulators for Mac
| | | | | | | |
| --- | --- | --- | --- | --- | --- | --- |
| Product Name | Best For | Platform | Price | Free Trial | File Size | Latest Version |
| Boot Camp | Builtin utility for intel Mac systems, reliable and free option to emulate windows. | macOS 10.8 or later | $0 | Yes | NA | NA |
| Parallels Desktop | Robust, easy and fast Windows emulator supports both Intel and M1 | macOS 10.13.6 or later | $59.99 | Yes | 1 MB | v17 |
| VirtualBox | Free, cross platform windows emulator compatible with all versions | macOS 10.13, macOS 10.14 and macOS 10.15 | $0 | Yes | 119 MB | 6.1.34 |
| VMWare Fusion | High performance, cross platform compatible and easy to understand interface | macOS 11 or later | $199 | Yes | 621 MB | 12.2 |
| Wine | Not an emulator like others helps run windows app on Mac easily and very fast | macOS 10.8 or later | $0 | Yes | 275 MB | 7.0 |
| CrossOver for Mac | Polished version of Wine with easy and intuitive interface. | macOS 10.13 or later | $16 | Yes | 300 MB | 21.1 |
| WineBottler | Free version of Wine with simple and basic interface for fast apps launch | macOS 10.13 and macOS 10.14 | $0 | Yes | 376 MB | 4.0.1.1 |
| WinOnX 64 | Polished WINE version with intuitive user interface. | macOS 10.11 or later | $8.99 | Yes | 404.2 MB | 3.0.2 |
| Citrix VDI | Professional cloud based services for app and desktop. | macOS 10.15, macOS 11, macOS 12 | $0 | Yes | 291.3 MB | 22.06.1.51 |
Frequently Asked Questions 
Q1. Are there Windows emulators for Mac?
Yes, you can find a few Windows emulators for Mac which are really good at the job. We have mentioned them in the blog for your help. Parallels Desktop and VirtualBox are the top contenders after the built-in BootCamp in this list.
Q2. Is there a free Windows emulator for Mac?
Yes, there are free Windows emulators available for Mac. Best of them can be purchased but if you are looking for freeware consider VirtualBox, Wine and WineBottler. 
Q3. Can you run an emulator on a Mac?
Yes, you can run an emulator on Mac as long as it is compatible with the operating system. There are several emulators for Android and Windows and you can take help from those to run them on your Mac.
Q4. How do I run Windows on my Mac?
If you wish to run Windows on your Mac, get one of the best Windows emulators for Mac. They will help you in the smooth operation of Windows applications while running tests and developments. 
Q5. What is a Virtual PC for Mac?
A virtual PC can be defined as the virtual machine running on a Mac which has a different operating system but does not require any other hardware. You can find the  Mac Windows emulator for such tasks.
Conclusion On Windows Emulators for Mac
These emulation tools provide compatibility for various Windows versions, enabling users to access a wide array of software that may not have Mac counterparts. While not a perfect substitute for a native Windows PC, they bridge the platform gap and empower Mac users to utilize critical Windows applications seamlessly.
Whether for business or personal use, Windows emulators enhance the functionality of Mac computers, making them a valuable asset for users seeking the best of both worlds. However, selecting the right emulator tailored to your specific needs is crucial for a successful experience.
You can pick BootCamp as your preferred choice if you do not wish to download a third party product.
But if you are using the new Macs with the M1 chip then you need to look for other options as the BootCamp is not available for them. 
Also Read