Trying to connect your Airpods and Bluetooth Not working on Mac? Now that would mean either Bluetooth won't turn ON or Bluetooth is not Available on Mac. Are you thinking about what you are going to do as you need bluetooth to connect a lot of devices and to complete tasks?
Don't worry as there are solutions to all the problems, at least for we can help you troubleshoot these issues. Here are the best solutions you can try to fix the Bluetooth problems on Mac. 
Why won't your Bluetooth turn on for Mac?
Bluetooth has been a stable portal for many external devices to be connected with Mac considering Apple is limiting the connecting portals lately.
There could be many reasons for bluetooth to not work on your Mac, but we have summarised a few of the reasons why bluetooth won't turn On. 
Corrupt System files or bluetooth drivers could be often the main reason. 

Some unknown bugs from malware causing bluetooth not available on mac. 

Attached external devices to your Mac might interfere with Bluetooth. 

Incorrect or wrong Bluetooth settings setup on your Mac. 

Sometimes Bluetooth hardware might be malfunctioning. 
Bluetooth won't turn on on Mac, how to fix it?
Solution 1 : Reboot Mac
A simple reboot of your Mac would reload all the startups, clear caches and remove wrong loading of apps including bluetooth.
1. Reboot your Mac by Selecting Apple icon at top right corner and Click on 'Restart' option.
2. When the Mac reboots, check if Bluetooth won't turn On on Mac issues still persist. 
Solution 2 : Turn OFF & ON Bluetooth Again
If the Bluetooth status appears to be Enabled in the notification, and it is not detecting any pairing devices then consider Turning OFF and Then back ON again to see if the glitch has been fixed or not. 
If you are using macOS Monterey or Big Sur then Click on Control Centre icon at the top menu bar and then Click the Bluetooth icon to toggle Off and On. 
If you are using macOS Catalina or earlier then Click on Apple icon and Select System Preferences. Then Click on Bluetooth and finally Click on 'Turn Bluetooth Off' and repeat the steps till and 'Turn Bluetooth On'.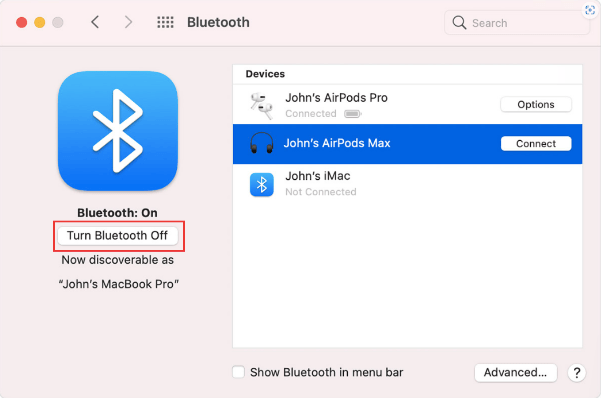 Solution 3 : Reset Bluetooth Module
Sometimes bugs in Bluetooth Module cause this issue and it can be resolved by Resetting Bluetooth Module.
When you Reset Bluetooth Module of your Mac, it will reset all bluetooth settings and default setup is enabled. 
If you are using macOS Monterey, then Reset Bluetooth Module using Terminal as shown below: 
1. Launch Terminal on your Mac from Spotlight Search. 
2. Enter the following command into Terminal : 'sudo pkill bluetoothd' and Press Return key.

3. Provide your admin password when prompted. 
4. Wait till the process is completed, then Restart your Mac. 
If you are using Big Sur or earlier macOS, then follow below steps to Reset Bluetooth Module: 
1. Press & hold Shift + Options keys simultaneously and Click on 'Bluetooth Icon' at the top right menu bar. (if Bluetooth icon is not visible then Go to System Preferences > Bluetooth & Checkbox 'Show Bluetooth in menu bar' option )
2. From the dropdown menu Select 'Debug' option and then Click on 'Reset the Bluetooth Module' Option. 
3. If prompted for the confirmation, Click on 'Ok' to confirm. 
Now all the settings of Bluetooth are reset and default settings are enabled. Check if this issue is resolved. 
Solution 4 : Remove Configuration files
Bluetooth creates its own configuration and properties information file called Property List Files (.plist) in the preferences folder, when this file is corrupted than results in Bluetooth not available on Mac error. To fix this follow below steps. 
1. Open Finder and Select 'Go To Folder', now on the search box enter following : '/Library/Preferences/com.apple.Bluetooth.plist'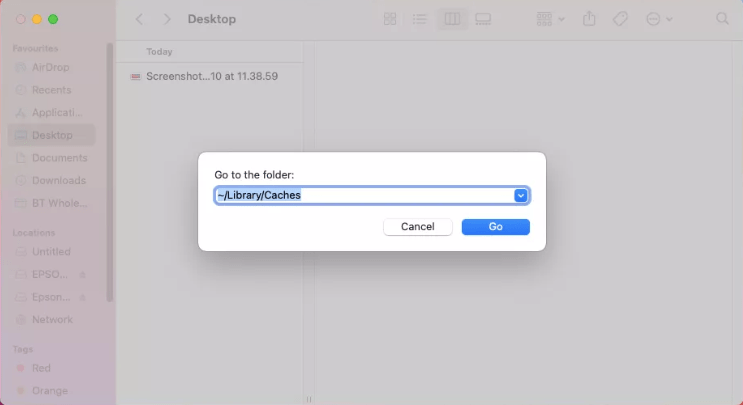 2. Once the preference folder opens, locate the 'com.apple.Bluetooth.plist' file in the folder. 
3. When you find the file, Right-Click on it and Select 'Move to Bin' option. 
4. After you deleted the plist file, restart your Mac. A fresh new PLIST file for bluetooth will be created once your Mac is restarted. 
When your Mac is completely booted up, check if the 'Bluetooth Won't turn ON on Mac' issue is resolved. 
Solution 5 : Disconnect external devices
As strange as it might sound, sometimes connecting external devices to your Mac interfere with Bluetooth functionality, So consider disconnecting all the external devices such as external hard drive, USB drive, USB mouse etc.
Once you have disconnected all the external devices, restart your Mac as an added measure and when Mac restarts check if the issue is still persistent. 
Solution 6 : Update macOS and Bluetooth drive
Even after going through all the solutions above and your Bluetooth connection issues is not fixed than it is possible that corrupt system files or bluetooth driver errors are the reasons.
To fix them you should consider updating macOS and bluetooth drivers, since update fixes any system corrupt files and updates bluetooth drivers fresh to latest.
1. To Update your mac, Click on the Apple menu and Select 'System Preferences'.
2. Then Click on 'Software Update'.

3. Check if any updates are available then Update your macOS. 
Frequently Asked Questions –
Q1. How to fix bluetooth won't turn on macOS Big Sur ? 
You can fix Bluetooth Won't Turn ON on your macOS Big Sur by trying a few easy solutions given above such as Restarting your device, Toggle Bluetooth On and Off, Reset Bluetooth Module and Delete Bluetooth PLIST file. 
Q2. How to fix MacOS Monterey Bluetooth problems? 
To fix macOS monterey Bluetooth problems you can either reset the Bluetooth module or recreate Bluetooth plist file etc. Read above for detailed steps on how to fix Bluetooth Problems. 
Q3. How to turn on bluetooth on mac ? 
You can Turn On Bluetooth on your Mac by following these steps : Click on Apple icon > Select System Preferences > Click on Bluetooth. Then Click on the 'Turn Bluetooth On' button. 
Conclusion
As the world is moving increasingly towards wireless connectivity, and then Apple is reducing ports on its devices to exceedingly depended on wireless connection like Bluetooth. Now the properly working Bluetooth on Mac is of paramount importance for daily needs.
And then it stops working is not acceptable since the alternatives are limited, However there are easy troubleshoots you can try to resolve the problem. You can start by trying above given simple solutions to fix this issue one after one to see which one would solve the issue. 
Also Read