In need of a Mac backup tool which can do more than the inbuilt Time Machine ? Try Carbon Copy Cloner which is an intelligent tool to help you achieve much more than the traditional Mac Time Machine. This Carbon Copy Cloner review helps you understand the working of this backup software for your Mac.
Read all the details on this Mac disk cloning software which has some great features to solve your backup issues. 
What is Carbon Copy Cloner?
Carbon Copy Cloner is a software developed by Bombich Software which works on Mac working on both Intel & Apple chips. It is available for devices working on macOS 10.11 and higher. If you want to know "is Carbon Copy Cloner worth it" use its amazing 30 days trial before buying its pro version which is available for US$ 39.99 Upgrade for up to 50% off. 
Carbon Copy Cloner helps you take fast backups for your Mac. It will let you easily create a backup on an external hard drive or another Mac. You get the option to backup whatever you want starting from one folder to an entire external hard drive on Mac. Plus, it allows you to restore deleted files with the Snapshots that the Carbon Copy Cloner takes on your Mac.
Carbon Copy Cloner Review
Technical Specifications –
| | |
| --- | --- |
| Vendor | Bombich Software |
| Current Version | 6.1.8 |
| Compatibility | macOS 10.15 or later |
| Download link | Click here |
| Free Trial | Yes |
| Price | $49.99 |
| File Size | 24.1 MB |
Features –
Nobody likes to wait unnecessarily and therefore, Carbon Copy Cloner has integrated the utility with fast backup tools. You can expect much faster backups and quick backups whenever possible with this powerfully intuitive application.
Taking the snapshot of the storage on Mac helps you keep you from losing important data. The regular backup is one of the important aspects of any device. This tool lets you take snapshots which will decrease the chances of losing a file as you can restore to the last version with the backup.
Using the latest feature in the Carbon Copy Cloner 6 will let you easily navigate between the multiple snapshots saved on your disk. This will make restoring a file even easier.
Important work needs to be backed up as soon as you make changes, use Carbon Copy Cloner. It can be used to mark such folders and then it will keep a watch on it to run automatic backup whenever changes are made.
With this backup tool for Mac, you can set the scheduled backups. It works on hourly, daily, weekly, monthly basis at a given time or specific days. More customization is available with the Schedule task groups and task chaining. 
This is a very necessary feature as you can simply pause a backup without the need to start the process from the beginning. Pause and restart when you are ready directly from where you left.  
On demand integrity check –
This feature allows users to check the last known state of a file. It checks for the source and destination on demand as well. This will help you with deciding not to transfer a corrupted or broken file. 
Real-Time performance Chart –
Get ahead and check all the progress on the backup in real-time. Using The Carbon Copy Cloner, gets you a graph for all the progress with the time-remaining in completing the backup.
Advanced File Filtering –
Use the Carbon Copy Cloner to customise file filters. See what needs to be excluded from the backup with the QuickLook for the preview of file and exclude files and folders. 
How to Use Carbon Copy Cloner ?
Following the steps below you can easily use Carbon Copy Cloner to take backup on Mac –
Step 1: Get Carbon Copy Cloner from the official website after checking your macOS compatibility.
Step 2: Follow the installation instructions and then launch the application.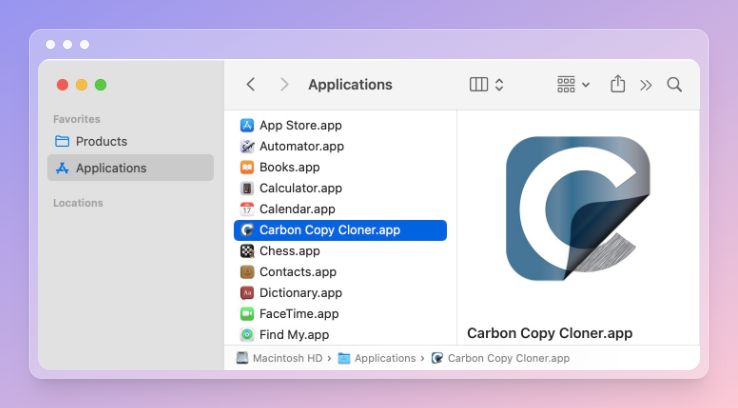 Step 3: Select a Source and Destination on the tool.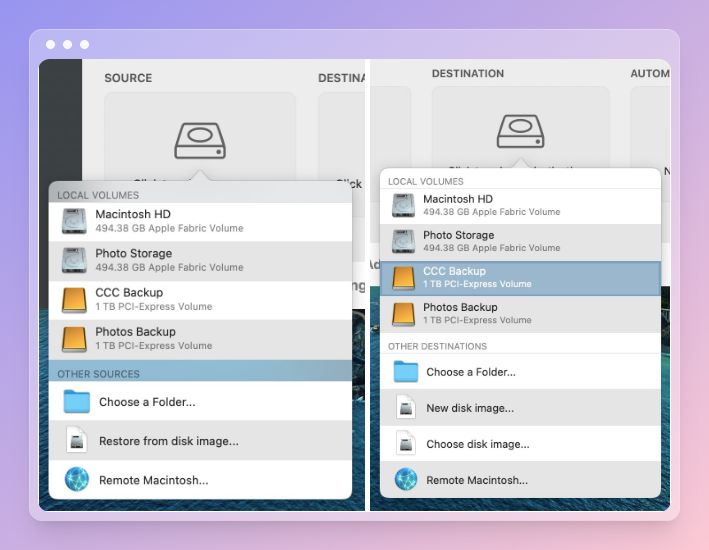 Step 4: Now Carbon Copy Cloner will ask you for Full Disk Access Permission and you need to confirm for all backups.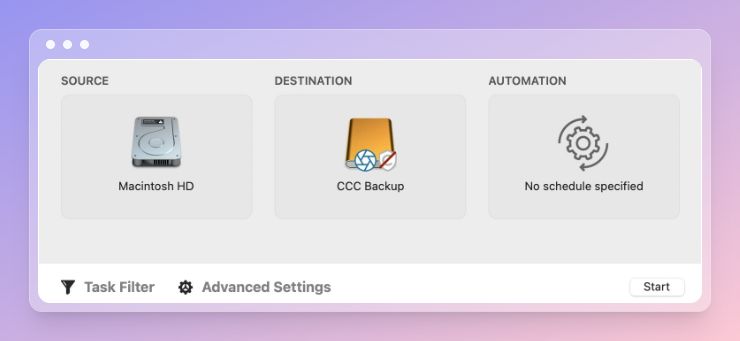 Once you have granted the necessary access you can easily start the backup by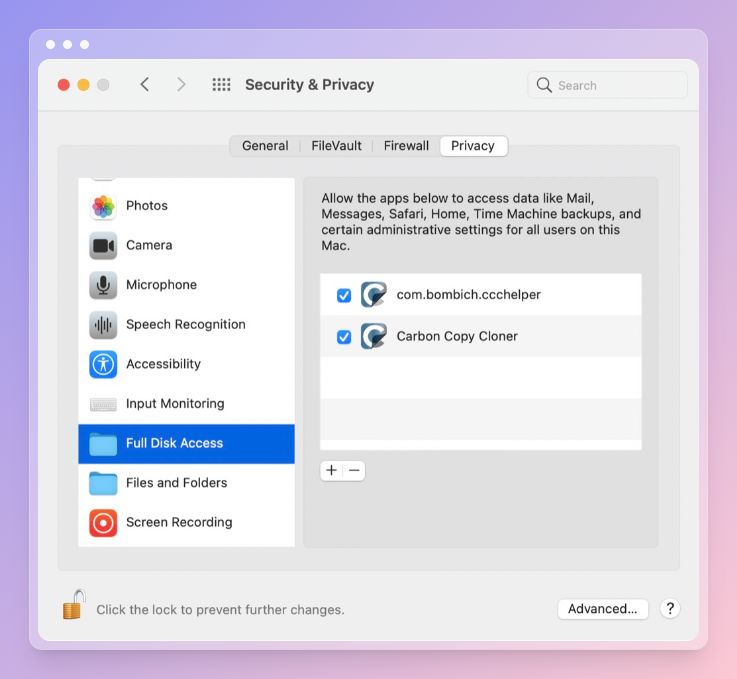 Step 5: After you can click on the Backup option to begin with the selected folders and files for the backup on Mac.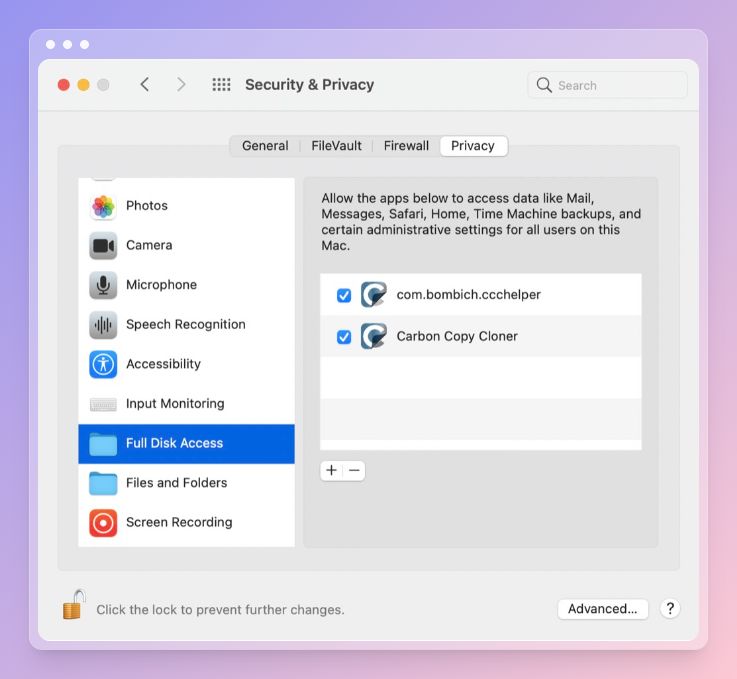 This will show you a live data transfer while comparing and copying the files. 
Using Carbon Copy Cloner for taking backup is a fairly simple task and you can get fast results with the latest version.
Carbon Copy Cloner Pros & Cons –
| | |
| --- | --- |
| Pros  | Cons |
| Speedy backups | 30 days free trial |
| Schedules backups | Limited customer support |
| Partial and complete backups | |
| Snapshot navigator | |
| Preview before backup | |
| Check progress | |
| Get backup notifications | |
| Compares Source & Destination  | |
Frequently Asked Questions –
Q1. Does Carbon Copy Cloner copy everything?
With Carbon Copy Cloner you can select what you would like to copy within the internal and external storage disks. 
Q2. Is Carbon Copy Cloner for Mac free?
No, Carbon Copy Cloner for Mac is not free but you can get a 30 days free trial. It is available for $39.99 for non-commercial use on one Mac. 
Q3. Do I need Carbon Copy Cloner if I have Time machine?
Yes, you might require a third party backup tool such as Carbon Copy Cloner as Time Machine does not have the advanced features offered for ease of use.
Q4. What is the latest Carbon Copy Cloner?
Carbon Copy Cloner has released its latest version 6 which comes with new and improved features. You can get the dark theme interface, improved scheduled backups, quick updates, options to pause backup, Snapshot Navigator, Simple mode, In-Progress indicators and more.
Conclusion
In conclusion, Carbon Copy Cloner for Mac stands out as an exceptional disk cloning and backup tool that provides comprehensive data protection for macOS users. Its versatility in creating bootable backups, smart updates, and scheduled tasks simplifies the backup process.
The intuitive interface and robust set of features cater to users of all levels, ensuring the safety of their data and system. With excellent customer support and regular updates, Carbon Copy Cloner is a reliable choice for anyone seeking to secure their Mac's data and streamline backup and recovery operations. It's a must-have tool for Mac users who value data integrity and system reliability.
All those asking 'Is Carbon Copy Cloner safe for Mac' can avail the 30 days free trial. Advanced features such as Preview Backup, Backup Audit and Comparing Source and Destination are extremely nifty for Mac users. 
Also Read