CCleaner for Mac is an application which helps you clean unwanted junk from Mac. It optimises Mac and improves the performance of it. But CCleaner for Mac can be sometimes very slow and unreliable in terms of security following the breach a few years ago. But worry not, you can pick apps like CCleaner for Mac to clean and optimise your Mac.
We have curated a list of the software like CCleaner to replace that on your Mac, take a look.  
Best CCleaner alternatives for Mac
1. MacBooster 8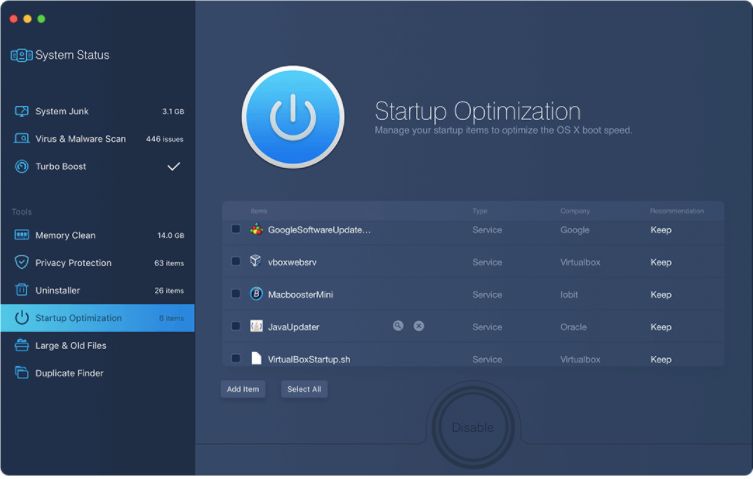 MacBooster 8 comes as a perfect CCleaner alternative for Mac as it includes 20+ cleaning tools. It is much faster and solves the problems on Mac caused by the cluttered storage space quickly. Remove the unwanted old, large, duplicate, system junk, cache and log files.
Turbo Boost, Memory Clean and Startup optimization are other useful tools for Mac to improve the performance of your Mac.   
Features –
Deep clean junk.

Optimise Mac hard disk.

Secure you from potential threats. 

Removes gigabytes of junk.
Read Detailed Review – iObit MacBooster Review
2. CleanMyMac X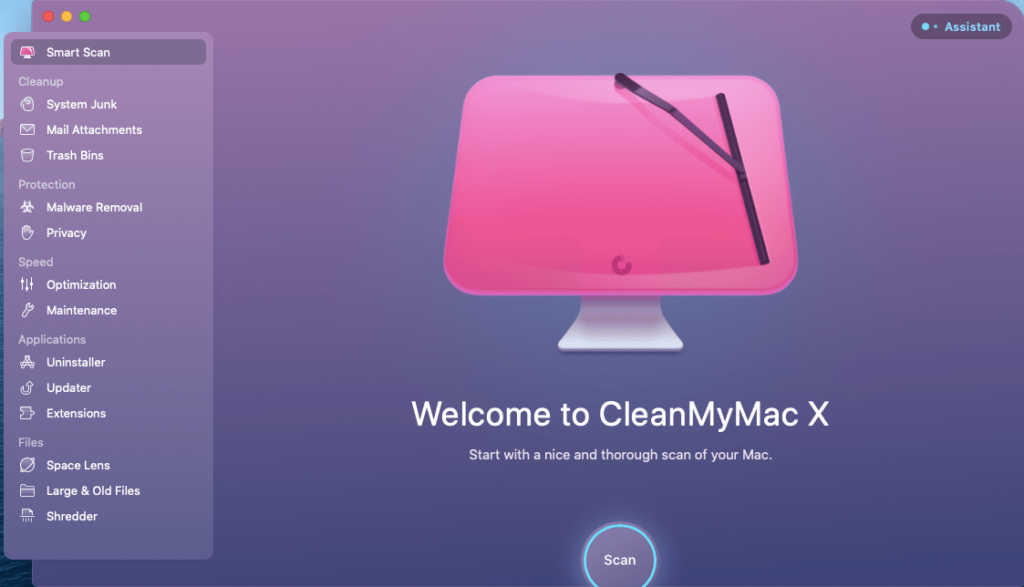 CleanMyMac X is also one of the best CCleaner alternatives for Mac. It can efficiently clean the junk present on your Mac and make it run faster than before. Works in giving you real-time monitoring for the hardware, network, battery etc.
It will easily remove the unwanted application from your Mac without leaving any traces of the remaining files. Use this software like CCleaner to free up storage space and solve the speed issue on Mac.
Features –
Monitors Mac health regularly.

Protects from virus and malware.

Storage visualiser.

Remove applications and associated files.
Read Detailed Review – Is CleanMyMac X Safe
3. DaisyDisk 
DaisyDisk is one of the apps like CCleaner to clean up the junk quickly. It comes integrated with a visual representation tool to help the users understand the distribution of the junk on the storage space.
This tool can declutter the Mac storage disk by using the cleaning tools effectively. It supports the Cloud services like Google Drive and Dropbox to optimise the storage completely. 
Features –
Fast scanning speed.

Finds and deletes large files.

QuickLook to preview the files.

Real-time information for the disks.
Read Detailed Review – DaisyDisk Review,
4. Avast Cleanup Premium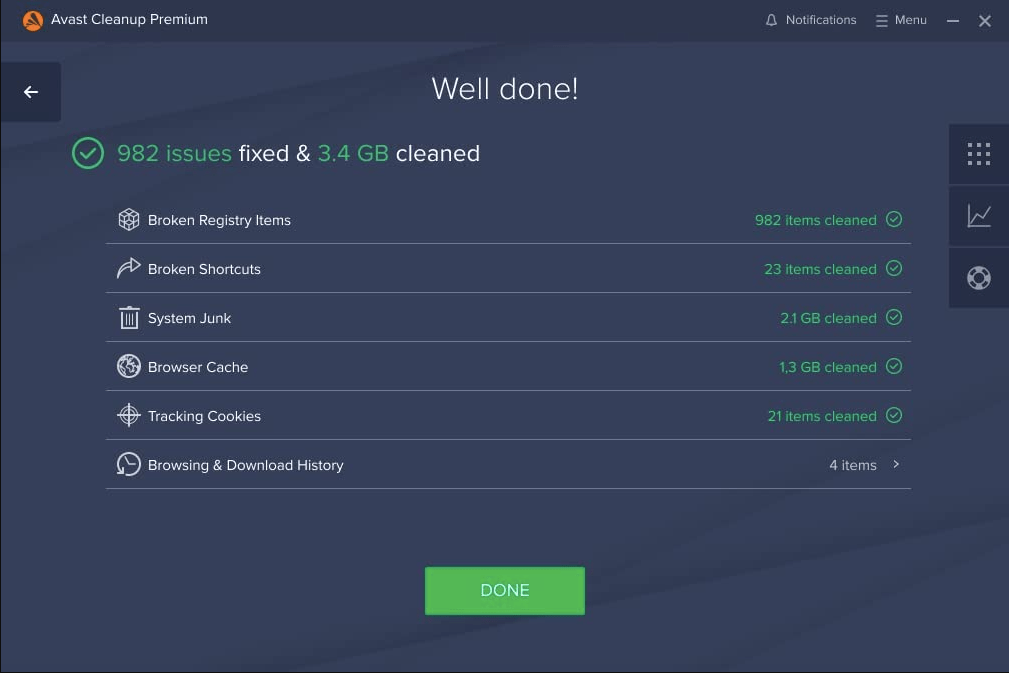 Avast Cleanup Premium is one of the CCleaner alternatives for Mac which can proactively clean the storage space. It can monitor the web browser junk and reduces the logs, cache, unwanted downloads and crash reports.
The scan will work in removing all junk in one click to help the user save time. 
Features –
Different cleanup features. 

Removes duplicates.

App uninstaller to free up storage space.

Deletes leftover system junk.
5. AVG TuneUp for Mac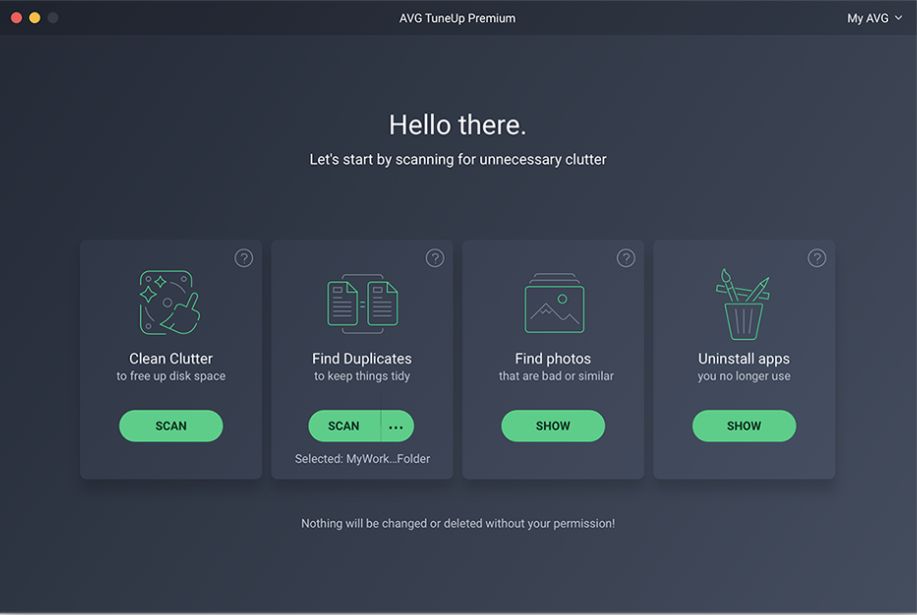 AVG TuneUp for Mac is another of the CCleaner alternatives for Mac. It can clean up the Mac storage disk from the duplicate files, low resolution photos and even the hidden junk. It is a good option to look out for when you need to remove the clutter efficiently.
Remove the unwanted logs, crash reports, trash and anything which is accumulating unnecessary space in the storage disk.  
Features –
Deletes temporary and cache files.

Removes old and unwanted downloads.

Frees up storage space.

Automatic cleaning tools. 
Read Detailed Review – AVG TuneUp For Mac Review
6. Onyx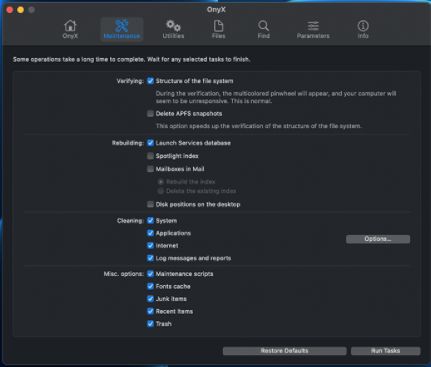 Onyx is a CCleaner equivalent for Mac as it cleans up the system, application, internet browsers. The user can be benefited by this application as it also helps in optimising Mac with various tools.
Works on the different aspects of users and has a different application accordingly. Good at removing trash, recent items, fonts cache and maintenance scripts to make storage space. 
Features –
Mac cleaning tools.

Free to use.

Multiple additional tools for optimisation.

Change Apple app parameters.
7. MacCleaner Pro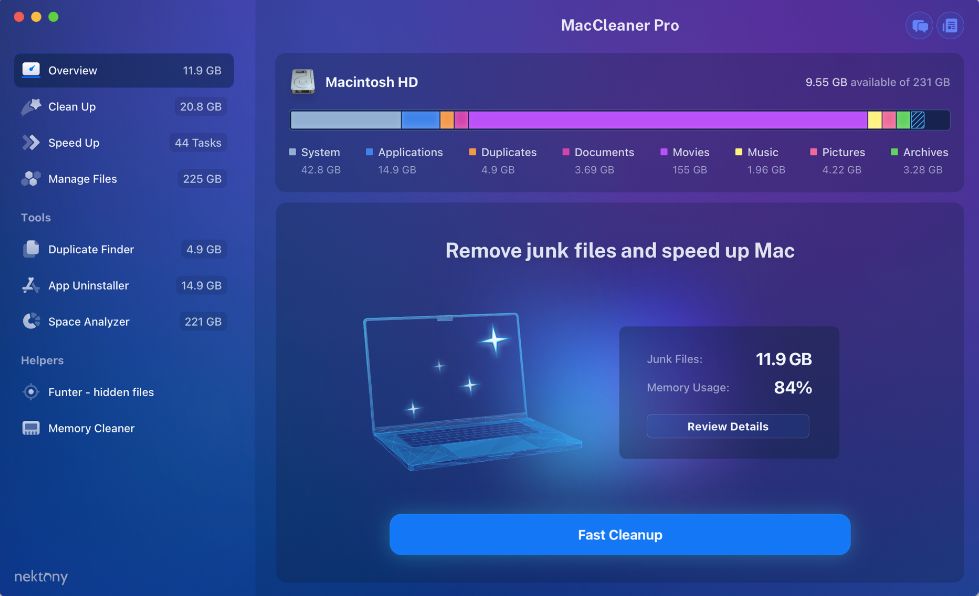 MacCleaner Pro by Nektony is another of the CCleaner alternatives for Mac. it has a wide range of tools to clean up your Mac.
This will also speed up the Mac by freeing up RAM, disabling unwanted login items and more. You can easily locate duplicates, uninstall applications, remove clutter. It also lets you manage disk space with the Disk usage analyser tools. 
Features –
Analyze disk space accurately.

Clean up tools.

Improves Mac speed.

Memory optimiser.
Read Detailed Review – MacCleaner Pro Reviews
8. App Cleaner & Uninstaller Pro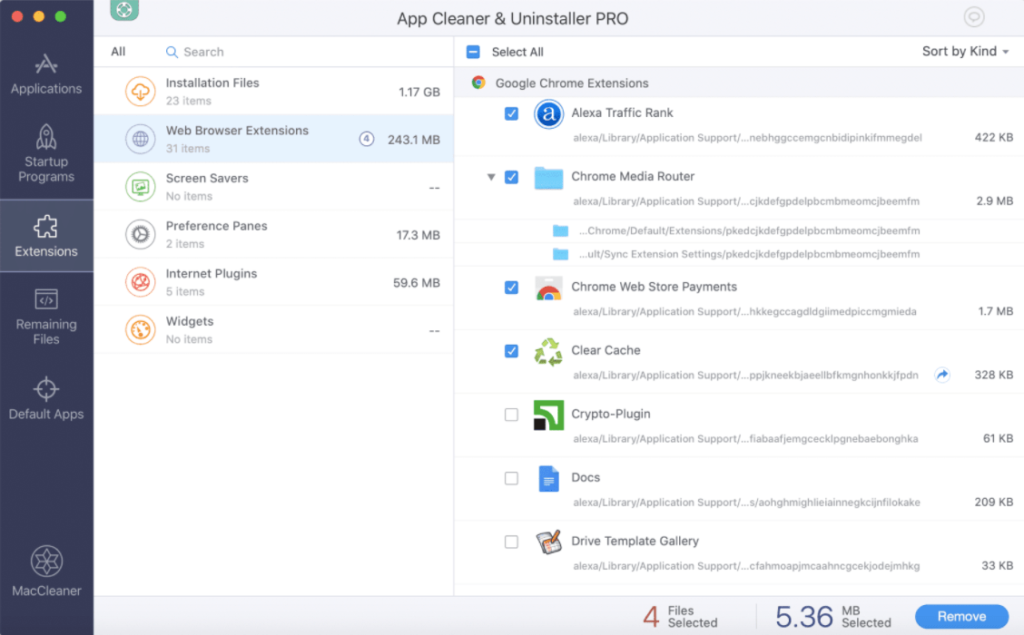 App Cleaner & Uninstaller Pro is a great solution for those who are frustrated with the large number of applications on Mac. It majorly works in removing the unwanted applications quickly and completely.
It gets rid of the associated files of the application as well leaving no traces behind. This can manage login items, browser extensions & system as well to provide you a user-friendly system.
Features –
Login items management.

Removes associated files of apps.

Clears the leftover files.

Intuitive interface.
9. AppCleaner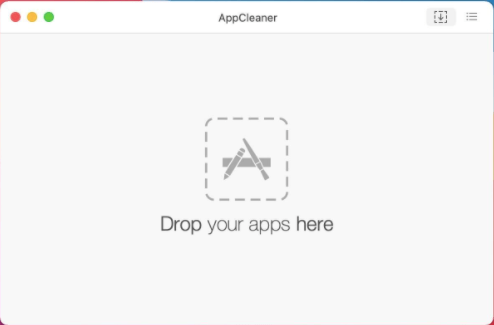 AppCleaner is another free to use CCleaner alternatives for Mac as it also works in order to free up storage space on Mac. Its main function is to find and remove the unwanted applications from Mac.
It will also find all the related files for the unwanted application upon the scan and gets rid  of them along with them. It can be used to manage your Mac storage disk by discarding the unnecessary applications. 
Features –
Easy to use.

Freeware app uninstaller.

Drag & drop apps.

Removes related files.
10. Stellar Speedup Mac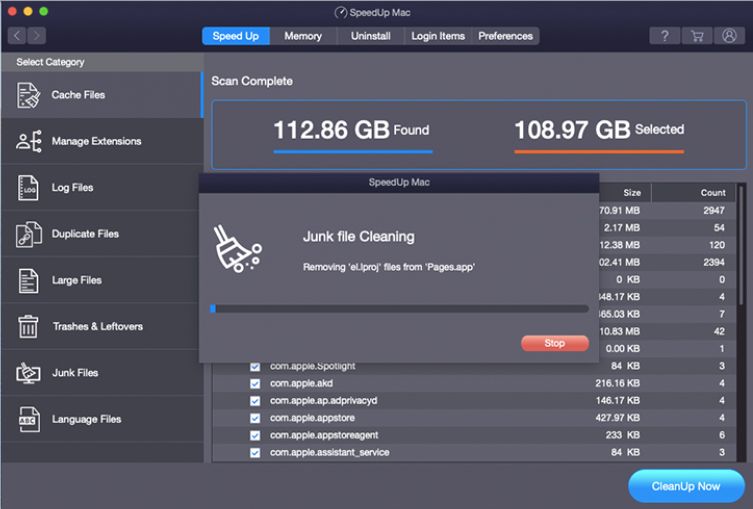 Stellar Speedup Mac can work as a CCleaner equivalent for Mac. As it includes multiple tools for cleaning the unwanted items on Mac.
It will eliminate the unwanted files such as cache, temporary, trash, junk, leftover, language, duplicate, large and old files. Along with it, the application can manage the browser extensions to keep them in check.
Features –
Manages Login items.

Optimises memory.

Supports external storage drives.

Boosts performance. 
11. PowerMyMac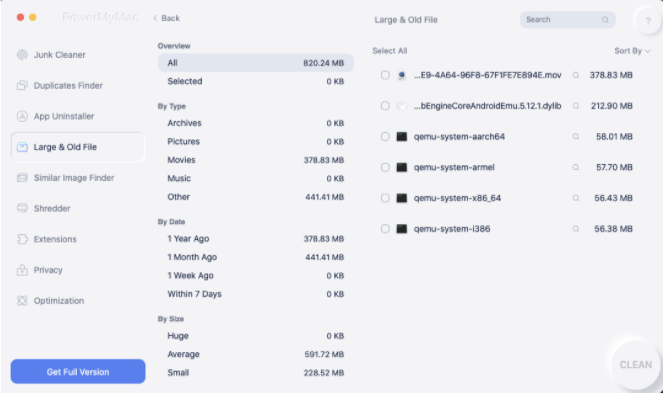 PowerMyMac is a good alternative to CCleaner as it provides you with a number of features in one package. You get to run a cleaning spree and restore disk space used on unwanted applications and junk files. Manage the extensions, browser data and take a privacy protection round for your Mac. Enable or disable the Startup items quickly from the Maintenance feature to help it speed up. 
Features –
Reclaim storage space.

Shield your privacy online.

Keep a check on system status.
Read Detailed Review – PowerMyMac Review
Top 10 CCleaner alternatives for Mac 
| | | | | | | |
| --- | --- | --- | --- | --- | --- | --- |
| Product Name | Best For | Platform | Price | Free Trial | File Size | Latest Version |
| Macbooster 8 | Accurate results for cleaning disk to restore space | macOS 10.9 or later | $29.95 | Yes | 70 MB | v8 |
| CleanMyMac X | Cleaning tools for multiple tasks to optimise Mac | macOS 10.10 or later | $34.95 | Yes | 93.8 MB | 4.10.6 |
| DaisyDisk | Graphical Disk storage representation for ease of use | macOS 10.10 or later | $9.99 | No | 4.8 MB | 4.22.1 |
| Avast Cleanup Premium | Pro tools to clean Mac and optimise disk space | macOS 10.11 or later | $59.95 | Yes | 50 MB | NA |
| AVG TuneUp for Mac | Protect Mac from junk, malicious files. | macOS 10.11 or later | $29.99 | No | 21.3 MB | 3.x |
| Onyx | Open source Mac maintenance tool | macOS 12 | $0 | Yes | 4.8 MB | 4.1.8 |
| MacCleaner Pro  | Fully functional Mac utility with various tools | macOS 10.11 or later | $44.95 | Yes | 30.2 MB | 2.8.2 |
| App Cleaner & Uninstaller Pro  | Clean unwanted apps & extension to manage storage | macOS 10.10 or later | $19.90 | Yes | 52.9 MB | 7.4.4 |
| AppCleaner  | Uninstall useless applications  & free up disk space | macOS 10.6 or later | $0 | Yes | 5.9 MB | 3.6.4 |
| Stellar Speedup | Multiple features to clear unwanted junk and speed up Mac | macOS 10.9 or later | $39.99 | Yes | 51.3 MB | 4.0.0.3 |
Frequently Asked Questions – 
Q1. Does Apple recommend CCleaner for Mac?
Apple does not recommend any third party application to use on Mac for optimisation. But, since its inbuilt tools are insufficient to clean up the junk and give it the needed boost in speed, we need to look at other optimisation tools. 
Q2. What is the best replacement for CCleaner ?
Best CCleaner alternatives can be MacBooster and CleanMyMac. Since, they harbour the most tools to unwanted clean files and applications along with logs and reports. 
Q3. Is CCleaner necessary for Mac?
No, CCleaner is not a necessary application for Mac. But one of the  apps like CCleaner   for Mac is needed for cleaning and optimising to declutter and speed up the performance. 
Q4. What is the best free memory cleaner for Mac?
Onyx has to be the best memory cleaner for Mac which is available for free. You can use it optimise you Mac efficiently by removing clutter from the hard disk. 
Conclusion On Ccleaner Alternatives for Mac
These are the replacements for Mac in case you are looking to replace CCleaner for Mac. MacBooster and CleanMyMac are the best options for deep clean for your Mac. 
Also Read