If you want to get CCleaner for Mac to clean the junk and optimise your Mac, this CCleaner for Mac review will guide you. It is important to get all the details before making a decision and we are here to help you. So read on and find out if CCleaner worth it or not ? Find out what the features are and how it works. 
CCleaner for Mac Review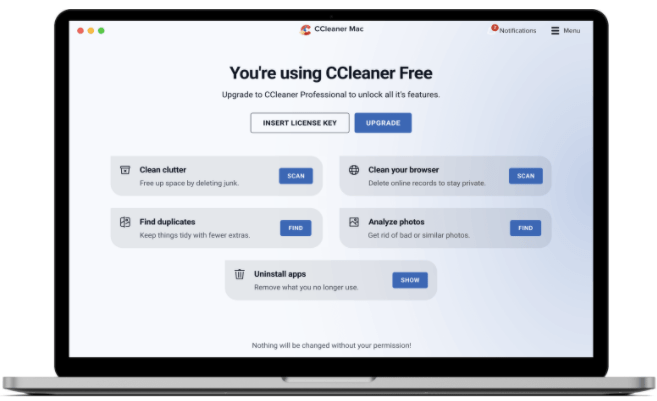 CCleaner for Mac is a smooth Mac cleaning application and you can use it to optimise your Mac for better performance. It comes as one of the most popular and dedicated tools to clean Macs. It can clean up multiple types of junk and duplicate files and gets rid of unwanted applications to free up storage space.
This tool also runs scans and protects your Mac from malicious components. Regular cleaning and protecting your online privacy using Cleaner for Mac keeps your Mac safe and healthy. This results in improving the performance and maintaining the stability, which makes it a good Mac cleaning and optimising tool. CCleaner for Mac uses a powerful scanning technique to give you accurate results.  
CCleaner Technical Specifications
Features
CCleaner for Mac features will help you understand the functions it can run on your Mac. 
1. Clean Clutter –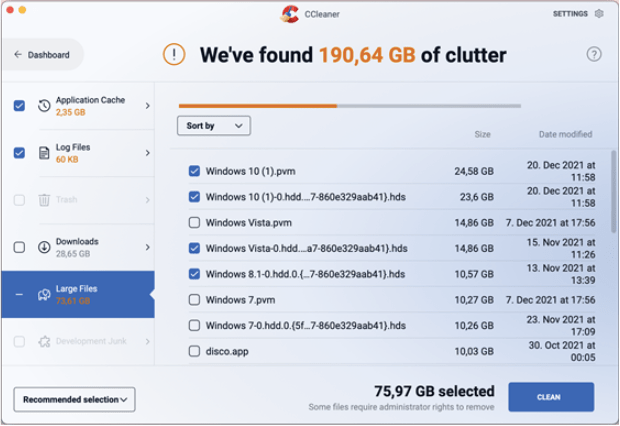 CCleaner for Mac comes with the very basic need to remove the clutter and it does the job effortlessly. This section can detect all types of junk, temporary files, old downloads, cache and trash files.
You can also find out more information on the real time junk files as it runs the app in background and monitors the Mac. It will show you all of the large files present on your Mac to help you get back large chunks of storage space. 
2. Find Duplicates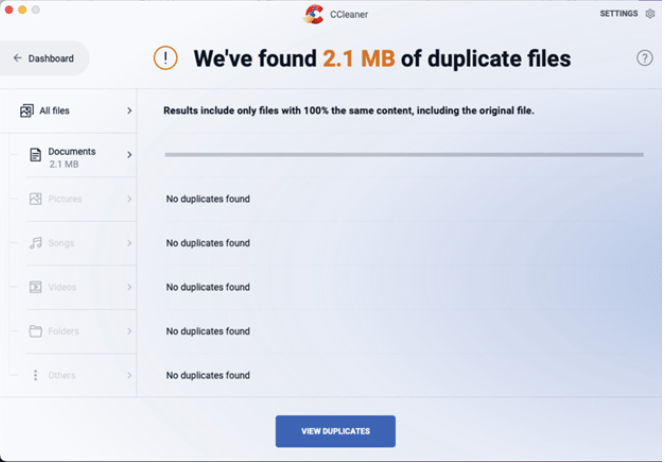 Duplicate files occupy the most space and finding them manually isn't easy. CCleaner for Mac comes with a dedicated tool to find and remove the duplicate files, images, videos and documents. You can select from the similar and exact copies of the files from the scan results.
CCleaner for Mac will help in quickly freeing up the storage disk quickly acquired by unnecessary duplicates. 
3. Uninstall Apps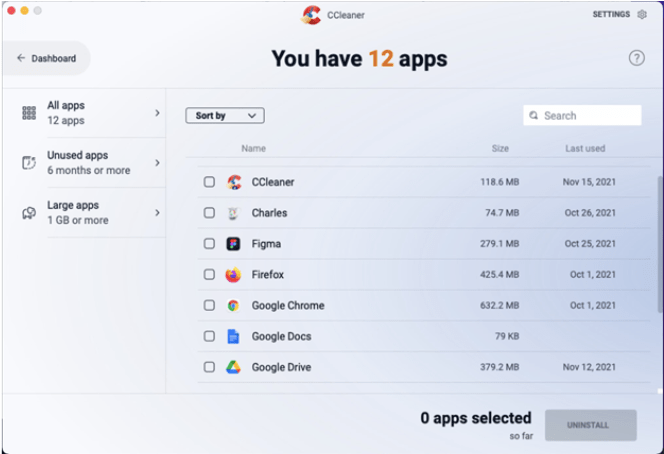 CCleaner for Mac can scan the entire Mac and show the list of all of the downloaded applications. You can then decide and select the unwanted applications and remove them in one click. This is a very useful feature of this application as it saves the time and efforts of users by uninstalling multiple applications at once. 
4. Clean your browser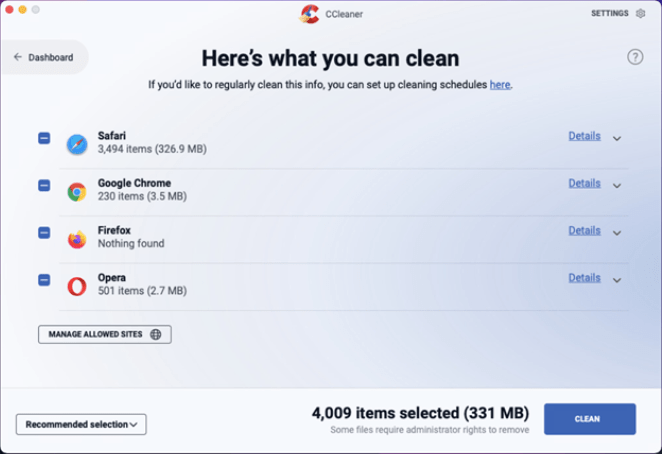 Removing all of the sensitive and private information from the browsing history is important. CCleaner for Mac provides you with this security measure to help you stay safe while surfing online. To reduce the chances of digital tracking and identity theft, it clears the web browser data for the users.
So, with this tool you can quickly remove all of the saved credentials such as email address and passwords on different websites. You can schedule the cleaning for every web browser individually on your Mac using CCleaner for Mac. 
5. Analyze Photos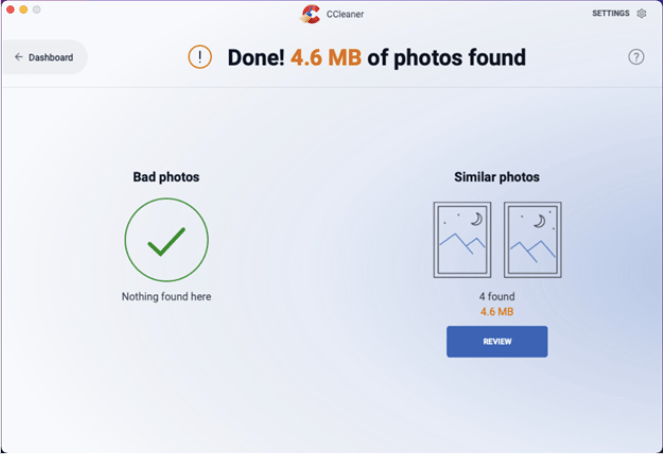 This is a useful addition to the tool, as we manually can not review all of the photos saved on Mac. But CCleaner for Mac does the job for you as it will find out all of the bad, blurry photos and clean them from your storage. This will help you organise the photos and save a ton of space. 
6. Alerts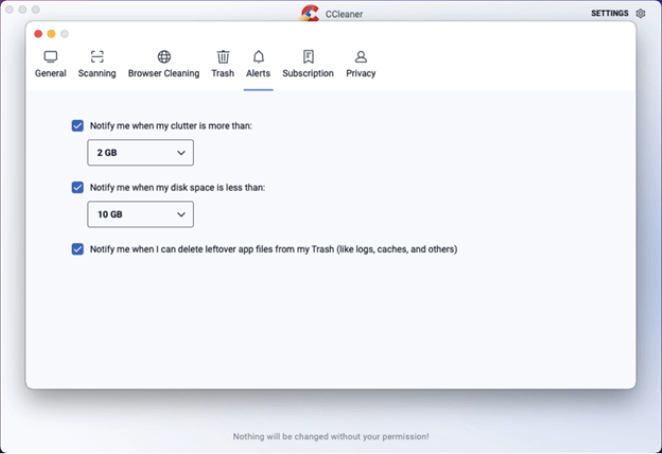 CCleaner for Mac allows you to set up a limit to remind you to clean the clutter. There are various options from which you can decide such as setting the specified amount of clutter, file size of disk space or the Trash files.
7. Secure Deletion
It is important to remove the confidential files safely and CCleaner delivers with the Secure Deletion tool. It makes it possible to overwrite the files multiple times before deleting them. This will help you make the private documents unretrievable and serves as a powerful addition to the cleaning application.  
8. Wipe free Space 
CCleaner for Mac harbours this very important feature which often goes unnoticed. To make the most use of the storage disk you need to make sure there is no wasted space. CCleaner for Mac can wipe out the free space and make it available to be used. 
Pricing –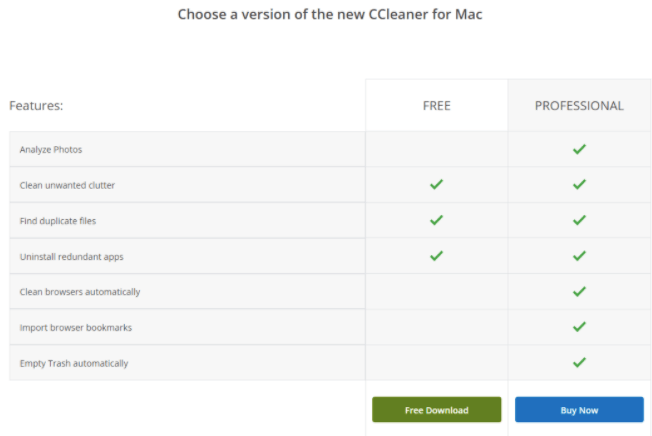 CCleaner for Mac comes in two forms – Free and Pro. You can get the CCleaner for Mac free version for basic cleaning and to investigate the tools.
CCleaner for Mac Pro version can be purchased at $29.95. It contains additional features such as cleaning browsing data automatically, importing bookmarks and emptying Trash automatically. 
How to Use CCleaner for Mac
CCleaner for Mac is a simple application which can be downloaded from its official website. Download and install it on your Mac and then launch the application.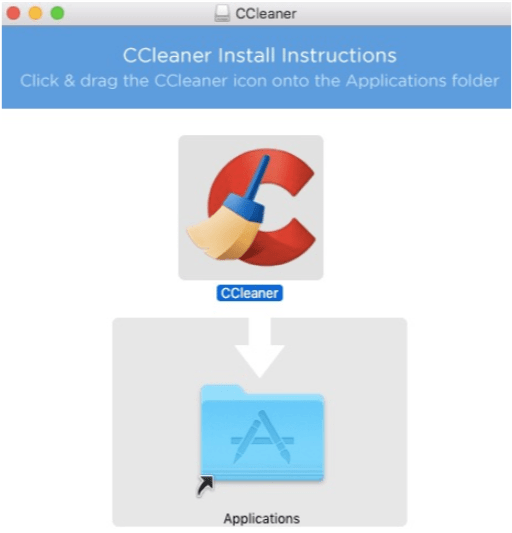 You will be required to drag CCleaner for Mac to the Applications. 
If you are using the free version you can run the scan and clean the clutter but its functions are limited. Therefore, we recommend purchasing the Pro version and getting it registered by entering the Licence key on the Upgrade to Pro option. 
Now, you can run any of the features to scan and detect the unwanted clutter present on your Mac. Run them and clean the unwanted files and applications to free up storage space and boost your Mac's performance.
Is CCleaner for Mac worth it?
Yes, where Mac's inbuilt tools fail to provide you with distinct features which are available in third party applications. CCleaner being one of the best Mac cleaning tools with useful features such as analysing pictures and removing blurry and bad ones and also deleting duplicates. Along with Secure deletion of files and wiping out free space and junk files & unwanted applications from your Mac.
CCleaner Pros & Cons
| | |
| --- | --- |
| Pros | Cons |
| Easy Navigation | No additional features |
| Real-time junk monitoring | No malware protection |
| Cleans multiple types of junk files | |
| Uninstalls applications | |
| Wipes free space | |
| Removes bad quality photos | |
| Protects against digital tracking | |
Frequently Asked Questions –
Q1. Is CCleaner any good for Mac?
Yes, CCleaner is a very good application for Mac if you are looking for an extensive cleanup. You can check out all of its features in the CCleaner review blog. 
Q2. Is CCleaner still trustworthy?
With the past security issues it can be hard for users to trust it again, but it has maintained an overall positive review for the Mac application. It regularly updates the software to keep a check on the bugs and vulnerabilities.
Q3. What is the most trusted Mac cleaner?
Most trusted Mac cleaners can vary for different users but the best applications other than CCleaner are MacBooster and CleanMyMac X.
Q4. Is CCleaner free for Mac?
Yes, there is a free version available as CCleaner for Mac free which has limited functionality. 
Q5. How do I use CCleaner on my Mac?
CCleaner is fairly easy to use as navigating the software is very simple. Just download it from the official website and complete the installation.
Click on the Analyze button which will run a scan and show you results with the junk files. Click on Run Cleaner to clear the selected items.
Conclusion
In the end, we would like to add that CCleaner for Mac is a powerful cleaning application. So, to answer the previous question – Is CCleaner worth it? Absolutely!! It is something which you can look forward to find out about the real-time junk and stop it from cluttering the storage disk.
Moreover, it comes with some of the surprisingly helpful modules such as Secure deletion, Wipe free space and Analyze your photos. In addition to that you can always protect your online privacy with CCleaner for Mac by clearing the web browser data efficiently. 
Also Read