One of the primary reasons for deteriorating Mac performance is always related to low space on disk. Over the period of time your Mac tends to acquire lots of duplicate files resulting in disk full and impacting the performance. To solve this issue you need to identify all the duplicate files and remove them manually, as painful as it sounds but is very important to declutter to improve your Mac's performance.
Or you can simply install a third-party application which does this for you by click of a button. Here we give you information on the fantastic duplicate finder for Mac in this Cisdem Duplicate Finder review.
What is Cisdem Duplicate Finder?
Cisdem Duplicate Finder is a third party duplicate file finder for mac which is designed to find and delete duplicate files quickly and efficiently on Mac. It lets you reclaim more space on your Mac by identifying and removing all the duplicate files which are identical even if the name, size and file type isn't the same.
Due to its efficient algorithm, the utility can accurately find true duplicates and display the results in an easy to read report. It supports 200+ file formats for photos, videos, music, documents, archives and other files. 
Is Cisdem Duplicate Finder safe for Mac ? If you have this question then know that Cisdem Duplicate Finder can be downloaded from its official website as well as Mac App Store. It offers a free trial for those who prefer trying out the product before making a decision and putting in money.
The annual subscription of the duplicate cleaner is available at $19.99 whereas the lifetime subscription is available at $29.99. 
Cisdem Duplicate Finder Review
Technical Specifications –
| | |
| --- | --- |
| Vendor | Cisdem Inc. |
| Current Version | 5.10.0 |
| Compatibility | macOS 10.10 or later |
| Download link | Click Here |
| Free Trial | Yes |
| Price | $29.99 |
| File Size | 2.5 MB |
| Technical support | Via email |
Cisdem Duplicate Finder Features –
Find and remove exact duplicates –

With its powerful scanning ability it finds duplicate files considering the content, and not just by file name, size or date created.. 
Control where and what –

WIth its configurable scanning options, select where to look for duplicates and what type of files needs to be scanned.
Fast scan –

You can set up a fast scan on this app to find a defined file type quickly. 
Setup ignore list –

To avoid errors and unexpected behaviour from your Mac, you can set up an ignore list. While scanning for duplicates to avoid certain files and/or folders are entered in the list. 
Most file types supported –

With this app, it's easy to detect duplicate music, images, documents, videos, archives etc to remove and regain more space on your Mac.
Supports external HD –

It supports external hard drives as well network drives to scan and detect duplicate files. 
Supports iPhoto and iTunes App –

It helps you find duplicate photos and music on your Mac's Photos (iPhotos) app and Music (iTunes) app to declutter the dupes for pictures and audio. 
Scans similar images –

You can scan and detect almost similar images with little differences. It helps you keep the best version of the similar images to save space.
Groups results in categories –

It can also display the results in different categories for different files so

you can view the scanned results in individual categories and remove them specifically.
Simple 3 steps –

All it takes is 3 simple steps – Scan, Report and Delete to get rid of all the duplicate files from your Mac. 
How to Use Cisdem Duplicate Finder
Step 1 : Download and Install – 
You can easily download Cisdem Duplicate Finder from its

official website

for free. 

The downloaded file can be found in downloads folders. Double-click on the installation dmg file.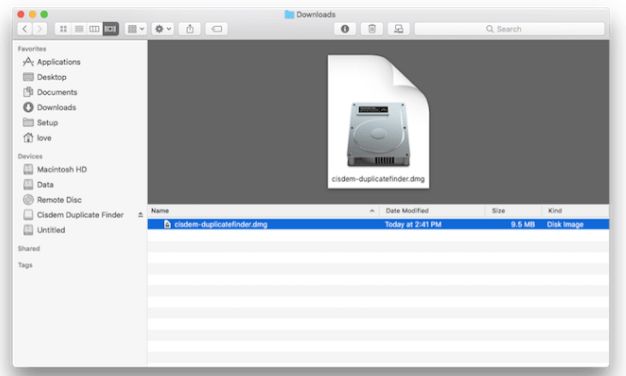 The installation window for Cisdem Duplicate Finder will be opened. Simply drag the App Icon to the Applications folder on the window.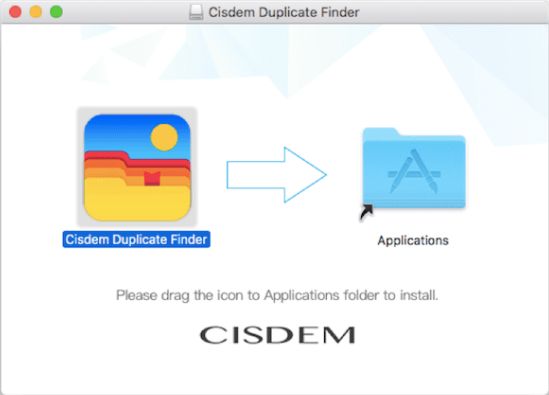 The Cisdem Duplicate Finder application would be installed on your Mac once the installation window is done.
Step 2 : Launch and Scan – 
Once the application is launched, simply drag-n-drop all folders you wish to scan on the main window. Or you can add folders by Clicking on the Add button at the left side of the centre circle, then browse and select all the folders you wish to scan.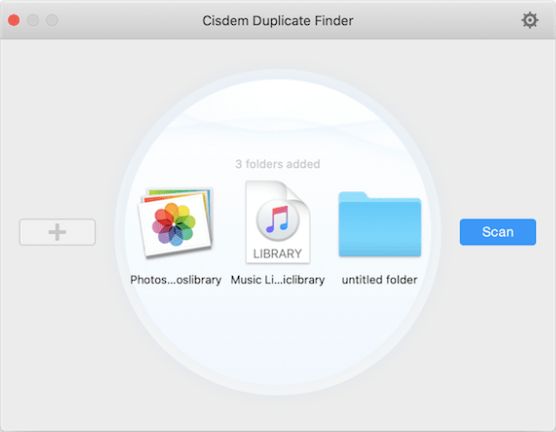 Click on the 'Scan' button at the right of the Centre circle to start scanning the selected folders. You can see all the scanned status at the centre while scanning is in progress.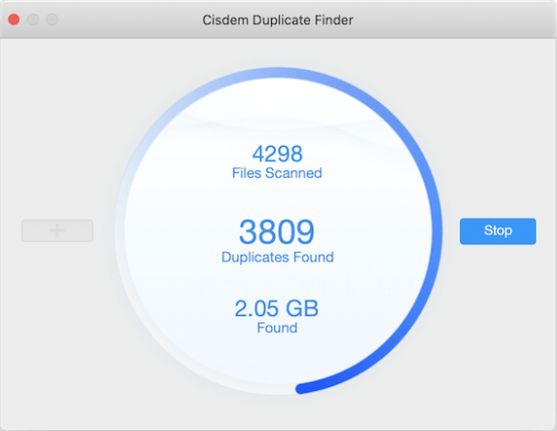 Wait till the scan is completed to display the result in an easy to read graphical representation.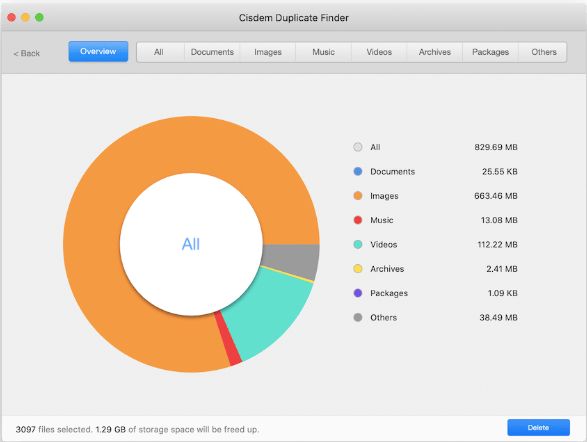 You can auto delete the duplicates without reviewing but Clicking on 'Delete' Button at the bottom right corner on the report window. 
Step 3 : Review and Delete – 
Cisdem Duplicate Finder allows you to review the scanned result to select the files you would like to delete and keep the ones you want. 
Click on the 'All' tab at the top to view all the duplicate files scanned. 
You can also select the file types like 'Documents', 'Images', 'Music','Videos','Archives','Packages' and others tab from top to view the individual category of duplicate files scanned.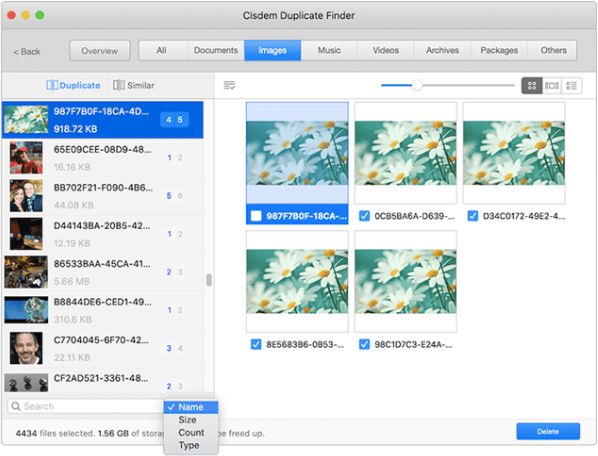 You can also filter out similar images through a smart detection algorithm. Click on 'Similar' tab on the top sidebar of the result window.
After you are done with reviewing and selecting all the duplicate files you want to delete and regain space on your Mac. Click on the 'Delete' button at the bottom right corner of the result window to remove all duplicates.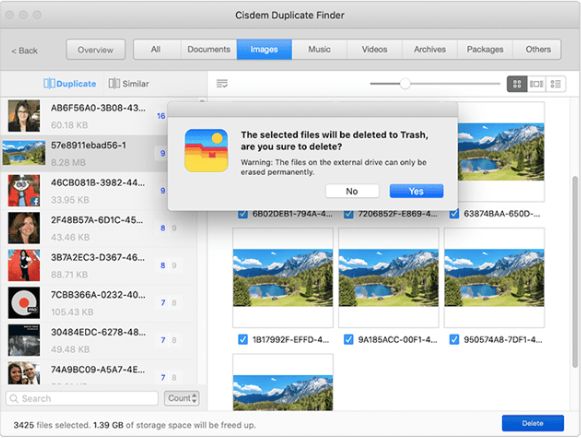 It will prompt you to confirm to move all the duplicates to Trash, Click on 'Yes'.
Step 4 : Customise Cisdem Duplicate Finder App – 
You can customise the Cisdem Duplicate Finder App for your preferences and better experience.

At the top left corner of the menu bar on your Mac, Click on the Cisdem Duplicate Finder, Select 'Preferences' from the dropdown menu or Click on Setting button at the top right corner of Cisdem Duplicate Finder App main window.
On the General Settings tab you can set the app for fast and accurate scanning.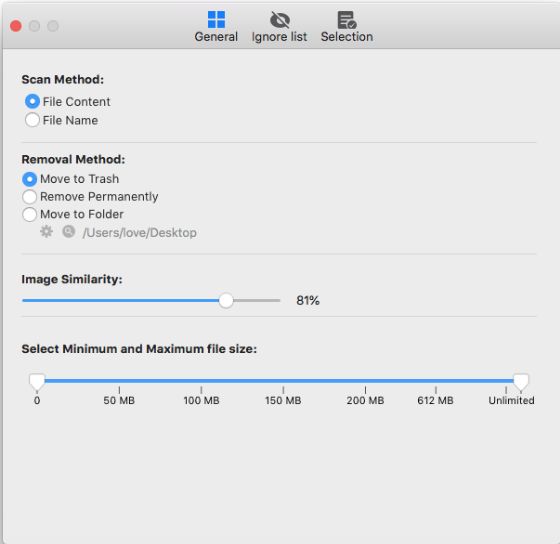 On the Ignore list tab you can create all the list of folders and files to be ignored while scanning. 
On the Selection tab you can create auto select rules to delete duplicate and similar files.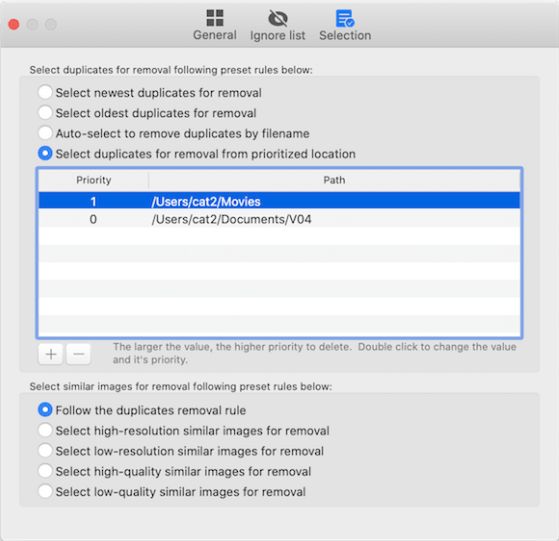 Pros & Cons – 
| | |
| --- | --- |
| Pros  | Cons |
| Finds all types of duplicate photos and files. | Limited features for free version. |
| Supports both internal and external storage | Learning curve for beginners with customised scans |
| Simple, easy and intuitive interface. | |
| Can scan large photo collections for duplicates | |
| Customise to scan single or multiple folders, photo libraries, drives at the same time. | |
| Easy preview feature to select duplicate files to remove. | |
| Supports macOS Photos, iPhoto, iTunes and Music. | |
| Cross platform compatible with both Mac and windows. | |
| Supports both intel and M1 devices | |
| Technical support via extensive help guide and email. | |
Frequently Asked Questions –
Q1. Is Cisdem Duplicate Finder Safe for Mac?
Is Cisdem Duplicate Finder safe – Yes, Cisdem Duplicate Finder for Mac is notarized by Apple and safe to use.
Q2. Is Cisdem good?
Yes Cisdem is a popular company which basically designed apps for Mac OS.
Q3. How much does Cisdem duplicate finder cost?
Cisdem Duplicate Finder provides two versions, one is a free version with feature limitations and a one time paid full feature version for $29.99. 
Q4. Is Cisdem safe to download?
Yes, all products from Cisdem are safe to download and use. All the products are notarized and approved by concerned authorities to be deemed safe and secure. 
Q5. What is the best Duplicate File Finder for Mac?
The best duplicate file finder for Mac might vary with users and their purposes. The level of usage and the frequency of cleaning the duplicate files for Mac are the main factors. The question – Is Cisdem Duplicate Finder worth it – Yes, it is a great tool with multiple features.
Conclusion
There are many third-party duplicate file finders available for Mac which can do a good job of detecting duplicates and removing them. But we recommend trying out Cisdem Duplicate Finder once as it comes with a free trial. As listed out in the Cisdem Duplicate Finder review.
It has proven to be more efficient in finding all file types of duplicates on your Mac and displaying the result in an easy to understand report for you to delete them. 
Also Read