CleanMyMac X is a Mac utility tool to optimise your Mac with a number of features. But some people are not happy with it for many reasons such as it requires high resources and is a bit expensive. So, if you are looking for CleanMyMac alternatives, this blog will help you find them.
There are multiple options for Mac to be used as the application to clean and boost its performance. The price of Cleanmymac is quite high thats why people are looking for best CleanMyMac alternatives in this list below –
Top 10+ CleanMyMac Alternatives
1. Macbooster 8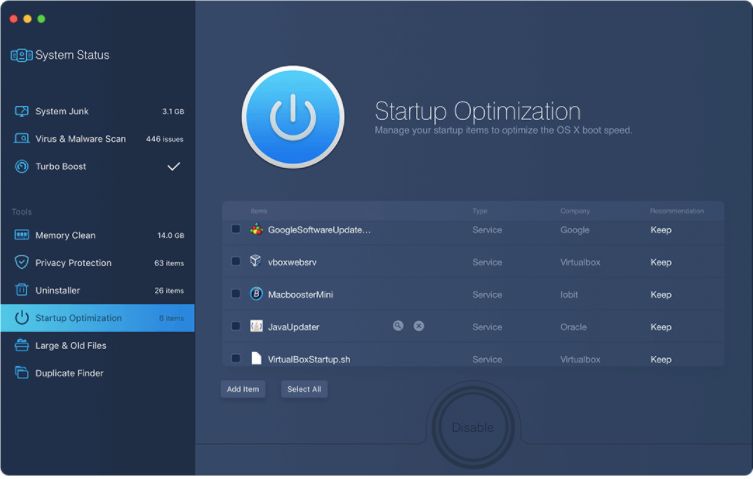 Macbooster 8 is one of the best CleanMyMac X Alternatives as it can clean and optimize your Mac. It can turbo boost to completely scan the Mac and remove the unwanted clutter to improve its performance.
The System Junk cleaner will remove 20 types of junk from Mac. It also comes with additional Duplicate Finder, Uninstaller, Large & Old files remover tools.
Features
Advanced security features.

Privacy Protection tools.

Protects from malware.
2. CCleaner Mac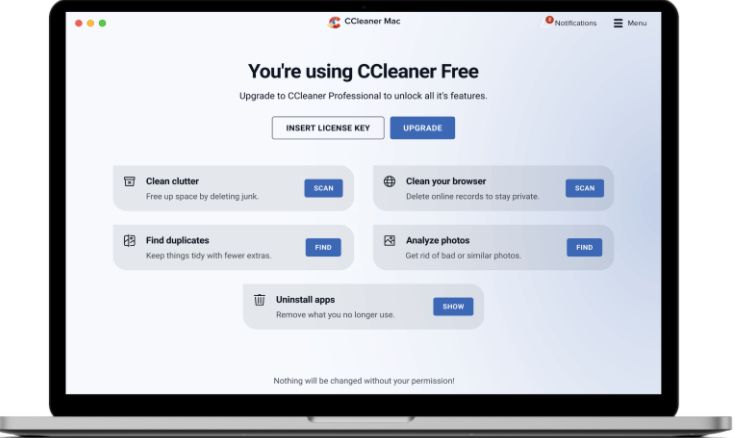 CCleaner Mac is another of the best CleanMyMac X alternatives as it uses powerful tools to clean the Mac and optimise it. It can clean clutter on the internal storage with multiple cleaning tools.
It can clean the data saved on a web browser for mac to provide privacy protection. This tool thoroughly analyses the photos to remove the similar and duplicate quality images and make space in the storage disk.
Features
Uninstalls applications.

Finds & deletes duplicate files. 

Removes online records to keep you safe.
3. Onyx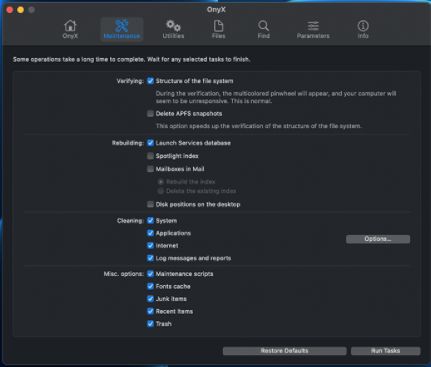 Onyx is a complete optimisation package for Mac which works as one of the best CleanMyMac alternatives. It runs the basic maintenance tools on Mac to clean the disk storage.
This freeware is available for identifying the problems with the files, folders and removing them. Removes cache and Trash files instantly to make space in disk. 
Features
Different applications for each operating system.

Enable/Disable parameters for Apple applications.

Rebuilds database & indexes.
4. DaisyDisk
DaisyDisk is another best CleanMyMac X alternative for the visual interactive map it shows the user. This tool also gives you an overview of the connected flash disks, Macintosh HD, Thunderbolt, network storage etc.
It will scan Mac and show you the preview of the files with the QuickLook. It also supports Google Drive, Dropbox and iCloud. 
Features
Works with M1 chips.

Affordable option with a free trial.

Fast scanning.
5. MacCleaner Pro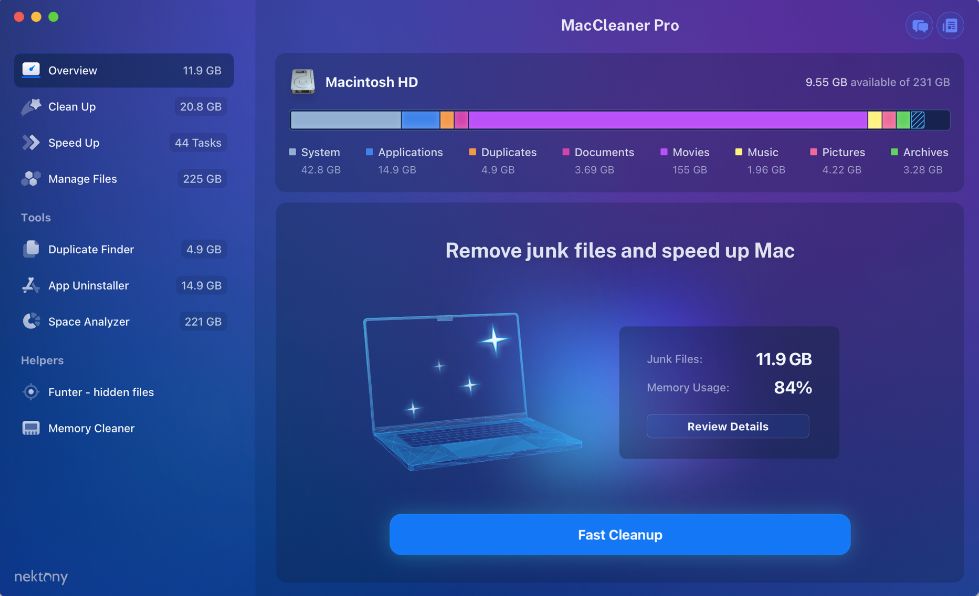 MacCleaner Pro is equipped with multiple Mac cleaning and optimising tools. It is one of the free CleanMyMac alternative. This tool is developed by the Nektony.
You can rely on its features to boost the performance of the Mac, analyse the disk space, and remove unwanted junk. Additionally remove or disable the browser extensions on Mac.
Features
Disk analyzer.

Finds & removes duplicates.

Uninstall unwanted applications.
6. AVG TuneUp for Mac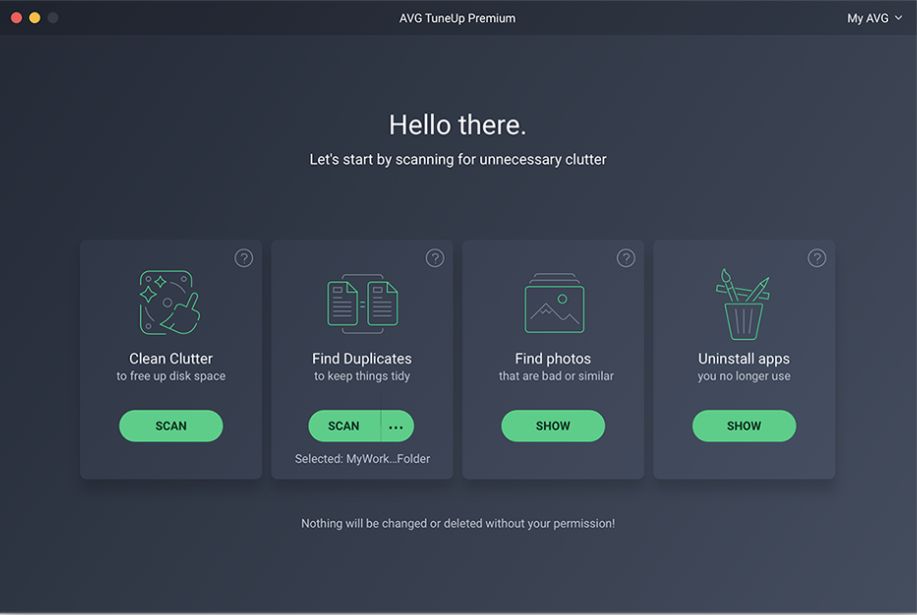 AVG TuneUp for Mac is another mac cleaning and optimization software to speed up your mac functioning. This mac cleaning tool can easily free up storage space by removing junk, cache, temporary and duplicate files & logs.
It also declutters you Photo Library by identifying and removing the blurry pictures. 
Features
Erase the duplicate files.

Free up storage space.

Removes hidden clutter. 
7. MacKeeper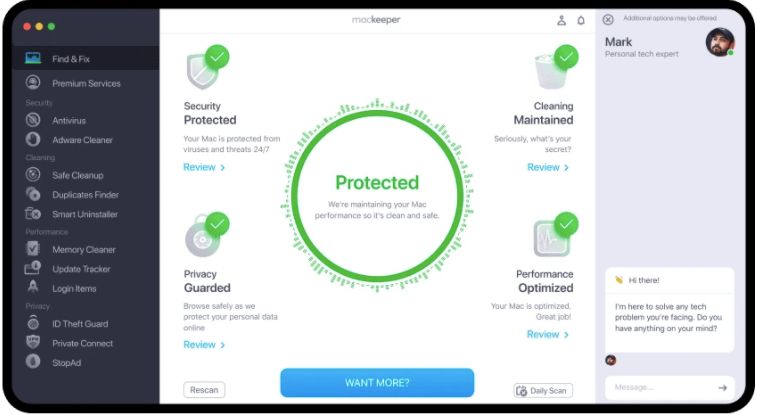 MacKeeper is an all in one solution for Mac optimisation and can be a good CleanMyMac alternative. This will remove system junk, internet junk, cleans  memory, uninstalls unwanted applications with app leftover files.
In the Privacy front it has quite a few tricks up its sleeves with the ID theft and Private Connect tools. 
Features
Privacy Protection tools.

Duplicates Finder & Remover.

App management tools.
8. Stellar Speedup Mac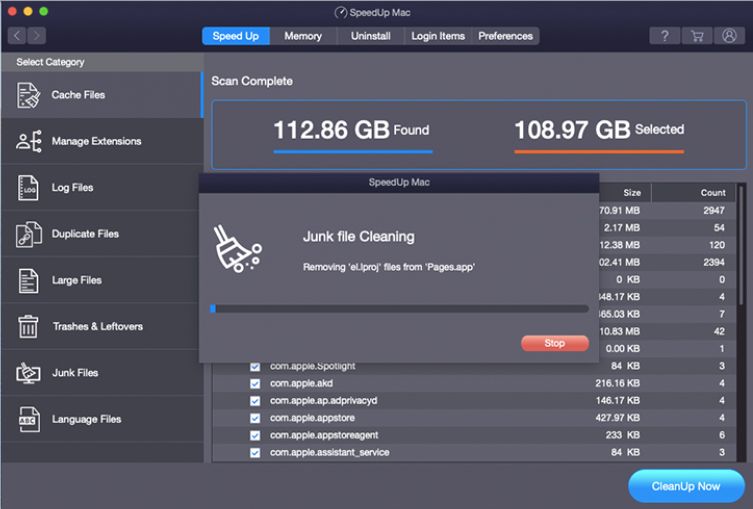 Stellar Speedup Mac can be used as the CleanMyMac alternative for Mac optimisation. It can be used to erase duplicates, junk, cache, log files and unwanted large files.
You can manage the extensions and login items with it to boost the performance on Mac. The Trash & leftovers can also be removed using it. 
Features
Supports external drives.

Uninstalls unwanted applications.

Manage Login Items.
9. MacFly Pro 
MacFly Pro is the smart assistant for your Mac which can easily clean the system junk and declutter the space to optimise Mac. This CleanMyMac alternative is good for use as it can remove the files, applications, extensions etc.
It provides you with a Shredder, Privacy tools to keep your confidential data safe.
Features
Shredder to delta files permanently.

Clear web browser history.

Intuitive interface. 
10. Drive Genius v6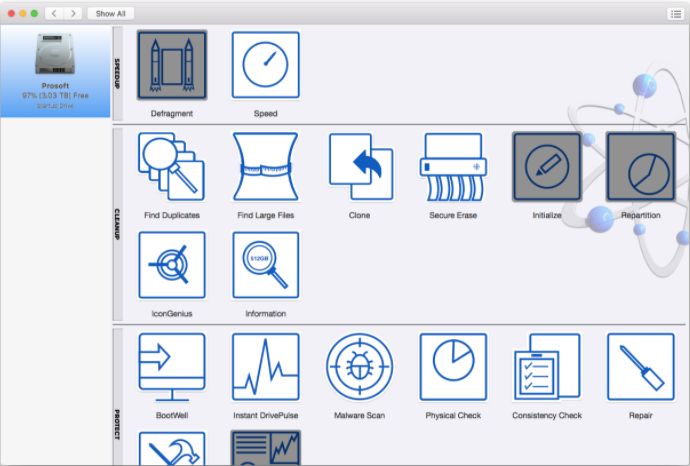 Drive Genius v6 is last on our list of CleanMyMac alternatives but it has a lot of potential. It comes with multiple cleaning, speedup tools along with the protection modules.
You can clean up the duplicates, large files, etc.
Features
Secure Erase to remove files.

Clone Files.

Instant DrivePulse.
11. Sensei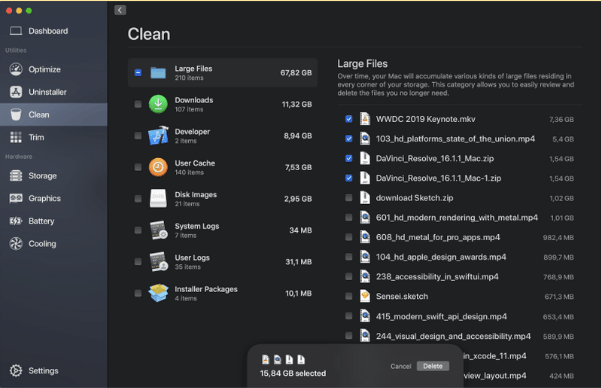 Although Sensei is a relatively new Mac performance tool, it can be used as the CleanMyMac free alternative. Due to its incredible advanced features with highly intuitive user interface makes it one of the best options for your Mac.
It can monitor all aspects of a Mac system such as system performance, realtime engine statistics, storage health and battery information.
Features
Comprehensive and advanced user interface.

Shows easy to read complete Mac statistics. 

All hardware and battery optimisation. 
12. Avast Cleanup Premium for Mac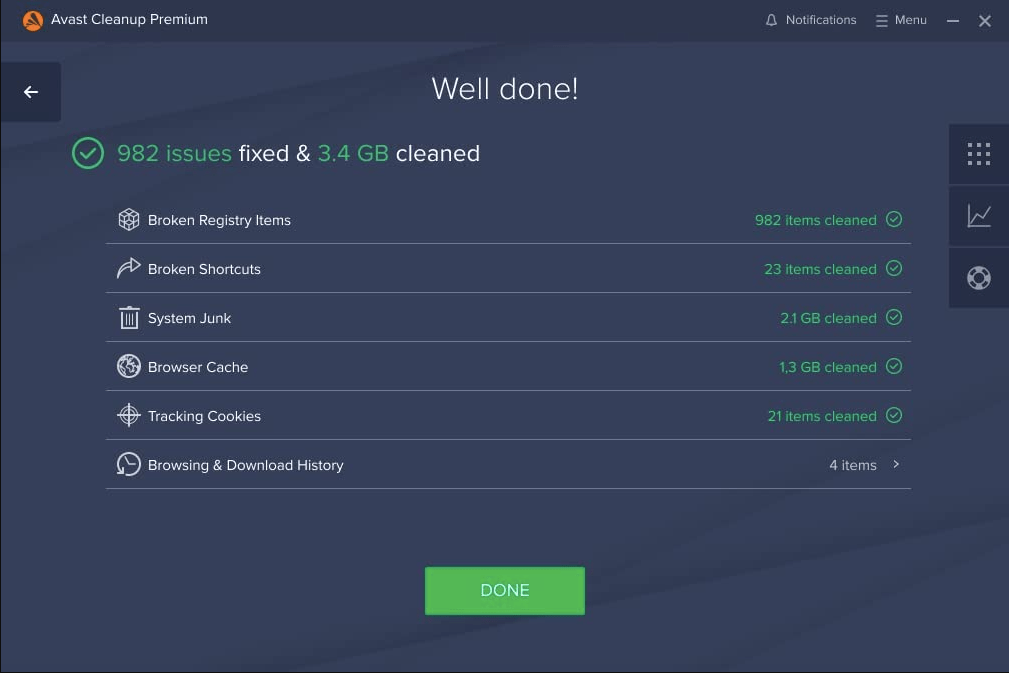 Avast Cleanup Premium is a cleaning utility to boost up Mac system performance, hence an excellent CleanMyMac X alternative for Mac. With this you can clean junk files, optimise performance, remove wasteful apps and declutter disk space easily with just a click of a button.
Avast keeps monitoring the Mac System performance and constantly improves it to be at its best all time.
Features 
Complete system cleanup solution.
Highly reliable tool.
Remove hidden files as well.
Frequently Asked Questions –
Q1. Is there a free alternative to CleanMyMac?
Yes, there are a few free alternatives available to CleanMyMac and others you can try for free on the trial period. We recommend CCleaner as the best option for Mac optimisation tools.
Q2. What is the most trusted Mac cleaner?
Macbooster 8 is top among the CleanMyMac alternatives as it comes with a number of useful features. It has an accurate scan results rate and has earned a trusted name over past years.
Q3. What is the best free Mac cleaner?
CCleaner Mac is one of the free alternatives to CleanMyMac to scan your Mac. It will find the programs you do not need anymore and also look for junk stacking up on the storage disk.
Q4. Which is better: CleanMyMac or MacKeeper?
MacKeeper and CleanMyMac both work as the Mac cleaning and optimising tools. But MacKeeper focuses more on the security features and can be said to lead in that matter. 
Q5. Does Apple recommend CleanMyMac?
Apple does not recommend use of any third party applications to optimise Mac. CleanMyMac and its alternatives are utility tools for Mac which help in cleaning storage, memory optimisation and protecting users from malicious elements.
Q6. What company owns MacKeeper?
MacKeeper is owned by Clario Tech which is distributing the software for Mac optimisation.
Conclusion
Exploring CleanMyMac alternatives is a wise decision for Mac users looking to maintain and optimize their systems. The reviewed alternatives, such as AppCleaner, DaisyDisk, OnyX, and CCleaner, offer diverse features and functionalities to address various aspects of Mac maintenance. Whether you're focused on cleaning up disk space, managing applications, or fine-tuning system performance, these alternatives provide valuable options to suit your specific needs.
Also Read