In the race of Mac optimization, CleanMyMac and CCleaner stand out as two prominent players, each vying to enhance the performance and efficiency of macOS devices. This comparative analysis delves into the features, functionalities, and user experiences offered by CleanMyMac and CCleaner.
Whether you're a macOS enthusiast looking to streamline your system or a user seeking effective cleaning and maintenance tools, the following exploration will provide insights into how these utilities measure up against each other. Join us as we navigate the landscape of Mac optimization software to discern the strengths and nuances of CleanMyMac and CCleaner.
CleanMyMac Vs CCleaner
Find out the major differences in the key features offered by both of the Mac cleaners in the following table. This will help you make a conclusion about which is the useful application for when comparing CleanMyMac Vs CCleaner.
| | | |
| --- | --- | --- |
| Features | CleanMyMac X | CCleaner for Mac |
| Junk cleaner | Yes | Yes |
| System cache  | Yes | Yes |
| Temporary files  | Yes | Yes |
| Large & Old files | Yes | Yes |
| Broken downloads | Yes | – |
| Unused localization files | Yes | Yes |
| Trash Files | Yes | Yes |
| User cache | Yes | Yes |
| Log files | Yes | Yes |
| Mail Attachments | Yes | – |
| Duplicate files | Yes | Yes |
| Shredder | Yes | – |
| Uninstaller | Yes | Yes |
| Application Cache | Yes | Yes |
| Browser cache | Yes | Yes |
| Similar Photos | – | Yes |
| Blurred Photos | – | Yes |
| Software updater | Yes | – |
| Browser Extensions | Yes | – |
| Malware protection | Yes | – |
| Manage Login Items | Yes | Yes |
| Wipes Free Space | – | Yes |
Basic Introduction to CleanMyMac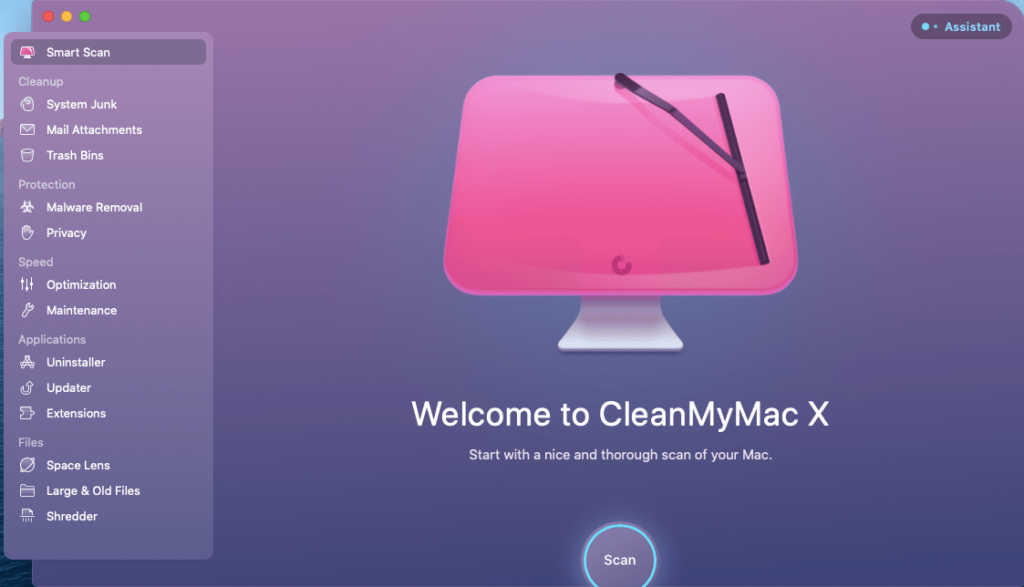 CleanMyMac X is a great Mac cleaning application which serves for optimising your Mac. It comes equipped with a lot of tools which can efficiently clean, optimise and protect your Mac. You can find the System Cleaner tool which will serve as a cleaning utility for your system.
It includes the junk cleaning with temporary files, logs, user and system cache, language files, unused localised files, duplicate files, redundant files, mail attachments, trash files and old and large files. The Application Uninstaller helps in cleaning the unwanted applications along with all of its associated files.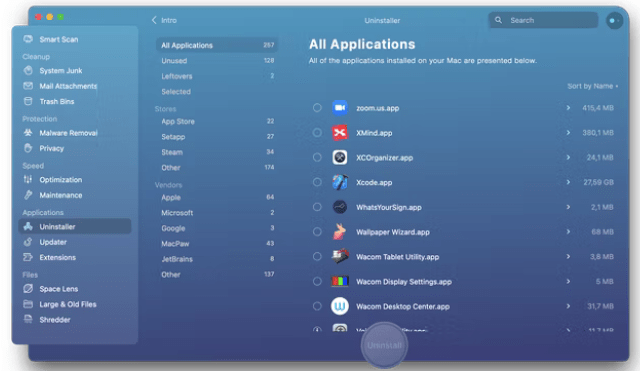 Along with that it will also help you Free up RAM with the powerful tool which will clean up the memory on your Mac. It can also stop the unwanted processes and applications to run in the background thus hogging the memory.
The Startup Manager will help you manage the Login Items and Launch Agents to optimise the boot time for Mac. It can also help you download the latest updates for the software present on your Mac.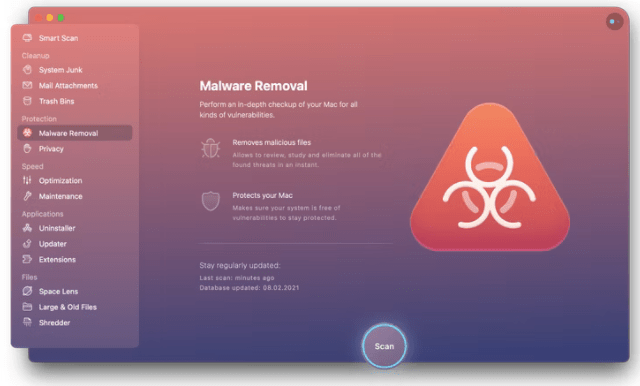 Malware protection comes with lots of tools to help you scan for any hidden virus, malware. It also helps in clearing the browser cache and cookies along with the history. This will keep you safe online as digital trackers keep looking for the search results and personal credentials saved on the web browsers. It will also help you manage the browser extensions to keep you safe from unwanted identity theft. 
In addition to that it also includes the Shredder which makes it possible to delete the files permanently and making them unretrievable. 
Read Detailed Review – Is Cleanmymac X Worth It
Basic Introduction to CCleaner for Mac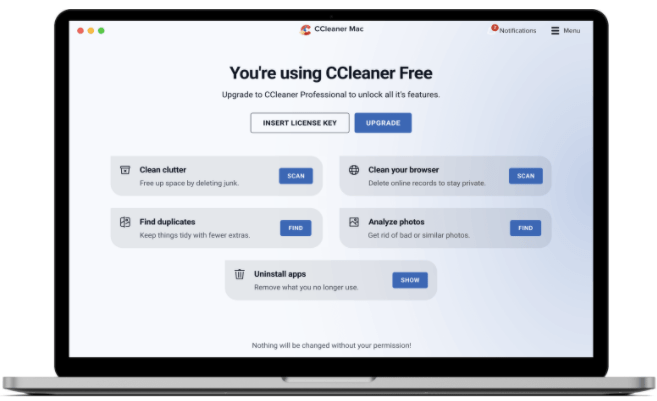 CCleaner for Mac is a simple application which is user friendly and serves as a Mac cleaner and optimizer. It is one of the most popular applications for Mac to help you get rid of the junk and clean up storage. It will help you optimise your along with improving its performance quickly. The tools incorporated on CCleaner for Mac will make sure you can speed up your Mac.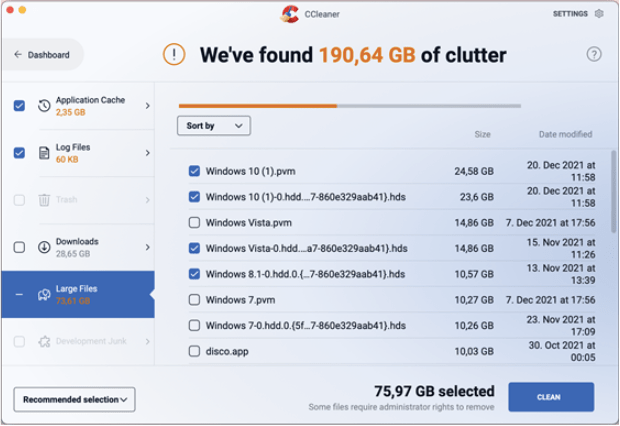 The cleaning tools can easily scan your Mac and find all of the junk files. Temporary files, system cache and user cache along with the unused log files, crash reports, find duplicate files , trash files, large files and unused and old downloads can be cleared using the CCleaner for Mac.
It can also help you remove the unwanted applications which will help you clear space on the storage disk.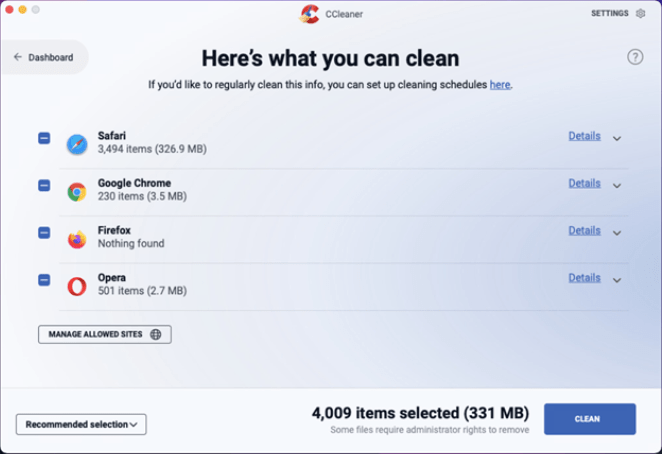 It also provides you with the necessary online safety by giving the option to clear the browser data. This tool lets you set a schedule cleaning to run automatically to clean the web browser data to keep your browsing history from being used by wrong hands. You can also Whitelist a few websites from the Manage Allowed Sites option.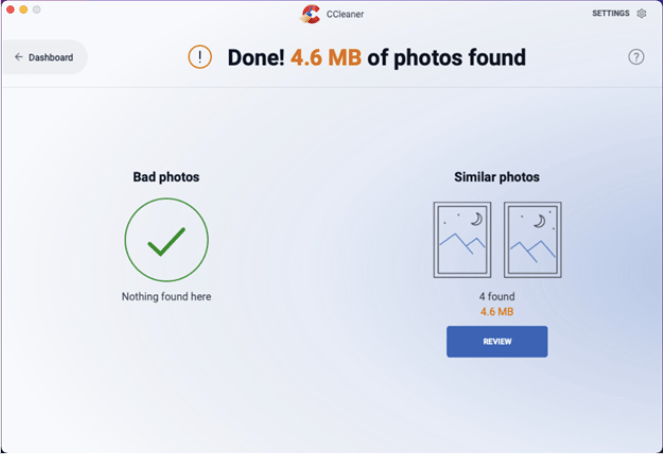 Additionally, to help you optimise Mac, it can manage the photos on your Mac. It will scan for all the blurry and bad photos which are not useful along with the similar pictures. Run the Analyse Photos to find all of the Bad photos and Similar photos on your Mac. Review and then clean them in simple steps and save maximum space.
CCleaner for Mac also includes the Secure Delete option where you can delete the private documents safely. It will overwrite the documents multiple times before deleting them which makes it unretrievable. The Mac Cleaning tool also includes a special feature called Wipe free space. This will help in wiping free space in the storage disk to make it available for usage.
Read Detailed Review – CCleaner for Mac Review
Technical Specifications
The CleanMyMac Vs CCleaner can be compared with these specifications –
| | | |
| --- | --- | --- |
| Product Info | CleanMyMac X | CCleaner for Mac |
| Logo | | |
| Vendor | MacPaw | Piriform |
| Download link  | Get It Here | Get It Here |
| Price | $34.99 | $29.95 |
| Free Trial | Yes | Yes |
| File Size | 119.3 MB | 38.4 MB |
| macOS Compatibility  | macOS 10.13 and higher | macOS 10.12 and higher |
Pricing details for CleanMyMac VS CCleaner
When discussing the CleanMyMac VS CCleaner,it is important to take a look at their pricing modules. CleanMyMac X and CCleaner both are available to be downloaded without any registration. Also, both of them offer free trials with the limited functionality for Mac.
While CleanMyMac X is available at $34.99 on the yearly subscription, CCleaner can be purchased at $29.95 per year plan.
Frequently Asked Questions
Q1. Does Apple recommend CCleaner?
Apple does not recommend any third party tools to clean your Mac. However, now Apple notarised a number of applications to identify them as malware-free and safe to install. But CCleaner does not fall into the listed applications.
Q2. Is CCleaner worth it for Mac?
CCleaner is a worthy Mac optimizer and can clean the junk files efficiently. It has a powerful scan engine to detect all the system, user logs and junk files. You can free up a lot of storage space using this tool on your Mac.
Q3. Which is the best cleaning app for Mac?
CleanMyMac has to be the best cleaning app for Mac as it comes with the most number of inbuilt tools for cleaning and optimising your Mac. It also provides you with protection from malware and online trackers. 
Q4. Is it okay to frequently Clean Mac using CleanMyMac?
There is no set rule for how often you run a Mac cleaning application. It is good practice to run a scan on a regular basis to detect the issues. Using CleanMyMac to clean Mac is not at all a problem and it will help you fix the security and clutter related issues.  
Conclusion On CleanMyMac Vs CCleaner
In conclusion, the comparison between CleanMyMac and CCleaner reveals two robust tools with distinct features catering to macOS optimization. CleanMyMac impresses with its user-friendly interface, comprehensive cleaning capabilities, and additional utilities like Malware Removal.
On the other hand, CCleaner, known for its cross-platform presence, offers a solid set of cleaning tools but lacks some of the specialized features found in CleanMyMac. The choice between them ultimately depends on individual preferences and specific optimization needs. Whether it's CleanMyMac's all-in-one approach or CCleaner's simplicity and cross-platform compatibility, users can confidently select the tool aligning with their priorities for maintaining a clean and efficient Mac environment.
Also Read