CleanMyMac X is a comprehensive and popular Mac optimization and cleaning software designed to enhance the performance and efficiency of your Apple computer. With a user-friendly interface, it provides a wide range of features for decluttering your system, removing unnecessary files, and ensuring your Mac runs smoothly.
This review will explore the capabilities of CleanMyMac X, including junk file removal, malware protection, and privacy enhancement, to help you decide whether it's the right choice for your Mac maintenance needs. Whether you're a novice or a tech-savvy user, this software offers a convenient solution for keeping your Mac in peak condition.
In this CleanMyMac X review blog, we will introduce you with all of the details of CleanMyMac X and help you understand its functions. 
CleanMyMac X Review
For the CleanMyMac X review, it is important to understand what it does. So, take a look at its features which talk about the functionality of this Mac cleaning and optimising application.
1. Cleanup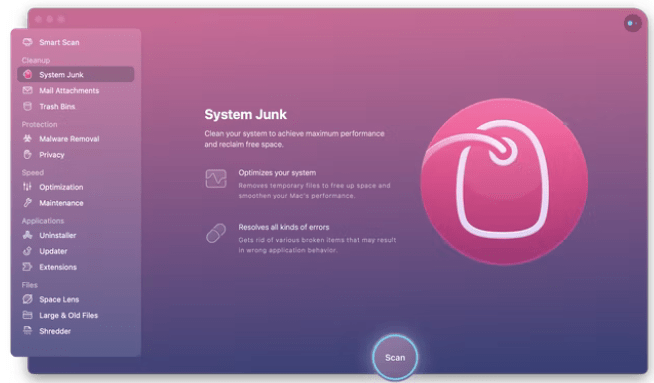 CleanMyMac X  has the first module named as Cleanup and under this section you will find System Junk, Mail Attachments and Trash Bins. Basically it can clean up types of junk from your Mac which includes – system cache files, temporary files, user cache and log files, broken downloads, useless localization files and other junk files.
You can also use it to remove the unwanted and old downloads from the Mail app. It will also clear the Trash Bins for various apps on Mac to free up storage space quickly.
2. Protection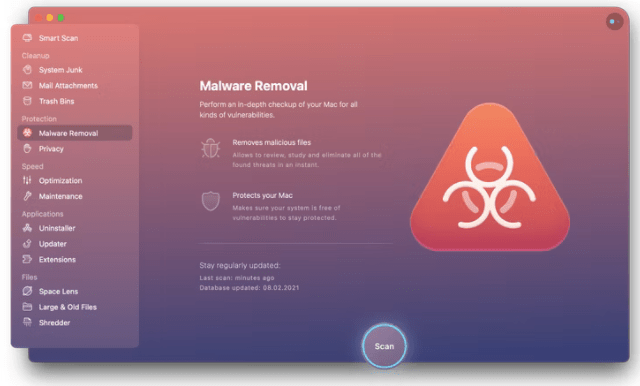 Under this section, you will get the answer for 'is CleanMyMac X safe' or not. It consists of two modules – Malware Removal and Privacy which will remove malicious files and clears sensitive information from your Mac.
It basically helps your Mac steer clear of the chances of getting attacked by malware by scanning the files and folders. You can also clean the browser data and save yourself from digital trackers and phishing attacks. 
3. Speed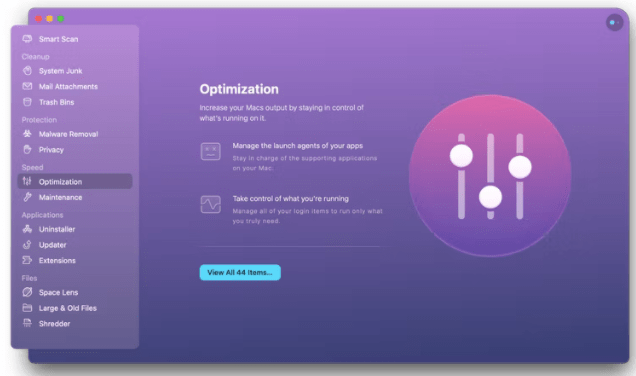 CleanMyMac X review has to include the most important factor – its speedup tools. It includes Optimization and Maintenance modules which will help you increase the speed of your Mac. The optimisation manages the launch items and removes the unwanted ones to reduce the boot time.
4. Applications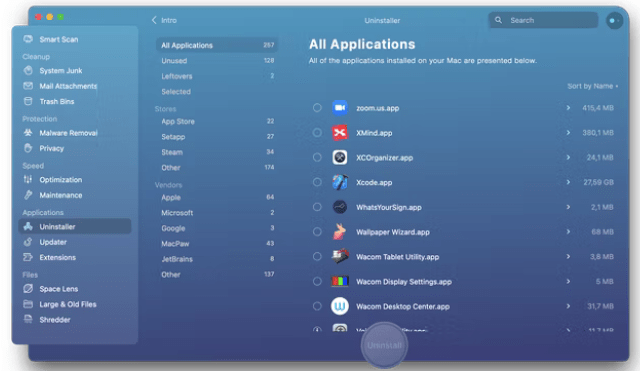 This section works in the direction of Application Management in order to filter out the unwanted and corrupted applications. You can quickly uninstall unnecessary applications along with all of its associated files. With the Updater module you can easily update all your applications and reduce the chances of errors.
You can also manage all of the extensions using the tool as it can display the list making it easy.
5. Files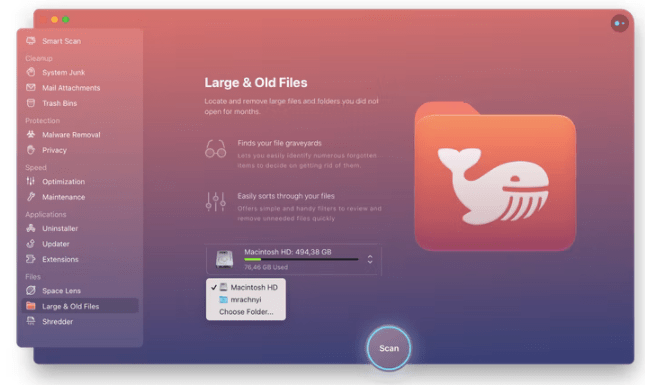 To manage the files on your Mac, go to this section on CleanMyMac X. It will scan and detect the Large & old files which can instantly free up storage space.
You can also use the Shredder tool to delete the confidential files permanently from your Mac making it impossible to recover. Space Lens is also a useful tool which maps out the details of the storage disk.
CleanMyMac X Technical Specifications – 
Vendor – MacPaw Inc. 
Current Version – 4.14.4
Compatibility – macOS 10.13 and higher
Download link – Click here
Price – Free and offers in app purchase for yearly subscription of $34.99
Language Support – English, Dutch, French, German, Italian, Japanese, Korean, Polish, Portuguese, Russian, Simplified Chinese, Spanish, Ukrainian
File Size – 119.3 MB
How to use CleanMyMac X?
CleanMyMac X comes as an easy to use application for Mac. It can be downloaded from the official website as well as the Mac App Store. It has a very intuitive interface and navigation is very easy as all of the tools can be found on the home screen. Run the application and get the results in one click with the  Smart Scan Module.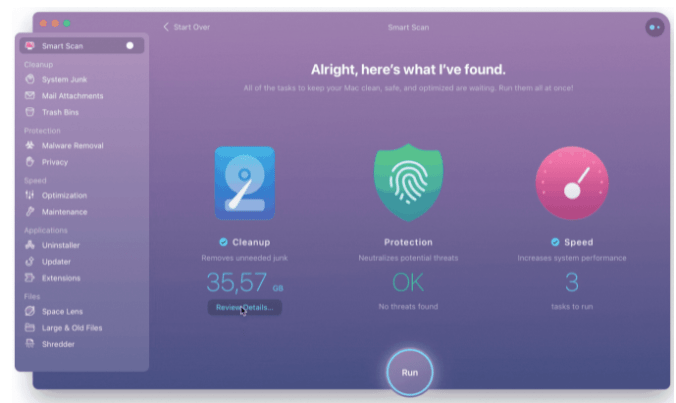 The scan will take time to detect all the junk and unwanted items on Mac. Once it's complete it will show you the results and you can fix them after reviewing the details under each section. This will optimise your Mac quickly by fixing all of the bad sectors on your storage disk.
CleanMyMac X Pricing & Support
CleanMyMac X comes with flexible plans for its Mac users. You can download the application for free and later purchase it. The yearly subscription plan costs you $34.99 and the CleanMyMac X one time purchase comes at the price of $89.99.
The plus point is that it provides the customers with a 30 days money back guarantee in case it fails to impress you. You can avail the discount with the running offers that can be found on the official websites and get coupon codes on your registered email address.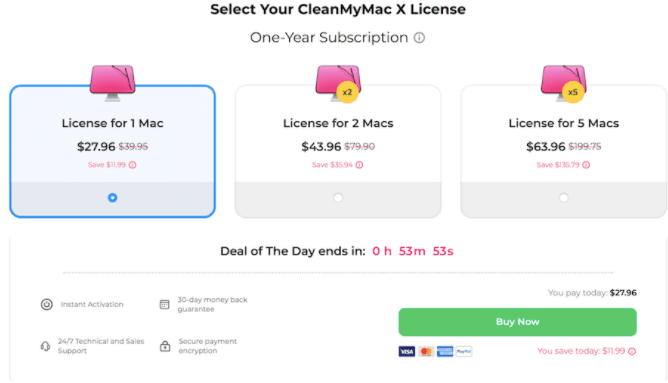 In terms of support, CleanMyMac gives you 24 X 7 technical support to help the users. You can also read the user guides for the tool and knowledge based articles to improve your knowledge on the Mac related topics.
It is regularly updated to fix the bugs and add new features and gives you timely notifications for the improvements.
CleanMyMac Pros & Cons 
| | |
| --- | --- |
| Pros | Cons |
| Easy to use | Limited features in free trial |
| Free trial available | No protection against malicious links |
| Malware & Privacy Protection | |
| Application & Login item management | |
| Boosts performance | |
| Includes Shredder | |
| One click solution | |
| Detects multiple types of junk | |
CleanMyMac X Free Vs Paid 
The CleanMyMac X Free version is a rather one time solution for those who are not looking forward to using it again. OR for the ones who would like to get their hands on a trial version before making a decision to purchase it. The major difference between CleanMyMac X free version and paid version is that the free version will run the scan but only clears upto 500 MB of junk from your device. You will require a paid version to clean the rest of it so you can upgrade the version. 
Another difference is that the CleanMyMac free version restricts you from using many features partially or completely. Whereas CleanMyMac X paid version does not have any such restrictions and you can use all of the features for the subscribed time period. 
CleanMyMac X vs CleanMyMac 3
CleanMyMac X is one of the most popular applications for cleaning Macs. With its renowned name comes the user trust which has been built over the years. CleanMyMac 3 was a previous version which lacked a few features from that of CleanMyMac X. 
You can find CleanMyMac 3 on the official website. It has an entirely different user interface with a grey background and modules listed in the left section. Majorly covers – System Junk, Photo Junk, Mail Attachments,  iTune Junk, Trash Bins, Large & Old Files. Other utilities include the Uninstaller, Shredder, Maintenance, Privacy and Extensions.
However, CleanMyMac X comes with all of these features and more advanced cleaning and security features. Its aesthetically pleasing interface is also very navigable and the algorithm is faster. It comes with precise detection of junk and cleans your system to reclaim storage space at a higher rate. 
We suggest you switch to CleanMyMac X if you are still using CleanMyMac 3 and also look for an extra discount from the official website while doing so for being a MacPaw customer.
Top 3 CleanMyMac Alternatives – 
Macbooster 8 –

This CleanMyMac X alternative is rather a competitor and comes with just as many tools to be a Mac optimization utility. You can find over 19 types of junk using and it also works to secure your Mac.
CCleaner For Mac –

CCleaner is a simple Mac cleaning tool which is great as a CleanMyMac X alternative. It gives you the option to clean junk files, uninstall apps, remove useless photos and more.

OnyX –

It is a widely accepted Mac cleaning utility for its one charm which is open source. OnyX has a different version available for each Mac working on different operating systems as well as the needs of the user. You can rely on the maintenance tools along with the cleaning, security features to speed up the Mac.
Is CleanMyMac X Worth It?
Now, for our verdict for the CleanMyMac review, we would like to say that yes CleanMyMac X is worth a shot. If you are looking for an all in one solution, this is the only Mac application you will need. It harbours all of the tools required to clean the clutter and free up storage disk space.
It can also give you a good look at the disk to help you understand the used and free space. CleanMyMac easily lets you manage the login items and lets you manage the programs. It also protects you from malware and privacy threats with dedicated tools.  
Frequently Asked Questions 
Q1. Is CleanMyMac X free?
Yes, you can enjoy the free version of CleanMyMac X under the trial period with the limited features. But we suggest getting the paid version to avail the full functionality in order to optimise your Mac.
Q2. Is CleanMyMac recommended by Apple?
No, Apple does not recommend any of the software outside its development. But it is recognised and available to download on the Mac App Store which makes it a reliable software to clean Mac.
Q3. Can CleanMyMac be trusted?
Yes, CleanMyMac holds a good position among the top most Mac optimisation tools over the past years. You can trust it to give accurate results and provide the improvements in speed and performance for your Mac.
Q4. What is the most trusted Mac cleaner?
With a variety of reviews by users, CleanMyMac holds good credits for a trusted Mac Cleaner. But other tools such as MacBooster, MacCleaner Pro are also some of the trusted names.
Q5. What does Apple say about CleanMyMac?
CleanMyMac is notarized by Apple to be used on Mac which indicates that it does not contain any harmful or malicious files.  So, it is safe to use the Mac utility to clean up the junk and
Q6. Which is better, CleanMyMac or MacKeeper?
CleanMyMac and MacKeeper both come with a set of tools to clean, protect and speedup Mac. With respect to results and number of features offered, CleanMyMac is a much better Mac cleaning application.
Also Read