Do you have a large portion of your Mac filled with media files ? Reduce system storage on Mac to optimize the performance and the speed of your device. We have a few methods listed in the article to help you clean system data on Mac to create space for new data. 
What Is System Data On Mac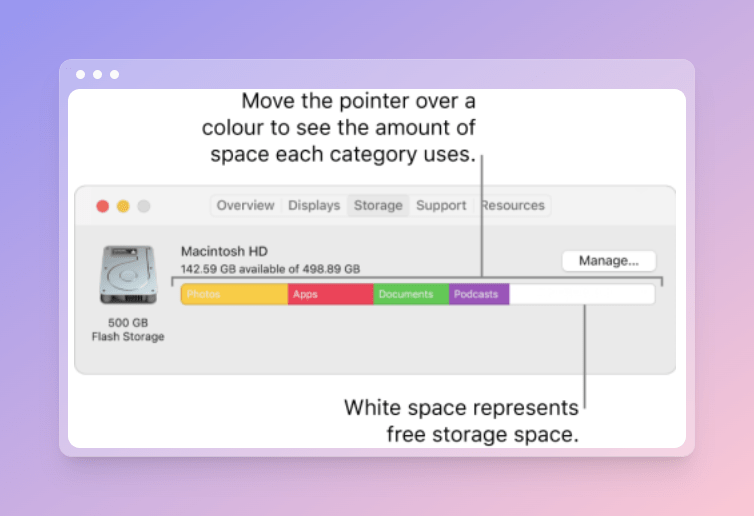 System storage Data on Mac is the collection of all of the files which are stored on the hard disk. This can be viewed on the Apple Storage tab which can be easily accessed, Go to Apple menu> About This Mac> Storage tab. However, the Storage data is stored on the System and Libraries which contains the application caches, disk images, temp files and cache, Plugins and extensions. 
How To Clear System Storage On Mac
To clear the system storage on Mac, you need to optimise your Mac. There are various methods – manually and automatically. Here we discuss all of them to help the users with more options. 
6 Ways To Clear System Storage Data on Mac
1. Remove unnecessary Files 
It is important to remove the unnecessary files from your device to reduce system storage on Mac. The first step is to look for the unwanted junk files which can fill up a large portion of the disk space on Mac. Although Mac is capable of taking care of the junk with the inbuilt Optimizer, it is advised to take help from third party software.
We recommend using CleanMyMac for the cleanup. It comes with dedicated tools to free up the storage space on Mac. The Smart Scan will clear up the unneeded junk, potential threats and unwanted process hampering speed.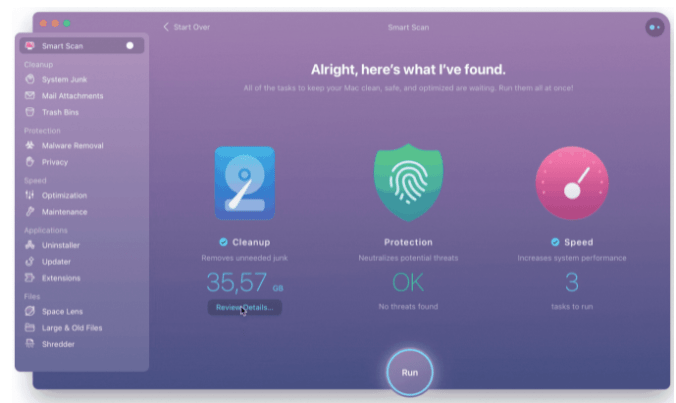 2. Delete old backups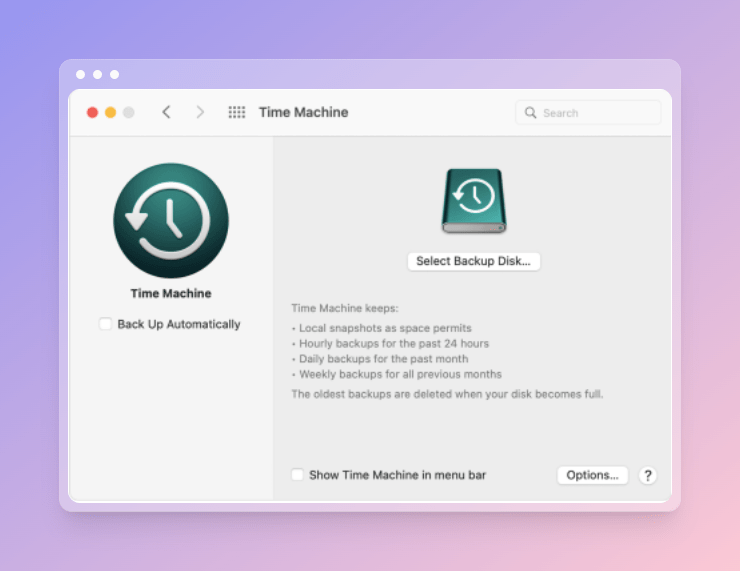 There is a lot of space which is taken by the backups and we often neglect these files. As Mac keeps a copy of the Time Machine backup on the internal storage in case of system troubles. Therefore, it is required to remove the old backups which are taking up unwanted space on Mac. 
3. Remove Application caches and logs
When you are not using a Mac cleaning utility, you have to find all the residual files and remove them to get rid of storage data on Mac. The applications in use and the ones running in the background can produce a lot of cache files and logs on your Mac.
It needs to be removed regularly to have an optimal performing Mac. It is also possible that the applications uninstalled from Mac also left the residual files behind and they are taking up space. 
4. Clean Duplicate files
Find the duplicates on your Mac and delete them as it will help you sort your data and make space on disk. Using any of the duplicate file finder and remove tools you can easily find duplicates files on your Mac and remove them easily.
One such tool is Gemini 2 which can efficiently detect all the duplicate files present on your Mac. They will be categorised according to the file type and then you can manually or automatically select them to remove them from Mac. Interestingly, it will also keep showing you alerts for whenever you are making copies of files to save space in advance.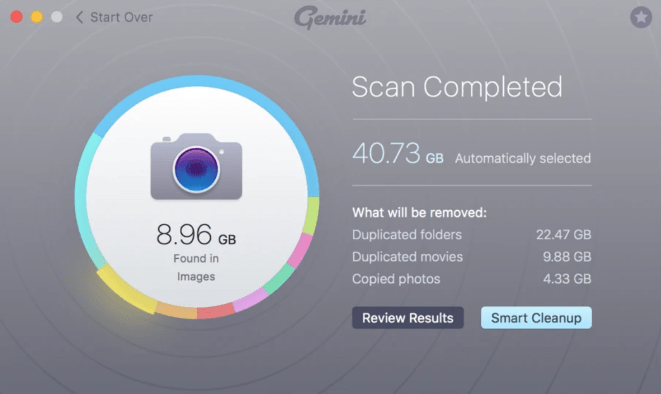 5. Clear unwanted downloads
The repeated downloads, unwanted mail attachments, crashed and failed downloaded files are also the reason behind the full system data storage. We often neglect the data stored in the Download folders and this keeps hogging the unnecessary space on the disk.
To check how much data is stored in Downloads folder take this path – 
Finder > Go > Downloads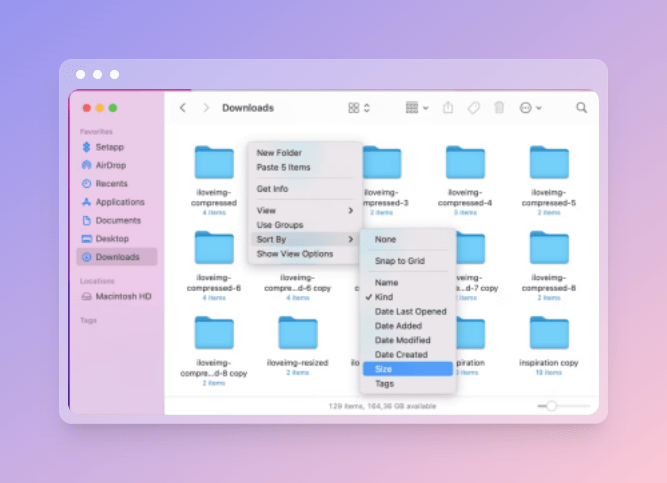 In this window, you will find the downloaded files and thereby you can select and delete them. Move to the Trash and delete them permanently. Otherwise, you can use one of the features from CleanMyMac X which can detect the unwanted large and old files. This will help you in finding the ones worth deleting to make space on your Mac. 
6. Optimise Storage Space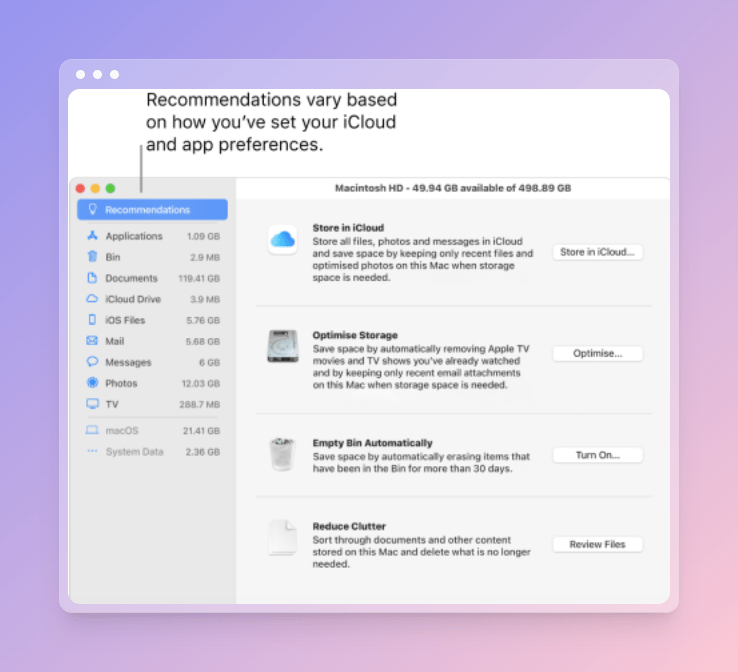 It is important that you optimise your Mac on a regular basis. It provides you with the needed tools in the system, simply
Go to Apple Menu > About This Mac > Storage. Here you can see various options in the newly opened window. Store in iCloud suggests that you upload the files on the cloud storage and free up the storage space.
Optimize Storage lets you delete the large and unwanted files such as Apple TV shows and movies. Empty Bin Automatically will truly clean the files that have been moved to Trash by permanently deleting them freeing disk space. Reduce Clutter will help you review the files and decide to move or delete them. 
Frequently Asked Questions
Q1. Can I delete system storage on Mac? 
Yes, you can delete the unwanted files on the system taking up disk Mac space. The manual cleaning and automatic cleaning are two ways to do so. You can find multiple ways to clear up the system storage on Mac in this blog.
Q2. Why is my system data so high on Mac? 
System data can show up as high if a lot of unnecessary files are accumulated in the disk space. You can reduce system storage on Mac using the Mac cleaning software. 
Q3. How do I clear my Mac system storage for free? 
If you wish to free up system storage on Mac for free, you got to perform the tasks manually. Having said that, not all the files are logs, cache is easily recognizable and therefore we recommend using a powerful cleaning utility. 
Conclusion On How To Clear System Storage On Mac
If you have been looking to remove system storage data on Mac, now you have plenty of ways. The easiest one is to download and install a Mac cleaning utility such as CleanMyMac X. As it comes with all the necessary tools in it to help you remove the clutter and free up the disk storage space. As Mac, gives you a clear view of the system storage, you can easily analyse what needs to be deleted.