If you feel like you are lost in a pool of tons of the images when looking for one image on your Mac, it is possible that you need to declutter your photo collection. Normal way to find duplicate photos and delete them would be manually on your Mac, which would take a lot of laborious work to go through each photo to find the duplicates.
Sometimes, it is not easy to recognize them and therefore, we suggest using a third party application. 
Why Are There Duplicate Photos on My Mac?
It is possible that you have downloaded the same files multiple times on your Mac. Another reason to have duplicate photos will be the backup and several copies created to store data.
Since it is not useful to have duplicate images, it is important to find and remove duplicate photos on Mac to restore the wasted space.
How to Delete Duplicate Photos on your Mac
1. Using Gemini 2 
The easiest and most convenient way to identify and delete duplicate photos on your Mac is by using a third-party duplicate finder application like Gemini 2.
Gemini 2 helps locate and remove duplicate photos automatically with few of the clicks, it also lets you review all the duplicate photos before deleting. Follow below steps to delete duplicate photos on your Mac – 
Step 1 : Download and install Gemini 2 from its official website here.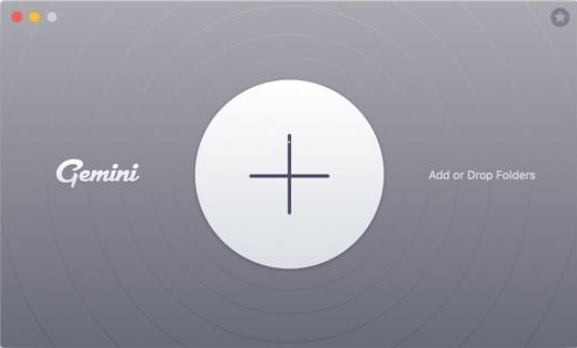 Step 2 : Launch Gemini 2 app and Click on + icon in the centre. Select Pictures Folder and Select Scan for Duplicates.
In case your pictures are in different locations then Click on Choose Custom Folder option.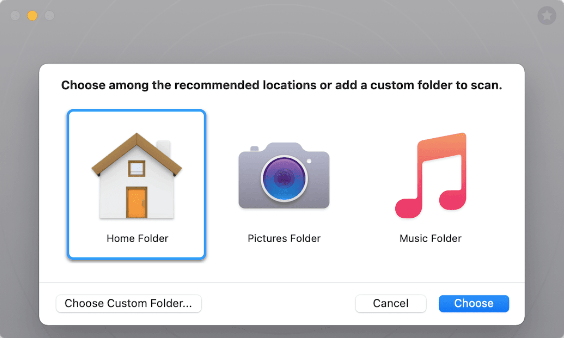 Step 3 : When scan is complete you can either Select Smart Cleanup to remove duplicate photos or you can Select Review Results option to go through the list and select duplicate photos manually to delete.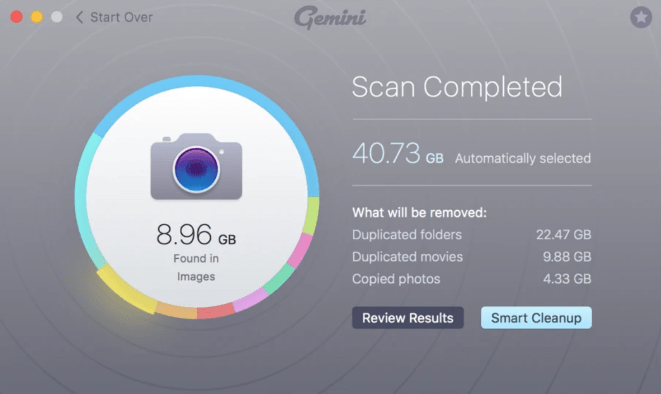 As you can see Gemini 2 is the easiest way to identify duplicate photos and remove them completely to regain precious drive space on your Mac.
You can either remove all the duplicate photos by selecting Smart Cleanup button after scan is complete which would retain the best versions or you can always select Review Results options before deleting the duplicate version you want to remove. 
2. Manually Find and Delete Duplicates
Mac does not provide you with a specific method, but can also go through the folders and Photo Library to look for the duplicate images. Follow these steps to remove duplicate photos from your Mac –
Step 1 : Open the Photos Library App on your Mac. 
Step 2 : Click on File from the top and Select New Smart Album from the options. 
Step 3 : New window opens, give name to Smart Album and Set the filter settings. 
Step 4 : Now select all the photos you want to delete and then right-click on them, later click on the Delete option. 
Step 5 : On the same window Select Recently Deleted tab from the left sidebar menu. And then Click on the Delete All button on the top right corner. 
3. Using New Smart Folder
In case you have your photos in various folders on your Mac other than the Photos app folder then utilise the Smart Folders features just like Smart Albums from above.
Follow below steps to enable Smart Folders to view all your photos in one window. 
Step 1 : Go to Finder, Click on File from top and Select Smart Folder option. 
Step 2 : Select This Mac option, Click on + icon button below search box. 
Step 3 : Select Kind from 1st dropdown menu and Select Images from 2nd dropdown menu. 
Step 4 : Now Click on the Name Column tab to sort the list of files by name. Usually Duplicate photos have the same name and it will be displayed in consecutive order. 
Step 5 : Select all the duplicate files you want to remove and then Move them to Trash. 
Frequently Asked Questions
Q1. How do I mass delete duplicate photos on my Mac?
If you wish a large number of duplicate photos from your man you can use a duplicate photo finder application which will quickly scan your storage space and remove all the duplicate at one
Q2. Can Mac photos detect duplicates?
No, Mac does not include any inbuilt method to detect duplicate photos on the basis of the content. You can choose to filter the files with similar names with the Smart Folder. 
Q3. Why do I have so many duplicate photos on my Mac?
It is possible that you have downloaded the same photos multiple times or have made it from other external storage and it collects a lot of duplicate images. 
Q4. How do I eliminate duplicate photos in iPhoto?
iPhoto or Photos library cannot detect the duplicate photos on Mac but you can scan photos present on your Mac using a third party application like Gemini 2.
Q5. Does Mac Have a Duplicate Photo finder?
No, Mac does not come with any built in utility which can detect duplicate photos and remove them instantly. Therefore you need to find them manually or using the above methods. 
Conclusion