It is more than common that we find the best music on YouTube. Even in this age of Spotify and Pandora, YouTube holds the record of the best sellers and most played all over the internet. But the only problem is when you can't find the YouTube music offline.
What if you just went on a trip and you wanted to continue to listen to your music from your YouTube playlist. There comes the need to learn how to download audio from YouTube on Mac. This blog post is about helping you learn three simple ways to extract audio from YouTube on Mac.
How to Download Audio from YouTube on Mac
Method 1: Using online YouTube converters
There are many online solutions available for you to help in downloading the YouTube audio on your device. They often give you the option to select a download audio quality and it takes only a few minutes to perform the task.
Step a. Open a Youtube to mp3 converter website on your browser.
Step b. Open the song on YouTube in another tab and copy the web link.
Step c. Paste the web link to the first tab in the given bar.
Step d. Select the audio quality and click on the download button.
Step e. Open Downloads folder and you can find the audio files in it.
Method 2: Using YouTube audio downloader application
Since there is a great demand to convert the YouTube audio to different file formats to play on various platforms there are a number of dedicated applications available.
You can also find one of the best YouTube audio downloaders for Mac to help you get any audio file available in a playable form for your Mac.
Let's learn how to convert and download a YouTube audio on your Mac using one such YouTube downloader application.
Step a. Download 4K YouTube to MP3 on your Mac from its official website.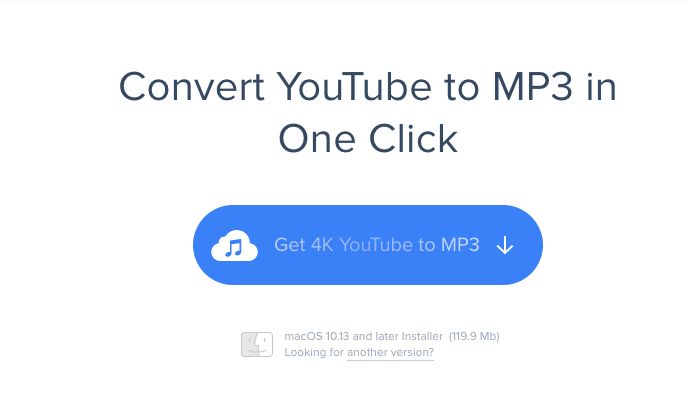 Step b. Open YouTube and search for the audio on it and play it. Now, copy the web link from here.
Step c. Go to the application and then paste the link on it.
Step d. Set the audio quality from the General Settings.
Step e. Download the audio file on your Mac in the selected audio file format.
The advantage of such YouTube audio converters for Mac is that it gives you options to download the desired audio in multiple audio file formats. It can also download and convert bulk files at the same time.
You can also transfer and play the songs on your iPhone after downloading and syncing the files later. It can also download a complete YouTube playlist on your Mac. 
Method 3: Using Parallels Toolbox 
Parallels Toolbox has been one of the popular applications for Mac users which is available with various functions. You might have been using it on your Mac and still unaware of how much more it can be used for.
It also comes with an option to download audio from YouTube to Mac. Let's find out how to use it –
Step a. Download Parallels Toolbox on your Mac.
Step b. Open YouTube and copy paste the web link for the selected song you wish to download on Mac.
Step c. Launch Parallels Toolbox and go to the Library and from the drop down menu select Audio.
Step d. A pop up will appear – Download Audio, here you drag and drop the URL for the YouTube audio.
Step e. The download will begin and once it's complete you can find it under the Downloads section on Parallels Toolbox. 
Step f. Now mark the audio file from the various downloaded files on the window of Parallels Toolbox. Click on the Download Selected button.
The audio file is now downloaded on your Mac and can be used to play on the media player.  
Frequently Asked Questions
Q1. How do I download YouTube audio to my Mac?
If you want to learn how to download YouTube audio for your man you can try any of the above methods.
Q2. Can you download audio from YouTube?
Yes there are different methods to help you download audio from YouTube on Mac and read the post to find out the best way for you.
Q3. How do you rip audio from YouTube on a Mac for free?
If you wish to extract audio from YouTube on Mac for free you can use the online YouTube music converters.
Q4. What is the best free YouTube to MP3 Converter for Mac?
Among the best free YouTube to MP3 converters for Mac are the online solutions and the applications which perform the task seamlessly for you.
Conclusion
These are the best possible ways for you to try and download audio from YouTube on Mac. If you are in a hurry and wish to perform this action only a few times you can rely on the free online YouTube converters.
If you have the constant need to download multiple audio from YouTube you should get one of the YouTube audio download for Mac.
Also Read