Are you concerned about the number of duplicate photos on your Mac? Use the best duplicate photo finder for Mac and get rid of the unwanted duplicates easily. This will not only help you organise your photo collection but free you storage space on Mac.
Managing and organizing photos on your Mac can become a difficult task as your collection grows. Duplicate photos not only clutter your storage but can also make it challenging to find and enjoy your favorite memories. This is where a Duplicate Photo Finder for Mac comes to the rescue. It's a powerful tool designed to scan your entire photo library, identify duplicate images, and help you clean up your storage.
Whether you're a photography enthusiast or just someone who loves capturing life's moments, a duplicate photo finder is a must-have tool for your Mac.
Top 11+ Duplicate Photo Finder for Mac
Here we will talk about some of the duplicate photos finder and remover for Mac which can be used to scan Mac to detect and delete the unwanted clutter.
1. Easy Duplicate Finder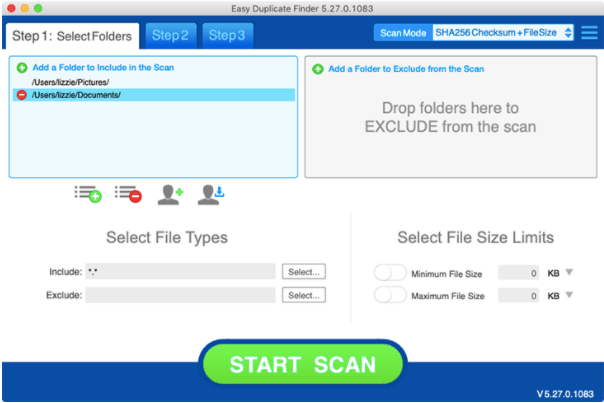 Easy Duplicate Finder comes highly recommended as the Best Duplicate Photo Finder for Mac, for its easy to use UI. The key feature of this app can search and clean any file formats of duplicates from local or external storage such as HDD, SSD or Cloud.
It's free for limited usage and supports multiple photo file formats.
Features – 
Deletes duplicates from local and cloud storage.

Integrated Undo feature.

Organise files and folders.
2. Duplicate Photo Cleaner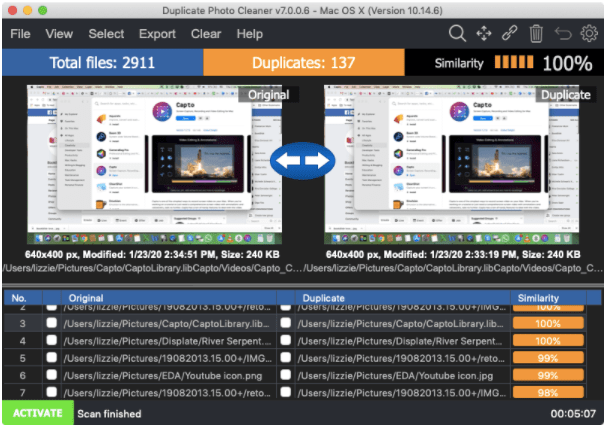 Another best duplicate photo finder for Mac is Duplicate Photo Cleaner, which also supports multiple other platforms. It's smart way to compare photos to detect duplicate files is extremely fast and very efficient. This is able to search duplicates from internal and external storage alike.
You can find and manage the duplicate as per your requirements using this tool.
Features – 
Simple user interface.

Multi platform support

File organiser. 
3. Gemini 2
The ability to look out for future duplicate photos being created makes Gemini 2 one the best Duplicate Photo Finders for Mac. It also can scan and clean a large number of files in various formats. Internal and external drives are compatible.
Not just files it also detects duplicate folders from your Mac. Along with that the Undo feature is really helpful to recover files if needed.
Features – 
All file formats supported.

Simple and clean interface.

Works on large scare files.
Read Detailed Review – Gemini Review
4. Duplicate Photos Fixer Pro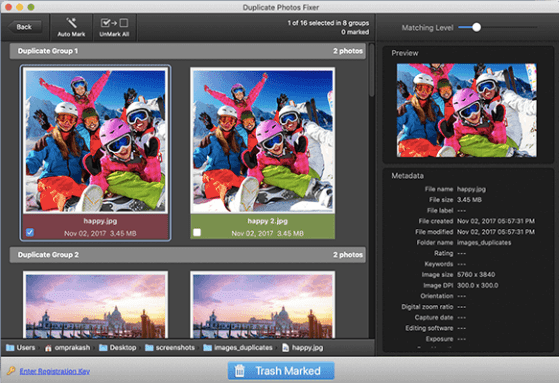 Among the popular options of Duplicate Photo Finder for Mac, Duplicate Photos Fixer is a very trusted and easy to use option. Highly customisable search results are required to find duplicate photos on your Mac then this is one tool you can get and quickly get rid of duplicate photos.
Not just duplicates but also similar files are detected for all file formats. Just as others internal and external storage with cloud are supported.
Features – 
Customizable results. 

Detects similar files.

Selection assistant.
5. Remo Duplicate Photo Remover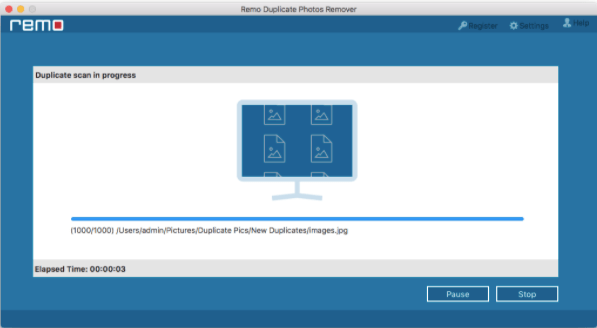 Down the list of Duplicate Photo Finder for Mac, Remo Duplicate Photo Remover is a relatively new app. But its comprehensive feature and user interface makes it very competent software to use. It's De-Dupe algorithm to scan for similar and identical photos then provides the result in sets to clean the duplicates.
Features –
Find exact and similar photos. 

Internal and external drives are supported. 

Restore storage space. 
6. Duplicate File Finder Remover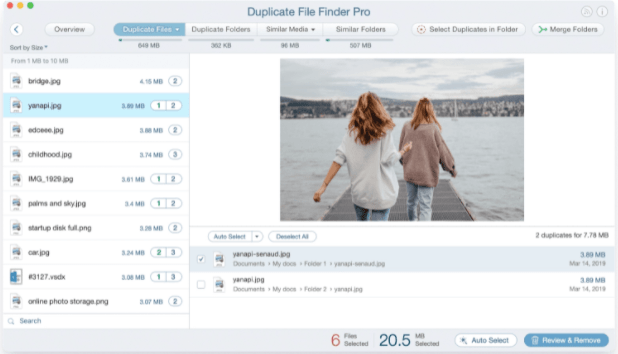 Duplicate File Finder Remover is a dedicated Duplicate photo finder for Mac, for it's fast scanning algorithm. It supports external drives and also finds duplicates easily in multiple folders and internal drives. It also comes with highly customisable search results by various config options.
The free version is more than enough to scan but to delete the duplicate photos, a paid version is available.
Features – 
Customizations options for search.

Comprehensive user interface. 

Supports external and cloud storage drives.
Also Read – Photo Meta Editor For Mac
7. PhotoSweeper
For huge photo collections,  PhtoSweeper is a perfect Duplicate Photo Finder for Mac. It supports all cloud storage, all libraries as well as internal and external storages.
The various search criteria with features for photo handling for results along with a very easy user interface makes PhotoSweeper a must have for Mac.
Features – 
Flexible and many settings. 

Comfortable results display.

Easy photos search.
8. DiskDrill
The Duplicate Photo Finder for Mac is one of the many features of Disk Drill. It can analyse for duplicates either drag the folders directly or add folders into the duplicate finder. Either clean the duplicates from the given search result options or search the same manually.
Free trial version is sufficient for basic usage to find duplicate photos. 
Features – 
Comes with a plethora of features.

Not just a duplicate finder.

Free version is enough.
9. Cisdem Duplicate Finder
Cisdem Duplicate Finder provides very accurate search results of all the duplicate files that are even hidden deeply and quickly removes the duplicates to free up internal and external storages.
Supports all formats of files and removes duplicates. Scanning results are shown in real time hence scanning speed is faster.
Features – 
Accurate and fast scan results.

Mark duplicates and similar files auto.

Option to remove temporarily.
10. dupeGuru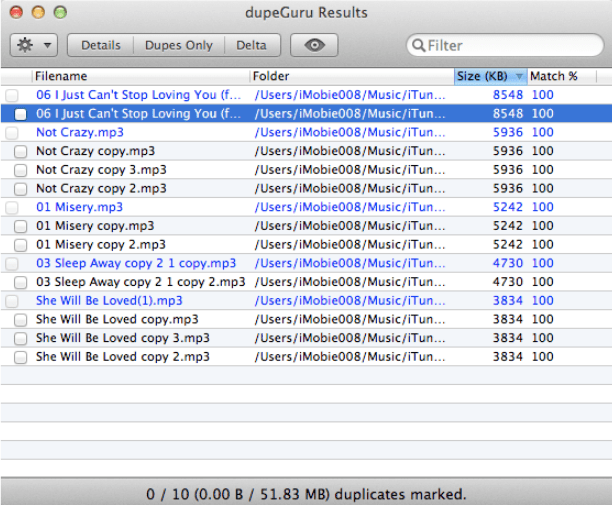 dupeGuru is a free Duplicate Photo Finder for Mac which can be used to easily get rid of duplicate photos on Mac. It has a very simple user interface and supports multiple platforms. Can scan for all types of file formats duplicates and remove them easily.
dupeGuru is available in multiple languages and is highly customizable to the needs of the user.
Features –
Supports multiple languages.

Free to use.

All platforms supported.
11. Photos Duplicate Cleaner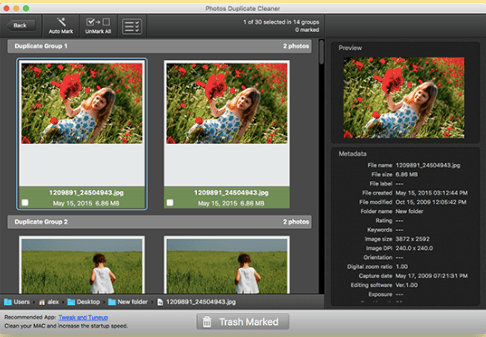 Photos Duplicate Cleaner is another of the duplicate photo remover for Mac. It works quickly in eradicating the duplicate photos from your storage disk and makes space for other files. This can be used easily and with the manual and automatic option available for selecting the duplicates from scan results. 
Features – 
Look at the file's content rather than its name.

Supports external storage space.

Automatic and manual selection of copies. 
12. Duplicate Zapper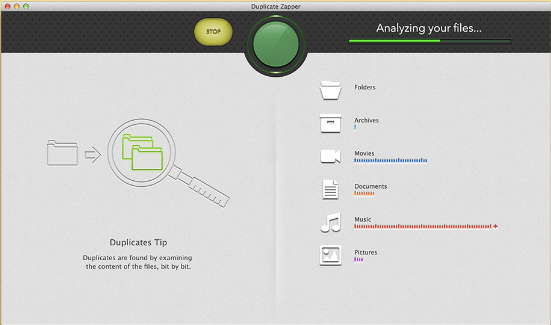 Duplicate Zapper is a good tool to find duplicate photos on Mac specifically. As this duplicate file finding tool gives you better control over the search and provides fast results.
It comes with many options to sort the photos on your Mac such as file name, type, extension and size. It will never remove any important system files and application files.
Features
Sort by File name, size, type, extension etc.

Use Quick look for previewing images.

Multiple autoselect filters. 
Frequently Asked Questions
Q1. Does Mac Have a Duplicate Photo finder?
No, Mac does not come with any such tool to find and remove duplicate photos. Therefore, you will need a third party application to find and remove them.
Q2. What is the best way to find duplicate photos on Mac?
The best way to find duplicate photos on Mac is to download one of the free duplicate photo finder for Mac. It can run a scan for the desired files and folder and you can view the duplicates on the summary page.
Q3. What is the best free Duplicate Photo Finder for Mac?
Easy Duplicate Finder is the best duplicate finder and remover tool for Mac. It is available for free with limited features and you can try it out before making a purchase.
Q4. Is there a truly free Duplicate Photo Finder?
A truly free duplicate photo finder is hard to find but you can use dupeGuru in that case. While most of the above stated software can scan and find the duplicates in the free version, however to delete them you will be required to get the paid version.
Q5. How do I find duplicate photos in Apple photos?
To find the duplicate photos in Apple photos, you must have it integrated to the local storage. Thereafter use any of the duplicate finder tools to detect and remove the duplicate photos.
Conclusion
There are multiple tools available for Mac which can easily search the exact and similar images on your Mac. If you are looking for the best of them, we would recommend Easy Duplicate Finder, Gemini 2 and Duplicate Photo Cleaner.
In conclusion, a Duplicate Photo Remover for Mac is an indispensable tool for anyone looking to efficiently manage their ever-growing photo collection. It not only helps you regain valuable storage space but also ensures that your photo library remains clutter-free and easy to navigate.
The convenience of identifying and removing duplicate images with just a few clicks cannot be overstated. Whether you're a professional photographer or a casual snapper, a duplicate photo remover is a wise investment to keep your digital memories in order. Say goodbye to the frustration of sifting through countless duplicate images, and enjoy a seamlessly organized photo library with the help of this invaluable software.
Also Read