Do you want a duplicate photos cleaner for your Mac which will with immediate effect reclaim storage space? You need to look at Duplicate Photos Fixer Pro as it is one of the popular applications to do so. It comes with advanced algorithms to smartly scan your Mac for dupes. We go through the details in the Duplicate Photos Fixer Pro review. Find out the answer to – 'Is Duplicate Photos Fixer safe for Mac or not' in this article.
What is Duplicate Photos Fixer Pro?
Duplicate Photos Fixer Pro is an application which can easily scan and remove duplicate photos on Mac. It is able to scan the added files and folders for the exact and similar looking pictures. Use the matching filters to find out the closest matches for the similar images.
Whether you're a photography enthusiast or someone looking to free up valuable storage space, Duplicate Photos Fixer aims to provide a comprehensive solution for efficiently managing duplicate images on your device. Join us as we delve into the features and functionality that define this tool's effectiveness in optimizing your digital photo experience.
It works irrespective of the file's name and looks at the file content making it one of the best tools to find and remove duplicate images. Use it to scan your internal storage on Mac or Google Drive for duplicate images. 
Gives you quick results and groups all similar looking images together to help you with the organised view. Additionally you can automatically mark all the duplicate images at once using Auto-Mark features. It saves you from the manual marking for all images from hundreds of images. Delete all marked images at once and gain back the wasted storage space on Mac.
Available at the cost of $38.99, Duplicate Photos Fixer Pro might be the one to justify its cost with its effective duplicate cleaning. 
Duplicate Photos Fixer Pro Review
Technical Specifications –
| | |
| --- | --- |
| Vendor | Systweak Software |
| Current Version | 4.10 |
| Compatibility | macOS 10.8 or later |
| Download link | Click here |
| Free Trial | No |
| Price | $9.99 |
| File Size | 23.1 MB |
| Technical support | Via email |
Features –
Easy To Use –

Add the photos, Photos Library and folders to this duplicate finder on Mac using the Add buttons or dropping them directly with Drag & Drop. Select Scan Modes and get grouped results for convenience inspection. 

Scan Google Drive –

Use Duplicate Photos Fixer to scan the cloud storage on Mac. As it does not require you to download the images on the local storage to check for duplicates. Just select the Scan Google Drive option from the scan modes and give access to your Google Drive and then run scan on the selected folder.
Customise Comparison Settings –

Set the matching levels for the scan of the added photos. Matching Level, Time Interval, GPS can be adjusted which studies the image metadata to make precise results.
Quick Look –

You get a quick look at an image within the tool, when you select it from the scan results. This also gives you complete information in the form of the metadata available. This helps in making decisions for which images need to be removed from Mac.

Auto-Mark –

With all the similar images grouped together, Duplicate Photos Fixer Pro makes it easy for users to get an organised view. But it also helps you to eradicate the problematic duplicates at once using the Auto-Mark feature. As it selects all copies but one from each group and solves your problem of marking hundreds of copies. 
How to Use Duplicate Photos Fixer Pro ?
Let's learn how to use Duplicate Photos Fixer Pro on Mac –
Step 1: Get Duplicate Photos Fixer Pro for your Mac from the Mac App Store Link given below – 
Step 2: Finish the installation and launch the application.
Step 3: Add the images, folders, Photo Library using the Add Buttons or Drag & Drop function for scanning on Mac.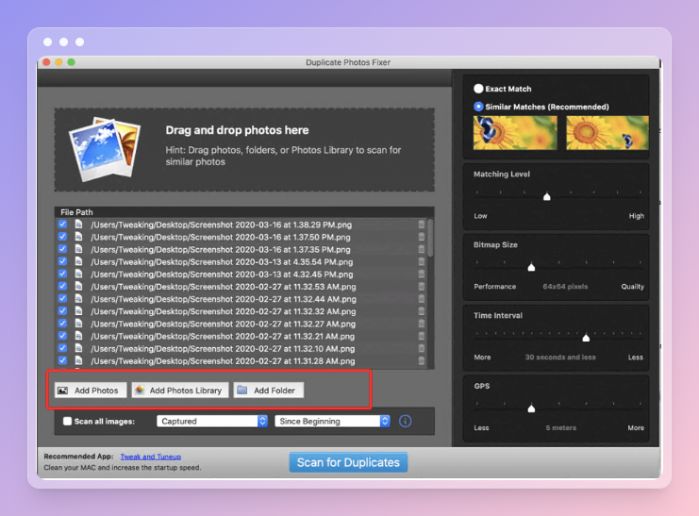 Step 4: Set the scanning comparison settings from the right panel. Select the Similar Matching which is recommended to find most copies unless you are looking for identical then go for Exact Match.
Step 5: Once you made all necessary selections for the matching criteria, click on Scan for Duplicates button.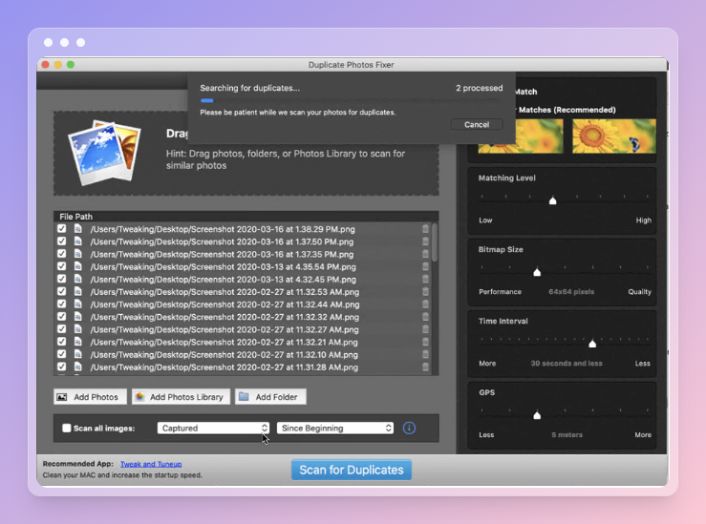 Step 6: The scan results will be visible once the scan is finished and it will show you groups of duplicate images found on your Mac.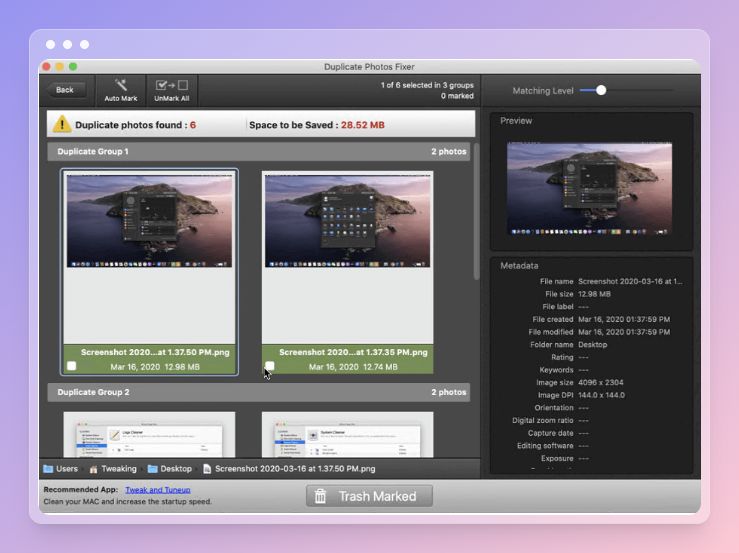 Step 7: Click on one image at a time to get the Quick look for preview and more details on the file on the right side of the tool.
Step 8: Select the images manually by marking each one needed to be deleted OR Click on the Auto-Mark to automatically mark all copies leaving one in all groups.  

Additionally you can also use the Preferences for changing Auto-Mark settings with the pop up message. It can help you change the preference of selection for Auto-mark with the different aspects such as file size, dimensions, capture date etc.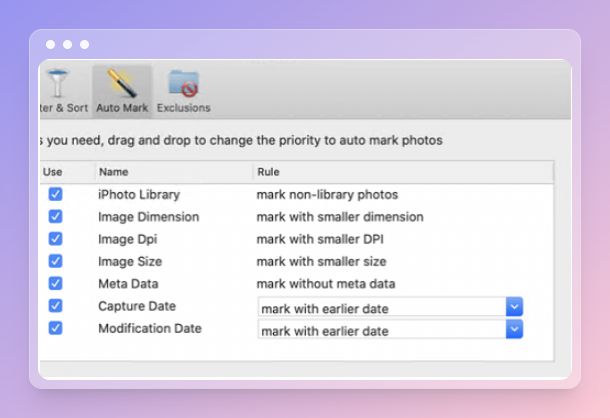 Step 8: Once all the duplicate images are marked- manually or automatically, click on delete Trash Marked Button.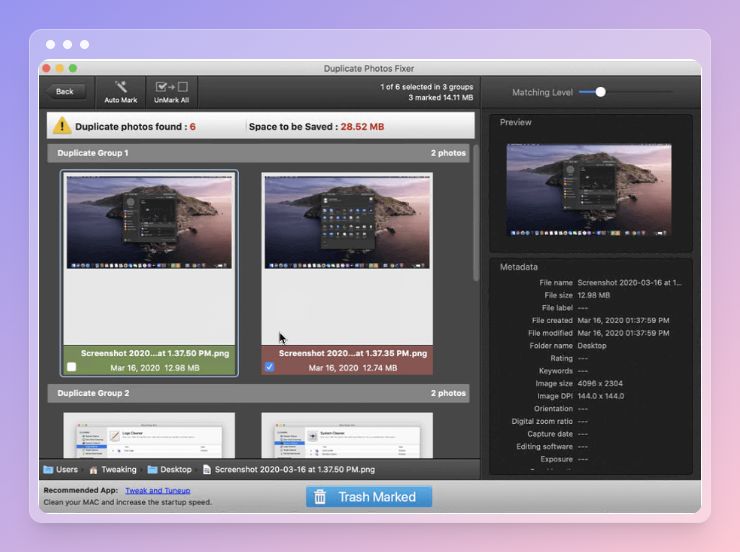 Duplicate Photos Fixer Pro will quickly delete the duplicate from Mac. 
Duplicate Photos Fixer Pro Pros & Cons –
| | |
| --- | --- |
| Pros  | Cons |
| Accurate results | No free trial available |
| Scan Google Drive | Lack of customer support via chat |
| Automatically mark image copies | |
| Scanning Filters | |
| Quick look preview | |
| Timely updates | |
| All macOS versions supported | |
| Supports both intel and M1 devices | |
Frequently Asked Questions –
Q1. Is duplicate photo fixer free?
No, but you can use the Duplicate Photos Fixer free trial version to try out the complete process of scanning and removing the duplicates. It only limits the number of duplicates removed to 15 nos of photos in the free version. You can buy the Pro version at $38.99. 
Q2. What is the best duplicate photo remover?
Ease of use and the fast scan is the basis for the best duplicate photo remover. With the multiple filters and accurate results Duplicate Photos Fixer Pro is one of the best.
Q3. Is duplicate photo cleaner safe?
A reputed duplicate photo cleaner for Mac is required to detect and remove the unwanted duplicates. Is Duplicate Photos fixer safe for Mac – Yes and it also has a high accuracy rate. 
Q4. How do I get rid of duplicate photo fixer?
If you wish to uninstall Duplicate Photos Fixer from your Mac, you can easily uninstall the application by dragging it to the Trash icon on your Dock.
Conclusion
Is Duplicate Photos Fixer worth it? Well, now after getting detailed information in the Duplicate Photos Fixer Pro review. The customization options for the matching filters, automarking and accuracy with the scan results is the highlight for being an amazing application for your Mac to remove duplicate images.
The lack of a free trial from Duplicate Photos Fixer Pro might be the only flaw it got. But, if you are not wary of it, go ahead and get this duplicate image finder for you. 
Also Read