Is Easy Duplicate Finder safe for Mac? If this question bothers you before you make a download, we recommend you to read this Easy Duplicate Finder review blog. This will answer your queries and give you a complete inside out detail on the duplicate cleaner tool for Mac. Let's ponder on the what and how of Easy Duplicate Finder for Mac.
What is Easy Duplicate Finder
Easy Duplicate Finder is one of the finest duplicate file finder tools for Mac which is currently on top for this category. It comes from the line of one of the best software developers WebMinds Inc. They are considered to be the best for creating multiple utilities for Windows and Mac alike.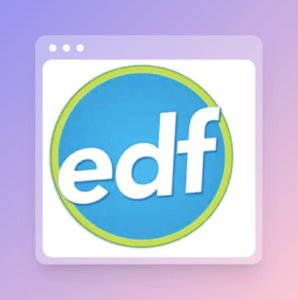 Easy Duplicate Finder is a powerful duplicate finder and remover for Mac which supports a number of file formats. It can find duplicates of audio, video, document, image and many other files. You can use it to scan the Mac, Google Drive and DropBox to find all the duplicates in one place. Thereafter, it can also automatically mark the unwanted duplicate files and remove them with one click.
Easy Duplicate Finder Review
Easy Duplicate Finder review talks about its features and function. You can also download a free version of the tool before making a purchase. 
Technical Specifications –
| | |
| --- | --- |
| Vendor | WebMinds Inc. |
| Current Version | 7.18.0.36 |
| Compatibility | macOS 10.8 and higher |
| Download link | Click here |
| Price | Free Trial, $59.95 |
| File Size | 30.2 MB |
Features –
Easy Duplicate Finder Review makes it sure that you get all important information on the tool for Mac. So, here we have listed the best features of the duplicate finder for you –
Supports Multiple Scan Modes-
Easy Duplicate Finder comprises multiple scan modes for various needs of the Mac users. You can scan the internal storage, Google Drive, Dropbox and manage the storage for you. It is a quick fix to find and remove the duplicates according to your choice. The 
Finds Duplicate from Cloud Storage –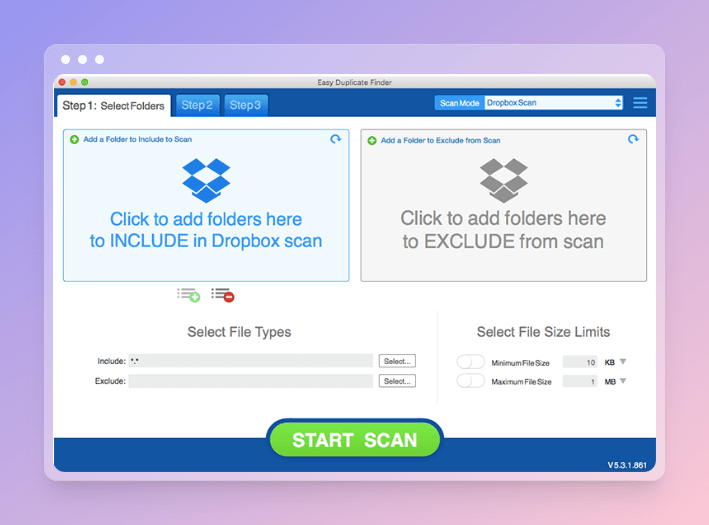 While working on the internal storage on Mac, you can use Easy Duplicate Finder to fix the issue of duplication on your cloud storage. It works well with the Dropbox and Google Drive and finds and removes the duplicate files on Mac. It can limit the minimum and maximum files size for the scan and also include or exclude the file types. 
Easy Duplicate Finder can be used to recover the files which have been removed recently. The Undo button can be used immediately after the files have been deleted from Mac. It is a considerably useful method for the case where you have deleted some important files in the process.
It is very important to preview the files before selecting them for deletion. All the files which are presented in the scan results can be previewed for a better judgement. This is a good feature which helps the user in identifying the files while making the manual selection before deleting them.
While manual selection can take time, automatic selection saves time. It is one of the crucial features for any duplicate finder tool for Mac. The automatic selection lets you sort the duplicate files for removing them from your Mac. The filters help in making the selection according to the file size and dates. 
How to Use Easy Duplicate Finder
Just like the name, you can use Easy Duplicate Finder very easily. As its user-friendly interface helps the users to navigate comfortably. Let's take a look at the steps below to learn how to use it to find and remove duplicates.
Step 1: Get Easy Duplicate Finder for Mac from its official website – 
Step 2: Run the setup file and complete the installation. 
Step 3: Launch Easy Duplicate Finder and then add files and folders to the Drop folders here to INCLUDE in the scan section on the left.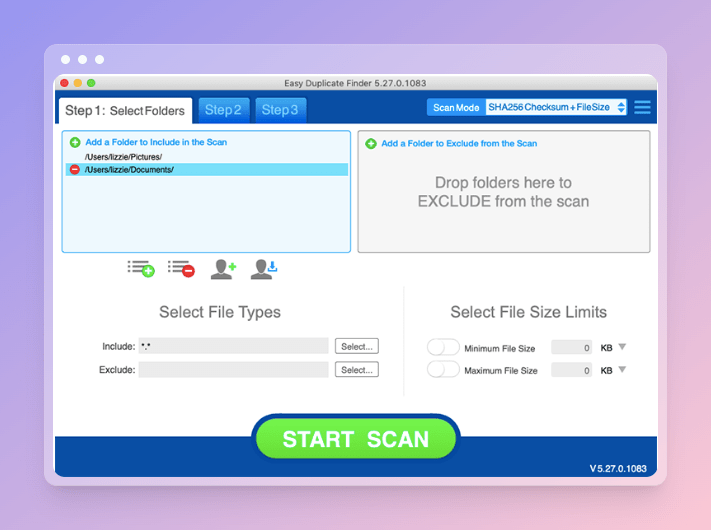 Note: Add the folders which are not considered for scan and you want to exclude them to the Drop folders here to EXCLUDE in the scan section on the right. 
Now click on the Start Scan button.
Step 3: Scanning might take a while depending on the amount of data being scanned. Once the results appear, you can find the Scan Complete message with the Pie Chart depicting the ratio of different duplicate files.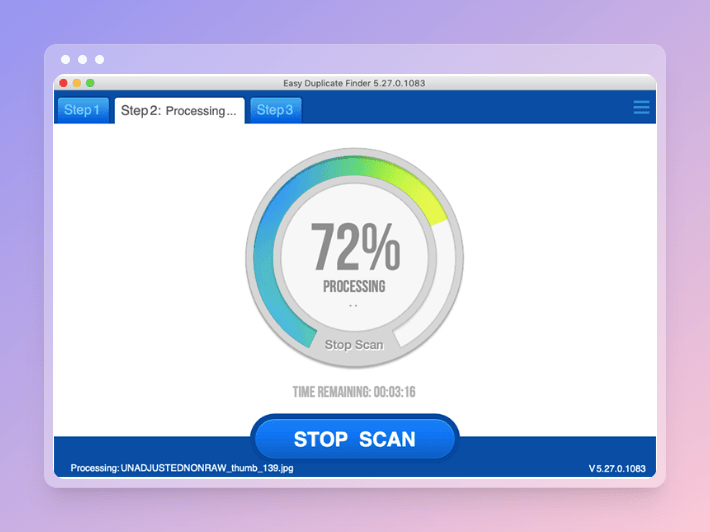 Step 4: Under the tab Resolve Duplicates, you can find all the duplicates found in the scan. It can also be viewed as a separate category – All Files, Archives, Documents, Music, Pictures, Video, Other.
Step 5: Now, after previewing you can make a manual or automatic selection of the files you would like to remove from your Mac. The automatic selection takes less time and quickly marks all the copies found in scan except one from each group. 
Step 6: You can then decide to Move Files to Trash or to delete them Permanently. 
Step 7: This is how you can delete the duplicates from your Mac. If you have not considered the Delete Files Permanently then go to Trash and empty it completely to recover the storage space. 
Easy Duplicate Finder Pros & Cons –
| | |
| --- | --- |
| Pros  | Cons |
| Powerful scan engine | Scan can take time |
| Easy file management | Costlier than other competitors |
| Undo button for recovery | |
| Multiple scan modes | |
| Scans Google Drive & DropBox | |
| Automatic selection | |
| Deletes cache files | |
Pricing
Get the fully featured version at $59.95 for your Mac. It also offers a number of discounts at times, currently Easy Duplicate Finder for one Mac can be availed at $39.95. For 3 devices, it is available for $119.95 which is currently available at discounted price at $49.95 only.
For 5 devices, it is available for $159.95 which is currently available at the discounted price at $59.95. For 10 devices, you get the best offer rate of $269.95 which is currently available with maximum discount at $69.95 only.
Final Words
Is Easy Duplicate Finder worth it ? The answer to the question is quite clear after this 
Reading this blog. As Easy Duplicate Finder review helps you learn all about the duplicate cleaner tool from the algorithm it uses to the features it offers. We recommend you to give this Mac duplicate cleaner a try as it is worth the cost. One can always download the free trial version beforehand to find out about its functionality. Later, you can make a learnt decision based on your experience.
Also Read