Is Gemini 2 worth it ? Does this duplicate finder scans your Mac quickly? Find all the answers to your questions in this Gemini 2 review blog. As here we guide the users on how to use the Gemini 2 along with stating its features and other technical specifications. Let's find what's the deciding factor for you to choose Gemini 2 as a duplicate finder for your Mac by taking a look at all of the features. 
Gemini 2 Review
Gemini 2 is a duplicate finder application for Mac which can quickly scan and delete the different types of duplicate files. The tools genuinely help the user in restoring a ton of space by removing the unwanted duplicate files from it. This works on a smart algorithm and helps you in cleaning them with several filters.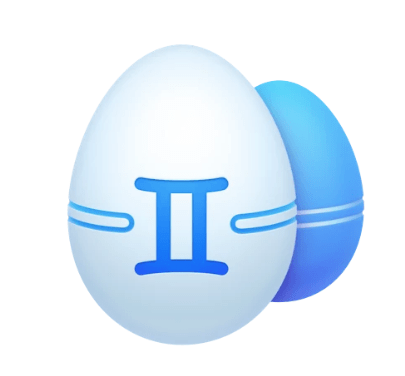 Interestingly it also notifies you when it detects new copies of a file which is already present on your device. Gemini 2 app review will help you understand the need of this product for your Mac.
Gemini 2 Price –
Get Gemini 2 from the official website for a one year subscription with different plans for various Macs. For a single Mac, it is available at $19.95 from the Mac App Store as well. For other plans you can avail the offers and get a great deal ranging from $29.95 for 2 Macs to $44.95 for 5 Macs. It also gives you a 30 day money back guarantee and 24X7 tech and sales support. 
Technical Specifications 
| | |
| --- | --- |
| Vendor | MacPaw |
| Current Version | 2.9.6 |
| Compatibility | macOS 10.10 and higher |
| Download link | Click Here |
| Price | Free Trial, $19.95 |
| File Size | 47.7 MB |
Features
Scans Different File Types
Gemini 2 is capable of finding different types of file types such as images, music, documents and more. It has a scan engine which will detect all the copies of different files present on your Mac. It can easily scan your internal and external drives along with the network volumes. You can also monitor the Mac and separate folders and new folders.  
While manual selection can make the process of finding duplicates time consuming, automatic selection sorts it. The Autoselect option will keep the original safe and select all the copies from the results.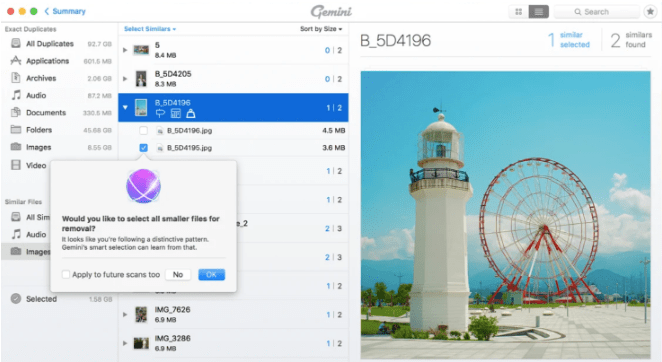 If you don't like repeating the selections, then this feature is for you. You can add your own smart selection rules. It will help you delete the certain type of copies from the scan results and make the process faster.
Exclude Files and folders
Use Gemini 2 to protect the important files and folders from getting deleted accidentally. To keep them safe you can opt for keeping such files on the tool and lock them so it does not get deleted after scanning.  
You can find duplicate photos in your Photos Library, Music library, Spot iTunes. The files can be in different formats or the bit rate but it can be detected easily. It also helps you in moving the files to a new destination folder on your Mac.   
How to Use Gemini 2 for Mac
Step a. Go to the official website 
OR 
The Mac App Store to download Gemini 2 on your Mac. Check the compatibility before downloading. 
Step b. Finish the installation by following the on-screen instructions.
Step c. Launch the application on your Mac and select the section for scanning.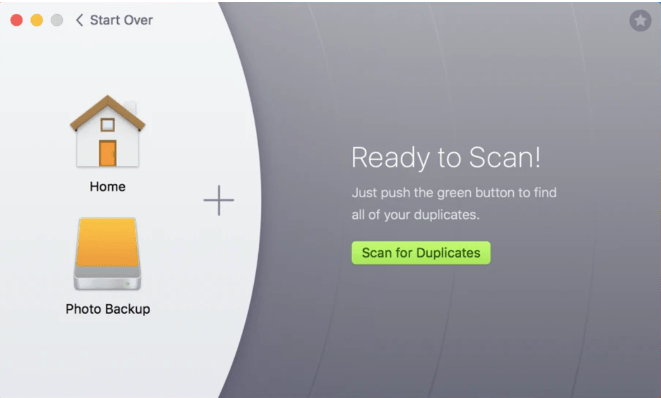 Click on Scan for Duplicates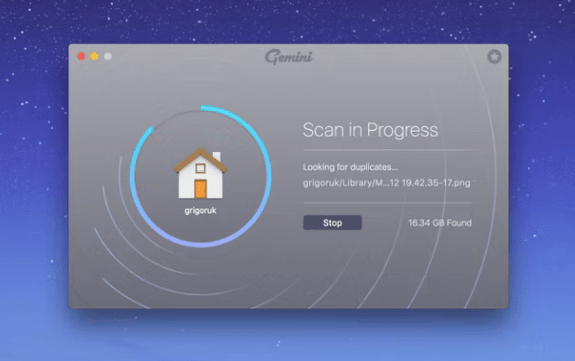 Step d. Once the scan is complete, you can see two options – Smart Cleanup and Review Results.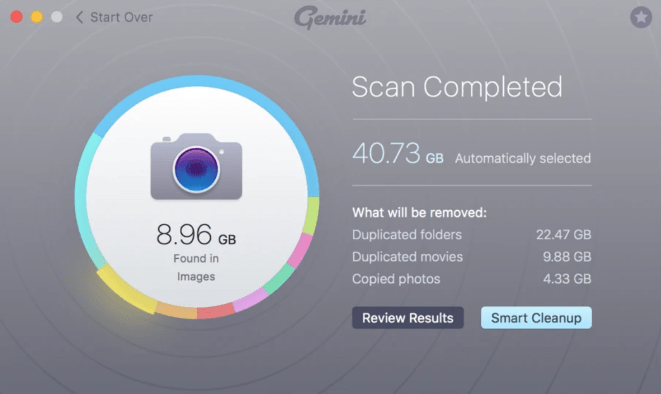 You can choose to remove the duplicates quickly by selecting Smart Cleanup where Gemini 2 chooses the best files and deletes the copies. Or else you can click on the Review Results and preview and make the selection of the duplicates to be deleted.
Step e. Once you click on the Review Results, it shows you all types of duplicate files found on your Mac. Click on the files to get a preview on the right pane of the application. 
Step f. Now, mark the files and then click on the Remove button.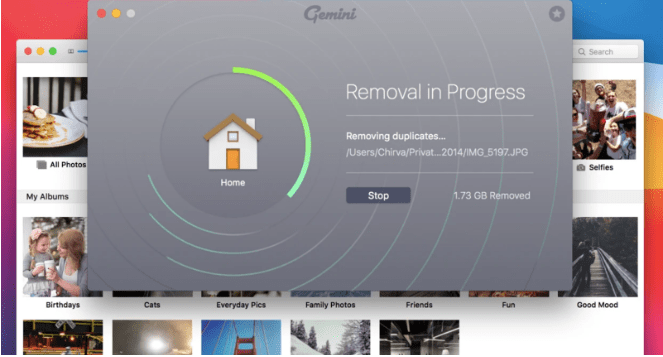 The duplicate files will be deleted almost instantly from your Mac.This is how you can free up a lot of storage space on the disk which was unwantedly consumed by them. 
Gemini 2 Pros & Cons 
| | |
| --- | --- |
| Pros  | Cons |
| Fast speed scan | Not entirely automatic. |
| Results accuracy | Limitations in free version |
| Finds similar files | No additional cleaning tools |
| Organise files on Mac | |
| Customisation available | |
| Saves your preferences | |
Frequently Asked Questions
Q1. Can I trust Gemini 2?
Gemini 2 is a product from the renowned software company MacPaw. It also has a reputation of being a good product over the past years. So, in general it is safe to give the answer for is Gemini 2 safe for Mac as Yes, it is.
Q2. Is Gemini II free?
Yes, a free trial of Gemini 2 is available for Mac. You can download it free of cost on your Mac from the Mac App Store or the official website. It has its limitations and you might not be able to remove the files and free up the space after its use. 
Q3. How does Gemini 2 identify duplicates?
Gemini 2 uses the algorithm to differentiate the copies from the original files. It will make the selection after learning from your style of usage and gives personalised results. The auto select option is great for those who would not like to go through the tons of files in results. It detects the original and makes all other copies to remove them.
Q4. Which Duplicate file Finder is the best?
There are multiple duplicate file finder for mac available in the market, you can choose from them. The choice may vary depending on the several reasons. Gemini 2 serves the purpose of finding the duplicates on Mac. It also helps you to view the categorised results to make it easy to declutter. Find more about it in this MacPaw Gemini 2 review blog.
Final Words 
We hope that this Gemini 2 review helps the Mac users in making their decision of downloading the product. The personalised learning is applied in the next scan and results are shown with the automarked copies accordingly. The smart selection and ability to auto select seems to be the best features on this duplicate finder for Mac.
In our opinion this is a tool for someone who prefers smart work over hard work. MacPaw Gemini 2 is a well known product and thus receives regular updates and can be trusted easily which answers the question – Is Gemini 2 worth it. We would suggest you to go for the free trial of the tool as always to find out if this product meets your needs or not. 
Also Read