Do you wish to learn how to get rid of the Reading list on Mac? The reason for this might be as simple as the web pages are no longer required OR that they are added mistakenly. Whatever the reason maybe, if you are looking forward to removing the reading list on Mac, you should follow the proper method. Reading lists come in handy when you are offline as they let you read the web pages in offline mode.
As they allow you to save web pages to read later when you get time. This feature is much appreciated as it downloads the web page on your device locally. 
Reading lists on Safari are used as a useful feature as it can be synced with the iCloud account. This makes it accessible to other devices while using Safari with your account. But did you know these saved items in the form of the offline web pages are taking up how much space on your Mac? It is important to declutter your Mac to have a smooth performance with ample space on your storage disk.
Here we will learn how to delete Safari reading list on Mac using simple steps. This will not only help you review the Reading list but also manage it as you clear unwanted or old web pages.
How to Delete Safari Reading List on Mac
First lets know how it is different from deleting the cache files from your Mac. As you might clear the history and cache files from Safari but that does not apply to remove reading list from Safari.
Even the Reading List cache files are different from the Reading List files. So how to clear Reading list on Mac? Follow the steps given below to remove a specific Reading list from your Safari on Mac – 
Step a. First you need to launch Safari on your Mac.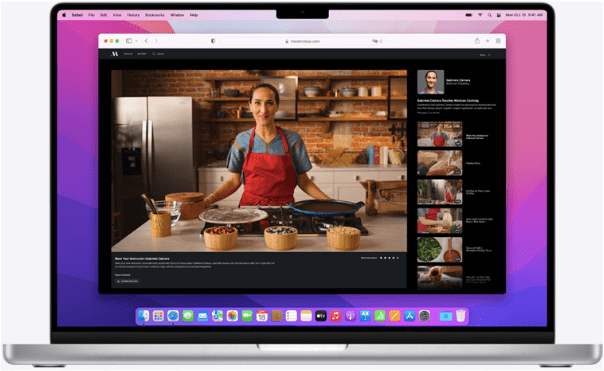 Step b. Now, on the new tab, go to the Top Menu bar and here you can locate the View button. Click on it.
Step c. When you click on the View option, it will open a drop down menu. From the dropdown menu, select Show Reading list Sidebar.
Now you can see that the sidebar opens up showing you all of the Reading list items. 
Step d. On the Reading list, select any item and swipe right to see the option of Remove appear on the Reading list item. 
Or
Press control key and then select any item and it will show you the option of Remove.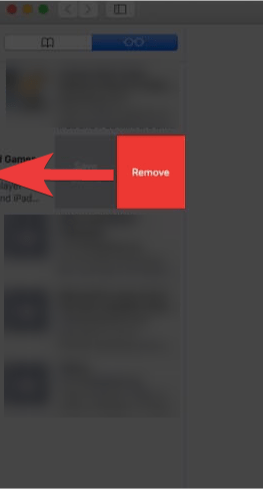 Step e. Click on Remove to delete it. 
This action will help you quickly edit reading list on Mac. Repeat this step to get rid of other unwanted items on the Reading list of Safari on your Mac.
Once you remove them it will clear up the unwanted disk space used by then in Mac's storage disk. This process is advised for the people who are looking forward to declutter their Reading List so that you can easily identify the unread pages.
But if you wish to delete Safari Reading list on Mac completely, follow the next steps.
How to clear Reading list on Mac
Sometimes, it is better to optimise the Mac for a smooth operation and it requires you to manage data. But if the list is very long and you are unable to delete it individually, you must clear it completely.
To remove Reading list from Safari you need to use different steps. If you wish that to clear the entire list on the Reading List of Safari on your Mac, follow these steps –
Step a. Launch Safari on your Mac.
Step b. Go to the Top Bar and click on View option and then select the Show Reading list sidebar.
Step c. Take the mouse on the Reading List and then right click will give you options.
Step d. Select Clear all Items in the shown options. 
This is the simple solution to the problem of clearing the Reading List on Safari while using your Mac. 
How to Delete Safari Reading List on iPhone and iPad
Follow these steps given below to remove a specific Reading list from your Safari on iPhone and iPad- 
Step a. Launch the Safari app on your iPhone or iPad from the bottom.  

Step b. Now, tap on the open book icon from the bottom menu bar. 

Step c. It will lead to the bookmark section, there you need to tap on the Glasses icon in the middle to view your Reading List.
Step d. Swipe from right to left on a specific entry which you want to be removed, it will show options to Delete or Save offline. Tap on the Delete option to remove that specific entry from the Reading list.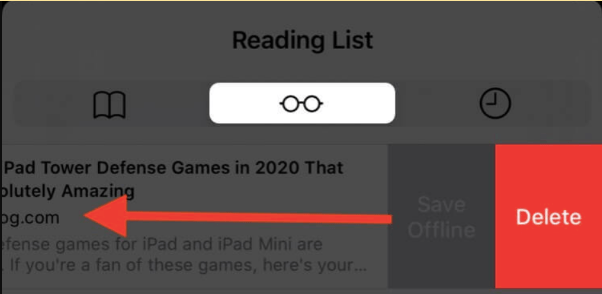 Step e. If you want to delete multiple entries or delete all of them, tap on the Edit Icon at the bottom right. 
Step f. This will provide checkboxes for all the entries, select the ones you want or select all the entries and then tap on the Delete option from the bottom left corner. 
These steps will help you remove specific entries from Safari Reading list or you can just delete all. And at same time it will also be deleted from all iOS, iPadOS and macOS devices that have your AppleID, and Safari sync enabled across devices through iCloud. 
Frequently asked questions-
Q1. How do I get rid of the reading list on my Mac?
You can easily get rid of the reading list items on your Mac. Safari is the prime web browser for Mac users and then can have lots of saved items in the Reading List. It is used to let the users save the web pages for reading it later. If you are done reading an item from this list remove it using the simple steps mentioned in the blog.
Q2. How do I clear my reading list?
It is very simple to clear the reading list on Mac with the inbuilt options. Open Safari and then go to the Reading List, here right click on the list and select the option to Clear all items. This will help you get rid of reading list on Mac.
Final thoughts On How to Remove Reading list from Safari
As Safari is the most used web browser for Mac users, it becomes important that you learn how to use it. Reading List is one of the most useful features for Apple users. You can easily sync the Reading list with the iCloud account.
And sometimes, this makes your Reading list saved web pages taking up a lot of storage space on your Mac. But you can delete them and free up the storage space. It is possible to remove the saved items from Reading list one by one or all of them at once. We are sure that with the help of this article you are now able to see how to delete Safari reading list on your Mac. 
Also Read