Check Disk Storage Space to start with if you ever feel like you are short on storage space. There are multiple ways to free up disk space on Mac which we are going to cover in this blog. Read on to get to know all the methods to free up disk space on Mac. 
7 Ways To Free Up Disk Space On A Mac
Method 1 : Storage optimisation using built-in utility
Fortunately to free up Disk Space on a Mac, Apple provides excellent Storage Management tools. You can access these utilities by
Going to the Apple menu and Select 'About This Mac'.
Then Click on 'Storage

' tab.

On the Storage tab Click on the 'Manage' button. 
Now you can see various storage optimization options provided by Mac, such as Store in iCloud, Optimize Storage, Empty Bin Automatically and Reduce Clutter.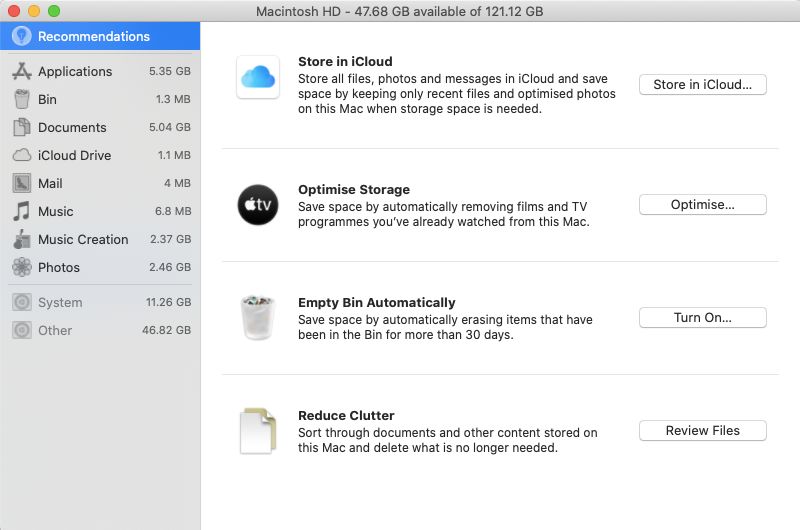 If you want to move your files, photos, documents etc to the cloud storage and access it when you need them, you can Click on 'Store in iCloud' option and it provides you 5GB of free storage space.
You can also regain disk space by Selecting 'Optimize' option which auto removes all the watched movies, shows and older email attachments on Mac storage.
To auto remove all the deleted files, documents and more from Trash you can 'Turn On' this feature also.
Finally, the Reduce Clutter feature lets you delete all the unwanted documents and files when you Click on the Review Files button after going through the list.  
Method 2 : Delete unwanted apps and their data
The large chunk of space on disk is usually occupied by unused apps and their data. You can remove unwanted apps from your Mac in a couple of ways.
Follow below steps for simple way to remove apps from Mac : 
Go to Finder and Open Applications folder.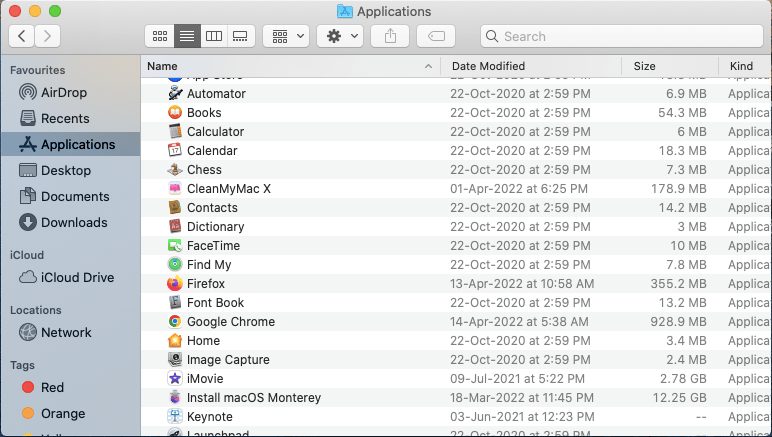 Identify unwanted apps from the apps list and drag the same to the Trash on the dock or Right click on it, Select Move to Trash option. 

Finally after moving all the wanted apps to Trash, Empty the Trash by Right clicking on it. 
Follow below steps to remove apps via Launchpad : 
Open Launchpad on your Mac. 

Click and hold an unwanted app icon until it starts to jiggle. 

Click on App's delete button on the right top corner of the app icon.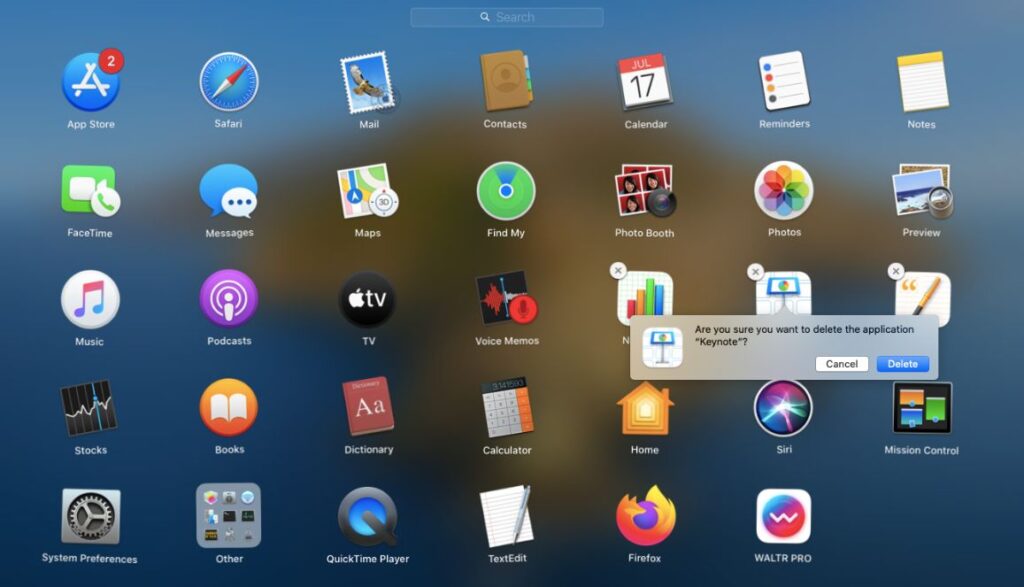 It is all good to remove unused apps manually to regain disk space on your Mac, but just by dragging an app to Trash or deleting them would only remove the app but not the associated data of the app.
Hence to completely uninstall and remove all the associated data from your Mac it is better to use a third party tool such as Smart Uninstaller feature on Mackeeper app.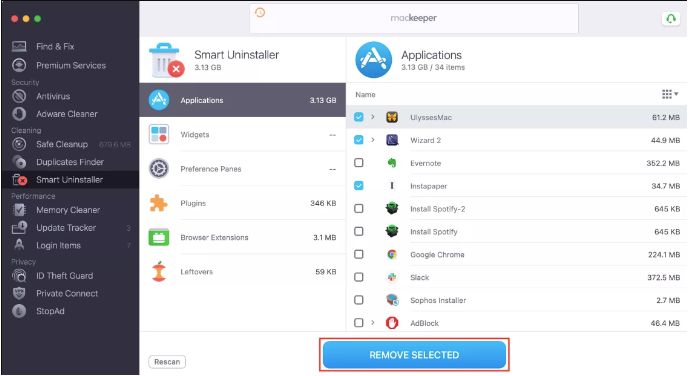 Method 3 : Identify and Remove duplicate files
Duplicate files and apps are the major chunk of junk storage space on the disk that can be regained. To identify and remove duplicate files and apps manually would take a considerable amount of time and effort, but there is always an easy way out by using a third party tool to do it for you with just a click of a button.
Follow the below steps to do it easily. : 
Download and install Mackeeper app from its

official website

. 

Launch the Mackeeper app and Select Duplicate Finder from the left sidebar menu.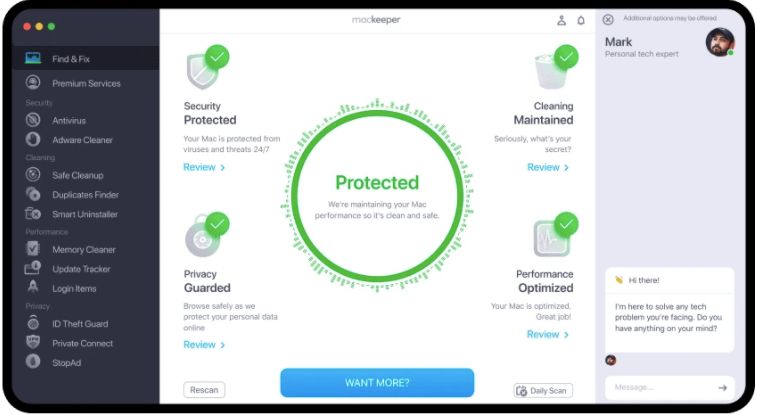 Simply enable Auto-Selection Check box and Click on Remove Duplicates Button at the bottom. 
Method 4 : Clear cache from browsers –
Often browsers accumulate unwanted cache files which are left while the Mac is cleaning. But it is important to clear cache from browsers. Follow the steps to clear the cache –
For Chrome –
Step 1: Open Chrome browser on your Mac and go to the Menu from the Top-right corner.
Step 2: Go to the More tools option and select Clear browsing data.
Here you can select the time range and we recommend to clear all and also clear the Cached images and files along with it.
For Safari –
Step 1: Open Safari on your Mac and then go to the Preferences.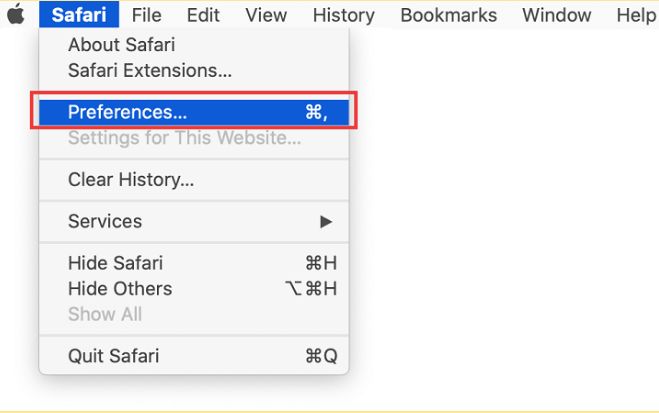 Step 2: Select the Advanced option and then mark Show Developer menu and then go to the Develop tab.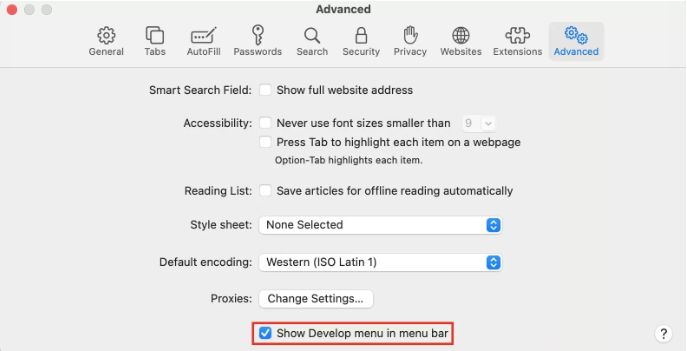 Step 3: Now click on the Empty Caches.
For Firefox – 
Step 1: Open Firefox and go to the Menu.
Step 2: Select Preferences and then go to the Privacy and Security tab.
Step 3: Here click on the Clear data and then it will remove the unwanted cache files from your Mac.
Method 5 : Clean Downloads folder
It so happens that a large chunk of disk space is left wasted on the Downloads folder after downloading them and left unused. You can regain a significant amount of disk space by clearing Downloads folder from all these junk files. Follow below steps to clear Downloads folder: 
Go to Finder and Select Downloads from the left. 

Identify and Right click on the unwanted files and Select Move to Trash option.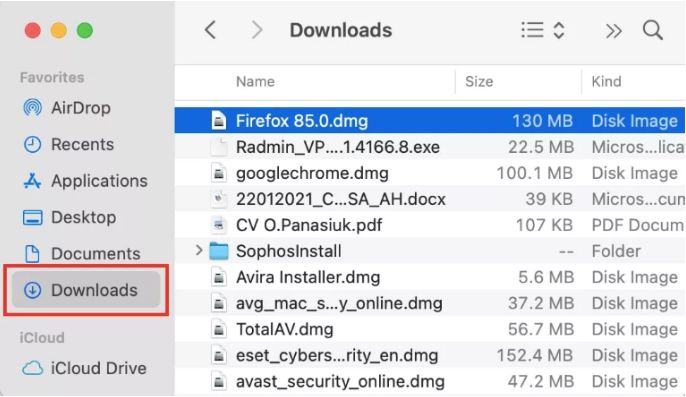 Finally after deleting all the files, Empty the Trash to completely remove them from your Mac. 
Method 6 : Clear unused language files
It might come to your surprise but Mac comes equipped with over 150 languages. Som if you wish you can remove the language packs for the unused files. 
Step 1: Open the Applications folder and right click any application to open the Show Package Contents.
Step 2: Under the Contents folder go to the Resources folder.
Step 3: Here you will find all the files and under these sub folders you can see the localization files for English and other languages. You can delete the unwanted language files.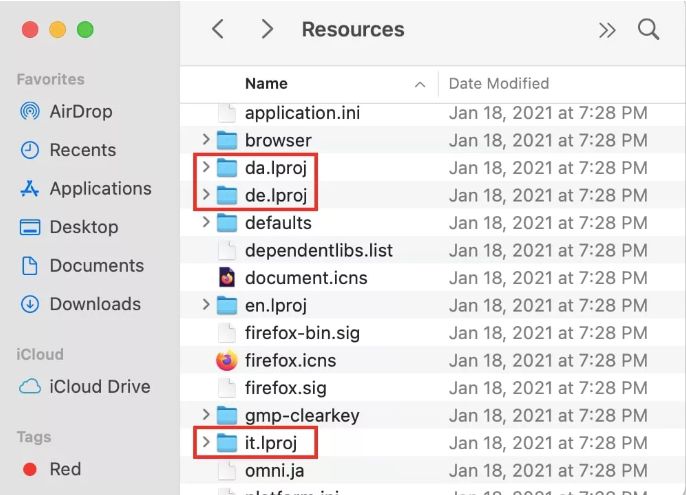 Note: Be very careful about deleting these language files as it can cause system errors. 
Step 4: Now, empty the Trash to remove them permanently from your Mac.
Method 7 : Delete Old iOS Backups
Unwanted disk space can be claimed by the old iOS backups which sit there unattended. Yes, as often it seems to be the case where a number of iOS backups we take and save on our Mac are neglected when spring cleaning the storage disk. Therefore it is important to check the useless backups. Using the built in method you can easily remove it. Follow the steps given below –
Step 1: Go to the Apple menu on your desktop and click on About This Mac. 
Step 2: Go to the Storage and here look for Manage.
Step 3: Here you can find the iOS files where the old backups are as well.
Find the iOS backups which are unneeded now and delete them.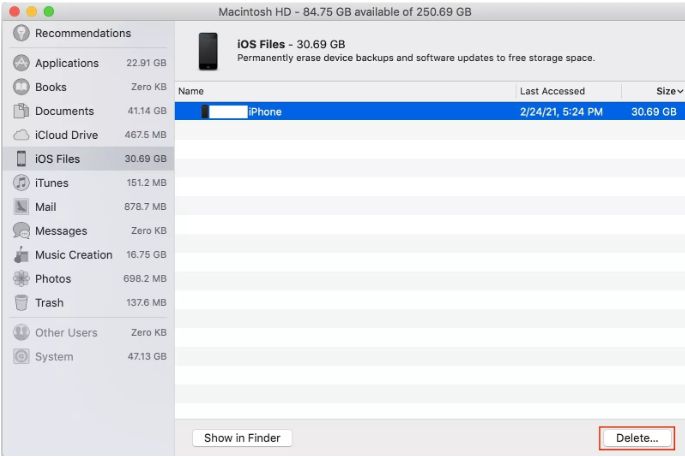 Step 4: Click on Delete and affirm the confirmation message.
Frequently asked questions –
Q1. How do I free up space on my Mac Disk Utility?
The built-in Mac utilities let you delete the unwanted cache files, large video files such as saved TV shows and movies. You can clean your Mac using the Optimisation tools.
Q2. How do I find out what's taking up all my disk space Mac?
To find out what's taking up how much space in your Mac, use the built-in Storage built-in feature or a third party Mac cleaning tool.
Q3. How do I clear up space on my Mac faster?
Clean up the disk space on Mac by removing all the junk and logs along with the temporary and cache files created by system and user. 
Q4. How do I clear up disk space? 
To clear up disk space start decluttering, from unwanted applications to the files remove them all. All the unwanted backups, mail attachments, downloaded files and junk files can be removed quickly using the third party Mac cleaning tools.
Q5. What apps are taking up space on Mac?
Any of the unwanted applications which are unused and old can be taking up disk space, but easily removed. Take help from third party software such as MacKeeper to clean such apps and its leftovers to get back the disk space. 
Conclusion on How To Free Up Disk Space On Mac
If you have always wanted to speed up your Mac, these methods explained above will help you. Freeing up disk space actually improves the performance of your device other than just creating space for more data. There are several methods to clean up the disk space on Mac using the built in and third party applications. 
Also Read