Did you know that Terminal on Mac can help you perform many functions with simple commands. Terminal can be termed as a command line interface system for Mac. But if you wish to use them you must learn that there are so many ways to open Terminals on Mac.
This blog post is all about telling you the simplest of the ways to access Terminal on Mac.
6 Ways to Open Terminal on Mac
Method 1: Using Finder
One of the easiest ways to open Terminal on Mac is by using Finder. Follow these steps to learn how Finder can help you open up Terminal. 
Step a: From Finder go to the Go option and click on Utilities.
Step b: In the Utilities tab you can find Terminal.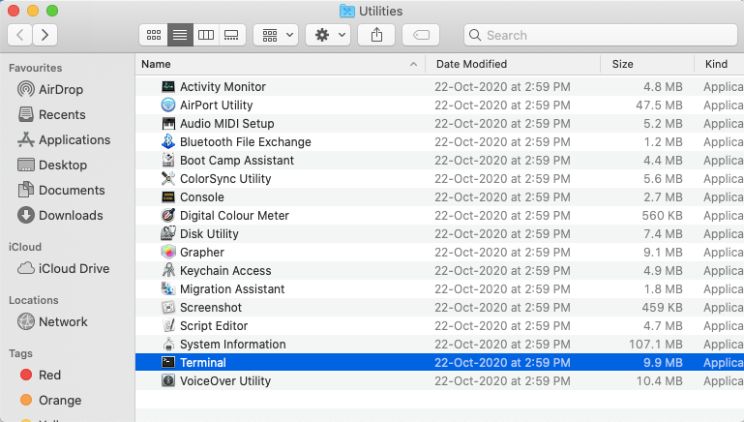 Step c: Select it and double click on it to open Terminal.
Method 2: Using Spotlight search
You can also access Terminal on Mac using the Spotlight search. As Spotlight is an application on Mac which helps you find items like apps, emails, files and more.
Now let's understand how to use Spotlight search on a Mac to open a Terminal.
Step a: Click on the Spotlight search button from your menu bar.
Or
Press Command + Space keys together on your keyboard which is a shortcut to open spotlight search. 
Step b: Now go to this space to type Terminal and hit Enter.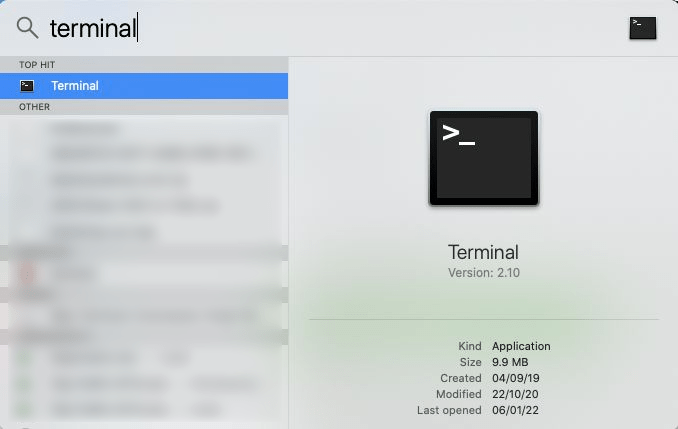 Step c: Among the search results you can see the Terminal utility click on it and Terminal will open on Mac. 
Method 3: Using Applications folder 
Since Terminal is the Mac application which comes as a built-in utility to help you run commands you can find it in the Applications folder.
So now let's learn how to open the Terminal using the Applications folder.
Step a: Open Finder and click on the Applications given on the left pane. 
Step b: Once you have opened the Applications you can see the subfolder Utilities on it. Click on it. 
Step c: Now look for Terminal under it and click to open.
Method 4: Using Siri 
Siri is the voice assistant developed by Apple and is available for almost all of the latest Apple devices. It is a very useful feature which can be used to perform various actions on your Mac. Therefore we use Siri in this method to open the Terminal on Mac.
Step a: Click on the Apple menu and then go to System Preferences, here you can find Siri.
Step b: Click on the Siri icon to open it on your Mac. 
Step c: Now speaking to Siri, say "Open Terminal".
This command will get Terminal on Mac screen quickly.
Method 5: Using Shortcuts
On the computer you can use several shortcuts to quickly perform certain tasks. The shortcuts can be altered or created as per your requirements and we will tell you how to create a shortcut for Terminal. 
Step a: Follow the steps in Method 1 and go to the Utilities folder and select Terminal.
Step b: Right-click on Terminal and click on the Options which will show you Keep in Dock, Open at Login, Show in Finder. 
With the first option you can easily place a Terminal shortcut on Dock on your Mac.

With the second option the Terminal will always open at startup.

With the third option you can easily access the Terminal as you can find it in the list of Finder.
Step c: Select any one of these as per your needs to make it more convenient to open Terminal application on Mac.
Method 6: Using Launchpad
Launchpad on Mac makes it easy for you to open applications and you can arrange them as per your choice. To open the Terminal, we can also use the Launchpad.
Step a: To open the Launchpad go to the Dock and click on its icon.
Step b: When Launchpad opens, under the applications you might not find Terminal as it needs to be placed in it, therefore, click on Other and locate Terminal.
Or
Type Terminal on the search bar in Launchpad.
You can also  place Terminal to show on Launchpad right when it opens.
Step c: Click on Terminal to open it.
All of these methods can be easily used as per user's choice and need. If you require to use the Terminal more often on your Mac, you can always rely on getting it placed on your Dock using the Create Shortcut method.
However, you can also always use Siri to open it or other traditional methods such as Finder, Applications folder, Launchpad and Spotlight search.
Frequently asked questions –
Q1. How do you use Terminal commands on a Mac?
To use your Terminal commands on your Mac you need to open the Terminal then type the specific command to carry out a task. Executing these commands on your Terminal will help you to perform various functions such as open find from Terminal or to delete files and empty Trash.
Q2. How do you open and close a Terminal on a Mac?
If you want to use the Terminal on Mac you can open the Terminal using different methods as stated above in the blog such as Spotlight, Finder, Applications folder, Launchpad and shortcuts. To close Terminal all you need to do it click on Quit Terminal. 
Q3. What is the Terminal for Mac?
Terminal for Mac can be defined as the command line system which will help you to make changes on your operating system. You can run different commands and execute them to make changes and run processes to operate on your Mac. 
Conclusion On Ways To Open Terminal On Mac
Now that you know how to open Terminal on Mac, try these methods and find out whichever is convenient for you to access Terminal on Mac. Although you can always get Terminal on  Mac screen to perform tasks using any of the methods, getting a shortcut is the best way.
As you can readily open it from your Dock. However, using Siri to open Terminal is also the simplest way if you often use Siri to perform tasks on Mac. Tell us in your comments which one you would prefer to use and why.
Also Read