While looking for a system manager, you might have come across the iStat Menus application. But is iStat Menus safe for Mac? Well, yes it is an application which can be found on the Mac App Store, you can trust it. We have covered all the details of this system manager application in this iStat Menus review.
What is iStat Menus for Mac?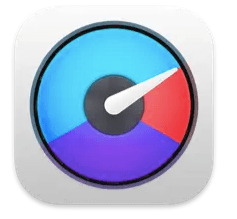 iStat Menus 6 is the latest Mac temperature monitoring app from Bjango Ltd for macOS menubar. It is an most powerful and advanced system monitoring software which monitors various Mac system aspects like CPU, GPU, Memory usage, Network activity, Disk usage, Date & time, Battery status and more to display the concise stats on the menu bar for easy access. 
Other than monitoring Mac Systems it also displays weather forecast and conditions right on the menu bar along with other important Notifications on various events on Mac. It is highly customizable with menu bar items and drop down menus to match what you like and how you like to be shown.
You can also choose the theme of the menu items to match with your macOS, including light or dark background colours. While you can find it on the Mac App Store for $9.99 and at its official website for $14.15 with advanced features. 
iStat Menus Review – The Complete Description
Technical Specifications –
| | |
| --- | --- |
| Vendor | Bjango Pvt. Ltd. |
| Current Version | 6.72 |
| Compatibility | macOS 10.13 or later |
| Download link | iStat Menus (bjango.com) |
| Free Trial | Yes |
| Price | $14.15 |
| File Size | 29.3 MB |
| Technical support | Via email  |
iStat Menus Features –
Concise Mac Statistics –

It can display nine separate Mac System statistics on the menu bar on click of button. Further more details and history graph from the dropdown menus.

Customizable items and dropdowns –

It can be highly customised by users as they can personally select each menu bar item, dropdowns and other aspects to match your macOS usage. 

Real-Time Notifications

– It notifies based on current CPU, network, disk, battery, weather and other events right on the menu bar to be well informed. 

System Monitoring –

It monitors various Mac System aspects like CPU & GPU, Memory, Network usage, Disk activity, Data & time, Battery Status, Sensors and more to show real-time statistics in a graphical way.  

Themes and Colours –

Provides extensive colours and theme options to improve the look and experience including light and dark menu dropdown backgrounds. 

Supports Hotkeys –

You can customise Hotkeys to open and close menu dropdowns quickly. 

Reorder, additional options –

Plethora of settings to add dual line menu bar clocks, condense text, reorder dropdown menus, hide sections and editable graph colours. 

Enhances accessibility –

Improved interface and supports most 36 languages.
How to Use iStat Menus on Mac?
iStat Menus 6 is a relatively very easy application with a simple and sleek interface to navigate around. Below are simple steps to guide you through the basics of iStat Menus on your Mac:  
Step 1 : Download & Install – 
To Install iStat Menus, download the file from the official product page. Double click on the downloaded ZIP file to unarchive and Double click on the iStat Menus icon which will run the app and follow the instruction to install on your Mac.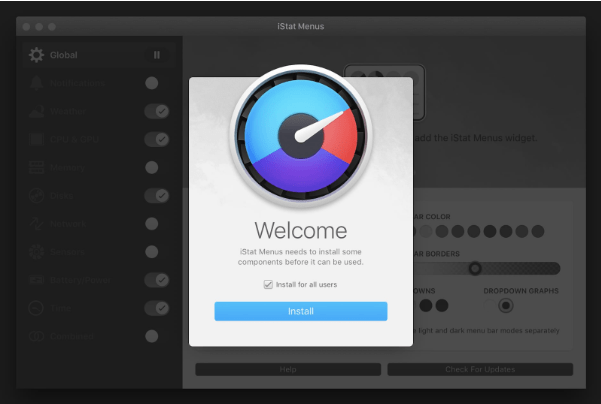 Step 2 : Enable & Disable menu bar items – 
It comes with some default selected options for your Mac. To select which Mac System statistics you want to be visible on the menu bar, you need to enable them and can also disable the ones you don't want.
Open the iStat Menus from the applications folder and on the side bar you can enable the items to be visible on the menu bar by clicking on toggle button. 

Step 3 : Arrange the menu items – 
It is super easy to arrange the menu item on the menu bar where you would like to be placed. Hold down the command key and select and drag the menu item icon in your Mac menu bar to place it at your desired place. 

Step 4 : Customise design and layout – 
You can change the design of most menu items to what you would like it to appear on the menu bar. For instance the CPU menu item can be displayed in the design of a pie chart, a graph, a history graph or a percentage and just a simple CPU label etc.
To select the design of the menu item, after enabling it from the sidebar menu of iStat Menus app. You can see a bunch of options in Active Items and Inactive Items bars. To add menu item options, just drag them from inactive items bar to active items bar vice versa to remove items following the other way. 

Among the menu items some of them also have options to customise the layouts, to view them you need to click on the menu item on the active items bar. 
Step 5 : Global Settings tab – 
You can highly customise the overall theme, colours and other settings of iStat Menus from here.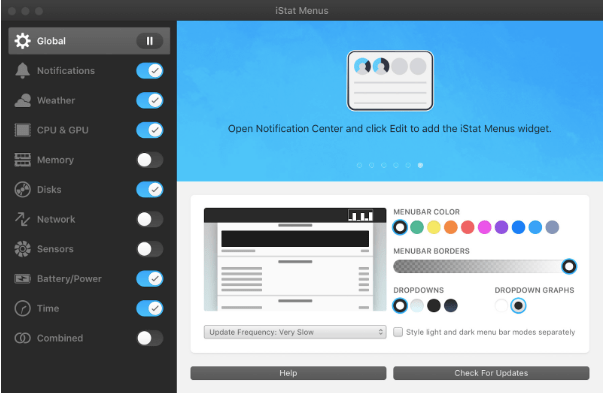 Step 6 : Notifications tab – 
Among the most commonly used menu items, it shows notification everytime any of the iStat Menus related events occur on your Mac. 

Step 7 : Combined tab – 
Here you can choose to combine menu items into a single status item, also select which menu items are shown in menu bar and which to show combines dropdown. 

Pros & Cons –
| | |
| --- | --- |
| Pros  | Cons |
| Concise menu bar system stats information | Limited 14 days free trial period |
| Highly customizable interface | Little pricey for System monitor app |
| System stats history data till 30 days  | Different Mac App store version |
| Comprehensive dropdown system stats | System stats clutter on menu bar |
| Real-time Mac stats click of a button | |
| Drag-drop stat items customization | |
| Supports all latest Mac versions | |
| Supports all 36 major languages  | |
| Technical support via email | |
Frequently Asked Questions –
Q1. Is iStat Menus a subscription?
Yes, iStat Menus is also available for subscription via Setapp. Setapp is a subscription service supporting both Mac and iOS apps. It costs $9.99/mo to subscribe to iStat Menus from Setapp. 
Q2. How do I read an iStat menu?
You can read the iStat Menus from the menu bar of your Mac system which provides nine separate and highly configurable menu items which shows individual Mac system statistics. 
Q3. How do I download iStat menus?
You can download iStat Menus from their official website and install it on your Mac. Follow the steps to download and install from above for details. You can also install iStat Menus from the Mac App Store by purchasing it. 
Q4. What is iStat menus app?
iStat Menus is an system monitor application placed right on your menu bar, which displays complete Mac system stats concise information on a click of a button. It shows the most important Mac system statistics on the menu bar and provides more detailed history graphs from the drop down. 
Q5. How much does iStat cost?
iStat Menus 6 available from the official website is priced at $14.15 one time purchase but the same iStat Menus 6 available from Mac App Store costs $9.99 with little reduced features. Pick the one best suits your needs to purchase. 
Conclusion
iStat Menus proves to be an essential tool for Mac users, providing a comprehensive set of features to monitor and optimize system performance. Its intuitive interface, real-time monitoring, and customization options make it a valuable addition to your Mac.
With features like CPU and memory usage tracking, weather updates, and notification center integration, it enhances your Mac experience.
While the price may be a bit on the higher side, the functionality and performance it offers justify the investment. iStat Menus is an excellent choice for those who want to keep a close eye on their Mac's health and performance.
Also Read