Are you going on a trip abroad but do not wish to miss out on your favourite Netflix shows? But the problem is that the place does not have the same Netflix shows as your region. Also if you are worried about your online security while using the public WiFi, it is recommended to use a VPN.
A Virtual Private Network or commonly known as VPN is a service which lets you bypass your connection through a different server to keep you safe online. Here in the iTop VPN review you will find out how it works and why it is best for your Mac.
Is iTop VPN worth it?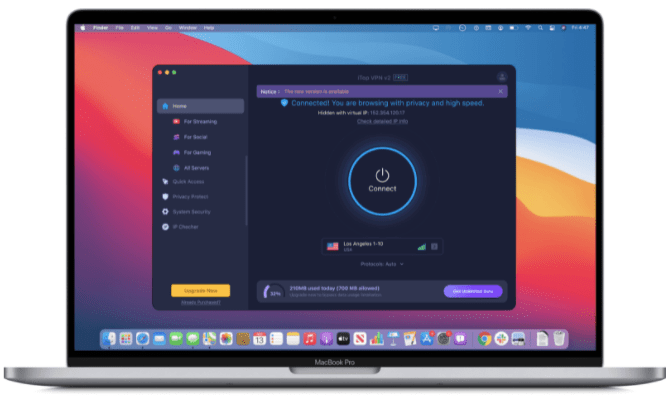 Yes, iTop VPN is worth it for keeping your connection private on Mac and it has multiple useful features. It will effectively hide your IP address from online trackers and provides you with necessary protection.
The VPN service is fast and secure which is a must of any user looking forward to such services on their Mac. The privacy access to the internet enables you to browse safely on the public networks. Moreover, it also helps you safely visit the banking and shopping websites.
The Kill Switch on iTop makes it one of the best VPN services for your Mac. As it will automatically disconnect you from the network if the VPN shuts down abruptly. This will keep you from exposing your real IP address to the ISP providers and other digital trackers.
iTop VPN Review
iTop VPN aims to protect users' online privacy by encrypting their internet traffic and shielding them from potential cyber threats, such as hackers, surveillance, or data tracking. Additionally, it allows users to bypass internet censorship and access content that might be restricted in their region.
iTop VPN review will be incomplete without talking about its pricing details. This VPN Service for Mac comes at a very affordable rate and different plans will let you pick the best option as per your requirements.
The Yearly plan is available at $11.99 per month which is currently available at a discounted rate of $3.99 per month.
The two year plan comes at the discounted price of $2.31 per month 

The three years plan is available at $1.66 per month at the current offer.
The paid plans also include the 100% money back guarantee and they can be used on upto 5 devices. The free trial version is also available and can be downloaded with limited features and limited bandwidth of 700 MB and only 16 servers.
iTop VPN Technical Specifications
| | |
| --- | --- |
| Vendor | iTop |
| Current Version | 3.0 |
| Compatibility | macOS 10.14 and higher |
| Download link | Click Here |
| Price | Free, $11.99 |
| File Size | 23.5 MB |
| Also Available for  | Windows 11,10,8 and 7, Android and iOS devices. |
| Connections | Upto 5 devices can be connected at the same time with one registered account. |
| Logs Policy | No logs are recorded. |
| Payment Methods | Debit/Credit Card, Paypal, Bank Transfer |
| Number of Servers | 1800+ |
| Money-back guarantee | 30 days |
Streaming, Messaging and Gaming Platforms Supported by iTop VPN –
Netflix, Hulu, Disney+, HBO, Showtime, BBC iPlayer, YouTube, Prime Video, Facebook, Messenger, Skype, TikTok, Instagram, WhatsApp, Snapchat, Telegram, Safari, Chrome, Disco Elysium, League of Legends, Steam and more. 
Speed – 
The download speed of 100 M+/s is provided with iTop VPN and according to the user's average download speed is 40 mbps. The upload speed for iTop VPN is averaged at 10 mbps. Although, it varies largely by the internet connection, device used, server selected etc.
Features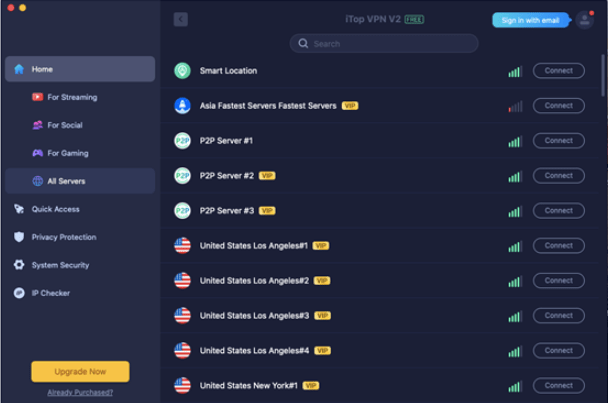 iTop VPN comes with a large number of servers established worldwide. It has over 1800 servers to help you get more options to select from and a large range of networks. With this range of servers, it gets easier to switch between servers and gives you more coverage.
If you are travelling then also it will help you switch to your regional server to access the content exclusively available for that country.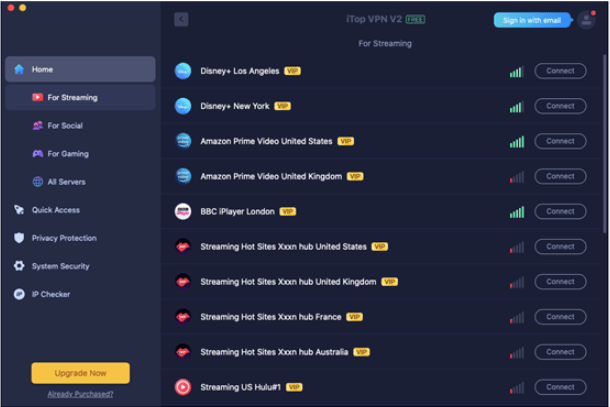 Using iTop VPN on Mac, you can easily stream the videos without interruptions. As it allows you to connect to a fast speed and can also be used for downloading and uploading files. The unlimited bandwidth allows you to stream, download, upload and play games without any limits.
However, this feature is available only with the paid version of the iTop VPN. You can easily avail the different categories on the tool for Streaming, Gaming and Social media and connect to the specific ones for better speed. 
The iTop VPN for Mac gives you secure access to the internet with the double protection. It hides your IP address and also reinforces the browser privacy feature for extra privacy protection online. It blocks the ads, trackers and malware and keeps you safe online.
iTop VPN for Mac comes with an automatic feature called Kill Switch that acts as a barrier. It will be a help when you lose connection and your internet protocol address gets to the risk of being exposed. Then, the Kill Switch comes in and disconnects the internet connection quickly. 
One of the most sought after questions of VPN service users is are they safe while using VPN. With iTop VPN for Mac you are completely safe as it follows a no logs policy. It means it will not be recording any of the user data. It strictly adheres to the policy of not storing any data be it IP address, websites visited by user or region.
Is iTop VPN Safe
Is iTop VPN safe or not? Yes, it presents you with the needful safety while connected to the internet. It will give you enough features with the Privacy protection as the extra browser safety.
iTop VPN Pros & Cons
| | |
| --- | --- |
| Pros  | Cons |
| Split tunnel connection | Does not work on all video streaming platforms |
| Unlimited bandwidth | Limited customer support |
| Blocks Ads, Malware & Trackers | Free version has limited bandwidth |
| Faster connection | Few countries available |
| Downloads torrents securely | |
| 1800+ Servers all around the world | |
| Browser privacy protection | |
Frequently Asked Questions –
Q1. Is iTop VPN safe?
Is iTop VPN safe – Yes!! You can use iTop VPN on your Mac and it will secure your connection. It can hide your IP address and gives you a choice to choose from several servers.
It adds extra features to the browser to keep you safe online. The Kill Switch feature safeguard against sudden network drops.
Q2. Is iTop VPN free?
Yes, the iTop VPN can be used as a freeware. It is available as a free version to be downloaded on Mac with the limitations of only 16 servers and 700 MB bandwidth. 
Q3. Does iTop collect data on VPN?
iTop VPN advertises strict no logs policy on its website. It states that it does not collect any data on the user's browsing history etc.
Q4. How is iTop VPN?
iTop VPN is a fairly good VPN service which comes with useful features such sa Kill Switch, Unlimited bandwidth and no logs policy.
Q5. Why is iTop VPN on my computer?
iTop VPN can be present on your computer as a result of a bundled download. If you have not downloaded it directly on your personal computer, this is the only explanation.
However, someone must have downloaded it on the computer in case of a shared computer.
Q6. How much does iTop VPN cost?
iTop VPN costs $11.99 per month at the yearly plan, while it can be availed at a discount rate of $3.99 per month currently. Another plan of two years can be availed at $2.31 per month and plan of three years can be availed at $1.66 per month at the current discounts.
Conclusion 
So this is the detailed review as this VPN comes with both free and paid version. The paid version can give you more features than the free version and secure your connection with the split tunnelling protocols.
While online you can browse ad free and it also gives you a few extra safety features for the browser. You can go for it if you are looking a decent VPN service for your Mac at as it comes at budget rates
Also Read